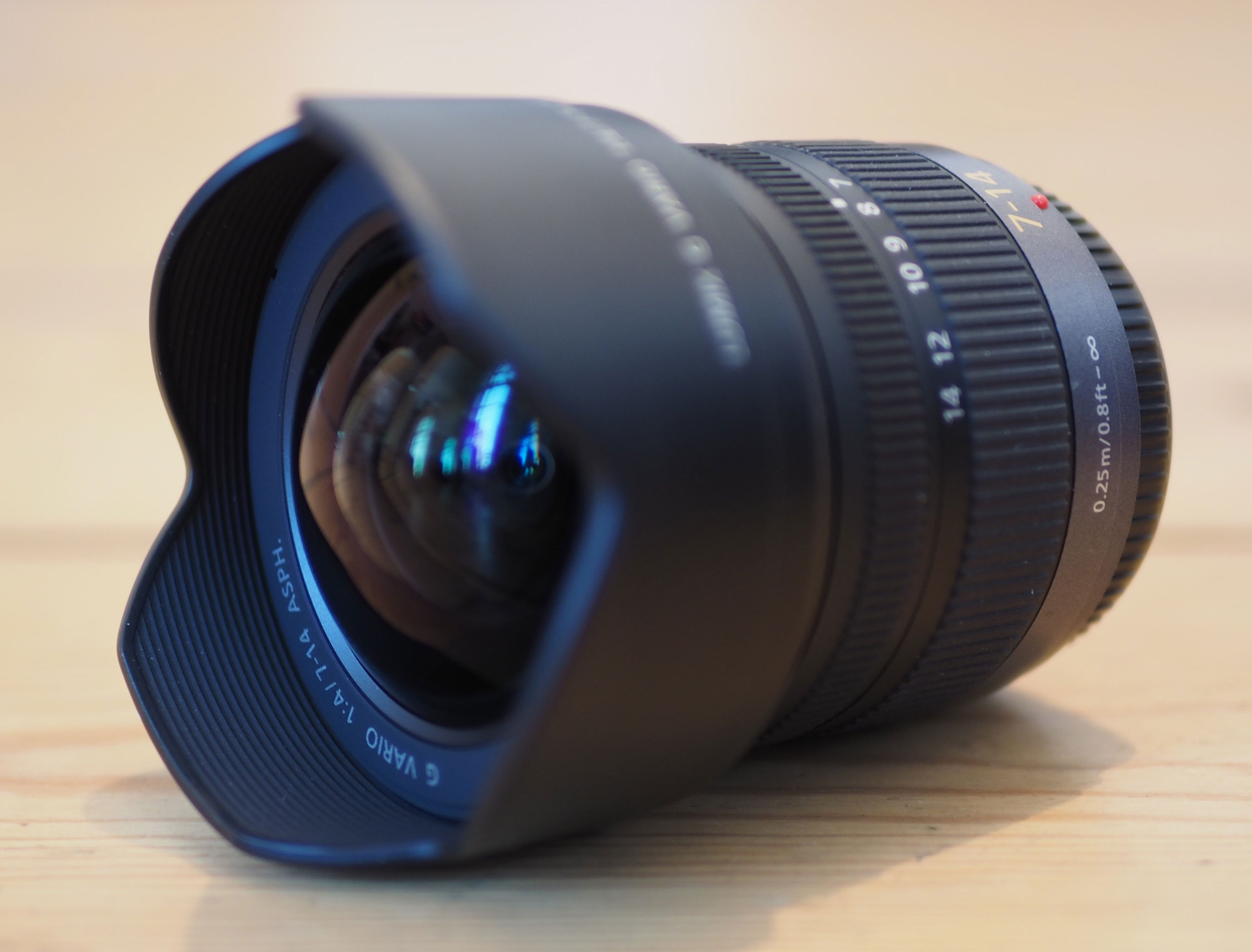 Panasonic Lumix 7-14mm f4 review - Verdict
Verdict
The Panasonic Lumix 7-14mm f4 may be one of the earliest native lenses for the Micro Four Thirds system, but remains one of the most compelling, delivering superb quality across its focal range from standard wide to extreme wide angle.
With coverage that's equivalent to 14-28mm in the full-frame format, the Lumix 7-14mm is ideal for capturing expansive landscape views and enormous buildings inside and out. It conveniently starts where most general purpose lenses stop, providing the photographer with wider and wider coverage until they have to be careful not to include their feet in their shots.
As you can see in my Panasonic 7-14mm quality pages, the lens is capable of delivering a fantastic degree of fine detail across the frame at all focal lengths. In my tests it excelled at wider focal lengths and only became a little softer in the extreme corners when zoomed-into 14mm, but overall there's little to complain about in terms of sharpness and contrast. There's some vignetting at f4, but it's easily corrected by processing or optically eliminated by stopping down a little. Just try and use the lens at apertures larger than f8 or you'll begin to suffer from diffraction. The bottom line is this is a great lens which should be on the shortlist of any Micro Four Thirds owner who's into wide-angle photography and it's a model that continues to drive many owners of larger formats to switch to this smaller mirror-less format.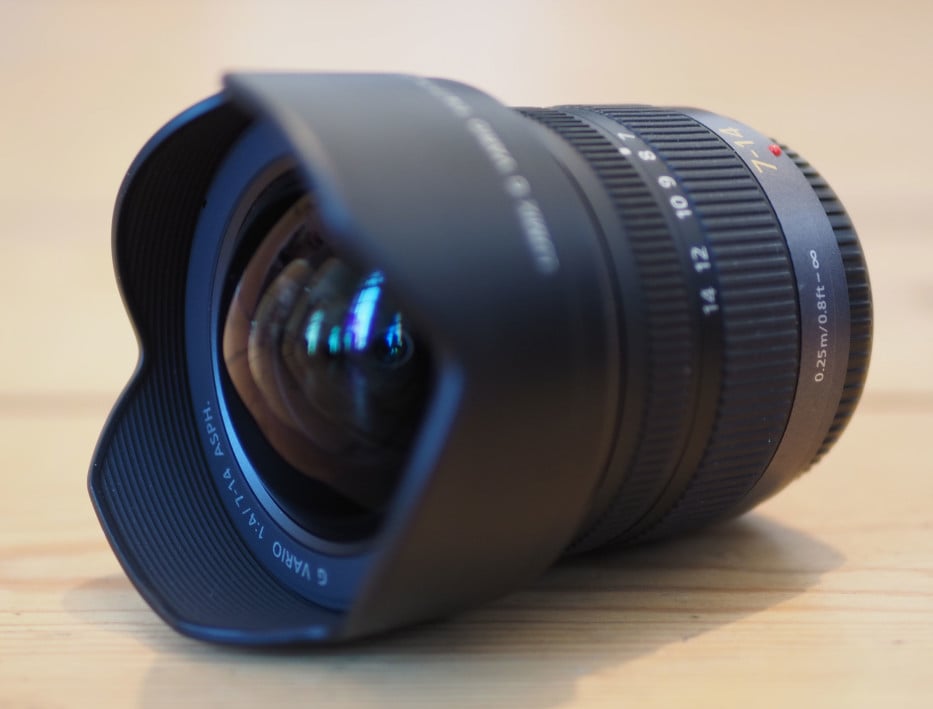 Indeed the Lumix 7-14mm was one of major factors behind me choosing Micro Four Thirds for a nine month trip away. I wanted a high quality three lens kit covering ultra-wide, standard and portrait lengths, but it had to squeeze into a portion of my bag which could barely accommodate a full-frame DSLR with a single lens, let alone three. Size and weight narrowed the choice down to a mirror-less format, while the desire to include a high quality ultra-wide zoom lens finalized it to Micro Four Thirds, as at the time there were simply no other options for rival systems.
Indeed many others have traveled the same road, buying into Micro Four Thirds thanks to the Lumix 7-14mm being the only quality ultra-wide for any mirror-less format for some time, but there are now alternative combinations to consider. Most notably Sony's long-overdue ultra-wide 10-18mm (15-27mm equivalent) zoom for its mirror-less NEX format was launched towards the end of 2012 and I had a chance to directly compare it against the Lumix 7-14mm. The Sony lens is certainly very good quality and enjoys the benefit of optical stabilization too, but in my tests the Lumix 7-14mm delivered results that were equally as good and slightly wider at the short end. So it still stands up against newer competition on rival formats.
Within Micro Four Thirds itself, the Lumix 7-14mm may have been the first ultra-wide option, but now competes against a number of alternatives. From Olympus, there's the 9-18mm f4-5.6 zoom and 12mm f2 prime. The former is of course the major rival but I've not had a chance to compare the two yet – I'll update this review when I do. But I have compared the 7-14mm against the 12mm f2 and interestingly in terms of detail and sharpness at matching apertures, the Lumix actually came out delivering better quality than the prime. You can see the results in my Panasonic 7-14mm vs Olympus 12mm comparison.
So far so good, but no product is perfect and there's certainly a number of downsides to the Lumix 7-14mm. First, there's no means to mount a filter either on the front or on the rear. Second, despite its high price, it precedes any weather-sealing on Micro Four Thirds lenses, so you'll need to take care how and when you use it. Third, while the build quality is fine, the manual focusing ring is disappointingly scratchy, more like a kit lens rather than a luxury product which the price implies. Fourth, there's no optical stabilization which may not bother still shooters, or indeed anyone using an Olympus body which has stabilization built-in, but Panasonic videographers will have to deal with an unstabilised system. Fifth, there are issues with purple flare blobs when shooting into bright lights using the 7-14mm mounted on Olympus bodies which strangely aren't as visible on Panasonic bodies due to their different sensors (and presumably filtration). And sixth, it's not exactly cheap and there are cheaper wide angle options available, albeit not as wide.
Of these, the absence of a filter mount is arguably one of the bigger issues, but if it reassures you, I hardly ever missed the facility over a year of daily use. The bulbous front element is housed well within the thick built-in lens hood and protected from casual knocks and grazes without the need for a UV filter, while the ultra wide coverage can cause more mischief than positive outcomes with a polariser. But I do understand there are those who demand a filter system (for example long exposures with an ND filter) and they'll either need a third party / home-made solution, or consider buying the Olympus 9-18mm instead which sports a filter thread.
The lack of weather-sealing is annoying as I found myself on more than one occasion in showery conditions and wondering whether it would be safe to use my kit. Towards the end of my trip I ended up shooting with the 7-14mm on a GX1 in sustained drizzle in Iceland and both survived to tell the tale, but I wasn't happy about the risk. Yes I know there weren't any weather-sealed Micro Four Thirds bodies when the 7-14mm was launched, but to think there'd never be is just naïve or tight. On a lens with this price tag, weather-sealing should be mandatory.
Of the other issues, the more obvious flare artefacts on Olympus bodies is a problem if you're an Olympus owner who likes shooting into bright lights, such as city nightscapes. Certainly I've now experienced a few of my own purple flare blobs when using the 7-14mm with the OMD EM5 and EM1 bodies, but it's one of those things you often have to look for, and even then not always see. My advice to Olympus owners would be to try before they buy if possible, or to buy from somewhere with a good returns or exchange policy.
Ultimately I've been using the Lumix 7-14mm now for two years, doing formal tests before then taking it on the road and I was never disappointed by the results on both Panasonic and Olympus bodies. It became a valuable part of my three lens travel kit (the others being the Leica 25mm f1.4 and Leica 45mm f2.8, the latter swapped for an Olympus 45mm f1.8 mid-way through my trip), and consistently delivered images I was delighted with. Sure it has its faults, but the sheer image quality more than makes up for it and I'd still Highly Recommend it for Panasonic Micro Four Thirds owners who want a fantastic quality ultra-wide zoom. It's also very tempting for Olympus owners who'll be able to exploit their built-in stabilization too, but again they should be aware of the flare issues, especially if shooting city nightscapes.
Update: Olympus launched its own 7-14mm Micro Four Thirds lens in 2015 with a constant f2.8 aperture and weather-proofing. It's understandably priced higher than the Lumix 7-14mm and is larger and heavier too, but is worth considering if you want the range with a brighter aperture, tougher build and potentially fewer flare issues with Olympus bodies.
Summary
Good points
Superb image quality across the frame, especially at the wider-end.
Constant f4 aperture throughout the range.
Built-in lens hood provides protection against flare and knocks.
One of the smallest ultra-wide zooms around.
Bad points
No built-in filter mount. Filters need a third-party or DIY solution.
Lack of optical stabilisation may be an issue for Panasonic owners.
Basic manual focusing ring feels more like a kit lens.
No weather-sealing.
Purple flare blobs seen when shooting into lights with Olympus bodies.