Panasonic Lumix TZ60 / ZS40 review - Verdict
Verdict
Panasonic's flagship travel-zoom, the Lumix TZ60 / ZS40, confidently takes the high ground to become the most sophisticated pocket superzoom camera to date. It's a natural approach for the TZ / ZS series as Panasonic has traditionally stayed one step ahead of rivals in a category which, lest we forget, it invented.
So imagine Panasonic's surprise when Sony responded to the feature-heavy TZ40 / ZS30 last year with its Cyber-shot HX50V. Sure it may not have had the touchscreen or the GPS landmark database, but it did have a lens that zoomed 50% longer with a 30x range that made the 20x on the Lumix feel somehow lacking. In one fell swoop, Sony took advantage of Panasonic's two-yearly lens upgrade by trumping it mid-cycle with what is of course the key specification of any super-zoom camera.
With this in mind it's no surprise to find the new Lumix TZ60 / ZS40 matching Sony with an identical 30x range, nor indeed for Canon doing the same. But the unexpected and very welcome move from Panasonic is to accompany it with a built-in electronic viewfinder. Yes it's small and coarse, but the point is it's built-into a body that's the same size as its rivals and always there when you need it. Not enough? How about also becoming the only one of its peer group with support for RAW? What about adding better controls and focus peaking too? Despite losing the touchscreen of its predecessor, it still adds up to the most powerful pocket super-zoom camera to date, albeit one that's understandably more expensive than its rivals. So before my final verdict, here's how they all compare.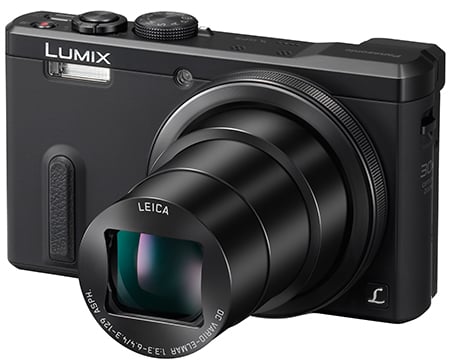 Panasonic Lumix TZ55 / ZS35 vs TZ60 / ZS40
Panasonic updates its travel zoom range every year with two new models: a high-end option with all the bells and whistles, and a lower-end one with a simpler specification to come in at a lower price point. In 2014 the flagship is the TZ60 / ZS40, and the cheaper model is the TZ55 / ZS35.
The TZ55 / ZS35 isn't a rival to the TZ60 / ZS40, but I'm including it here for reference and completeness. Arguably the biggest difference is the lens range: 20x / 24-480mm vs 30x / 24-720mm, giving the more expensive TZ60 / ZS40 longer reach on the telephoto end. There's also compositional differences with the flagship TZ60 / ZS40 sporting a touch-screen and built-in electronic viewfinder, but the cheaper TZ55 / ZS35 fights back to some degree with an articulated screen that can flip all the way round to face the subject for easy self-portraits. Both models have Wifi, but the TZ60 / ZS40 adds NFC and built-in GPS too, the latter including the landmark database. The TZ60 / ZS40 also boasts more controls, 1080 video at 50 / 60p (vs 25 / 30p), and the option to record in RAW, along with having two extra Megapixels, although this won't make much difference to the quality.
In the shops, the TZ55 / ZS35 comes in at almost half the price of its feature-packed sibling, making it appear like a bargain alongside for those who don't need all the latest bells and whistles. But remember it goes up against many other lower priced pocket superzooms, including Canon's PowerShot SX600 HS. At the time of writing I'd not yet reviewed the TZ55 / ZS35, but if you have a lower budget, you may be interested in my Canon SX600 HS review. Or as an alternative, why not consider last year's flagship Lumix travel-zoom, the TZ40 / ZS30? Indeed it's such an interesting option, I've detailed it below, before kicking-off on the 30x camera comparisons.
Panasonic Lumix TZ40 / ZS30 vs TZ60 / ZS40
Numerically the Lumix TZ60 / ZS40 is the successor to last year's TZ40 / ZS30, although Panasonic has made a number of key changes that make it a significantly different camera. But in the year since it was released, the TZ40 / ZS30 has fallen considerably in price to become a relative bargain, and in some respects a more attractive option than the newer TZ55 / ZS35 depending on which features you rate highest.
Both models have 18 Megapixel resolution, 1080 video at 50p or 60p, slow motion video at up to 100fps in 720p, built-in Wifi with NFC and built-in GPS receivers with a landmark database. In its favour, the new TZ60 / ZS40 has a longer 30x / 24-720mm zoom range (vs 20x / 24-480mm), a built-in viewfinder, twin control dials, support for RAW and focus peaking. But it's not all one-sided. The older TZ40 / ZS30 has a touch-screen allowing you to tap to reposition the AF area, and built-in mapping, albeit basic compared to what we're used to on smartphones. It's also smaller, lighter and around half the price.
Sure it may not have the articulated screen of the newer TZ55 / ZS35, but it does have the same lens range, a screen that's touch-sensitive, higher frame rates for video and built-in GPS and NFC to go with the Wifi. To me that makes it the better camera, especially given the price is similar while stocks last.
I've said it on previous reviews and will say it again: the best cheaper alternative to Panasonic's flagship travel-zoom is last year's flagship travel-zoom. So if the latest TZ55 / ZS35 is closer to your budget, you'd be wise to consider last year's TZ40 / ZS30, so long as the price is similar.
See my Panasonic Lumix TZ40 / ZS30 review for more details, or keep reading for comparisons between the new TZ60 / ZS40 and the best of its 30x rivals.
Canon PowerShot SX700 HS vs Lumix TZ60 / ZS40
The Canon PowerShot SX700 HS is a major competitor to the Lumix TZ60 / ZS40 and on the surface the two models share a lot of similarities. Both have 30x zoom lenses (with slightly different ranges), and they both have 3 inch screens with similar resolution, neither of which is touch-sensitive, Panasonic having dropped that feature from its latest flagship travel zoom. They are almost identically sized, though the SX700 HS is a little bigger and heavier, and both come with built-in Wifi and NFC. The Lumix TZ60 / ZS40 also has a built-in GPS, though you can use your smartphone to tag images on the SX700 HS with geopositional data. It's also worth noting that the Panasonic app is more sophisticated than the Canon one and offers better remote shooting and image transfer options.
One of the numerical differences is sensor resolution: the Lumix TZ60 / ZS40 has an 18.1 megapixel CMOS sensor compared with a 16 Megapixel CMOS sensor in the SX700 HS. Despite the difference, both are fairly evenly matched for noise and image quality, so that's not a factor that should influence you. I should also mention the TZ60 / ZS40 can shoot RAW, providing the opportunity to make easier adjustments to things like white balance, sharpening and compression at a later point, although in my tests it offered little benefit in image quality or highlight retrieval.
Arguably the most important difference though is the presence of the electronic viewfinder on the Lumix TZ60 / ZS40. It may be small and fairly coarse in terms of detail, but it's a useful alternative to the screen not just on sunny days, but also for holding the camera at your face for an additional point of contact for extra stability – handy when shooting or filming at the maximum focal length. The Lumix TZ60 / ZS40 also has a control ring on the lens, which combined with the viewfinder and RAW files makes for a feature-set that will appeal more to enthusiasts.
Both offer 1080p60 HD video but the TZ60 / ZS40 provides better slow motion video modes with 720p at 100 fps and VGA at 200 fps compared with VGA at 120fps or QVGA at 240 FPS on the PowerShot SX700 HS. In its favour the SX700 HS offers movie hybrid mode which compiles a movie of your day's shooting for you. And for action shooters the Lumix TZ60 / ZS40's offers faster longer bursts of full resolution continuous shooting – 10fps for 6 frames compared with 8.5fps for 4 frames on the SX700 HS. It also has a panorama mode that's lacking on the Canon.
So the Lumix is better-featured overall, but there's the not insignificant detail of price. In most regions the Lumix TZ60 / ZS40 is around one third more expensive than the PowerShot SX700 HS. As usual, you need to ask yourself if the built-in viewfinder, RAW support, GPS receiver and superior Wifi remote control is worth paying the extra. Enthusiasts will almost certainly prefer the Panasonic, but anyone simply wanting a decent 30x pocket super-zoom will find the Canon offers most of what they desire.
See my Canon SX700 HS review more details.
Sony HX50V / HX60V vs Lumix TZ60 / ZS40
Sony's flagship pocket super-zoom camera is the HX50V in North America, and the HX60V everywhere else. The HX60V is an updated version which takes the body, lens and sensor of the HX50V and adds enhanced five-axis stabilisation, improvements to the user interface, NFC to aid Wifi negotiation, the chance to install apps to expand the functionality, and the quicker BIONZ X image processor which supports faster burst shooting. Strangely the HX60V is not part of Sony's 2014 lineup in North America, and instead the HX50V remains the company's compact super-zoom.
Confused? You might be, but if it makes it easier, the HX50V continues to be the flagship model for North America, while everyone else has the choice of last year's HX50V or the updated HX60V. Either way, both are key rivals to the Lumix TZ60 / ZS40, so let's see how the features compare. I'll refer to the Sony now on as the HX50V / HX60V and mention any differences where relevant.
Both the Sonys and Panasonic share exactly the same 30x optical range, equivalent to 24-720mm. Each also have the same size 1/2.3 inch sensor, but the Sonys pack in 20.4 Megapixels, compared with 18 in the Panasonic. My quality tests show them sharing similar degrees of real life detail and noise; pixel-peepers may notice a fraction more detail from the Sony at low ISOs and a fraction less noise from the Panasonic, and one of our test samples of the Lumix exhibited softness in the edges at wide angle, but really I wouldn't base a buying decision on any differences in quality as it's so minor.
I should also mention the TZ60 / ZS40 can shoot RAW, providing the opportunity to make easier adjustments to things like white balance, sharpening and compression at a later point, although in my tests it offered little benefit in spatial or tonal detail.
The next headline feature for both of these models is GPS and Wifi connectivity. Both the HX50V / HX60V and TZ60 / ZS40 have Wifi and GPS capabilities built-in, and all but the HX50V have NFC as well to ease the initial Wifi negotiation. So far so similar, but Panasonic trumps Sony by offering more sophisticated smartphone based remote control, along with a built-in database of landmark names which appear on-screen when shooting. That said, while the Wifi and GPS implementation on the Sony HX60V is fairly basic in comparison, it does support Sony's downloadable apps to extend various capabilities.
Both the Panasonic and Sony provide a good range of movie choices, with a 1080p 50/60 best quality HD mode, enhanced stabilisation (particularly so with the newer HX60V) and movies with filter effects. The Panasonic also offers a couple of slow motion modes.
Once again though, the biggest difference concerns a viewfinder. The HX50V / HX60V has a hotshoe onto which you can slide a very respectable optional viewfinder accessory, but it of course adds to the size and cost. In contrast, the Lumix TZ60 / ZS40 has its viewfinder built-in and always available – sure it's small and relatively coarse, but it's always there.
Which brings me to price. In North America there can be as much as 25% difference between the HX50V and the ZS40. The difference is smaller when comparing the newer HX60V against the TZ60, but the fact is the Panasonic is more expensive. Like the Canon SX700 HS above, it's a case of working out if you're willing to pay the extra for the viewfinder, RAW support, GPS landmark database and superior Wifi remote control. If not, then the Sony cameras can save you some outlay, especially if you're happy with the older HX50V.
See my Sony HX50V review for more details.
Panasonic Lumix TZ60 / ZS40 final verdict
Panasonic has once again taken the high-ground with its flagship pocket super-zoom camera, delivering a raft of upgrades that go beyond its predecessor and core rivals, albeit at an understandably higher price. Enthusiasts will appreciate the presence of dual control dials, focus peaking and support for RAW files, the latter a feature that's long been awaited in this market segment.
Most importantly of all, the TZ60 / ZS40 is the first of its peer group to include a built-in electronic viewfinder. Perched in the corner of the body, it's the same small and relatively coarse panel first seen in the Lumix LF1, so even with improved optics it'll never win any size or detail contests. Indeed it's very basic compared to the finders fitted on mid-range mirrorless cameras, not to mention Sony's RX100 III. But crucially it's ready and willing for composition in bright conditions when the screens on rivals become hard to see, and of course the extra stability of a camera held to your face is valuable when you're talking about handholding a 720mm equivalent focal length with a small body sporting a minimal grip. Ultimately I wish it were possible to squeeze the RX100 III's viewfinder into the TZ60 / ZS40, but price – and probably size – prevent it for now. But the simple fact is the TZ60 / ZS40 is the only pocket superzoom which has a built-in viewfinder, and that could be all you need to know.
On top of all this, the TZ60 / ZS40 inherits the unique GPS-driven landmark database of its predecessors, while also sporting the best smartphone remote control of the group. Sure the built-in mapping of the earlier TZ40 / ZS30 is gone, but in an age of Google Maps on large and detailed smartphone screens, I suspect no-one will miss it.
There is however one casualty in this march of 'progress' and that's the loss of a touchscreen, something that has long been present on Panasonic's top-end cameras. They tell me it was dropped from the TZ60 / ZS40 spec to save money, and to be fair neither Canon nor Sony bother with them on their pocket superzooms. But I really missed it here, not for swiping through images in playback or dragging screen guides, but for manually positioning the AF area. It's so much easier to tap the desired part of the screen than enter an AF menu and nudge the frame along one button-press at a time.
As for the zoom, the fact Panasonic adopted a 30x range is no surprise as it had to respond to Sony trumping it one year earlier. In this particular arms race, Panasonic gambled on not taking it any further, and it paid off as its rivals have either stuck with 30x (in the case of Sony) or upgraded to the same specification (in the case of Canon). What can I say? Packing 30x zooms have made the TZ60 / ZS40 and its rivals larger than their 20x predecessors, but equipped them with an incredibly versatile range in bodies that crucially remain pocketable. But again with all three models sharing 30x zooms, it's not a differentiator. Neither is image quality which, apart from a few minor differences mostly visible to pixel-peepers, is very similar too.
Sure the new Lumix boasts support for RAW but it won't miraculously reduce noise or retrieve blown highlights from the tiny sensor. You will be able to do things like adjust the white balance, sharpening and compression, but don't expect improvements in overall image quality.
So with the flagship pocket super-zooms from Panasonic, Canon and Sony all sharing essentially the same reach and roughly the same image quality, the choice between them boils down to other features and price. The Lumix TZ60 / ZS40 certainly has the most powerful feature-set, and again is the only model to boast a built-in viewfinder, support for RAW, a landmark database to complement its GPS receiver, and the best Wifi remote control of the bunch. But unsurprisingly these all also make it the most expensive of the group, costing roughly one third more than its rivals.
Is it worth paying the extra? Only you can decide. Personally I think it's worth it for the viewfinder and controls. Indeed for raising the bar to a degree where it reaches comfortably beyond the point-and-shoot nature of most rivals I'm awarding the TZ60 / ZS40 our Highly Recommended rating – but equally I realize if the extra features aren't important to you, then there's money to be saved on simpler models which share the same zoom range and image quality.
I should also mention the higher price means the TZ60 / ZS40 approaches the price of compacts with bigger sensors, albeit with much smaller zoom ranges. If you're reading this because you want a great compact for travel, ask yourself if you'd prefer a massive zoom or better quality in low light. Sadly you can't have both in a small camera, so it's a trade you'll need to weigh-up for yourself. If you want better image quality in a compact body, you should be considering something like the Sony RX100 II or Sony RX100 III, albeit again sacrificing zoom range and paying more too. But if you're happy with the image quality of the TZ60 / ZS40 and absolutely want a 30x zoom range in your pocket, it's the most capable of the current group of pocket travel-zooms.
Good points
Huge 30x zoom range with decent stabilisation.
Built-in electronic viewfinder.
Support for RAW files.
1080 / 50p / 60p video; also 100fps at 720p.
Built-in Wifi with NFC. Smartphone remote control.
Built-in GPS with landmark database.
Dual control dials.
Focus peaking.
Panorama mode.
Bad points
Viewfinder image is small and lacks detail.
Control dials often perform same function.
Screen no-longer touch-sensitive.
RAW files won't deliver a boost in quality.