Panasonic Lumix TS20 / FT20 review
Intro
The Panasonic Lumix TS20 (or FT20 as it's known outside North America) is a water-proof, dust-proof and shock-proof point-and-shoot compact. It has a 16.1 Megapixel CCD sensor and a 4x stabilised optical zoom lens. It's one of four waterproof compacts in the Lumix line-up, affordably priced near the bottom of the range and replaces the Lumix TS10 / FT10, though that model is, for the time being at least, still listed.
You can submerge the Lumix TS20 / FT20 to a depth of 5 meters – not as deep as the more expensive Lumix FT3 and FT4 models nor the Canon D20, but probably enough for anyone without a diving qualification or at least serious about snorkeling.
The Lumix TS20 / FT20 has the same 2.7 inch 230k pixel screen as its predecessor, but the zoom range is extended with a very useful 25mm wide angle extending to 100mm at the telephoto end. The resolution of the CCD sensor increases from 14.1 to 16.1 Megapixels, providing larger still images, but the best quality video remains 720p30 with files saved in QuickTime format. The Lumix TS20 / FT20 doesn't have particularly impressive continuous shooting performance at its full 16.1 Megapixel resolution , but can shoot 3.1 Megapixel images at speeds of 8fps.
To test the Lumix TS20 / FT20 I took it into the Atlantic surf off the coast of Cornwall in the South West of the UK along with the Canon PowerShot D20. The D20 is a bigger, more expensive model with superior sealing, a longer zoom range and a built-in GPS. But do these features justify the higher price, or would you be better off in the water with the less expensive, more compact Lumix TS20 / FT20. Read my full review to find out.
Panasonic Lumix TS20 / FT20 Design and controls

In terms of it's size, shape and control layout, the Lumix TS20 / FT20 looks very similar to the non-waterproof Lumix models. Tell-tale differences are the folded optic lens design which sits behind a glass panel at the top left and an industrial-looking hand grip on the right side of the body. There's what looks like a separate plate attached to the front of the camera, but this is part of the front moulding and is a design embellishment. The built-in flash is mounted near the top centre of the front panel and an LED AF illuminator is situated between the flash and the lens.
The Lumix TS20 / FT20 is a slim, light camera, the overall dimensions are 101 x 58 x 19mm and it weighs a mere 142 grams including card and battery. Compare that with the Canon D20 which is considerably chunkier at 112 x 70 x 28mm, and at 228g nearly twice the weight. In the water, a slim compact has both advantages and some drawbacks. The slim profile means it's easy to hold and stow, the Lumix TS20 / FT20 will fit comfortably inside the snuggest of wetsuits and you can easily hold it in the palm of your hand while swimming, that's not something you can do so easily with the bigger, heavier PowerShot D20. It also has a cord wrist strap that can be adjusted with a toggle so that even if you drop it you won't lose it – the TS20 / FT20 doesn't float in the water.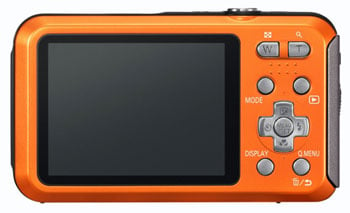 In keeping with the diminutive dimensions of the camera, the TS20 / FT20 has tiny control buttons. With the exception of the shutter release and the four-way controller and zoom buttons on the rear panel, the buttons are all small round silver pips about 5mm in diameter. On a camera designed for use in the water and the cold, this is a mistake. Unless you memorize the control layout it's difficult to identify the correct button without looking and the small white labels aren't easy to see, particularly if there are waves crashing over your head.
The rear panel layout has the four-way controller flanked by buttons for mode selection, playback, display overlays and Panasonic's quick access Q Menu. And on the cross keys you'l find controls for exposure compensation, flash, macro focus and self timer functions. Just to add one final complaint about the buttons, on the four way controller the buttons are etched with icons to explain their function and these are difficult to make out with the camera on the desk in front of me now, so unless you commit these to memory you're unlikely to have the patience to use them in the water.
The TS20 / FT20's combined battery and card compartment is located on the right side of the camera. The door runs the full height of the camera and is fitted with a double-locking mechanism to ensure that it can't accidentally open while you're in the water. If you fail to secure the second locking catch a warning is displayed when you turn the camera on, it's all very reassuring and secure. The USB / A/V port is also located in here and as well as a standard USB cable the TS20 / FT20 is supplied with a video cable so you can connect it to a TV with a standard definition composite video input.
The TS20 / FT20 is compatible with SD/SDHC/SDXC cards. One bonus of having the card compartment on the side of the camera is that the base plate contains only the tripod bush, so it's easy to change cards and batteries with the camera mounted on a tripod.
The screen on the Lumix TS20 / FT20 is a 2.7 inch LCD with 230k pixels. Given that 3 inch screens are now fairly commonplace even on budget models, it's a little disappointing to see Panasonic stick with the same size screen that featured on its introductory waterproof model, the FT1, released nearly four years ago. The brightness and colour characteristics of the display can be altered and the TS20 / FT20 also features Panasonic's LCD modes including Power LCD which brightens the display for outdoor use and High Angle which adjusts it for overhead shooting. While the former is fairly ineffective, High Angle actually works well to improve the screen visibility at acute vertical view angles.
The built-in flash has a quoted range of 4.4 meters with the sensitivity set to Auto, so my guess would be that's at the maximum 1600 ISO setting. In practice I found the TS20 / FT20's flash was quite weak and really only capable of illuminating subjects within a metre or two of the camera at 100 ISO. It's reasonably quick to recharge, though, taking about three or four seconds before the camera is ready to shoot again.
Panasonic Lumix TS20 / FT20 lens and stabilisation

The Lumix TS20 / FT20 has a 4x optical zoom with a 35mm equivalent range of 25 to 100mm and a maximum aperture of f3.9 – 5.7. Compared with the competition this sits between the 3x and 4x zooms of budget waterproof models like the Nikon COOLPIX S30 and Fujifilm FinePix XP50 and the 5x zooms of the more expensive models like the Canon D20, Nikon COOLPIX AW100 and Olympus Tough TG 820 iHS.
But if you focus on a straight comparison of zoom ranges it's easy to overlook one crucial advantage the Lumix TS20 / FT20 has over the more expensive models. Their 5x zoom ranges start at a fairly pedestrian wide angle focal length of 28mm, while the Lumix TS20 / FT20 starts out with an impressive super-wide angle of 25mm. That's enough to make a big difference in a confined space like a boat, a cave or a tent and it's also ideal for photographing panoramic vistas and large group shots.
| | | |
| --- | --- | --- |
| Panasonic Lumix TS20 / FT20 coverage wide | | Panasonic Lumix TS20 / FT20 coverage tele |
| | | |
| 4.5-18mm at 4.5mm (25mm equivalent) | | 4.5-18mm at 18mm (100mm equivalent) |
The maximum aperture is f3.9 – 5.7, which may strike you as a little dark given that conventional budget compacts typically open up to f2.8 at the wide angle setting. This is fairly typical for underwater models though, and is a limitation of lenses that use a folded optics construction. The top-of-the-range underwater Lumix FT4 only goes marginally brighter at f3.3.
The smallish maximum aperture doesn't rule out the TS20 / FT20 for low light photography as it has optical image stabilisation. Mega O.I.S isn't as sophisticated as Intelligent IS employed on the Canon D20 and doesn't configure itself using scene recognition. There are just two settings, On and Off, the TS20 / FT20 lacks the mode 1 and 2 (continuous and shoot only) options of other Lumix compacts. To test the Lumix TS20 / FT20's stabilisation I zoomed the lens to its maximum 100mm telephoto position and took a sequence of shots in deteriorating light at progressively slower shutter speeds in Normal picture mode. As you can see from the crops below, the Lumix TS20 / FT20 is capable of three stops of stabilisation, a markedly better performance than the Canon PowerShot D20.
Panasonic Lumix TS20 / FT20 Mega O.I.S Off/On

100% crop, 4.5-18mm at 18mm, 100 ISO 1/10th O.I.S. Off.

100% crop, 4.5-18mm at 18mm, 100 ISO 1/10th O.I.S. On.
Panasonic Lumix TS20 / FT20 shooting modes

The Lumix TS20 / FT20 is essentially a point-and-shoot model and lacks any manual or semi-automatic modes. Like all Lumix compacts it features Intelligent Auto mode with scene detection. This selects the Portrait, Scenery, Macro, Night Portrait, Night Scenery, Sunset or Baby scene modes where appropriate, otherwise, it uses the standard auto exposure settings. Intelligent Auto also employs Intelligent ISO which detects motion in the frame and selects an appropriately high sensitivity setting to enable a suitably fast shutter speed. Lastly, Intelligent exposure sets different ISO levels for individual scene areas to produce an exposure that captures a wider range of tonal detail than would otherwise be possible. Intelligent ISO and Intelligent Exposure are also available in other modes.
Normal Picture mode is what other manufacturers generally call Program Auto and gives you control over some settings, but falls well short of fully manual operation. Most of these, including AF mode, white balance, ISO and picture size are selected from the Q.Menu. Others including face recognition, stabilisation and minimum shutter speed, are selected from the main menu.
The Lumix TS20 / FT20 also has a panorama mode which takes a sequence of shots as you rotate the camera and automatically stitches them together to create a panoramic image. You shoot with the camera held in portrait or landscape orientation and the maximum coverage is around 180 degrees. Panasonic doesn't include the panorama mode in its image size specifications, but my tests produced images with a maximum size of 2928 x 720 in landscape orientation and 3200 x 756 in portrait. So these aren't particularly high resolution panoramas, but it's a nice feature to have, all the same.
The Lumix TS20 / FT20 has no fewer than five AF modes. The default AF mode in Intelligent Auto exposure mode is Face detection. This works well on land in good light and when people are within a few meters of the camera, but I spent a lot of time in the water with the TS20 / FT20 taking surfing shots and I don't recall the face AF activating once during that time.
If it can't lock onto a face, or there are none in the frame, the TS20 / FT20 defaults to 23-area AF and, even in rough seas, this is quite effective. The other AF modes, which you can select from the Q menu in Normal picture mode and some scene modes are 1-area, Spot and AF-Tracking. It's always good to have a choice of AF modes, but in the water I found that the 1-Area centre AF mode was the most practicable and reliable.
When there's a lot of water moving around, area AF and tracking AF have a hard time finding and keeping hold of subjects and anything you can do to help out, for example by restriction the AF to one area and trying to keep the subject within it, yields results. Having said that, shooting surfers is just one particular scenario and the situation for, say, yachting, or kayaking could be quite different. The point is that the Lumix TS20 / FT20 provides enough AF options to cope with these different situations both in and out of the water.
Panasonic Lumix TS20 / FT20 movie modes

The Lumix TS20 / FT20 can shoot HD video at 720p resolution at 25 frames per second. Files are encoded using the H.264 codec at an average bit rate of 10Mbps and saved in a QuickTime wrapper with an mp4 extension in the same folder as still images. The only other video mode available is 640 x 480 (VGA) also at 25fps and encoded in the same way at 4Mbps.
The Lumix TS20 / FT20 has a dedicated video button which starts recording in the selected mode with exposure set according to the selected mode, in other words scene detection is used for movies shot in Intelligent Auto mode, or you can select an appropriate scene mode. And when in Normal Picture (program auto) mode you can use exposure compensation to adjust the exposure by up to plus or minus two stops.
As with the Canon D20, you can use the Miniature scene mode to record movies and the action is sped up with no sound recorded. But whereas the PowerShot D20 allows you to set the focus zone and offers three different playback speeds, the TS20 / FT20 provides none of those options with playback speed set to 10x, so if you film for a minute, you'll get a six second clip.
The TS20 / FT20's zoom operates at a slower speed during movie mode and is virtually silent, but you can just make out a faint buzz on the mono audio track. You can't shoot still images during movie recording, but you can display a 16:9 overlay on the screen so you can frame up a movie shot before pressing the record button. Otherwise you'll get taken a little off guard when the screen switches to 16:9 mode with black bars top and bottom. The only problem with the 16:9 frame is it's a little heavy, faint lines would have done the job, but instead there's a dark frame overlay that almost obscures the background, making it very difficult to frame up 4:3 still shots. So this is something you'd only be likely to use immediately prior to movie shooting, you wouldn't want to leave it on all the time. Given that, it would make a lot more sense for this to be added to the display overlays that you can toggle through using the Display button, rather than on the Setup menu.
The maximum continuous recording time in HD mode is 50 minutes, though European models are restricted to 29 minutes and 59 seconds and Panasonic recommends a speed class 4 or faster card for recording movies.
Panasonic Lumix TS20 / FT20

sample video 1: outdoors, sunny, handheld pan
720p HD movie quality on the Lumix TS20 FT20 is good, but it lacks the detail of the 1080p mode on the Canon PowerShot D20. The stabilisation works well on this handheld panning shot, though it doesn't supress all the wobbles at the maximum 100mm telephoto.
Panasonic Lumix TS20 / FT20

sample video 2: outdoors, sunny, tripod pan with optical zoom
Stabilisation was disabled for this tripod-mounted shot. The TS20 / FT20's CCD sensor copes well with the highlights on the water but, though you can't see it in this clip, it does streak when it encounters bright light sources and reflections. The continuous AF is a little jittery, but maintains focus during the zoom. And the zoom motor itself is quiet, but just audible.
Panasonic Lumix TS20 / FT20

sample video 3: indoors, low-light, handheld pan
This low light panning shot reveals the quality shortcomings of the Lumix TS20 / FT20's best quality video mode. Detail looks smeared and blocky, possibly as a consequence of the low 10Mbps encoding bit rate, or high compression levels, excessive noise reduction or a combination of all three.
Panasonic Lumix TS20 / FT20

handling

Handling on a camera that's designed to be used in water and other demanding environments is clearly an important issue. Factors that are important when you're on dry land – size, shape and weight, accessibility of controls, responsiveness and speed all become even more crucial when you're in or on the water or have other restrictions to deal with. So how does the TS20 / FT20 perform under such demanding conditions?
First, let's look at the positives. I was surprised to discover that one of the TS20 / FT20's most appealing and useful attributes was its small size and weight. The fact that it's so thin and light makes it easy to hold onto in the water and you can slip it inside your wetsuit and you'd hardly know it was there. It's also very easy to hold in the palm of your hand while swimming.
But does a small body have to have such small buttons? The design of the Lumix TS20 / FT20 makes very little attempt to acknowledge its function and in many respects, particularly the rear panel controls, resembles any other Lumix compact. I was critical of the tiny buttons on the Lumix FT1 and it's somewhat depressing to see Panasonic persist with it. The buttons and their subtle labelling just aren't designed for use in the water and there's no way you can operate the camera with gloves on.
Having said that, I did manage to change shooting and AF modes and even review shots while in the water in a moderate swell, so it's not impossible, just more difficult than it ought to be.
Other handling issues I encountered were not exclusive to the TS20 / FT20. The glass surface of the lens was susceptible to water droplets which blurred many shots and interfered with AF operation, and the actual lens position makes it easy to obscure with your finger if you're holding the camera with both hands. Like many other water-proof compacts, the Lumix TS20 / FT20 is also dust-proof and shock-proof. You can drop it from a height of 1.5 meters (yes, I did) with no ill effects. It's also freeze-proof down to -10 degrees C.
To test the low temperature capabilities of the Lumix TS20 / FT20 in a not very scientific way I put it in my freezer at -22 degrees C for a couple of hours before taking it out and trying to take some shots with it. I must admit to being quite surprised when it switched on immediately, but the power was short-lived and it gave up after a few seconds. The weak point for low-temperature operation in any camera is the battery and, to be fair, the Lumix TS20 / FT20's was probably colder than the -10 degrees C specified minimum. After a few minutes it warmed up sufficiently for me to start shooting with the camera. The Canon PowerShot D20 is also certified down to -10 degrees C but, just to put these figures in context, many conventional compacts specify operation down to 0 degrees C and will often go a bit colder. The trick for operating in cold environments is to store the batteries somewhere warm untill you need them.
The Lumix TS20 / FT20's continuous shooting performance is an unremarkable 1.3 frames per second at full resolution, but it can shoot a burst of 3.1 Megapixel images at 8fps. To test its continuous shooting capability I fitted it with a freshly formatted 4GB Sandisk Extreme speed class 10 card and shot a burst of images in High Speed Burst mode. The Lumix TS20 / FT20 didn't quite achieve the 8fps quoted, but it did manage to fire an 80 frame burst without pause fractionally faster than 7fps. So while it fares little better than the Powershot D20 at full resolution you do at least have the option to capture a lengthy action sequence at a respectably quick frame rate.
The Lumix TS20 / FT20 is equipped with a 16.1 Megapixel CCD sensor which produces images with a maximum size of 4608 x 3456 pixels. Images are saved as JPEGs at a compression level which produces files around 6 to 7MB in size. The ISO range is 100 to 1600 with 1600-6400 ISO available in the High Sensitivity scene mode.
To see how the quality of the Lumix TS20 / FT20 measures-up in practice, take a look at my Panasonic TS20/ FT20 quality and Panasonic TS20 / FT20 noise results pages, browse my Panasonic TS20 / FT20 sample images, or skip to the chase and head straight for my verdict.