Panasonic Lumix DMC-FT1 / TS1
Intro
Announced at the beginning of 2009, the Panasonic Lumix DMC-FT1 / TS1 is a 12.1 megapixel compact with a 4.6x optical zoom and a 2.7in screen. It's Panasonic's first waterproof camera and can be submerged to a depth of 3 metres. Though not as slim as some 'normal' compacts, the design remains pocketable considering its underwater status. It also bears more than a passing resemblance to other Lumix compacts with its square geometry and brushed metallic-look surfaces.
One giveaway to the camera's sub-aquatic nature is the enclosed lens housing situated at the top right of the front plate. It also has waterproof and dust proof doors on the SD card / battery compartment and the AV / USB output ports.
The FT1 / TS1 also sports decent movie capabilities. It can shoot 720p HD video encoded in either Motion JPEG or AVCHD Lite formats, you can optically zoom while filming and there's also an HDMI port for HD playback on an HDTV.
To find out just how well the FT1 / TS1 copes with kind of conditions it's designed for, we spent some quality time with it surfing in the Atlantic Ocean, along with subjecting it to our usual testing routine. We wanted to discover whether it's a real all-rounder, that's every bit as easy to use in the water as on dry land, and of course how it compares with underwater rivals like the Canon PowerShot D10 and Olympus TOUGH 8000. Read our review to find out how it got on.

The FT1 / TS1 is not as slender as many compacts, but you'll have little trouble fitting it in your shirt or jacket pocket. It's marginally bigger than the Olympus TOUGH 8000 but positively petite compared with the Canon PowerShot D10. At 162g without the battery it's also lighter than both the Canon and Olympus underwater models.
Whereas the PowerShot D10 has clearly been designed for use in the water, it's almost as if Panasonic has gone out of its way to make the FT1 / TS1 unsuited for use in wet environments. The vertical strip finger grip featured on some other Lumix compacts is absent which effectively means you're grasping a shiny wet silver brick with few natural contours.
The location of the lens close to the top corner of the camera means if you're holding it with both hands it's easy to let your fingers stray into the corner of the frame (albeit equally a complaint of the Olympus TOUGH 8000). To be fair though, it's easy to see this on the LCD screen and you soon learn to keep them tucked well out of the way.
The camera has two spring-loaded, latched doors each with a rubber waterproof seal. One on the bottom provides access to the battery compartment and SD card slot, the other, on the right side houses the HDMI port and a proprietory combined AV / USB port.
The FT1 / TS1 has a slightly recessed on / off button on the top panel. The camera is nigh impossible to turn on accidentally because you need to hold the button down for more than a second before it comes to life. Press and let go any quicker and nothing happens. This delay doesn't seem to serve any useful function and was a source of constant irritation.
The shutter button is a rectangular plate with a knurled top surface that's easy to identify by touch alone and has a positive first pressure. The zoom rocker, which sits just in front of the shutter release is less practical. Though it has a raised nub in the centre it's difficult to get a good grip and you need to maintain more downward pressure than is comfortable to avoid your index finger sliding sideways.
The majority of the controls are located on the back panel to the right of the LCD panel. The mode dial switches between the seven still capture modes with buttons below for movie capture and playback modes. The dial is extremely stiff to operate – possibly as a consequence of waterproof sealing – and, though it has a knurled edge, is very difficult to operate single-handed. On a more positive note, in addition to Intelligent Auto and Normal Picture (Program) modes it has positions for Sports, Snow and Beach and Surf scene modes.
The SCN position provides access to other scene modes and finally there's a clipboard mode for shooting signs, menus, documents and other text-based subjects. These images are stored in the camera's internal memory, separately from those on the SD card. More than a little odd though, is the absence of a dedicated position on the dial for the underwater scene mode.
The movie capture button goes straight into record mode and begins capturing with a single press, which is positive, direct, and gives you the best chance of getting the shot. The playback button switches to playback mode as long as the camera is turned on and in capture mode.
Progressing downwards there's a conventional five-button menu controller with a central menu / set button surrounded by up, right, down and left buttons that double up for (clockwise from the top) exposure compensation, flash, macro and self timer functions. Finally, at the bottom of the panel a display button toggles overlay information and a Q.Menu button accesses a super-imposed menu system with a subset of commonly used settings. This last one doubles up as a delete button.
All of the FT1 / TS1's controls are, in our view, unsuited for use in the water. This is perhaps not surprising, given they're of the same (or at least very similar) design that Panasonic uses on other Lumix compacts. Small metal buttons with engraved labels are fine for conventional environments, but, with the exception of the movie button, in the water you've got little or no chance of finding what you need unless you memorize the button layout. Even then, the size and proximity of the buttons makes it a bit of a lottery.
The FT1 / TS1's flash is located at the top of the front panel almost in the centre alongside the AF assist lamp. Along with auto, forced on and forced off modes, the flash has a red eye reduction and slow synch mode. The Panasonic website quotes a maximum flash range of 5.1 metres, which, if accurate is impressive. This maximum range figure is usually quoted for the maximum ISO, which in this case (in auto mode) is 1600, nonetheless it compares very favourable with other compacts. The PowerShot D10's maximum quoted flash range is 3.2 metres.
The FT1 / TS1's 3.6V 940mAh battery provides enough power to take 340 pictures using CIPA standard methods. If you're planning to stay out on the water for a day, or anywhere else where recharging opportunities are few and far between, this is good news. The Powershot D10 CIPA rating is 220 shots.
Support this site by shopping at Amazon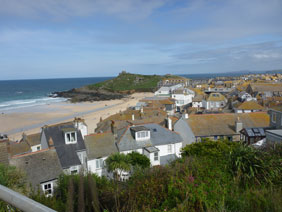 Panasonic Lumix DMC-FT1 / TS1 coverage

4.9-22.8mm at 4.9mm (28mm equivalent)

4.9-22.8mm at 22.8mm (128mm equivalent)
The FT1 / TS1's lens has an optical zoom range of 4.9-22.8mm which is a 35mm equivalent of 28mm-128mm, giving you decent wide-angle coverage to medium telephoto. The maximum aperture is f3.3-5.9 depending on the lens focal length.
The lens construction is enclosed within the camera body and there's no integral cover. When you turn the camera on, there's no indication from the front that anything's happened; there's no cover to slide across and the internal lens assembly doesn't move, which makes it all the more perplexing that you should have to hold the on button down for what seems like an age (just over a second in real time) before the camera powers up on and is ready for action. It's not the start-up time that's the issue – just over a second is actually pretty swift, it's the need to keep the on / off button depressed for most of that time.
The zoom action is smooth and swift from wide to tele and takes a little over two seconds to cover the 4.6x optical range. In the opposite direction things get a little twitchier with some lurching between focal lengths. The zoom button is quite responsive, if a little difficult to get a grip on and we managed 13 discrete steps between the extremes.
The FT1 / TS1 features Panasonic's Mega O.I.S. (Optical Image Stabilization) system which makes it possible to hand-hold the camera at slower shutter speeds than would normally be possible due to the risk of camera shake.
O.I.S. has four modes – Off, Auto, which activates in low light conditions, Mode 1, which is on continuously and Mode 2 which activates with first pressure on the shutter release.
Panasonic Lumix DMC-FT1 / TS1 OIS off / Mode 1 (continuous)

100% crop, 4.9-22.8mm at 22.8mm, 1/13, 100 ISO, OIS off

100% crop, 4.9-22.8mm at 22.8mm, 1/13, 100 ISO, OIS on
The two crops above were both taken at the same ISO setting using the same exposure settings of 1/13th of a second at f5.9. There's clear evidence of camera shake in the crop on the left which was taken with the O.I.S. turned off. The image on the right, which was shot with O.I.S. Mode 1 (continuous) shows little if any camera shake. Ordinarily, at a focal length of 128mm you'd expect to have to shoot at roughly 1/125th of a second to eliminate camera shake, so in this test the Lumix FT1 / TS1 delivers a pretty impressive three stops of stabilisation.
The FT1 / TS1 has no fewer than six auto-focus modes including face detection that can detect and track up to fifteen faces. In AF Tracking mode the camera locks focus on a subject and tracks its position in the frame. For most subjects AF tracking worked very well, but the better the light the quicker and more accurately it performs.
For general purpose shooting that doesn't involve people, an 11 area focusing mode produces good results in most circumstances and where it doesn't, i.e. when the camera persistently focuses on something other than the subject, or can't focus at all, there are three variations on a single area focussing system. Two of these auto focus using the central portion of the screen, one offering a 'high-speed' option. This latter option effectively freezes the frame in order to get a focus lock so it's not ideal for moving subjects.
The FT1 / TS1 also includes Panasonic's face recognition software. The camera can be configured to recognise the faces of people you photograph frequently, e.g. friends and family. Once registered, these are recognised and identified whenever they appear in the frame. Aside from the short-lived thrill of seeing people's names appear on the screen when they come into frame this has a practical application. The camera can focus preferentially on the people who matter most. Never again will you suffer the ignominy of birthday photos in which your child is a blur but that kid from number 43 who ate all the twiglets and was sick is pin sharp in every shot. It would be great if Panasonic could extend this feature to write a keyword tag to the image file's exif data.
The FT1 / TS1 has a 2.7in screen with 230k pixels. In the default mode it's clear and bright but not exceptionally contrasty, which means it doesn't perform particularly well in bright sunshine, but you can get a reasonably good view from most angles. There are two special LCD modes, Auto Power, which adjusts the screen brightness according to ambient conditions and Power LCD which permanently makes the screen as bright as it will go.
In capture mode, the menu system is arranged over three tabs for still recording, movie recording and camera settings. Though the still recording menu contains no fewer than 18 items arranged over four pages it's nonetheless pretty quick and easy to navigate, and never takes long to find what you're looking for.
One thing that takes a bit of getting used to though, and which is initially a little irritating, is that sub menus can only be accessed by pressing the right button; if you try to select them by pressing Menu/Set you get dumped back out – and when you press Menu/Set to try again you're right back at the first page, so have to repeat the whole navigation process. This is the same system as other Panasonic models, and someting you get used to, but those coming from other camera systems may be initially confused.
Most of the settings on these screens are things you'll probably set once and then forget about. For frequently adjusted things like picture size, ISO, burst shooting, white balance, and movie recording quality there's the quick menu button. Pressing it displays the options on an icon menu running across the top of the screen with available settings on a drop-down strip. It's a standard feature on Panasonic's compacts and one that's extremely quick and simple to use.
The menu graphics are big, bold and easy to read in the water or anywhere else – sadly the precise opposite of the FT1 / TS1's physical controls.
In playback mode the Q.Menu button functions as a delete key, for individual, multiple, or all images. The menu button provides numerous options including slide shows, filtering by type, category or date, and basic editing and titling.
The FT1 / TS1 offers an AE mode with scene recognition which Panasonic calls Intelligent Auto. This recognises the scene and sets the exposure, AF and focus to one of six scene presets – portrait, scenery, macro, night scenery, night portrait and baby. The last of these is automatically set if face recognition spots a registered face that, according to the D.O.B. info, is younger than 3 years.
Normal Picture mode is what other manufacturers generally call Program AE and gives you control over some settings, but falls well short of fully manual operation. Most of these, including AF mode, white balance, ISO and picture size are selected from the Q.Menu. Others including face recognition, stabilisation and minimum shutter speed, are selected from the main menu.
The FT1 / TS1's shutter speed in Intelligent Auto and Normal Picture modes ranges from 1/1300 to one second. There are some scene modes, for example, night scenery, candle light and fireworks where the shutter speed can go as slow as 8 seconds. The starry sky scene mode allows the setting of shutter speeds as slow as 60 seconds – longer than average for a compact.
As we've already mentioned, there are three scene modes – sports, snow and beach and surf – that are directly selectable from the mode dial. Why the underwater scene mode isn't included here is something of a mystery and an omission worth mentioning twice. Whether intended or not, this reinforces the idea that the FT1/TS1 is aimed at those who only venture into the water occasionally or, to put it another way it's a land camera that can be used in the water, rather than the other way around.
The FT1 / TS1 is capable of shooting movies in 720p HD resolution as well as a number of standard resolution sizes including VGA (640×480) and WVGA (848×480).
HD video can be encoded in the Motion JPEG format at 30fps or using the more efficient AVCHD format which employs the H.264 codec. The latter offers three Quality options for 720p – SH, H, and L at 17, 19 and 9Mbps respectively. In AVCHD mode, the sensor outputs 25 / 30fps, but the file is encoded at 50 / 60fps for PAL / NTSC models respectively. The maximum video recording time per file with Motion JPEG is 2GB (giving you approximately eight minutes of HD), whereas in AVCHD you can keep recording until you run out of space (with the more efficient compression also squeezing in around twice as much footage per Megabyte even in the best quality SH mode – so 2GB would give you around 15 minutes).
Support this site by shopping at Amazon
Like other Panasonic cameras with the choice of recording formats, Motion JPEG is better-suited for editing, while AVCHD is ideal for longer recording times or playback on a TV. The video here consists of two clips filmed with the FT1 / TS1 using its 720p AVCHD mode. This creates MTS files which aren't compatible with our video host Vimeo, so we've re-packaged them into an H.264 MP4 file using Adobe Media Encoder for viewing here. As always, registered members of Vimeo can download this file (here), although be aware it has been converted from the original MTS wrapper.
Movie recording is a one-touch process. As long as the camera is in capture mode a single press on the movie button starts recording using the quality and format settings previously configured from the menu. We're pleased to report the FT1 / TS1's optical zoom is fully operational during movie recording, something neither its two main rivals, the Canon PowerShot D10 or the Olympus TOUGH 800 can manage.
The FT1 / TS1 has two continuous shooting or 'burst' shooting modes. At the highest resolution and quality settings the camera can shoot a burst of three images in just over a second. In unlimited mode it shoots continuously until the card is full at a slower rate of around 1.3 frames per second.
The camera also has a high speed burst scene mode. This has two settings, one which prioritises speed and another which sacrifices speed in favour of image quality. The maximum image size in either mode is 3 Megapixels and high sensitivities are also employed. In speed priority mode the manual claims a frame rate of 10fps. We tested it by holding the shutter down for 10 seconds and counting the number of images recorded. We managed to shoot 75 pictures in 10 seconds, a little short of the manual's claim but pretty impressive all the same and more than fast enough for sports action sequences, albeit at reduced resolution.
The FT1 / TS1's 12 Megapixel sensor produces still images with a maximum size of 4000×3000 pixels. There are two JPEG compression settings, standard and fine. At the maximum 12M resolution fine quality images occupy around 5 to 6MB each, with standard quality ones measuring about half that size.
The camera has 40MB of built-in memory – enough for around nine still images at full resolution and best image quality. The sensitivity range at the full resolution is 80-1600 ISO. A High Sensitivity scene mode automatically sets the ISO between 1600 and 6400 but cuts the resolution to 3 megapixels (2048×1536 pixels).
To see how the quality of the Lumix FT1 / TS1 measures-up in practice, take a look at our real-life resolution and high ISO noise results pages, browse the sample images gallery, or skip to the chase and head straight for our verdict.