Panasonic Lumix DMC-LX3 - Panasonic Lumix DMC-LX3 lens and stabilisation
Panasonic Lumix DMC-LX3 lens and stabilisation
The Panasonic Lumix DMC-LX3 is equipped with a new Leica DC Vario-Elmarit 2.5x optical zoom delivering an equivalent range of 24-60mm and a focal ratio of f2.0-2.8; the actual focal length is 5.1-12.8mm and we counted 12 discrete steps when zooming from wide angle to telephoto. The closest focusing distance in Macro mode with the lens set to wide is just 1cm.
The lens is protected by a clip-on cap which adds 5mm to the overall thickness of the camera – since the lens barrel extends upon power-up, you'll need to manually remove the cap. While a cap was necessary for the optical and physical design chosen by Panasonic for the LX3, it's simply much less convenient than the built-in sliding lens covers of models like the Canon G9. The LX3 is already a little slower to startup than the G9, and having to first remove the lens cap adds further delay along with the real possibility of losing it.
The inconvenience of lens caps aside though, the LX3's optics are undoubtedly one of the highlights of the camera. The 24mm equivalent coverage equips the LX3 with very wide angle capabilities, and the f2.0 aperture at wide angle is also a stop brighter than most lenses on rival cameras – for example, the Canon PowerShot G9 has an f2.8 aperture when its zoomed-out.
The brighter focal ratio of the LX3 allows it to gather twice as much light at f2.0 compared to f2.8, which is obviously very useful in low light conditions. It also allows the camera to achieve a shallower depth of field, although with a maximum equivalent focal length of 60mm (at f2.8), you still won't be enjoying DSLR-style blurred backgrounds – see our Gallery for an example.
To illustrate the LX3's 24-60mm coverage we mounted it on a tripod and shot the same scene fully zoomed-out, then fully zoomed-in. We then shot the same scene from exactly the same position moments later using the Canon PowerShot G9 which is equipped with a longer 6x optical zoom range equivalent to 35-210mm.
Support this site by shopping via these links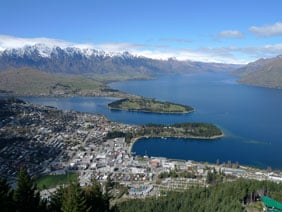 | | | |
| --- | --- | --- |
| Panasonic Lumix LX3 coverage wide | | Canon PowerShot G9 coverage wide |
| | | |
| 5.1-12.8mm at 5.1mm (24mm equivalent) | | 7.4-44.4mm at 7.4mm (35mm equivalent) |
It's immediately clear from the coverage examples above how the 24mm equivalent of the Panasonic LX3 can capture a considerably wider field of view than the 35mm of the Canon G9. When we reviewed the G9, we commented how much better it could have been even with 28mm coverage – and now that's possible with the latest G10 – but here with 24mm, Panasonic is trumping both the old and new Canons on the wide angle front. And as we've said before, a wider angle lens is not just useful for big landscapes, but equally handy for capturing cramped interiors, large group shots or in situations when you just can't step back any further.
The examples below taken with each camera fully zoomed-in however illustrate the limitation of the LX3's range. Its 2.5x optical range is clearly much shorter than the 6x of the G9, but when that's 2.5 times 24mm versus 6 times 35mm, the difference becomes even greater. Clearly the G9 can zoom much closer with its 210mm equivalent than the LX3 with its 60mm. So the choice between the LX3 and Canon G9 optical ranges really boils down to whether you prefer wide angle or telephoto coverage. Note the newer Canon G10 has a shorter 5x zoom, and starts wider at 28mm, but with a maximum equivalent focal length of 140mm, that's still much longer than the Panasonic LX3.
| | | |
| --- | --- | --- |
| Panasonic Lumix LX3 coverage tele | | Canon PowerShot G9 coverage tele |
| | | |
| 5.1-12.8mm at 12.8mm (60mm equivalent) | | 7.4-44.4mm at 44.4mm (210mm equivalent) |
If 24mm isn't sufficiently wide for you, Panasonic offers the optional DMW-LW46 Converter lens. This mounts onto the LX3 using the optional DMW-LA4 Lens Adapter (which can also be used for mounting filters with a 46mm thread). The Converter applies a 0.75x factor which transforms the wide angle coverage to an impressive 18mm equivalent. Panasonic also offers optional multi-coated transparent (for protection), 3x Neutral Density and Polarising filters for the LX3.
Panasonic Lumix DMC-LX3 image stabilisation

Like all Lumix compacts, the Panasonic Lumix LX3 features optical image stabilisation (OIS) which adjusts a lens to counteract for camera shake – and following from its stable-mates, there's two OIS modes. Mode 1 applies stabilisation constantly, while Mode 2 only applies the stabilisation as you take the picture.
Mode 2 has the potential to be more effective since the system always starts from a central position, although the downside is not seeing the effect as you compose the image. New to the LX3 is an Auto option which switches to Mode 2 when the lens is zoomed-out or Mode 1 when it's zoomed-in; this makes sense as when zoomed-out to 24mm, the stabilising effect of Mode 1 is barely visible on-screen, so you may as well have the more effective Mode 2. Note OIS is also available when recording movies, but only in Mode 1.
Support this site by shopping via these links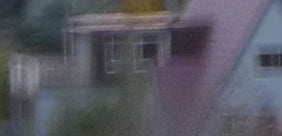 Panasonic Lumix LX3 Image Stabilisation off / on (Mode 1)

100% crop, 5.1-12.8mm at 12.8mm, 1/8, 80 ISO, OIS off

100% crop, 5.1-12.8mm at 12.8mm, 1/8, 80 ISO, OIS on
Above are 100% crops from images taken with the LX3 zoomed-into its maximum 60mm equivalent focal length and at a shutter speed of 1/8: above left with OIS disabled and above right with OIS Mode 1. Traditional photographic advice would recommend a shutter speed of at least 1/60 to eliminate camera shake at this effective focal length, and indeed in this particular example we needed a shutter of 1/60 to deliver a sharp result without stabilisation – as such it's not surprising to find the first example above left is blurred at 1/8.
The example taken with OIS Mode 1 however is almost 100% sharp, corresponding to almost three stops of compensation over the non-stabilised result. We also took a series of tests with Mode 2, but in this particular example, it had no advantage over Mode 1. Either way, three stops of compensation in practice is a valuable facility to have at your disposal.
As for Mode 1 versus Mode 2, we'd normally recommend shooting with the former as it delivers a reassuringly steady image to compose with – but with a maximum equivalent focal length of just 60mm, you won't be seeing much wobbling on the LX3's screen. As such you may prefer to stick with Mode 2 and know you're using the potentially more effective option. Alternatively you could simply leave the OIS mode at Auto, which as explained above, uses Mode 1 when zoomed-in to keep the composition steady, but switches to Mode 2 when you're zoomed-out because at an equivalent of 24mm, any shake becomes essentially invisible when composing on-screen.
Panasonic Lumix DMC-LX3 focusing

The Panasonic Lumix LX3 has a number of AF modes on offer: AF Tracking will follow subjects in motion, Multi-area helps lock onto subjects which are off-centre, 1-Area High Speed quickly focuses on the subject in the centre of the frame, 1-Area does the same but more slowly, and Spot focusing further narrows the active area in the middle. These modes allow you to choose a balance between the number of focusing areas and the speed of operation – handy for times when you need quicker response, but from more predictable areas. The LX3 also offers a Pre-AF option which can be set to either focus continuously, or pre-focus, allowing even quicker response when you half-press the shutter release.
| | |
| --- | --- |
| | |
| | |
The LX3 of course additionally offers Face Detection which can track up to 15 faces. The focus and exposure are adjusted for the primary face, indicated by a green frame; additional faces are indicated by white frames. The LX3's face detection worked well under a variety of conditions and also locked-onto subjects even when they were almost in full profile. It's activated automatically in the Portrait scene presets or when the Intelligent Auto mode spots a person. Alternatively you can manually select it from the Q.Menu or the main menu system when shooting in any other mode if desired.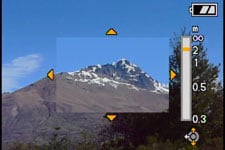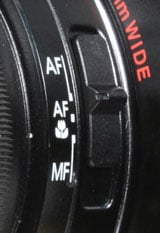 As an enthusiasts camera, the LX3 also offers manual focusing options. With the focus switch on the side of the lens barrel set to MF, you should push the joystick to the right to view a distance scale, then up or down to manually set the focus; a yellow bar on the scale indicates the depth of field. While manually focusing, the LX3 displays an enlarged portion for assistance; a menu option allows this enlarged area to either occupy a window in the middle of the screen, or temporarily fill it entirely. While in manual focus mode, you can also press the focus button on the body to perform a quick autofocus.
Panasonic Lumix DMC-LX3 sensor and processing

The Lumix LX3 is equipped with an 10.1 Megapixel CCD sensor, which measures 1 /1.63in and generates images with a native 4:3 aspect ratio and a maximum resolution of 3648×2736 pixels. A switch on top of the lens barrel allows you to adjust the recorded aspect ratio to wider 3:2 or 16:9 shapes, and each is available at four resolutions.
Switching to wider aspect ratios on the LX3 doesn't involve simply cropping strips from native 4:3 images, and subsequently reducing their coverage. Like the Lumix TZ5 before it, the LX3 employs more of the sensor's width in the wider aspect ratios in order to maintain its angle of view. So when zoomed-out, the LX3 still offers impressive 24mm equivalent coverage whether you're shooting in 4:3, 3:2 or 16:9.
Set to 3:2 and 16:9 aspect ratios, the LX3 captures images with a maximum resolution of 3776×2520 and 3968×2232 pixels respectively. So while the wider aspect ratios capture fewer vertical pixels than the 4:3 mode, they capture more horizontally, thereby maintaining the angle of view – this is illustrated by the LX3's Multi-Aspect option which grabs a photo in each of the three aspect ratios in one go. The coloured borders on the screenshot show how each aspect ratio uses slightly different areas on the sensor.
In terms of total pixel count though, the LX3's resolution does fall slightly as the aspect ratio widens, with a maximum of 10, 9.5 and 9 Megapixels when recording in the 4:3, 3:2 and 16:9 modes respectively. As discussed on the previous page, the LX3's screen has a 3:2 aspect ratio which means vertical and horizontal strips are shown when shooting in 4:3 and 16:9 modes respectively.
The LX3's native 4:3 shaped sensor an interesting departure from the previous two LX models which boasted fairly unique 16:9 shaped sensors. These however cropped images and reduced coverage in the narrower 3:2 and 4:3 modes, so arguably the LX3's solution is more flexible overall.
In terms of sensor size, the LX3's 1 /1.63in sensor is only slightly larger than the 1 /1.65in model on the LX2, but Panasonic claims the photosites on the new model have been optimised to deliver 19% greater sensitivity than its predecessor. The LX3's 1 / 1.63in sensor is also comfortably larger than the 1 /2.33in models on most of the other Lumix compacts, which Panasonic claims gives it 40% greater sensitivity and saturation. Panasonic also claims the new Venus IV image processor provides superior noise reduction. You can find out on our High ISO Noise results page if Panasonic really has managed to banish its previous issues with noise and noise reduction.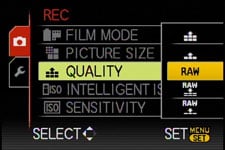 In terms of compression, the LX3 offers Fine or Standard JPEG options. You can also record images in a RAW format, either by themselves or accompanied by a Fine or Standard JPEG. The presence of RAW (and RAW plus JPEG) is an important feature for enthusiasts who want to get the maximum quality from their camera, and we have examples comparing them in our Results pages.
Best quality 10M Fine JPEGs in the 4:3 mode typically measure between 3.4 and 5MB each, while RAW files measure 12MB each. There's around 50MB of internal memory to get you started, along with a slot for SD or SDHC cards.
The sensitivity at full resolution runs from 80 to 3200 ISO, while the High Sensitivity preset operates at 1600, 3200 or 6400 ISO depending on the conditions, albeit at a greatly reduced resolution of 3, 2.5 or 2 Megapixels (respective of aspect ratio) and with significant image processing. You can see samples using the complete range of full resolution sensitivities on our LX3 High ISO Noise results page.
Contrast, Sharpness, Saturation and Noise Reduction are now applied using a variety of Film Modes. The LX3 offers Standard, Dynamic, Nature, Smooth, Vibrant, Nostalgic, Standard B&W, Dynamic B&W and Smooth B&W presets, along with two custom banks (one colour, one B&W) and the ability to record pictures with multiple presets using the Multi Film option. In each of the colour modes, you can adjust Contrast, Sharpness, Saturation and Noise Reduction in +/- 2 steps; the Black and White modes dispense with the Saturation option, but sadly don't swap it for filter simulations.
Along with a variety of white balance presets and custom measurements are white balance adjustment options.
Panasonic Lumix DMC-LX3 movies

Panasonic has always been forward-thinking with its movie modes and long-offered 848×480 pixel widescreen recording when most others stuck with 4:3 aspect 640×480. The LX3 continues this tradition by offering the 720p HD movie recording of other top-end Lumix models, although there are some subtle differences.
With the LX3 set to 4:3 aspect ratio, you can record movies at 640×480 pixels at 30fps, or 320×240 pixels at either 30 or 10 fps. Switch the LX3 to 16:9 aspect ratio and you have just two choices: WVGA which records 848×480 at 30fps or HD which records 1280×720, but now at 24fps. This is a subtle change from earlier Lumix compacts with HD, which offered the same 1280×720 resolution, but at 15 or 30fps. All video clips are saved in the Quicktime MOV format and sadly unlike the Lumix TZ5, you can't optically zoom or focus the lens while filming.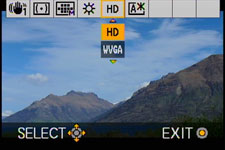 We filmed a variety of movies in the HD mode and played them back on both a PC monitor and a high definition projector. Like previous Lumix compacts with HD recording, the footage certainly contained more detail than clips filmed moments later using the WVGA 848×480 pixel mode, and the good news is the LX3 has reduced the visible graininess compared to footage taken under the same conditions with the Lumix FX35, TZ5 or FX500 – especially in darker shadow areas. Some graininess remains visible, but it's still an improvement, and we'd also say the audio quality is slightly better. You can see and hear an example in our LX3 video tour.
It's important to put this into perspective though. While the LX3's video is very impressive, both it and the audio remain below that of a dedicated camcorder. But by delivering an improvement over earlier Lumix cameras, the LX3 boasts one of the best video modes you'll find on a compact camera today.
Interestingly, despite the slightly lower 24fps frame rate, Quicktime's Movie Inspector still measured the LX3's HD bit rate at around the same 25Mbit/s as previous Lumix models, so you're still looking at around 3MB per second. You can keep filming until the file size reaches 2GB, giving you approximately 11 minutes of HD material.
Panasonic Lumix DMC-LX3 drive modes

The Panasonic Lumix LX3 offers a variety of continuous shooting options. First up are two burst modes available by pressing the Burst / Trash button in the bottom right corner of the body. The normal Burst mode can capture up to four Fine or Eight Standard quality JPEGs, or three RAW images at a rate of 2.5 fps.
With the LX3 set to 10M Fine mode and equipped with a SanDisk Ultra II 1GB card though we fired-off four Fine frames in 1.6 seconds, corresponding to exactly 2.5fps. Switching to JPEG Standard allowed us to capture eight frames in 3.4 seconds, corresponding to a rate of 2.35fps. Finally, switching to RAW fired three frames in 1.2 seconds, again corresponding to 2.5fps.
The Unlimited Burst mode, labelled with an infinity symbol, lets you keep shooting while there's free memory. Panasonic quotes a rate of around 2fps, which we confirmed in practice.
Like other recent Lumix compacts, the LX3 is also equipped with a High Speed Burst Scene preset which reduces the resolution to 3, 2.5 or 2 Megapixels (at 4:3, 3:2 and 16:9 aspect ratios respectively) and the compression to Standard, but allows you to shoot up to 100 images at approximately 6fps; note the sensitivity runs between 500 and 800 ISO in this mode. We fired-off 100 shots in 17 seconds, corresponding to a rate of 5.8fps.
This mode may shoot at a reduced resolution (albeit a whole Megapixel higher than the FX500), but the greatly increased frame rate and buffer means it's possible to grab decent action sequences – something that's not really possible with either of the standard burst modes.