Panasonic Lumix DMC-FZ28 lens and stabilisation
The Panasonic Lumix DMC-FZ28's headline feature is its 18x optical zoom, which delivers an equivalent range of 27-486mm and a focal ratio of f2.8-4.4. The actual focal length is 4.8-86.4mm and like its predecessor it boasts very fine powered zoom increments – we counted over 60 in total.
Support this site by price checking below

When powered-up, the barrel extends by 7mm from its housing, with the camera ready for action in 1.7 seconds. As the camera zooms-in, the barrel steadily extends to 25mm from its housing and you can see how this looks in the photo below, which from top to bottom shows the FZ28 switched off, switched on, then fully zoomed-in.
There's two different speeds for the zoom depending on how far you push the rocker control, and the slower of the two is sufficiently quiet for Panasonic to allow it while filming video – and you can see examples in our FZ28 video tour.
The lens cap works the same way as its predecessor, a substantial model which clips onto the outer section of the lens housing. This means the cap will block the inner barrel from extending during power-up, at which point the camera beeps, asks you to remove the cap, then press the right cross key to proceed. It's not quite as convenient as the cap on the Canon SX10 IS which clips to the extending portion of its lens, although again it is more substantial like a DSLR lens cap.
Panasonic supplies the FZ28 with a substantial lens hood which adds 65mm to the length of the camera, more than doubling the length of the lens housing. The hood consists of two parts: a plastic ring which screws into the end of the outer lens housing, and the main hood itself which clips onto the ring and freely rotates until you turn a thumbscrew to lock it into position. Once locked-in place, it's fairly easy to unscrew the hood and screw it back on again without having to adjust the rotation.
By not clipping into position though, the FZ28 runs the risk of not having its hood orientated correctly and causing vignetting at wide angle as a consequence. We've actually seen many people making this mistake with its predecessor, so it's worth watching out for. Panasonic sticks a notice on the hood warning it should be used in the correct position, but it would be easier if it just clicked into place like most DSLR lens hoods – or indeed that of its rival, the Canon SX10 IS.
It should also be noted that unlike the SX10 IS, the FZ28's lens hood is too large to be reversed over the lens housing for transportation, so it'll be another thing to carry around and possibly lose. While it's tempting to leave it at home though, we'd recommend taking it with you as on several occasions our FZ28 suffered from flare due to stray sunlight.
The closest focusing distance in macro mode is just 1cm, which may not match the zero cm distance of the Canon SX10 IS, but in practical terms both cameras can get extremely close to their subjects. At such close range though, it's hard not to cast shadows, and the images can also suffer from pronounced geometric distortion and softening in the corners. We found we could essentially match the same reproduction by moving back a few cm and zooming the lens to approximately two-times, at which point the field became much flatter and less distorted, with fewer lighting problems too. You can see an example in our FZ28 Gallery.
The most impressive aspect of the FZ28's lens though is of course its massive optical zoom range, which takes you from decent wide-angle to super-telephoto coverage. Interestingly while the lens appears to be the same as its predecessor at first glance, there's minor differences in its specification. The actual focal length is a fraction longer, while the equivalent coverage is a fraction wider. This is due to the slightly larger sensor behind it, although in practice you'll hardly notice any difference between the two.
To illustrate the FZ28's coverage we mounted it on a tripod and shot the same scene fully zoomed-out, then fully zoomed-in. We then shot the same scene from the same position using its arch rival, the Canon PowerShot SX10 IS which is equipped a slightly longer 20x zoom with an equivalent range of 28-560mm.
Support this site by shopping at Amazon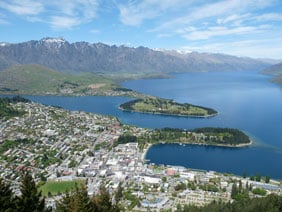 | | | |
| --- | --- | --- |
| Panasonic Lumix FZ28 coverage wide | | Canon PowerShot SX10 IS coverage wide |
| | | |
| 4.8-86.4mm at 4.8mm (27mm equivalent) | | 5-100mm at 5mm (28mm equivalent) |
Above you can see examples of both cameras fully zoomed out. Panasonic quotes the FZ28 as having 27mm equivalent coverage to the SX10 IS's 28mm, but as you can see here they're essentially delivering identical fields of view. But the important thing is they're both offering true wide angle coverage, which is a big upgrade over earlier generations which started at 35 or 36mm.
| | | |
| --- | --- | --- |
| Panasonic Lumix FZ28 coverage tele | | Canon PowerShot SX10 IS coverage tele |
| | | |
| 4.8-86.4mm at 86.4mm (486mm equivalent) | | 5-100mm at 100mm (560mm equivalent) |
Above are examples taken with each camera fully zoomed-into their maximum focal lengths. The 560mm equivalent of the Canon SX10 IS is clearly capturing a tighter field of view than the 486mm of the Panasonic FZ28, but in practice it may not look as much as the 74mm difference implies when written down.
So while the SX10 IS beats the Panasonic in terms of overall coverage, the examples above illustrate there's not a great deal in it – certainly we wouldn't choose the SX10 IS over the FZ28 based on range alone. Both cameras sport extremely broad zoom ranges which offer amazing opportunities in practice, and you can see some examples of how you might use them in our Gallery. To see how the quality of each compares when fully zoomed-in, check out our first Results page.
If the extra reach of the Canon sounds tempting, but you prefer the Panasonic, then you may be interested in the optional DMW-LT55 lens converter which multiplies the range by 1.7 times to deliver a maximum equivalent focal length of 826mm. Alternatively the optional DMW-LC55 improves the camera's close-up capabilities.
Both converters mount onto the FZ28 via the optional DMW-LA3 lens adapter which screws onto the end of the main lens housing; like other lens converters, they'll significantly increase the size and weight of the camera, but at least the option's there. Canon doesn't offer converters for the SX10 IS.
You can also screw filters into the end of the extending lens barrel. Panasonic offers the DMW-LMC46 transparent filter, DMW-LND46 Neutral Density filter (3 stop reduction) or the DMW-LPL46 polarizer. The thread measures 46mm, but we didn't try it with third-party filters.
Finally, a quick note on aperture. The FZ28 has a focal ratio of f2.8~4.4, compared to f2.8~5.7 on the SX10 IS. While the Canon is optically slower when zoomed-in, due in part to its longer focal length, it's also important to compare the points in the range where the maximum aperture changes.
The FZ28 only offers its brightest f2.8 aperture between 28 and 34mm. F3.0 kicks-in between 34 and 48mm, followed by f3.2 between 48 and 65mm. Next comes f3.4 between 65 and 98mm, followed by f3.6 between 98 and 155mm. After this comes f3.7 which operates between a longer range of 155 and 414mm, followed by f3.8 between 414 and 452mm. F4.0 kicks-in at 452mm up to 461mm, after which it's f4.4 up to the maximum equivalent focal length of 486mm.
It's revealing to compare portions of this range with the SX10 IS. For example between 155 and 414mm, the FZ28 offers a maximum aperture of f3.7, while the SX10 IS operates approximately one stop slower with a maximum of f5.0 between 168 and 560mm. Since the SX10 IS operates at f5.7 for the final 100mm of its range, the FZ28 is around 2/3 of a stop faster when both are set to the Panasonic's longest focal length of 486mm. So the FZ28 definitely has light-gathering advantages over its rival, although as seen in our results and gallery pages, its Program line does have a habit of selecting smaller apertures rather than quicker shutter speeds under bright conditions.
Panasonic Lumix DMC-FZ28 image stabilisation

Like all Lumix compacts, the Panasonic Lumix FZ28 features optical image stabilisation (OIS) which adjusts a lens to counteract for camera shake.
Like its predecessors, there's two main options: Mode 1 applies stabilisation constantly, while Mode 2 only applies the stabilisation as you take the picture. An additional Auto option switches between Mode 2 when zoomed-out and Mode 1 when zoomed-in.
Mode 2 has the potential to be more effective since the system always starts from a central position, although the downside is not seeing the effect as you compose the image. Note OIS is also available when recording movies, but only in Mode 1.
Support this site by shopping at Amazon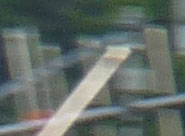 Panasonic Lumix FZ28
OIS off

Panasonic Lumix FZ28
OIS Mode 1

Panasonic Lumix FZ28
OIS Mode 2

4.8-86.4mm at 86.4mm, 1/60, 100 ISO
4.8-86.4mm at 86.4mm, 1/60, 100 ISO
4.8-86.4mm at 86.4mm, 1/60, 100 ISO
Above are 100% crops from images taken with the FZ28 zoomed-into its maximum equivalent focal length of 486mm, where traditional photographic advice would recommend a shutter speed of around 1/500 to avoid camera shake; ; the cropped area shows a rooftop antenna.
The examples were taken at a much slower shutter speed of 1/60, and unsurprisingly the first, without stabilisation, is very shaky. The two samples taken with stabilisation enabled are much improved, although a very small amount of shake remains visible in the version with Mode 1. Switching to Mode 2 though has eliminated this remaining shake for a sharp result.
So in the tests above, Mode 2 is delivering three stops of compensation over traditional wisdom, while Mode 1 is delivering just under three stops. Mode 2 is more effective here, but the downside is not seeing the stabilising effect as you compose your shot. So when zoomed-in, we'd recommend shooting in Mode 1, then checking for shake on your image during playback. If there is, try again in Mode 2.
Panasonic Lumix DMC-FZ28 focusing

The Panasonic Lumix FZ28 offers a wide variety of AF modes: AF Tracking (new to the FZ28) will follow subjects in motion, Multi-area locks onto subjects which are off-centre, 1-Area High Speed quickly focuses on the subject in the centre of the frame, 1-Area does the same but more slowly, and Spot focusing further narrows the active area in the middle. These modes allow you to choose a balance between the number of focusing areas and the speed of operation – handy for times when you need quicker response, but from more predictable areas.
The FZ28 also offers Pre-AF options which can be set to either focus continuously, or focus when the camera detects minimal shake, allowing even quicker response when you half-press the shutter release. Continuous AF is also available in the movie mode, and necessary if you're zooming the lens or want a subject in motion to remain sharp.
The new AF Tracking option shows a cross-hair in the middle of the screen which should be placed over the target subject by pointing the camera at it. Then when you're ready, press the AF / AE lock button and once the FZ28 locks onto the subject it'll track it quite effectively around the frame or as it changes distance – once running, it works a little like face detection, but for any kind of object.
Speaking of face detection, the FZ28 will indicate the primary subject with a green frame, automatically adjusting the focus and exposure as required; additional faces are indicated by white frames. Like other 2008 Lumix cameras, the FZ28's face detection worked well under a variety of conditions and also locked-onto subjects even when they were almost in full profile. It's activated automatically in the Portrait scene presets or when the Intelligent Auto mode spots a person. Alternatively you can manually select it from the Q.Menu or the main menu system when shooting in any other mode if desired.
In general use, the FZ28 was fairly quick at focusing, snapping onto subjects with the minimum of fuss or hunting, even when fully zoomed-in. In low light it became slower and occasionally searched, but rarely gave us any issues. We compared the AF performance side by side with the Canon PowerShot SX10 IS and found both performed similarly. The SX10 IS set to Continuous AF had a slight edge over the FZ28 when set to any of its AF modes apart from the Panasonic's single area high speed mode, when both became fairly matched. With the SX10 IS set to Single AF, the FZ28 enjoyed a slight edge.
Pushing the AF / MF button on the top of the camera sets the FZ28 into Manual Focus mode, after which you can push the joystick up and down to adjust the focusing distance; this is indicated on-screen by a scale with a yellow bar representing the depth of field at the current aperture.
While manually focusing, the FZ28 can display an enlarged portion for assistance; a menu option allows this enlarged area to either occupy a window in the middle of the screen, or temporarily fill it entirely. You can also adjust the position of the area to be enlarged if required.
Panasonic Lumix DMC-FZ28 sensor and processing

The Lumix FZ28 is equipped with an 10.1 Megapixel CCD sensor, which measures 1 /2.33in and generates images with a native 4:3 aspect ratio and a maximum resolution of 3648×2736 pixels. There's the choice of five lower resolutions, along with cropped 3:2 or 16:9 modes, each in the choice of four resolutions. Images can be recorded in Fine or Standard JPEG quality, or as a RAW file; alternatively you can record a RAW file and a Fine JPEG together.
RAW recording is a key advantage the FZ28 has over its arch rival the PowerShot SX10 IS. In Canon's 'wisdom', the only non-DSLR in its range with RAW facilities is the PowerShot G10, so this somewhat limited approach allows other manufacturers to take a lead in this respect. Panasonic supplies SilkyPix software for converting RAW files and you can see examples compared to in-camera JPEGs in our outdoor and studio results pages.
The FZ28's sensor gives the camera two extra Megapixels over its predecessor, allowing prints to be made at 12.1×9.1in at 300dpi – that's an extra inch taller than before. The sensor is also fractionally larger, but not enough to give it a decisive advantage in noise; the sensor is also roughly the same size as that in the Canon SX10 IS.
Best quality 10M Fine JPEGs typically measure between 3.5 and 5MB each, while RAW files measure around 12MB each; Panasonic has equipped the FZ28 with 50MB of internal memory to get you started, but you'll want to fit an SD card sooner rather than later. The sensor resolution of the SX10 IS is identical, but to see how their resolving power compared in practice, see our results pages.
The sensitivity at full resolution runs from 100 to 1600 ISO, while the High Sensitivity preset operates at 1600, 3200 or 6400 ISO depending on the conditions, albeit at a greatly reduced resolution of 3 Megapixels and with significant image processing. You can see samples using the complete range of full resolution sensitivities on our FZ28 High ISO Noise results page.
Contrast, Sharpness, Saturation and Noise Reduction are applied using the same Picture Adjustments menu as before – Panasonic's resisted the temptation to equip the FZ28 with the Film Modes of the LX3. So like the FZ18, you have five settings for each on a scale of -2 to +2. Zero is selected by default for each, and like the FZ18, this will produce consumer-friendly photos out of the camera, although as you'll see in our Results and Gallery pages, there's visible noise artefacts from 200 ISO upwards.
There's also a selection of colour effects to choose from: off, black and white, sepia, cool and warm. Along with a variety of white balance presets are two custom modes and the ability to enter a colour temperature via an on-screen scale; there's also white balance adjustment options.
Intelligent Exposure (which can adjust the contrast to balance scenes with extremes of brightness) can be applied manually with the choice of four levels, although we didn't notice any difference with our standard indoor Church shot containing dark shadowy ceilings and brightly backlit windows.
There is at least one image processing trick performed by the FZ28 though that's very effective. One glance at our first results page reveals images completely bereft of coloured fringing, which look very impressive alongside those from the Canon SX10 IS. The lack of fringing isn't down to superior optics though, but in-camera correction to JPEGs. To illustrate this we shot the same outdoor test scene in the FZ28's RAW plus JPEG mode and have presented crops from the same area below.
Support this site by shopping at Amazon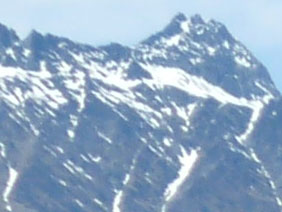 Panasonic Lumix DMC-FZ28 Chromatic Aberrations (JPEG / RAW)

In-camera JPEG, 100% crop, 100 ISO, f5.6

Processed RAW, 100% crop, 100 ISO, f5.6
It's immediately clear the original RAW data without correction is suffering from roughly the same amount of coloured fringing as the Canon SX10 IS, while the in-camera JPEG has digitally removed it very effectively; note there's also tools to correct fringing on RAW files from SilkyPix, but we disabled them here to reveal the difference. So while the FZ28's optics aren't better-corrected than the SX10 IS in this respect, the in-camera correction (like its predecessor) does a great job – shame Canon didn't include a similar facility on the SX10 IS, and of course its lack of RAW files limits your options.
Panasonic Lumix DMC-FZ28 movies

Panasonic has always been forward-thinking with its movie modes and long-offered 848×480 pixel widescreen recording when most others stuck with 4:3 aspect 640×480. Now the FZ28 follows other better models in the 2008 Lumix range to feature HD recording in the 720p format – a major highlight over its predecessor, and also beyond the Canon SX10 IS which still only offers VGA video.
With the FZ28's dial set to movie mode you can choose from QVGA low and high modes at 10 or 30fps respectively, VGA at 30fps, WVGA (848×480 pixels) at 30fps, or HD (1280×720 pixels), again at 30fps. The best quality HD mode consumed around 2.8MB/s in our tests. Files are saved in a QuickTime MOV wrapper with a maximum recording time of 15 minutes per clip or when the file reaches 2GB, whichever happens first – for HD, this limits you to shorter clip lengths. We're pleased to report that like the Canon SX10 IS, you can optically zoom the lens while filming and the motor doing so is barely audible.
In use the FZ28's movie modes deliver good-looking footage, and we have several examples in our video tour. The continuous AF kept the subject sharp during zooms and the stabilisation eliminated camera shake, although as you'll see in the clips, there were times when the image bounced occasionally.
Compared directly against the Canon SX10 IS in standard definition VGA mode, we felt the Canon had the edge in quality, but switching to HD on the FZ28 saw it record greater detail. It should however be noted the FZ28's movie modes did contain noticeably greater noise artefacts than a dedicated camcorder, and as such, it's no replacement for one, HD or otherwise. The audio quality was good on the FZ28, but the Canon SX10 IS was clearer, and in stereo too. Ultimately, if you're happy with standard definition video, the SX10 IS was preferred, but the HD mode on the FZ28 gives it an extra edge.
Note: before moving onto the next section, anyone wanting a super-zoom with quality video should also consider Canon's PowerShot SX1 IS, a CMOS-equipped version of the SX10 IS, boasting HD video in the 1080p format, along with 4fps shooting and an HDMI port. It is however much more expensive than either the FZ28 or SX10 IS; see our verdict page for more details.
Panasonic Lumix DMC-FZ28 drive modes

The Panasonic Lumix FZ28 offers a variety of continuous shooting options. First up are two burst modes available by pressing the Burst / Trash button in the bottom right corner of the body. The normal Burst mode can capture up to three Fine or five Standard quality JPEGs, or three RAW images at a rate of 2.5 fps.
With the FZ28 set to 10M Fine mode and equipped with a SanDisk Ultra II 1GB card though we fired-off three Fine frames in 1.5 seconds, corresponding to exactly 2fps. Switching to JPEG Standard allowed us to capture five frames in 2.6 seconds, corresponding to a rate of 1.9fps. Sadly there's no continuous shooting offered in RAW – for that you'll need the LX3.
The Unlimited Burst mode, labelled with an infinity symbol, lets you keep shooting while there's free memory. Panasonic quotes a rate of around 2fps, but we fired-off 20 frames in 14 seconds, corresponding to a slower rate of 1.4fps.
Like other recent Lumix compacts, the FZ28 is also equipped with a High Speed Burst Scene preset which reduces the resolution to 3, 2.5 or 2 Megapixels (at 4:3, 3:2 and 16:9 aspect ratios respectively) and the compression to Standard, but allows you to shoot up to 100 images at approximately 7fps (in Image Priority), or up to 60 at 11fps (in Speed Priority); note higher sensitivities of typically 800 ISO are used in this mode. In Speed Priority, we fired-off 30 shots in three seconds, corresponding to a rate of exactly 10fps.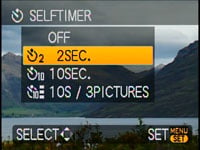 The Normal Burst and High Speed Burst Preset modes both involve compromises, either in total frames or resolution respectively, but are arguably more useful alternatives to the infinite, but slow continuous rate of the Canon SX10 IS. Like the FZ28, the SX10 IS can keep shooting until you run out of memory at 1.4fps, but that's it. Unlike the FZ28, there's no option to accelerate the rate whether limiting the number of shots or reducing the quality. So while the FZ28's burst modes are compromised, they are more useful for capturing action than the SX10 IS.
Finally in terms of self-timer, the FZ28 offers the usual 2 or 10 second modes, along with an option which fires three frames after 10 seconds. Here the Canon SX10 IS out-gadgets it with its custom self-timer and face self timer modes, the latter cleverly exploiting face detection to wait for a new person to enter the frame before starting the countdown.