Panasonic Lumix DMC-FX700
Intro
Launched in July 2010, the Panasonic Lumix DMC-FX700 is a 14 Megapixel compact with a stabilised 5x optical zoom lens and a 3 inch touch-screen display. It can shoot Full HD video and, courtesy of its new CMOS sensor and the latest Venus FHD processor, provides a range of burst shooting modes up to 10 frames per second.
The FX700 is equipped with the kinds of functions you'd expect to find on a point-and-shoot compact, like face detection AF, face recognition, scene detection and a variety of scene modes, but it also has full manual exposure control and other advanced features that will appeal to more ambitious photographers.
Compared with cameras like the Sony Cyber-shot TX9 and Nikon COOLPIX S80, the Lumix FX700 isn't much of a looker. It's a handsome enough camera, but with more conventional styling and larger proportions. And unlike Sony and Nikon, Panasonic hasn't put the touch screen at the centre of the FX700's operation, but has used a mix of touch-screen and physical controls.
Finally the FX700 has a substantially lower price tag than the Cyber-shot TX9 and the COOLPIX S80. Read our full review to discover if the Lumix FX700 really does offer more for less, or whether the less-is-more approach of Nikon and Sony is your best bet for a touch-screen compact.
While the lack of physical controls on the Sony Cyber-shot TX9 and, to an even greater degree, the Nikon COOLPIX S80 provides a clue to their touch-screen operation, the Lumix FX700 looks much more like a conventional compact. There's no sliding cover, but a conventional lens barrel that extends when you turn the camera on. The slightly raised letters of the Lumix badge on the front provide a purchase for your fingers and round the back there's a small dimpled thumb rest. The matt black finish on our review model looked good and adds a quality feel.
On the top panel there's an on/off switch, a shutter release with a zoom collar and a dedicated movie recording button. Round the back the LCD touch-screen occupies most of the space with a narrow gap on the left where, if you want, you can rest your left thumb. To the right of it below the thumb rest are a switch for moving between playback and capture modes and buttons for displaying the shooting mode options and menus.
Support this site by
shopping below
On the right side of the body, beneath a hinged flap, are a combined USB / A/V port and an HDMI connector. On the base the metal tripod bush is located on the extreme left corner of the camera which makes it difficult to level the camera on a tripod and is not very stable mounting point for a table tripod or Gorrillapod. At the other end of the base a hinged door provides access to the battery and memory card compartment. The Lumix FX700 takes SD (HC) cards and also the newer high speed SDXC cards.
In contrast to Nikon's COOLPIX S80, The FX700 augments its touch-screen with an array of physical controls. The on/off switch is something of a necessity as is the shutter release, though its zoom collar has a screen double. And the dedicated movie record button is, we think, a definite advantage. On the rear panel the capture/playback switch could have been put on the screen, though, and implemented as a toggle button, rather than a switch. One of the drawbacks of Panasonic compacts is this switch locks you into one mode or the other so you can't quickly switch from playback to shooting mode by pressing the shutter release.
The mode and menu buttons could also be implemented on screen, but aren't. While we're not arguing in favour of one approach or the other, the choice of physical buttons for these two functions seems a little arbitrary, why not the Q.menu, continuous shooting, or the display overlays, all of which are activated by touch-icons?
The FX700's built-in flash has a maximum range at the wide angle lens setting and on the auto ISO sensitivity setting of a respectable 7.4 metres. In Program and manual modes the flash can be set to auto, firing only when the lighting conditions require it, forced on or off. There are two red-eye modes – auto/red-eye and slow sync/red-eye.
Once fired, the flash takes just under four seconds to recharge ready for the next shot. While it's doing this the flash symbol on the screen flashes, but you can't hold the shutter down in the hope that the shutter will fire as soon as the flash is ready, you have to wait for the symbol to stop flashing before half pressing the shutter. For continuous shooting with flash there's a flash burst scene mode which shoots a burst of 5 pictures with a maximum 3 Megapixel resolution at 1 frame per second.
The Lumix FX700's Lithium Ion battery provides enough power on a full charge to take 300 pictures. This is very impressive indeed, outrunning the Sony Cyber-shot (230) by a distance and putting the Nikon COOLPIX S80 (150) to shame. The battery is charged outside the camera using the supplied charger.
| | | |
| --- | --- | --- |
| Panasonic Lumix FX700 coverage wide | | Panasonic Lumix FX700 coverage tele |
| | | |
| 4.3-21.5 at 4.3mm (24mm equivalent) | | 4.3-21.5mm at 21.5mm (120mm equivalent) |
The Lumix FX700 has a 5x optical zoom with a range of 24-120mm equivalent. You can't ask for better than a 24mm super-wide angle on a compact camera, and for landscapes, large groups and interiors the FX700 has the ideal lens. The 120mm telephoto is a good portrait lens and will get you a little closer to the action than the Cyber-shot TX9's 100mm, but not as close as the COOLPIX S80's 175mm. Without stepping up to a compact super-zoom the Lumix FX700 provides about the best and most practical range you'll find in any compact. The maximum aperture at the wide angle focal length is a generous f2.2, compared with f3.5 on the Cyber-shot TX9 and f3.6 on the COOLPIX S80, though at the tele end this narrows appreciably to give a maximum aperture at 120mm of f5.9 compared with f4.6 on the Cyber-shot TX9 and f4.8 on the COOLPIX S80.
When you switch the camera on the lens extends and the camera is ready to shoot in a little over 2 seconds. When using the zoom rocker the zoom covers the range in a fairly swift couple of seconds and can be nudged though around 25 discrete steps. There's also an on-screen zoom touch control though. This is a little more sophisticated than the one on the COOLPIX S80, with a facsimile zoom collar which you can slide back and forth as well as T and W buttons. The screen zoom controls move at a much slower pace than the physical zoom collar, providing better fine motor control – if you're in a hurry there are buttons that will swiftly zoom all the way to the wide and tele extremes.
>
Panasonic Lumix FX700 Power O.I.S. off / Continuous (Mode 1)

100% crop, 4.3-21.5mm at 21.5mm, 1/15, 100 ISO, Program mode, Power O.I.S. Off.

100% crop, 4.3-21.5mm at 21.5mm, 1/15, 100 ISO, Program mode, Power O.I.S. Continuous (Mode 1).
The FX700's lens is stabilised using Panasonic's Power O.I.S. System which shifts the lens to compensate for camera movement enabling hand-held exposures at slower shutter speeds without camera-shake-induced blurring.
Power O.I.S. has four positions: off, auto, mode 1 and mode 2. In mode 1 stabilisation is applied full time so the image you see as you compose your shot is stabilized, this is the default stabilisation mode for movie recording. In mode 2 the stabilisation is activated when you half-press the shutter release which puts less of a drain on the batteries and is fine for most situations.
To test the effectiveness of the Lumix FX700's Power O.I.S. stabilser, we photographed a distant building in low light with FX700's zoom set to its maximum equivalent focal length of 120mm, first with Power O.I.S. turned off, then with it set to Mode 1 (continuous). Conventional photographic wisdom would suggest a shutter speed of 1/120th of a second to completely eliminate camera shake, but with O.I.S. enabled the Lumix FX700 managed to produce a sharp image at 1/15th of a second, a full three stops slower than you'd expect to achieve unstabilised.
The Lumix FX700 has no fewer than six AF modes. The default AF mode in Intelligent Auto exposure mode is Face detection. In good lighting, for outdoor shots including people for example, there's no reason to use any other mode, you want focus locked on faces and that's exactly what the FX700's face detection AF does. Like all such systems, when the light fades or when people are a good distance from the camera, it becomes slower and less sure-footed and if it can't lock onto a face, or there are none it defaults to 11-area AF.
Switching to Program, or one of the manual exposure modes allows you to choose one of the other AF options from the Q.menu. Face detection AF is here, along with AF tracking, 11-area AF, 1-Area, 1-Area High Speed and spot. Regardless of the selected AF mode, you can select a focus (and exposure) region anywhere on the screen by tapping it. That region is then used each time you half press the shutter until you cancel it by touching the appropriate icon. Similarly, when the touch shutter icon is activated, touching the screen sets focus and exposure and fires the shutter release. As on the COOLPIX S80, you need to be careful not to accidentally fire the shutter when this feature is activated.
The Lumix FX700 includes Panasonic's pre AF feature, which helps speed up the focusing process by pre-focusing before you press the shutter release. There are two modes: Q-AF and C-AF for Quick and Continuous respectively. C-AF works the same way as continuous AF on most cameras, Q-AF conserves battery power by making clever use of the image stabiliser to detect when the degree of jitter becomes minimal and only then activating the AF. The Lumix FX700 also supports face recognition. Up to six faces can be stored along with name, D.O.B. and a custom AF icon. Focus and exposure are prioritised on recognised faces which can be registered manually, or you can set things up so that the camera automatically registers frequently shot faces.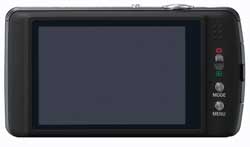 The Lumix FX700 has a 3 inch LCD touch-screen with 230k pixels. In a comparison with the bigger, higher resolution touch-screens of the Sony Cyber-shot TX9 and Nikon COOLPIX S80 it inevitably comes off worse though. Firstly, on a touch screen, size matters; the more space you have for touch-icons and the bigger they are, the better. The Lumix FX700 has a lot of touch icons, and by necessity they're small and at times things get a little cramped. Another concern is the screen material. The outer layer is a soft, slightly flexible plastic membrane and, while it gave us no problems during testing, we were left wondering about its durability.
Those reservations aside the screen functions very well. The image is clear, bright and contrasty, though noticeably more pixellated than the higher resolution screens on the Cyber-shot TX9 and COOLPIX S80. There's very little drop off in illumination even at quite acute viewing angles and you can still see what's going on even with the camera held at arms length above your head. The touch icons are very responsive but, given their small size, you need to be accurate with your index finger, so if you've got big digits you'd be well advised need to give it a try before you buy.
The Lumix FX700 has two menus that are activated using physical buttons on the rear of the camera. The recording mode menu has six big touch icons for each recording mode. By comparison with most of the FX700's other touch icons they're huge. Press one and the required mode is selected and you're returned to the main screen, the single exception being the Scene mode button which takes you to a scene mode menu from one of the 28 options arranged over two pages.
The menu button displays a touch-screen menu with three tabs for record mode settings, motion picture settings and setup. What you'll find here depends on the currently selected exposure mode; in Program auto and manual modes the record mode tab includes Picture size and quality, ISO sensitivity, face recognition, AF mode, metering mode, digital zoom, stabiliser and others arranged over five pages. The settings tab mostly includes set once and ignore stuff like date and time settings.
About the only criticism of the menu we'd make, and it also applies to the Cyber-shot TX9 and COOLPIX S80, is that you can't scroll the longer paged menus with a finger flick, but have to use scroll arrows at the side of the screen. In any case, with the Lumix FX700, as with most other Panasonic compacts, you don't need to use the menu screen all that often, thanks to the Q.menu which includes most of the settings you're likely to need most often.
Support this site by
shopping below

Conventional Panasonic compacts have a dedicated Q.menu button, and on the FX700 it's a touch icon located in the bottom left corner of the screen. In Program mode the Q.menu has icons for movie record mode, still image size, stabiliser mode, white balance, colour effect and intelligent exposure arranged along the screen's top edge. A further group of touch icons on the bottom edge allows you to select AF mode, metering mode and ISO sensitivity.
Pressing any of them presents the options as a further set of touch icons grouped in the central part of the screen. It all works just as smoothly as the physical equivalent, better in fact, as you can select the option you want directly without having to scroll through all the preceding ones using a control disc. When you're done you need to press a 'Q.menu off' icon to get rid of it.
The Lumix FX700 has two fully automatic exposure modes; intelligent auto employs scene detection to help determine the best exposure settings, Program auto uses conventional metering and provides more control over ISO sensitivity and some other settings.
Scene detection selects the Portrait, Scenery, Macro, Night Portrait, Night Scenery, Sunset or Baby scene modes where appropriate, otherwise, it uses the standard auto exposure settings. Intelligent Auto also employs Intelligent ISO which detects motion in the frame and selects an appropriately high sensitivity setting to enable a suitably fast shutter speed. Lastly, Intelligent exposure sets different ISO levels for individual scene areas to produce an exposure that captures a wider range of tonal detail than would otherwise be possible. Intelligent ISO and Intelligent Exposure are also available in other modes.
The FX700 also has aperture priority, shutter priority and fully manual exposure control. What's more, it makes the most of the touch screen to provide an excellent degree of control together with good visual feedback of exposure conditions. Lets look at the manual exposure settings as the aperture and shutter priority modes work in a similar way with either one or other of the exposure variables set automatically.
When you select manual exposure mode the shutter speed and aperture are displayed on touch icons a the bottom of the screen. Pressing either one displays an adjustable scale which you can change by sliding it to the left or right. An EV scale indicates exposure + or -2 stops off the metered value and the scales themselves are coloured to show aperture and shutter speed values within the + or -2EV range. It's very easy to understand what's going on at a glance and to select the aperture and shutter speed combination you want.
Panasonic Lumix FX700 Movie Mode

The FX700 can shoot full HD video at 1080i resolution, has built-in stereo mics and you can use the optical zoom during recording. HD video is encoded in Panasonic's AVCHD format with the choice of two quality options; FSH encodes at 19Mbps and FH at 13Mbps. Switch to 720p mode and you still have two quality options, SH and H at 17Mbps and 13Mbps respectively. You can also encode footage using a Motion JPEG codec, the format options here are 720p HD, WVGA (848 x 480), VGA (640 x 480) and QVGA (320 x 240).
Having two encoding options means more choice, but also added complication. Essentially, the AVCHD modes allow higher compression than the older Motion JPEG codec at similar quality levels so you can fit a lot more footage of similar quality onto the same sized card. The downside is that AVCHD isn't a good format for editing – the frame structure makes accurate scrubbing and trimming problematic unless you're running the latest software on the quickest computers.
Continuous recording times are however longer for AVCHD files. At the time of writing Panasonic hadn't published recording times for the Lumix FX700, but motion JPEG recording has a 2GB file size limit. We left the camera to record at the 720p HD resolution and the limit was reached after 11 minutes and 9 seconds. We then set the camera to record at the best quality 1080i FSH setting for the same length of time and the size of the file was 731MB – less than half the size of the 720p Motion JPEG files. With no file size limit on AVCHD recording you'll be able to fit well over an hour of continuously shot footage on an 8GB card. There is one caveat though,whatever the encoding format, for tax reasons European models are limited to a continuous recording time of just under 30 minutes – but that's still a lot longer than the 11 minutes in Motion JPEG..
One big advantage the Lumix FX700 has over both the Cyber-shot TX9 and the COOLPIX S80 is that it can shoot still pictures during video recording – you can even use the full resolution burst shooting modes which is pretty impressive. Note, to support any of the AVCHD modes, you'll need to use a memory card rated as Class 4 or quicker, while to support Motion JPEG, you'll need Class 6 or faster.
In use the Lumix FX700 makes for a capable video camera and the dedicated recording button is a definite plus, though the short delay and blackout while the screen switches from 4:3 to 16:9 is a bit of a nuisance. Having the option to use either the physical zoom collar or the on-screen one is also nice. Both run at the same slow speed but the screen version doesn't make a distracting loud click when you let go of it.
Panasonic Lumix FX700 sample video 1: outdoors, sunny conditions, handheld panning with zoom
You can use either the physical zoom collar, or touch icons to zoom the Lumix FX700's lens during video recording. You can also shoots stills, even using burst mode.
Panasonic Lumix FX700 sample video 2: outdoors, sunny conditions, tripod panning with zoom

In this tripod-mounted panning shot, the Lumix FX700 holds the focus quite well during zooming, though it wanders a tiny bit, and the CMOS sensor copes well with the into-sun pan.
Panasonic Lumix FX700 sample video 3: indoors, low-light, handheld panning
Not a bad result from our low light interior, but some noisiness is visible.
Panasonic Lumix FX700 Continuous shooting and sensor

The Lumix FX700 has no fewer than five burst shooting modes, three of which – 2, 5 and 10fps – work at full image resolution. There are also 40fps and 60fps modes which work at 5 and 2.5 Megapixels respectively. The 2 and 5fps settings have a sequence limit of 100 pictures and at 10fps the limit is fifteen shots. We tested the Lumix FX700's burst shooting modes in Program mode using a formatted 133x 8GB Lexar Professional SDHC card at the 5 and 10fps settings. At 5fps it took 16 pictures in 4 seconds (4fps) then slowed to a slightly erratic rate a little under 1fps. After 30 seconds of continuous shooting it had recorded 46 images giving an overall rate of 1.53fps. So close to 5fps is achievable, providing you stick to short bursts of no more than around 16 frames. At the 10 fps setting the FX700 managed a burst of 14 images in 1.6 seconds, giving a frame rate of 8.75fps. This is by no means consistent though, and on occassions the burst would pause after as few as 7 or 8 frames. In the action sequence below the FX700 managed 9 frames before calling enough of a momentary halt to effectively end the sequence.
The Lumix FX700 has a newly developed 1 / 2.3 inch CMOS sensor with a maximum image resolution of 14 Megapixels producing 4:3 aspect ratio images measuring 4320 × 3240 pixels. Images are JPEG-compressed at one of two quality settings, fine and standard. Maximum sized images compressed using the fine quality setting have a file size around 5.5MB. The ISO sensitivity range is 100 to 1600 with a High sens scene mode providing up to 6400 ISO at a maximum 3 Megapixel resolution.
To see how the quality of the Lumix FX700 measures-up in practice, take a look at our real-life resolution and high ISO noise results pages, browse the sample images gallery, or skip to the chase and head straight for our verdict.