Panasonic Lumix DMC-FX500
Panasonic Lumix DMC-FX500 lens and stabilisation
The Panasonic Lumix DMC-FX500 is equipped with a new Leica DC Vario-Elmarit 5x optical zoom delivering an equivalent range of 25-125mm and a focal ratio of f2.8-5.9; the actual focal length is 4.4-22mm and we counted 20 discrete steps when zooming from wide angle to telephoto. The closest focusing distance is 5cm in Macro mode and the lens fully retracts into the body when powered down (or in play mode).
At a time when many compacts still have a widest equivalent coverage of 36 or 38mm, the 25mm of the new FX500 is particularly impressive – it even trumps the already respectable 28mm coverage of Panasonic's other models. While Panasonic's own FX35 beat the FX500 to becoming the first Lumix with 25mm coverage, the FX500 trumps its 4x range with a longer and more useful 5x reach.
To illustrate the FX500's 25-125mm coverage we mounted it on a tripod and shot the same scene fully zoomed-out, then fully zoomed-in. We then shot the same scene from exactly the same position moments later using the Fujifilm FinePix F30 which is equipped with a more typical 3x range equivalent to 36-108mm.
Support this site by shopping via these links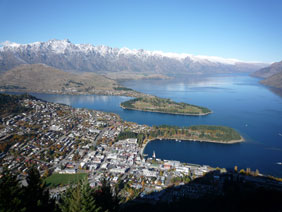 | | | |
| --- | --- | --- |
| Panasonic Lumix FX500 coverage wide | | Fujifilm FinePix F30 coverage wide |
| | | |
| 4.4-22mm at 4.4mm (25mm equivalent) | | 8-24mm at 8mm (36mm equivalent) |
It's immediately clear from the coverage examples above how the 25mm equivalent of the Panasonic FX500 can capture a considerably wider field of view than the 36mm of the Fujifilm. Indeed check out this same page from our Panasonic Lumix TZ5 review to see how much more it captures than a model with 28mm. As before, a wider angle lens is not just useful for big landscapes, but equally handy for capturing cramped interiors, large group shots or in situations when you just can't step back any further.
The examples below taken with each camera fully zoomed-in show the FX500 getting slightly closer with its 125mm equivalent to the Fujifilm's 105mm, but there's not much in it. By zooming much wider and a little closer though, the FX500's 5x range is much preferable and an ideal general-purpose range to have at your disposal. As with the FX35, we commend Panasonic for continuing to push the boundaries of wide angle coverage on compact cameras.
| | | |
| --- | --- | --- |
| Panasonic Lumix FX500 coverage tele | | Fujifilm FinePix F30 coverage tele |
| | | |
| 4.4-22mm at 22mm (125mm equivalent) | | 8-24mm at 24mm (108mm equivalent) |
Panasonic Lumix DMC-FX500 image stabilisation

Like all Lumix compacts, the Panasonic FX500 features optical image stabilisation (OIS) which adjusts a lens to counteract for camera shake – and following from its stablemates, there's two OIS modes. Mode 1 applies stabilisation constantly, while Mode 2 only applies the stabilisation as you take the picture.
Mode 2 has the potential to be more effective since the system always starts from a central position, although the downside is not seeing the effect as you compose the image. You can adjust the OIS mode from the Q.Menu or the main menu system. Note OIS is also available when recording movies, but only in Mode 1.
Panasonic Lumix DMC-FX500
Mega OIS off

Panasonic Lumix DMC-FX500
Mega OIS Mode 1

Panasonic Lumix DMC-FX500
Mega OIS Mode 2

4.4-22mm at 22mm, 1/25, 100 ISO
4.4-22mm at 22mm, 1/25, 100 ISO
4.4-22mm at 22mm, 1/25, 100 ISO
Above are 100% crops taken from three examples taken with the FX500 zoomed-into its maximum 125mm equivalent focal length and at a shutter speed of 1/25: from left to right, with no stabilisation, with Mode 1 and then Mode 2. Traditional photographic advice would recommend a shutter speed of at least 1/125 to eliminate camera shake at this effective focal length so it's not surprising to find the first example is blurred. It is however clear how the OIS modes have delivered a steadier image, and in dimmer conditions or at longer focal lengths they can prove invaluable.
At first glance Mode 1 and Mode 2 appear to be identical, but look closely and you may see a little extra detail on the Mode 2 sample – this is most obvious on the brown wooden boards in the bottom left of the crop. The Mode 1 sample appears to be showing a tiny degree of camera shake which has smeared out the finest details, whereas the Mode 2 crop has retained a little extra. As such we'd say Mode 2 appears to be stabilising a little more effectively than Mode 1.
As with other Panasonic compacts though we'd recommend Mode 1 for general use as it delivers a steady image to compose with, but if it's looking less than 100% sharp upon playback, try again in Mode 2. It may give you the extra boost you require under particularly demanding conditions.
Panasonic Lumix DMC-FX500 focusing

The Panasonic Lumix FX500 has the same AF modes of other recent Lumix compacts: 9-Area, 3-Area high speed, 1-Area high speed, 1-Area, Spot and Face Detection. You can select these using the Q.Menu or the main menu system. The five main modes allow you to choose a balance between the number of focusing areas and the speed of operation – handy for times when you need quicker response, but from more predictable areas.
The FX500's face detection worked well under a variety of conditions and also locked-onto subjects even when they were almost in full profile. It's activated automatically in the Portrait scene presets or when the Intelligent Auto mode spots a person. Alternatively you can manually select it from the Q.Menu or the main menu system when shooting in any other mode if desired.
There's no manual focus as such, but you can use the touch screen AF / AE lock control to tap at whatever area you'd like the camera to focus on within a frame which occupies most of the screen; this also locks the exposure on the same area.
Panasonic Lumix DMC-FX500 sensor and processing

The Lumix FX500 is equipped with an 10.1 Megapixel CCD sensor, measuring 1 /2.33in; we believe this is the same sensor used in the Lumix FX35. This generates 4:3 images with a maximum resolution of 3648×2736 pixels. There's the choice of five lower resolutions, along with cropped 3:2 and 16:9 aspect ratio modes, each at four different resolutions.
The FX500 offers two JPEG compression options for each of these modes, although this adjustment has now moved from the superimposed menu of earlier Lumix cameras to the main menu system. Best quality 10M JPEGs measure around 4 to 5MB each and there's around 50MB of internal memory to get you started, along with a slot for SD or SDHC cards.
Sadly considering its flagship status in the compact range, no RAW mode is available; this is a particular shame since Panasonic's no stranger to the option, having equipped its super-zoom FZ18 with the facility. Had the FX500 sported RAW to complement its manual controls, it could have been a successor of sorts to the LX2 and a rival in some respects to Canon's PowerShot G9.
The FX500's sensitivity at full resolution runs from 100 to 1600 ISO (with Panasonic's earlier 1250 ISO option now absent), while the High Sensitivity preset operates at 1600, 3200 or 6400 ISO depending on the conditions, albeit at a greatly reduced resolution of 3 Megapixels and with significant image processing. You can see samples using the complete range of full resolution sensitivities on our FX500 noise results page.
As a more sophisticated model, the FX500 inherits the Picture Adjustment controls from models like the FZ18 which allow you to adjust contrast, sharpness, saturation and noise reduction up or down by two steps; we have examples at the highest, lowest and normal noise reduction settings in our results pages. The FX500 also offers four colour effects: black and white, sepia, cool and warm
Panasonic Lumix DMC-FX500 movies

Video recording is a big feature for the Lumix FX500, as like the Lumix FX35 and TZ5 it's one of the first models to offer High Definition facilities. Panasonic has always been forward-thinking with its movie modes and long-offered 848×480 pixel widescreen recording when most others stuck with 4:3 aspect 640×480.
The new FX500 offers the same video options as the FX35 and TZ5: the standard 848×480, 640×480 and 320×240 modes, all at either 30 or 10fps, along with two 16:9 HD modes which record 720p video at 1280×720 pixels in either 30 or 15 fps. To access these and the 848×480 modes, you'll need to first switch the aspect ratio to 16:9. All video clips are saved in the Quicktime MOV format and sadly unlike the Lumix TZ5, you can't optically zoom the lens while filming.
| | |
| --- | --- |
| | |
| | |
| | |
We filmed a variety of movies in the 30fps HD mode and played them back on both a PC monitor and a high definition projector. The quality was identical to those taken with the Lumix FX35 and TZ5: as such, all were noticeably more detailed than clips filmed moments later using the 848×480 pixel mode, but like all movie modes on still cameras, fell below what you'd enjoy with a dedicated camcorder. The HD video from the Lumix compacts can look quite grainy even under decent light, and the overall quality from a decent standard definition camcorder preferred, despite recording a smaller frame.
That said, the HD modes are an improvement over the previous video options and another welcome feature to have on the FX500 – so long as you know it's not a replacement for an HD camcorder, or even a decent SD model for serious work. As you might expect though, it's fairly hungry on memory. With a data rate of around 25Mbit/s, you're looking at approximately 3MB per second of HD footage at 30fps. You can keep filming until the file size reaches 2GB, giving you approximately 11 minutes of 30fps HD material.
Panasonic Lumix DMC-FX500 drive modes

The Panasonic Lumix FX500 offers a variety of continuous shooting options. First up are two burst modes available from the Q.Menu or the main menu system. The normal Burst mode can capture up to three or five Fine or Standard quality JPEGs at a rate of 2.5 fps. With the FX500 set to Fine mode and equipped with a SanDisk Ultra II 1GB card though we fired-off three frames in 1.3 seconds, corresponding to just below 2.5fps.
The Free Burst mode, labelled with an infinity symbol, lets you keep shooting while there's free memory. Panasonic quotes a rate of around 2fps. Ours was slower, shooting 20 frames in 16 seconds and corresponding to rate closer to 1.25fps.
Like the FX35, the FX500 is also equipped with a High Speed Burst Scene preset which reduces the 4:3 resolution to 2 Megapixels and the compression to Standard, but allows you to shoot up to 100 images at 6fps; note the sensitivity runs between 500 and 800 ISO in this mode. We fired-off 100 shots in 16.8 seconds, corresponding to a rate of 5.95fps.
This mode may shoot at a reduced resolution, but the greatly increased frame rate and buffer means it's possible to grab decent action sequences – something that's not really possible with either of the standard burst modes.