Panasonic Lumix DMC-FX33 versus Fujifilm FinePix F50fd real-life noise
Panasonic Lumix DMC-FX33 results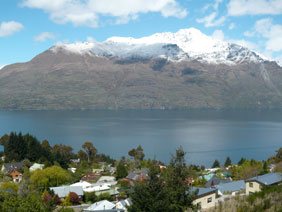 To compare noise levels under real-life conditions we shot this scene with the Panasonic Lumix DMC-FX33 and Fujifilm FinePix F50fd the within a few moments of each other using each of their ISO settings in Auto modes. The lenses on each camera were adjusted to deliver the same field of view.
The image left was taken with the Panasonic Lumix DMC-FX33 at 6.6mm f9 and with a sensitivity of 100 ISO; the original JPEG measured 3.76MB. The crops are taken from an area just below and to the left of the centre and presented here at 100%.The Panasonic Lumix DMC-FX33 unsurprisingly delivers its best results at the lowest 100 ISO sensitivity, although pixel-peepers will notice a sprinkling of noise even here. We've come to expect a fall in quality at 200 ISO on many compacts these days, so it's reassuring to see the FX33 hold onto most of its detail at this setting. Increased to 400 ISO though, there's a noticeable fall in fine detail, and as you'd expect the situation falls from there on.
Compared against the 12 Megapixel Fujifilm FinePix F50fd though, we'd say the Panasonic delivers preferable results at 400 and 800 ISO. It's also interesting to compare the FX33 against its predecessor. In our Panasonic FX30 review, you'll see that while the new FX33 doesn't offer discernibly greater resolving power thanks to its extra Megapixel, it does hold onto colour saturation at higher sensitivities much better than before. Where the FX30 lost a great deal of saturation at 400 ISO and up, the FX33 delivers a more consistent result up to 800 ISO.
Of course like all non-DSLRs these days, there's visible noise artefacts at all sensitivities if you look closely, so again if you're the kind of person who like to examine images on-screen at 100%, you'll want to keep the FX33 at its lowest sensitivity.
Now for more real-life examples across its sensitivity range, check out our Panasonic FX33 sample images page.
| | | |
| --- | --- | --- |
| Panasonic Lumix DMC-FX33 | | Fujifilm FinePix F50fd |
| | | |
| 100 ISO | | 100 ISO |
| | | |
| | | |
| 200 ISO | | 200 ISO |
| | | |
| | | |
| 400 ISO | | 400 ISO |
| | | |
| | | |
| 800 ISO | | 800 ISO |
| | | |
| | | |
| 1250 ISO | | 1250 ISO not available |
| | | |
| | | |
| 1600 ISO | | 1600 ISO |
| | | |
| | | |
| High Sensitivity (1600 ISO here, scaled from 3 Megapixels) | | 3200 ISO (scaled from 6 Megapixels) |
| | | |
| | | |
| 3200 and 6400 High Sensitivity options not possible under these conditions | | 6400 ISO (scaled from 3 Megapixels) |