Panasonic Lumix DMC-FX33 lens and stabilisation
The Panasonic Lumix FX33 is equipped with a Leica DC Vario-Elmarit 3.6x optical zoom delivering an equivalent range of 28-100mm and a focal ratio of f2.8-5.6; the actual focal length is 4.6-16.4mm and we counted 20 discrete steps when zooming from wide angle to telephoto.
The FX33 is pictured above powered-down on the left and switched-on on the right, whereupon the lens extends by 20mm in just under two seconds. As you zoom the lens in, the barrel actually retracts a little before extending again to 20mm at the longest focal length.
The lens is one of the highlights of the FX33 as it offers decent wide angle coverage equivalent to 28mm. This makes a big difference over lenses which only zoom-out to an equivalent of, say, 35mm. To illustrate the FX33's coverage we mounted it on a tripod and shot the same scene fully zoomed-out, then fully zoomed-in. We then shot the same scene from exactly the same position moments later using the Fujifilm FinePix F50fd which is equipped with a 35-105mm equivalent range.
Support this site by shopping via these links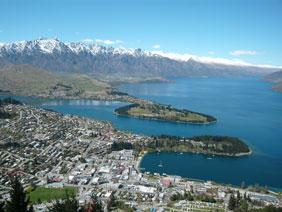 | | | |
| --- | --- | --- |
| Panasonic Lumix FX33 coverage wide | | Fujifilm FinePix F50fd coverage wide |
| | | |
| 4.6-16.4mm at 4.6mm (28mm equivalent) | | 8-24mm at 8mm (35mm equivalent) |
It's immediately clear from the coverage examples above how the 28mm equivalent of the Panasonic FX33 can capture a much wider field of view than the 35mm of the Fujifilm. This is not just useful for big landscapes, but equally handy for interiors, large group shots or situations when you just can't step back any further.
The examples below taken with each camera fully zoomed-in show the F50fd getting fractionally closer with its 105mm equivalent to the Panasonic's 100mm, but there's hardly anything in it. The Panasonic FX33 has a far preferable range and we wish more compacts shared its 28mm wide angle coverage.
| | | |
| --- | --- | --- |
| Panasonic Lumix FX33 coverage tele | | Fujifilm FinePix F50fd coverage tele |
| | | |
| 4.6-16.4mm at 16.4mm (100mm equivalent) | | 8-24mm at 24mm (105mm equivalent) |
The FX33 features optical image stabilisation (OIS) which adjust the lens to counteract for camera shake. Like other Panasonic models, the FX33 features two OIS modes: Mode 1 applies stabilisation constantly, while Mode 2 only applies the stabilisation as you take the picture. Mode 2 has the potential to be more effective since the system always starts from a central position, although you won't see the effect as you compose the image.
Panasonic Lumix FX33 Optical Image Stabilisation off / on (Mode 1)

100% crop, 4.6-16.4mm at 16.4mm, 1/40, 100 ISO, OIS off

100% crop, 4.6-16.4mm at 16.4mm, 1/40, 100 ISO, Mode 1
Above are examples taken with the FX33 zoomed-in, with no stabilisation on the left, and OIS Mode 1 on the right. In this example taken at a shutter speed of 1/40, we've gone slightly beyond the capabilities of the system, but it's clear how the version with OIS is a big improvement over that without. In our FX33 Gallery page you'll also see how OIS allowed us to handhold a sharp image zoomed-out at as little as 1/10 of a second.

Panasonic Lumix DMC-FX33 focusing and flash

The FX33 has five different AF modes along with support for face detection which was lacking on its predecessor. The main five modes allow you to choose a balance between the number of focusing areas and the speed of operation – handy for times when you need quicker response, but from more predictable areas.
New to the FX33 is face detection, which can recognise and track up to 15 human subjects. In use it worked well under a variety of conditions and also locked-onto subjects even when they were almost in full profile.

Panasonic Lumix DMC-FX33 sensor and processing

The Lumix FX33 is equipped with an 8.1 Megapixel CCD sensor, measuring 1 /2.5in. This generates 4:3 images with a maximum resolution of 3264×2448 pixels, and there's the choice of four lower resolutions. Cropped 3:2 and 16:9 aspect ratio modes are also available, each at three different resolutions. The FX33 offers two JPEG compression options for each of these modes.
Best quality 8M JPEGs measure around 3.5MB each and there's 27MB of internal memory to get you started, along with a slot for SD or SDHC cards. The FX33's sensor gives the camera an extra Megapixel over its predecessor and you can see what difference that makes in our FX33 resolution results.
The image resolution and compression settings are easily adjusted using the excellent superimposed Function menu, although these and the aspect ratio options are also available in the main menu settings.
The sensitivity at full resolution runs from 100 to 1600 ISO (complete with Panasonic's 1250 ISO option), while the High Sensitivity preset operates at 1600, 3200 or 6400 ISO depending on the conditions, albeit at a reduced resolution of 3 Megapixels and with significant image processing. You can see samples using the complete range of full resolution sensitivities on our FX33 noise results page. The FX33 also offers five colour modes, and we used the Standard option for all our samples.

Panasonic Lumix DMC-FX33 movies

With the main mode dial set to the filmstrip icon you can record video clips in the Quicktime Motion JPEG format. Like other Lumix compacts, the FX33 can record in conventional 4:3 or widescreen 16:9 aspect ratios and at either 10 or 30fps.
You can adjust the optical zoom before, but not during filming, and optical stabilisation is available using Mode 1. You're looking at just over 1MB per second of widescreen video at 30fps and the quality is very good. It's also nice to switch the TV output aspect ratio to 16:9 and output anamorphic video ready to be stretched out to fill a widescreen TV.

Like its predecessor, the FX33 also allows you to grab nine frames from a video clip and create a single image showing all as thumbnails; if you recorded your video at the full VGA resolution, the final composite image will measure 2 Megapixels. This can be fun for analysing motion, such as a golf swing or a ski jump.

Panasonic Lumix DMC-FX33 burst shooting

The Lumix FX33 offers two burst shooting modes: Normal and Unlimited. This is a change from its predecessor which offered High, Low and Infinity burst modes. Set to Normal, the FX33 can fire off up to four Fine or seven Normal JPEG images at 3fps. Set to Unlimited, the speed falls to 2fps, but can keep shooting while you have memory remaining. The FX33 also offers a high speed burst scene preset which can shoot 2 Megapixel images at up to 7fps, again until you run out of memory.
Each mode was verified in practice using a SanDisk Ultra II 1GB SD card. The high speed burst was particularly good for capturing fast action sequences, and proved handy even at the lower 2 Megapixel resolution. Interestingly if you switch to a 3:2 aspect ratio though, the resolution slightly increases to 2.5 Megapixels.