Panasonic Lumix DMC-FX33 design and controls
Panasonic's FX33 is a smart-looking compact sporting the clean design and excellent build quality we've come to expect from the Lumix line-up. Pictured side-by-side with Fujifilm's FinePix F50fd below, it's clear the FX33 is both shorter and thinner than it looks when pictured alone. It may no longer sport its predecessor's badge of slimmest compact with 28mm wide angle capabilities, but measuring the same 95x52x22mm, it'll certainly not put a strain on most pockets.
Speaking of its predecessor, both the earlier FX30 and new FX33 share virtually the same external design. The only major difference between them from the outside is the removal of the small horizontal ridge on the FX30's front surface to allow for a clean faceplate, as is the fashion for many compacts today.
Of course this ridge acted as a handy rest for your middle finger on the FX30, but Panasonic's cunningly replaced it on the FX33 with a cross-hatched Lumix logo that effectively prevents your finger from slipping. There's also still the raised dots on the rear which act as a thumb rest, and the combination allows you to hold the camera relatively securely with one hand. Like its predecessor the build quality is superb, but if you'd like further protection along with the ability to dive down to a depth of 40m, the FX33 is compatible with the existing DMW-MCFX30 underwater housing.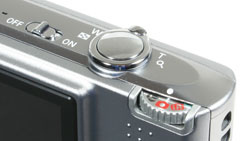 Look much closer and you'll notice one other difference on the new FX33 – its mode dial may still offer eight options with much of its actual surface hidden from view, but there's been some changes in the modes themselves. The Normal, Play, Print, Movie, Scene and Macro modes are still present, but the Simple (Heart) and Intelligent ISO modes have been swapped for the new Clipboard and Intelligent Auto modes. (Note Intelligent ISO is still available, but is now found in the menu system).
The Clipboard option is designed for photographing subjects like timetables and maps for taking notes. Images are recorded at 1 or 2 Megapixel resolution into a dedicated area of internal memory, independent of the memory card. It's also possible to record five second audio clips with each image.
Panasonic's Intelligent Auto mode, seen on its other July 2007 launches, employs both face and scene detection to figure out what kind of photo you're trying to take, and automatically selects the most appropriate scene preset.
It sounds ambitious, but was surprisingly effective in our tests. We repeated a test used on the Lumix FZ18 and found the FX33 switched to Landscape mode when pointed at a mountain, adjusted itself to Macro when pointed at a close subject, then fired-up Portrait mode with Face Detection when turned to face people. Once again we didn't have a sprinter run past or fireworks go off, so couldn't say whether the FX33 would switch to their respective presets, but we were sufficiently impressed to confidently recommend Intelligent Auto for day-to-day use.
If you prefer to manually select Scene Presets, the FX33 offers no fewer than 22 of them, spread across two menu pages. These can exploit the FX33's full range of shutter speeds from 1/2000 to an impressively long 60 seconds, the latter in Starry Sky mode. Sadly for enthusiasts there's no direct manual selection of shutter speed, nor any control over the FX33's two aperture settings. But by carefully choosing a scene preset you can normally achieve the effect you're after.
Panasonic Lumix DMC-FX33 Screen and menus


Following previous models, Panasonic splits most of its options between the main menu pages and the Function menu which is superimposed over the live view. We've long been fans of the Lumix Function menu as it allows you to quickly and easily adjust the most common settings. Press and hold the FX33's FUNC menu for a moment and you'll see a dropdown menu allowing you to adjust the Stabilisation mode, Burst mode, White Balance, Sensitivity, Resolution and Image Compression.
Pressing the Menu button during Normal mode presents three Record and four Setup menu pages, allowing you to change things like the ISO limit in auto, the aspect ratio and burst mode. The menus are attractive and well-designed, which along with the super-imposed Function menu, makes the FX33 and other Lumix compacts a joy to use.
The Lumix FX33 is equipped with the same 2.5in 207k pixel colour monitor as its predecessor. In use it looks bright, sharp and detailed, which is fortunate since like most compacts these days, there's no other way to compose your shots. If you'd like something bigger though, consider the Lumix FX55 which sports a 3in 230k screen.
A dedicated Display / LCD mode button on the back of the FX33 cycles between four display modes: the first just shows the composition, the second overlays exposure and shooting details, the third additionally presents a live brightness histogram, while the fourth overlays a three-by-three grid to aid composition and lining up. An option in the Setup menus allows you to switch the grid for an alternative pattern and also display a live histogram in addition to the grid if desired. This is an impressive selection given many compacts don't offer a live histogram.
| | |
| --- | --- |
| | |
Again like other Panasonics, holding the Display / LCD Mode button for a second presents options for brightening the screen. One option called High Angle is designed for use with the camera held high above your head. Viewed face-on, it simply appears to increase the screen brightness, but with the camera held high above you as intended, it makes viewing the screen much easier; not as easy as a flip-out screen, but still surprisingly effective. New to the FX33 and other July 2007 Lumix models is an Auto Power LCD option which automatically sets the screen brightness depending on the conditions.
Panasonic Lumix DMC-FX33 Battery and connectivity

The FX33 is powered by the same DMW-BCE10E 1000mAh Lithium Ion battery pack as its predecessor and the camera is supplied with a mains recharger. Panasonic claims each charge is good for 280 shots under CIPA conditions, but like other Lumix compacts we found that estimate a bit optimistic. Under normal use with stabilisation active and a few videos recorded, we found the FX33 battery was good for closer to 100 shots, so investing in a spare would be advisable.
The battery compartment is also home to the SD memory card slot, and a small door on the right side of the body opens to reveal DC-in and a combined USB / video out port.