Intro
Released in January 2009, the Panasonic Lumix DMC-FS25 is a 12.1 megapixel slim compact with a 5x optical zoom. It sits at the top of Panasonic's FS range, designed to be more affordable than it's FX range. The FS25 replaces the FS20, launched exactly one year earlier and, as well as a new sensor with an increased pixel count, the FS25 manges to fit a wider zoom range into a smaller body. It retains the same 3in LCD panel, which like most compacts is the sole means of framing your shots.
Available in black, silver and gold, the Lumix DMC-FS25 features an Intelligent Auto shooting mode with scene recognition, making it suitable for the most novice of snappers. It also features AF tracking and optical image stabilization in the form of Panasonic's Mega O.I.S which helps eliminate camera shake when shooting in poor light.
Panasonic has managed to fit a lot of camera into a very compact shell. With a similar feature-set and price to the Canon Powershot A2100 IS and Sony Cyber-shot DSC-W270 / W290 though, the question is how it compares in terms of everyday use, image quality and performance? Read on to find out.
The Panasonic Lumix DMC-FS25 is by any standards a very compact model. Side by side with the Sony Cyber-shot DSC-W270 / W290 it looks about the same size, but is, in fact, marginally smaller and lighter. With it's brushed metal styling it's a real looker, and even outclasses the Sony Cyber-shot, from the front at least. Round the back, things look a little less elegant with a predominance of matt black plastic punctuated by functional, but not particularly appealing buttons and switches.
In the hand it's quite comfortable, with a raised vertical strip on the face which provides a good finger purchase. The tripod mount is way over on the right end of the base which is not the best place from a stability point of view and the card and battery slot cover is a flimsy plastic affair with a fiddly catch.
The FS25 relies on switches for two important functions. The first, mounted on the top panel, turns the camera on and off. When it goes into power-saving mode a gentle press on the shutter release extends the lens and wakes everything up.
The second switch on the rear panel selects either playback or capture mode. From a usability point of view this isn't ideal. Most cameras that use a button to activate playback mode allow you to switch back to shooting mode by pressing the shutter release button. It's so quick and simple you hardly need to think about it. With the FS25 you need to remember to move the switch back to the capture position after you've been reviewing pictures.
The shutter release button is a nice big disc that you can't miss or mistake for something else and is surrounded by a zoom ring which is swift and positive. Next to it is a much smaller dull little plastic button with a red icon atop, this puts the camera into Intelligent Auto mode with a single press. A second press returns to the mode you were previously in.
The rear control panel occupies a small strip to the right of the 3in LCD panel and the controls are smaller and less clearly labelled than on either the Canon Powershot A2100 IS or the Sony Cyber-shot DSC-W270 / W290. The joypad button from the FS20 remains, but now has no central 'click' function, this having been replaced by a separate Menu Set button. Finally, down at the bottom of the panel a Q (Quick) menu button provides access to commonly used functions and settings from the on-screen menu.
The flash is mounted on the front panel above and to the right of the lens. Because the lens barrel and surround is quite small and on the right, this puts the flash almost in the middle of the camera, well away from your fingers. The quoted flash range is bang in the middle between the Powershot A2100 IS and the Cyber-shot DSC-W270 / W290 with not much to choose between all three. The flash was reasonably, though not lightning-quick, to recharge. The display shows a red flashing dot while the flash recharges and this took between two and three seconds between shots.
The FS25's Lithium Ion battery has a quoted CIPA standard of 330 recordable pictures. That's exactly the same as the Sony Cyber-shot DSC-W270 / W290 and about twenty percent less than the Canon Powershot A2100 IS with two rechargeable NiMh AA batteries (400 shots).
The Panasonic Lumix DMC-FS25's Leica lens has a 5x zoom range of 5.2 to 26mm, delivering a 35mm equivalent zoom range of 29mm-145mm. The maximum aperture is f3.3, dropping to f5.9 at the telephoto end of the zoom range.
Support this site by shopping at Amazon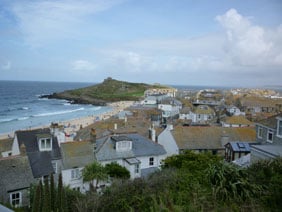 Panasonic Lumix DMC-FS25 coverage

5.2-26mm at 5.2mm (29mm equivalent)

5.2-26mm at 26mm (145mm equivalent)
The FS25 is a pretty close fit with the Cyber-shot W270 / W290 in terms of zoom range and, like that camera, offers much wider coverage than the Canon Powershot A2100 IS, but lacks its long telephoto performance. We think that Sony and Panasonic have struck the right balance between wide angle and telephoto performance for a 5X optical zoom on a compact camera. But if you're looking for something to get you closer to the action, if you do a lot of wildlife or sports photography for example, the Powershot A2100 IS might be a better choice for you.
On flipping the switch, the camera powers up, extends the lens and is ready for action in about a second and a half. The slim brushed metal lens barrel does nothing to detract from the Lumix FS25's front-facing style and elegance.
After an initial short delay, the zoom rocker fairly smoothly covers the full focal length range in around two seconds. Though it feels a little less responsive than either the Sony Cyber-shot W270 / W290 or Canon Powershot A2100 IS zoom, the FS25's zoom allows much more control. We managed to increment it in 25 discrete steps from it's widest angle setting to the maximum focal length.
The quoted close focussing distance in macro mode is 5cm but in our tests we managed to get sharp macro images as close as 3cm from the FS25's lens.
The FS25 incorporates Panasonic's Mega OIS Optical Image Stabilization system. Activated from the Quick menu, it can be completely disabled or on in one of three modes. Automatic turns it on in low light conditions when correct exposure requires a slow shutter speed. Mode 1 is on all the time and Mode 2 activates with first pressure on the shutter release.
Panasonic Lumix DMC-FS25: OIS off / continuous

100% crop, 5.2-26mm at 26mm, 1/20, 200 ISO, OIS off

100% crop, 5.2-26mm at 26mm, 1/20, 200 ISO, OIS on
The images above show two shots taken with the lens at full zoom – 145mm equivalent, and with the same exposure settings, the FS25 has produced an acceptable shot hand-held at 1/20th of a second. At this focal length the accepted rule for a safe handheld shutter speed would indicate 1/150th of a second, putting the FS25's stabilization at between two and three stops.
The FS25 has four AF modes. Face detection can recognize and track up to fifteen faces, lock focus and set exposure accordingly. Once it recognized a face the FS25 did a good job of staying with it even when turned almost to full profile but in order for the face detection to work well you need to be quite close to the subject. Once people moved more than a few metres from the camera the chances of obtaining a lock or maintaining one that had been achieved at a closer distance were greatly reduced.
The FS25's Face detection also suffered a drop in performance in low light conditions where faces needed to be even closer to the camera in order to be recognised. Given these limitations if you're looking for a camera primarily to shoot people pictures the Cyber-shot DSC-W270 / W290 or Canon Powershot A2100 IS might be a better option for you.
In AF Tracking mode the camera locks focus on a subject and tracks its position in the frame if either it or the camera moves. For most subjects AF tracking worked very well. Outdoors it was quick to lock onto subjects and rarely let go once it had. Indoors and in low light it was a little less tenacious, but nonetheless a useful option.
The remaining two AF modes use an eleven point and a single point autofocus system. The first of these works well for general purpose shooting with the single-point system a useful standby for difficult situations, e.g. low light, when the others aren't up to the task. The FS25 has no focus presets or manual focussing controls.
With 230k pixels the FS25's 3in LCD panel provides a clear sharp image. In hardware terms there's little to distinguish it from other 3in LCD panels, but Panasonic has gone to some effort to overcome the universal drawback of all camera LCDs – their poor performance in bright conditions.
The FS25's LCD panel operates in one of four modes. With the mode set to off, it operates normally, providing the same level of illumination in all situations. In Auto Power mode the panel brightness changes with the ambient conditions – it gets brighter when the sun comes out, darker when you go indoors. Power LCD mode permanently turns up the brightness and the final option, High Angle, configures the screen so you can see what's going on when you hold the camera at full stretch above your head. Most LCD screens are impossible to see at this angle, so if you're a regular festival goer, or just a bit on the short side, you'll love this.
A display button on the rear panel cycles between three views in capture mode which can be neatly summarized as nothing, 3×3 grid and everything, the latter including shooting mode, Flash mode, ISO (when set manually), image size and quality, stabilisation mode, and remaining battery power and card capacity (number of shots). In playback mode the Display button provides three levels of EXIF information.
The extended capture menu is displayed by pressing the Menu Set button in capture mode. With 14 options displayed across three screens there's a lot to get through, but it's quick and pretty easy to get to where you want using the joypad to scroll up and down then right to access an options settings.
A Quick Menu button provides access to commonly used settings including stabilization, multi-shooting, AF settings, White Balance, ISO, Intelligent Exposure, Image size and LCD mode. These appear in a strip along the top of the screen with settings appearing on a drop-down button strip. This provides quick and easy access to common settings.
A mode button on the rear panel displays a menu with five options. The first of these, Intelligent Auto is the point-and-shoot setting, more easily activated by the dedicated button next to the shutter release. 'Normal' Picture mode is what on other cameras would be called program auto and provides most control over the available options.
Transform is a shortcut to one of the scene modes – (about which more shortly) all of which can be accessed from the next option. Finally Motion Picture selects movie capture.
Exposure compensation, flash mode, macro shooting and self timer options are selected by the fairly standard four-button disc method using the joypad button at its centre.
For simple point-and-shoot operation, the FS25's Intelligent auto mode is very straightforward. Although it has a limited number of scene modes – Portrait, Scenery, Macro, Night Portrait and Night Scenery – it's quick to recognise and select the appropriate mode for these situations.
Normal picture mode automatically sets the shutter speed and aperture, but gives you control of other settings including AF mode, white balance, ISO and image size and quality. An intelligent exposure option in this mode adjusts the exposure and contrast to compensate underexposure of backlit subjects.
There's an extensive range of Scene modes, 26 in all, including self-portrait, scenery, Party, food, two baby options (allowing you to set the birthday of two kids)), pet, sunset and fireworks.
One scene mode, Transform, is available from the top-level mode menu. This provides four distortion settings which stretch or squeeze the image in the horizontal plane, effectively making people look fat, very fat, slim, or very slim. Given its slightly gimmicky nature and the ease with which this kind of thing can be done in an image editor, it's hard to see why Panasonic has given it such prominence.
The FS25 can shoot movies in three resolutions, QVGA 320×240 pixels, VGA 640×480 pixels and WVGA – 848×480 pixels with a 16:9 aspect ratio. All three are at 30 frames per second. Sadly you can't adjust the optical zoom once you start filming.
Clips are recorded to the SD card as Quicktime .mov files using a motion jpeg codec and the widescreen format has an average data rate of around 11 Megabits per second.
While it falls short of full HD resolution this does a least provide a widescreen option that will look better on your HDTV than the 4:3 VGA best quality option on the Canon Powershot A2100 IS. But if HD video is important to you the Sony Cyber-shot DSC-W270 / W290 would be a better choice. Registered members of Vimeo can download the clip above in its original format here.
The FS25 has two burst modes. The first takes a sequence of three shots in around 1.5 seconds. The second, called unlimited, continues to take shots until your memory card is full. At 12M fine resolution, the first three shots fired off in one and a half seconds then the shot rate settled down to just over one per second, not at all bad and faster than either the Canon Powershot A2100 IS or the Sony Cyber-shot DSC-W270 / W290.
The FS25's 12 Megapixel sensor produces 4000 x 3000 pixel images with two JPEG quality options – standard and fine, with a range of smaller image sizes available. Full resolution fine quality image files ranged from 3MB to 5MB. The ISO sensitivity can be adjusted from 80 to 1600 ISO. Using the High Sens scene mode sets the ISO automatically between 1600 and 6400 ISO, but with the image size greatly reduced in 4:3 mode to just 3 Megapixels.
To see how the quality of the Lumix FS25 measures-up in practice, take a look at our real-life resolution and high ISO noise results pages, browse the sample images gallery, or skip to the chase and head straight for our verdict.