Panasonic Lumix DMC-FS16 / FH2
Intro
The Panasonic Lumix FS18 / FH5 is a 16 Megapixel compact with a 2.7 inch screen and a 4x optically stabilised zoom lens. It was announced in January 2011 alongside the Lumix FS16 / FH2 which is identical other than its slightly lower resolution 14 Megapixel sensor. In North America the FS18 and FS16 are known respectively as the FH5 and FH2 and we'll refer to them from here on as the Lumix FS18 / FH5 and Lumix FS16 / FH2.
The FS18 / FH5 replaces the FS11 / FH3 launched a year previously in January 2010. The sensor resolution is increased from 14 to 16 Megapixels and, in what some might see as a retrograde step, the FS11 / FH3's 5x zoom is replaced with a Leica branded 4x zoom. The 28mm wide angle is the same, but the FS18 / FH5's telephoto reach is only 112mm compared with its predecessor's 140mm equivalent. The payoff for the reduced zoom range is a body that's 20 percent slimmer than its predecessor at only 19mm. Like its predecessor the FS18 / FH5 can shoot 24 fps HD video at 720p resolution.
| | |
| --- | --- |
| | |
| | |
| | |
It's with some justification that Panasonic calls the FS18 / FH5 an ultra-compact: at only 19mm thick and weighing 120 grams with the battery and card fitted it's both small and light making it extremely pocketable. You can comfortably slip it into the rear pocket of your jeans – just don't forget it's there and inadvertently sit on it. Though the FS18 / FH5 is more or less the same width and height as the Canon PowerShot A3300 / A3200, the 5mm depth difference is very significant, there's no way the A3300 / A3200 is going in your jeans without you (and probably everyone else) being very aware of its presence.
Other than being thinner, the FS18 / FH5 doesn't differ radically from its predecessor in terms of design. The front panel features a big silver lens bezel and the trademark Lumix logo is the only thing on an otherwise flat, featureless surface to provide a finger grip. A silver strip extends up the left side and across the top where the on/off switch and shutter release button with its zoom collar are mounted. The shutter release is a good size and sits well proud of the surface, so it's easy to find and there's nothing else that you could mistake for it.
On the back panel is a dimpled patch for your thumb to rest on, to the right of which is the switch that sets playback or capture mode. Our heart sank a little when we saw this. A handful of recent Panasonic models have eschewed the record / playback switch in favour of a button and we'd hoped this would be adopted on other new models. The advantage of the button method widely used by other manufacturers is that even in playback mode you can quickly switch to shooting mode just by pressing the shutter release. That way you need never miss a photo opportunity because you happen to be reviewing shots. The switch makes this impossible and even when you get used to it you'll find yourself wondering why the lens hasn't extended when you turn the camera on for a few seconds before the penny drops.
Below the thumb rest there's a mode button which activates a screen overlay from which you can select a shooting mode using the control disc. The control disc follows the usual conventions with a button in the middle which is used to activate the menu system and make selections and four one-touch positions top, right, bottom and left for exposure compensation, flash, macro, and self-timer functions respectively.
Below the control disc a Display button toggles information overlays and the Q.menu button provides a drop-down menu with frequently used menu items like stabiliser, continuous shooting, ISO sensitivity and picture size.
On the right side a small flap covers the single USB/AV port; a USB cable is provided for transferring photos and video clips to your PC as is an AV cable for connecting to a TV using RCA connectors for composite video and stereo audio. There's no HDMI port.
On the bottom of the Lumix FS18 / FH5 there's a tripod bush mounted on the left corner. This isn't the best place for it in terms of keeping the camera level and stable on a tripod, but it does the job. On the opposite corner a hinged door opens to reveal the combined battery and card compartment. The FS18 / FH5 takes SD cards and supports HC and XC variants. Panasonic recommends a card with SD speed class 6 or higher for shooting movies.
The Lumix FS18 / FH5 has a built in flash with a quoted maximum range at the wide angle setting of 3.3 metres. In Auto mode the flash fires when the ambient lighting conditions require it, but it can be forced on or off and there are also slow sync and red-eye reduction modes.
The results when using the flash indoors were a little disappointing, with subjects within the quoted range looking under-illuminated. The flash is quick to recycle, though, and is ready for action in about three seconds. The Lumix FS18 / FH5's slim 660mAh battery provides enough power for 250 shots using the CIPA (Camera Imaging Products Association) standards, that's a little better than the PowerShot A3300 IS which manages 230 shots with a bigger screen and wider zoom range to power.
| | | |
| --- | --- | --- |
| Panasonic Lumix FS16 / FH2 coverage wide | | Panasonic Lumix FS16 / FH2 coverage tele |
| | | |
| 5-20mm at 5mm (28mm equivalent) | | 5-20mm at 20mm (112 mm equivalent) |
The Lumix FS18 / FH5 has a 4x 5-20mm (28-112mm equivalent) f3.1-6.5 Leica zoom lens with Panasonic's MEGA O.I.S optical image stabilisation. Panasonic has sacrificed the additional telephoto reach of its predecessor's 5x optical zoom for a slimmer and lighter body. The FS11 / FH3 also had a slightly wider f2.8 maximum aperture.
This is an interesting move not least because one of the FS18 / FH5's biggest competitors, the Canon PowerShot A3300 IS has extended its zoom range to 5x from its predecessor's 4x. In the PowerShot A3300 IS's case, the additional range was added at the wide angle end, where it was most needed, and the result is that the PowerShot A3300 IS has caught up with the Lumix FS18 / FH5 at the wide angle end of the range and now outreaches it at the tele end.
This at least gives you clear choice; you can either opt for a slightly longer telephoto, or forego it for the sake of compactness. But it's worth considering just how far that extra telephoto reach is going to get you. At the 112mm to 140mm (equivalent) focal length we're looking at getting in a little tighter to mid-range action. That's useful for portraiture, street photography and the like, but neither camera will get you close enough to the action in a sports stadium or safari park.
Panasonic claims the FS18 / FH5's Venus VI processor will have the camera ready for action even faster than the 1.01 seconds it claimed for its predecessor. We timed it at around a second and a half which, although it falls a little short of Panasonic's claim, is pretty swift nonetheless.
When switched on with the selector switch in the record position the lens extends to about 18mm and even at the telephoto position it extends no more than about 20mm. The zoom travels the full range smoothly and quietly in a little under three seconds and can be nudged through around 12 discrete steps.
>
Panasonic Lumix FS16 / FH2: MEGA O.I.S. off/on

100% crop, 5-20mm at 20mm, 1/10, 100 ISO, Normal Picture mode, MEGA O.I.S. Off.

100% crop, 5-20mm at 20mm, 1/10, 100 ISO, Normal Picture mode, MEGA O.I.S. On.
The Lumix FS18 / FH5's lens is optically stabilised with Panasonic's MEGA O.I.S. System which shifts the lens elements to compensate for camera movement at slow shutter speeds, helping eliminate camera shake and extend the range of shutter speeds it's practical to use in low light situations. Unlike Canon's IS system used on the PowerShot A3300 IS, MEGA O.I.S. on the FS18 / FH5 doesn't offer a choice of modes, it's either on or off. You can set it from the Q.menu, though, and stabilisation is automatically enabled for video recording.
To test the stabiliser on the Lumix FS18 / FH5 we zoomed the lens to its maximum 20mm (112mm equivalent) focal length and took a series of shots in Normal Picture mode at progressively slower shutter speeds as the light fell. At each shutter speed we took shots both with the stabiliser enabled and without it.
The crops above are from shots taken at 100 ISO with a shutter speed of 1/10. The crop on the left was taken with MEGA O.I.S.turned off, the one on the right with it enabled. Ordinarily, at this focal length you'd expect to get a steady hand-held shot at shutter speeds of around 1/100 or faster. So it's fair to say that the Lumix FS18 / FH5 manages a little over three stops of image stabilisation.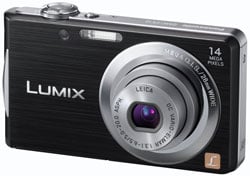 As you'd expect, the Lumix FS18 / FH5 has face detection autofocus which is the default AF mode in intelligent Auto exposure mode and can be selected in other modes. Face detection works well, quickly locking onto faces in the frame and setting focus and exposure, though in poorer lighting conditions and when subjects are more than a few metres from the camera it does struggle a little. It's functional, but quite basic, and this is one feature where the FS range is lagging behind the competition. It's not possible , for example, to switch faces and there's no smile shutter, blink detection or face-activated self-timer function, all of which are available on the PowerShot A3300 IS. The higher-end Panasonic compacts and super zooms also have face recognition (where actual individuals with their names can be remembered) and it's a bit of a disappointment not to see Panasonic rolling out this feature on the lower-priced models.
If there are no people around, Intelligent auto mode switches to 11-area AF and this too can be selected from the Q.menu in other exposure modes. Again, in good light, the 11-area AF systems functions flawlessly, it's quick and accurate and you can't really fault it, in low light, however, it frequently failed to find a contrasting edge to focus on.
AF tracking is a new addition to the FS18 / FH5's autofocus options and, like the other AF modes it works very well in good lighting conditions – you press the down button on the control disc to activate it and the tracking target stays with the subject as it moves.
Lastly there's 1-area focussing which uses the central portion of the screen for focussing. By maintaining half-pressure on the shutter release you can align the subject for focussing, then recompose your shot, but the FS18 / FH5 lacks the PowerShot A3300 IS's ability to change the size of the AF area or lock the focus or exposure settings.
Though the FS18 / FH5 and FS16 / FH2 share identical 2.7 inch LCD screens they are mounted slightly differently. The FS18 / FH5 screen is flush mounted whereas the FS16 / FH2's is slightly recessed, but they share the same 230k pixel resolution and look identical.
The screen is bright and contrasty and, other than in bright sunlight, provides an excellent image with a wide viewing angle that's good for both composing shots and playback. The screen can be set to adjust brightness automatically depending on the ambient conditions and there's a power LCD mode that boosts the brightness for when you're shooting in bright sunlight. It helps a little but the hard truth is that when the sun is shining directly on the screen the only really effective thing to do is find some shade. High Angle mode, which optimises the screen for viewing when holding the camera over your head is very effective though.
In recording modes the display button toggles information overlays. You can choose from nothing at all, a grid overlay to help keep things straight and to add 'rule of thirds' composition, and a basic information overlay that displays among other things a shooting mode icon, picture size, remaining picture capacity and ISO sensitivity.
Support this site by shopping below
In Normal Picture mode the Q.menu overlay provides access to stabilisation, burst shooting, AF mode, White balance, ISO sensitivity, picture size and LCD mode, which is a good choice of options. For other functions you need to go to the menu system which is divided into two sections. We'd prefer to see this tabbed, but when pressing the menu button you're presented with a screen containing two icons – Rec and Setup – and have to press the menu button a second time to get to the Rec menu.
Once there, you have access to everything that's on the Q.menu plus I.Exposure, I.Resolution, digital zoom, Colour mode, and a few other things. It takes three clicks (menu, right, menu) to get to the Setup menu, but given that other than formatting, it contains mainly 'set once and ignore' functions like date and time, sleep mode, language and demo mode, that's not a big issue.
In playback mode the Menu button offers the same dual choice, this time between Playback and setup. The first choice on the Playback menu is a new feature, upload set, which allows you to mark images for immediate upload to the web when the camera is connected to your PC using the supplied LUMIX Web Uploader software. Other options here include text stamping images, cropping and resizing and print options.
Intelligent Auto mode on the FS18 / FH5 uses scene detection to help to get the exposure right for specific scene types. Scene detection recognises several scene types and selects the Portrait, Scenery, Macro, Night Portrait, Night Scenery, Sunset or Baby presets where appropriate, otherwise, it uses the standard auto exposure settings. Intelligent Auto also employs Intelligent ISO which detects motion in the frame and selects an appropriately high sensitivity setting to enable a suitably fast shutter speed. Lastly, Intelligent exposure sets different ISO levels for individual scene areas to produce an exposure that captures a wider range of tonal detail than would otherwise be possible. Intelligent ISO and Intelligent Exposure are also available in other modes.
What on most compacts would be called Program mode is known as Normal Picture mode on the FS18 / FH5. This is the mode that provides most control over settings – mostly selected from the Q menu as described earlier. While it doesn't offer anything approaching full manual exposure control, you can at least set the ISO sensitivity.
There are no fewer than 28 scene modes to choose from including, in addition to those used for scene detection, sports, candle-light, two baby scene modes, pet, a high-sensitivity mode that takes 3 Megapixel images at sensitivities up to 6400 ISO, aerial photo and film grain. There's also a 'My Scene' option which lets you assign your favourite scene mode to the mode menu for quick selection.
Panasonic Lumix FS16 / FH2 Movie Mode

The Lumix FS18 / FH5 can shoot 720p HD video at 24fps. Video is encoded with in Motion JPEG and saved with a QuickTime wrapper as a .mov file. Video is encoded at an average bit rate of around 25Mb/s which means that you'll get around 11 minutes of video on a 2GB card. There's a 2GB maximum file size limit, so this is also the longest you can shoot continuously for.
We did, however, manage to shoot a continuous clip lasting nearly 14 minutes, so you can squeeze in a little more, but the total time will depend on how compressible the content is. The manual quotes a maximum continuous shooting time of fifteen minutes.
Although it uses the more efficient H.264 video codec, the Canon PowerShot A3300 IS employs a similar bitrate and has similar file sizes and continuous recording times. However, a more efficient codec like H.264 should produce better quality images at the same bitrate as Motion JPEG and we think the results bear this out. Take a look for yourself by comparing the clips below with those from our Canon PowerShot A3300 IS review.
Additionally, the FS18 / FH5 can shoot lower resolution 640 x 480 (VGA) and 320 x 240 (QVGA) video at 30fps also Motion JPEG encoded. Like the Canon PowerShot A3300 IS, the optical zoom on the Lumix FS18 / FH5 is disabled during video recording. The Digital zoom is disabled too but, as anyone who has used the digital zoom an a compact knows, it's of questionable benefit even when you do have it.
Panasonic Lumix FS16 / FH2 sample video 1: outdoors, sunny conditions, handheld panning
HD video quality from the Lumix FS18 / FH5 is good, but the Motion JPEG compression doesn't produce as good results as the H.264 codec used on the Canon PowerShot A3300 IS.
Panasonic Lumix FS16 / FH2 sample video 2: outdoors, sunny conditions, tripod panning
In this tripod-mounted panning shot (above), the Lumix FS18 / FH5 runs into trouble when pointed directly into the sun as is the case with all compact that use CCD sensors.
Panasonic Lumix FS16 / FH2 sample video 3: indoors, low-light, handheld panning
The Lumix FS18 / FH5 over-compensates a little for the outdoor light in this interior low-light panning shot, white balance is also a little on the cool side.
Panasonic Lumix FS16 / FH2 Continuous shooting and sensor

The FS18 / FH5 has two continuous shooting modes. We tested both of them using a newly formatted Lexar Professional 16GB SDHC 133x Class 10 card. Burst mode can be selected in most shooting modes and works at all resolutions. We tested it in Normal Picture mode at the maximum 16 Megapixel resolution where it managed to shoot 10 frames at a rate of 1.4fps. After 10 frames it didn't stop, but continued to shoot at about half the initial rate.
The FS18 / FH5 also has a Hi-Speed Burst scene mode which works at a maximum picture size of 2048 x 1536 (3M). In this mode the FS18 / FH5 shot continuously at a consistent 3.75fps for 51 frames, then stopped. While not up to the standards of a DSLR or some of the more expensive compacts, the FS18 / FH5 does at least offer the option of reasonably quick burst shooting at reduced resolution, something the PowerShot A3300 IS / A3200 IS lacks. It's a little disappointing it didn't manage to get closer to Panasonic's quoted 6fps though.
The Lumix FS18 / FH5 has a 16 Megapixel CCD sensor which produces images with a maximum size of 4608 x 3456 pixels. Images are saved as JPEG files, compression settings are not user-configurable and the file size of maximum resolution images is around 6MB. The sensitivity ranges from 100 to 1600 ISO, or 1600-6400 ISO in Hi-Sensitivity scene mode and shutter speeds range from 8 to 1/1600th of a second and up to 60s in Starry Sky Scene mode.
To see how the quality of the Panasonic Lumix FS16 / FH2 measures-up in practice, take a look at our real-life resolution and high ISO noise results pages, browse the sample images gallery, or skip to the chase and head straight for our verdict.