Panasonic Lumix DMC-L10 lens and stabilisation
The Panasonic Lumix DMC-L10 is equipped with a standard Four Thirds mount onto which you can fit any existing Four Thirds lens, including those from Olympus, Sigma and Leica. Like all Four Thirds bodies, the sensor size results in the field of view of all attached lenses being reduced by two times.

Panasonic has a close relationship with Leica for optics and its earlier L1 DSLR was only available in a kit with a Leica 14-50mm zoom lens. At the time of writing, the new L10 was also only available in a kit, again bundled with a Leica 14-50mm zoom, although this is a new and different model to that with the L1.
Both zooms may share the same focal length and feature optical stabilisation, but the new Leica 14-50mm bundled with the L10 has a slower aperture of f3.8-5.6 compared to the f2.8-3.5 of that with the L1. The new zoom is also missing the aperture ring of the L1's lens, although the L10 is fully compatible with it. The new model does however support the L10's contrast-based AF features and also comes with a lens hood.
All in all, the new zoom may be a budget version of the L1's lens, but in terms of both build and optical quality, it's a comfortable step-up from most kit models; although it also has to be said it's bigger and heavier too. In practice it delivers a slightly longer 3.6x range than most kit zooms, that's equivalent from 28-100mm and we've illustrated this with examples below, taken zoomed-out and all the way in. Look out for a full report of the lens quality coming soon.
Support this site by shopping via these links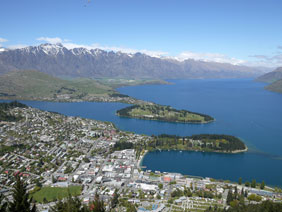 Panasonic Lumix DMC-L10 coverage with Leica 14-50mm f3.8-5.6

14-50mm at 14mm (28mm equivalent)

14-50mm at 50mm (100mm equivalent)
Panasonic has always been a great believer in lens-based stabilisation, so it's no surprise to find its Optical Image Stabiliser (OIS) technology built-into the new Leica zoom. This is enabled with a switch on the side of the lens, and there's the choice of three modes selected either from the L10's main or Function menus. Mode 1 corrects at all times and is preferred for composition, Mode 2 only corrects when the shutter release is pressed thereby allowing greater compensation in theory, while Mode 3 only corrects vertically for use when panning.
Panasonic Lumix DMC-L10 Optical Image Stabilisation off / on (Mode 1)

100% crop, 14-50mm at 50mm, 1/6, 100 ISO, OIS off

100% crop, 14-50mm at 50mm, 1/6, 100 ISO, OIS Mode 1
To test the effectiveness of the Leica zoom's stabilisation we took a serious of photos zoomed-into an equivalent of 100mm where traditional photographic advice would recommend a shutter speed of 1/100 to eliminate camera shake. Our sequence started at 1/100 and reduced by one stop each time until 1/6, and we tested with each OIS mode.
Interestingly our best results were with OIS Mode 1, where we managed to grab an almost 100% sharp result at just 1/6. To achieve a similar result without stabilisation required a shutter of 1/50, which gives the OIS system a decent three-stop benefit in practice, or four stops over traditional wisdom.
Panasonic Lumix DMC-L10 focusing

Like all Four Thirds cameras to date (with the exception of the new flagship Olympus E-3), the Lumix L10 is equipped with a fairly basic 3-point phase-difference AF system. A small switch to the right of the L10's viewfinder allows you to select Single or Continuous AF or Manual Focus. The Leica 14-50mm has a smooth manual focusing ring, but it only becomes active on the L10 when the body's set to MF.
Set the L10 into Live View mode and you can activate a manual focus-assist option which magnifies an adjustable area by eight times for closer inspection – this represents viewing the image at about 70% magnification, so while not quite 1:1, it still allows you to get the focus spot-on in most situations.
Unlike most DSLRs with Live View, the L10 also supports contrast-based AF – so long as it's equipped with a compatible lens like the new Leica zoom. We've detailed this on the previous page, but just briefly it offers AF options similar to a compact with a 9-point system and even face detection. See our Lumix L10 Design page for more details.
Set to Continuous AF mode with the kit lens zoomed-in, we found the L10 could track on-coming vehicles approaching at speeds of around 40kph over a 100m stretch with a good degree of accuracy. All the images in continuous sequences lasting between five and ten seconds were either completely sharp or very close.
Panasonic Lumix DMC-L10 anti-dust

Like all Four Thirds cameras to date, the Lumix L10 is equipped with a SuperSonic Wave Filter, SSWF, to combat dust. This attempts to shake-free any particles every time the camera powers up, although it's still ready for action in about a second.
Following our usual DSLR torture-test we left the L10 face-up without a lens, inside and outside for ten minutes each, before powering it up and down twice, then searching for dust; we can't know how much dust entered the body during this time, nor even how much was present to start with, but we know such a process would result in dust being a problem for most models.
We then took a series of photos at every aperture setting of a plain white surface at close range with the lens zoomed-in and focused to infinity. Dust marks normally become most apparent at the smallest apertures (eg f16 and f22), but it's also important to test at more common apertures.
Panasonic Lumix DMC-L10 dust example at f22: normal / with Auto levels

50% crop, 14-50mm at 50mm, f22

50% crop, 14-50mm at 50mm, f22, Auto levels
Impressively we saw no dust marks even on the f22 sample. Adjusting the Levels in Photoshop to extreme degrees revealed two large, but faint patches, one of which we've reproduced above on the right at 50%; to give you an idea of scale, we normally reproduce dust marks at 100% on other reviews. Above left is a crop taken from the same area of the original image and as you can see, the mark is essentially invisible. Suffice it to say the mark was also invisible on the other images, and beyond f16 wasn't even visible when Levels were adjusted.
While our example with Levels proves the SSWF doesn't eliminate all dust particles, it does show the relatively large distance between it and the sensor effectively renders any foreign particles invisible. A great result for the L10 – and other Four Thirds DSLRs.
Panasonic Lumix DMC-L10 sensor and processing

The Panasonic Lumix L10 is equipped with a 10.1 Megapixel N-MOS sensor, conforming to the Four Thirds standard size of 17.3x13mm; this is the same sensor used in the Olympus E-410 and E-510, and co-developed by Panasonic. It generates 4:3 aspect ratio images with a maximum resolution of 3648×2736 pixels and there's the choice of two lower resolutions, along with cropped 3:2 and 16:9 modes, each again available in three resolutions.
Images can be saved with Standard or Fine JPEG compression, or recorded as a RAW file either by itself or accompanied with either a Standard or Fine JPEG. Best quality L Fine JPEGs typically measure between 3.5 and 4.7MB each, while RAW files measure around 12MB each. There's no dedicated button for the quality settings, but it's easy to adjust them from the drop-down function menu – see previous page.
The sensitivity runs between 100 and 1600 ISO and in Live View includes an Intelligent ISO option borrowed from Panasonic's compacts. This detects motion in the frame (during Live View only) and intelligently increases the ISO to allow a sufficiently quick shutter to freeze it – it's another innovative feature you won't find on any other DSLR.
Image processing options are applied using a selection of 'Film' modes: Standard, Dynamic, Nature, Smooth, Nostalgic, Vibrant, B&W Standard, B&W Dynamic, B&W Smooth and two custom settings. In the colour modes you can adjust the contrast, sharpness, saturation and noise reduction, all from -2 to +2. We have examples of the L10's entire sensitivity range with its noise reduction set to -2, zero and +2 in our Lumix L10 noise results page.

Panasonic Lumix DMC-L10 continuous shooting

The Lumix L10 offers High or Low speed continuous shooting modes, offering rates of 3 or 2fps respectively. JPEGs can be recorded until you run out of memory, but RAW files are limited to just three frames. We confirmed the high speed rate of 3fps by firing-off 30 frames in a fraction under ten seconds. Sadly the three frame RAW buffer was also verified in tests.
As you increase the L10's sensitivity though, the burst performance falls. Set to 400 ISO, it took 12 seconds to take 30 frames, while at 800 and 1600 ISO it paused after just five frames then fell to a rate closer to 1.5fps. This is disappointing for anyone who needs to take fast action sequences under lower light.