Panasonic Lumix TZ200 ZS200 review
In depth
Panasonic's Lumix TZ200, or ZS200 as it's known in North America, is the new top model in its enormously popular travel-zoom series. Announced in February 2018 it comes two years after the Lumix TZ100 / ZS100, and like that model packs a relatively large 1in / 20 Megapixel sensor into a compact body with a built-in viewfinder and decent zoom. But where the earlier TZ100 / ZS100 featured a 10x / 25-250mm equivalent range, the new TZ200 / ZS200 extends it to a 15x / 24-360mm equivalent range while maintaining much the same pocketable dimensions.
Surprisingly in the two years since the TZ100 / ZS100 was released, no other manufacturer has attempted to compete with it on lens range. Sure there are plenty of compacts with longer zooms, but they have much smaller sensors. Meanwhile the premium compacts with larger 1in sensors have generally stuck with shorter zoom ranges typically of less than four times. The price to pay for the longer zoom is a slower focal ratio: f3.3-6.4 on the new TZ200 / ZS200, making it optically dimmer than its predecessor's f2.8-5.9, both of which are already way behind the typical f1.8-2.8 of their rivals with shorter zooms. This in turn means a reliance on higher ISOs to maintain hand-holdable or motion-stopping shutter speeds, especially when zoomed to the longer-end of the range, but if you want a big sensor, a long zoom and a bright aperture, you'll need a much larger and heavier camera like Sony's RX10 IV or Panasonic's FZ2000.
Like its predecessor, the TZ200 / ZS200 is fairly unique amongst its peers to include a built-in electronic viewfinder and unlike Sony's RX100 series, there's no need to pop it up either. The image remains small in the viewfinder and continues to employ a field-sequential panel that's not as solid as an OLED for me, but Panasonic's at least boosted the resolution. The screen's sadly still fixed in place, thereby lacking the tilt of most Sony and Canon premium compacts, but at least it remains touch-sensitive. The TZ200 / ZS200 also keeps the 4k UHD video of its predecessor, but now offers 1080 at 100p for slow motion, as well as improved focusing (still contrast-based) and Bluetooth to complement the existing Wifi. The literally big news though remains the 15x zoom range, the longest for a 1in compact with a pocket body. Read my full review to discover if the Lumix TZ200 / ZS200 is the premium compact travel-zoom for you.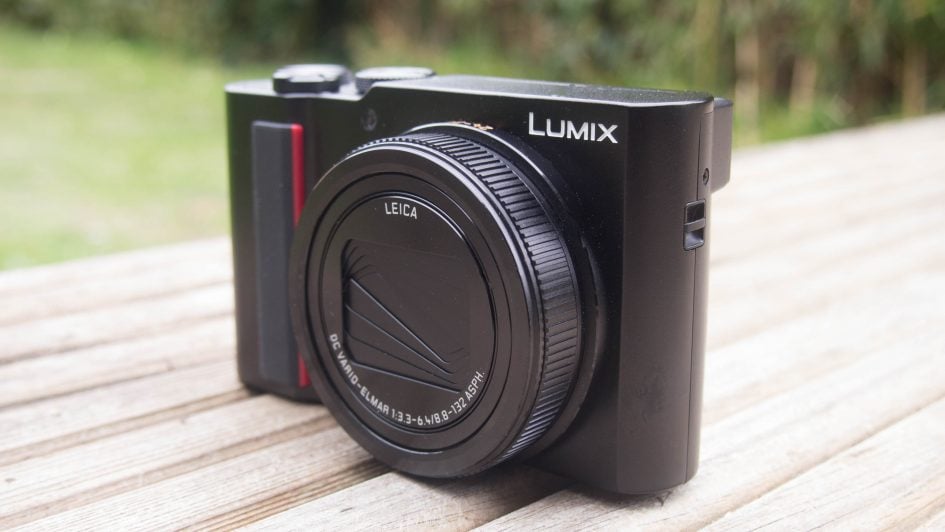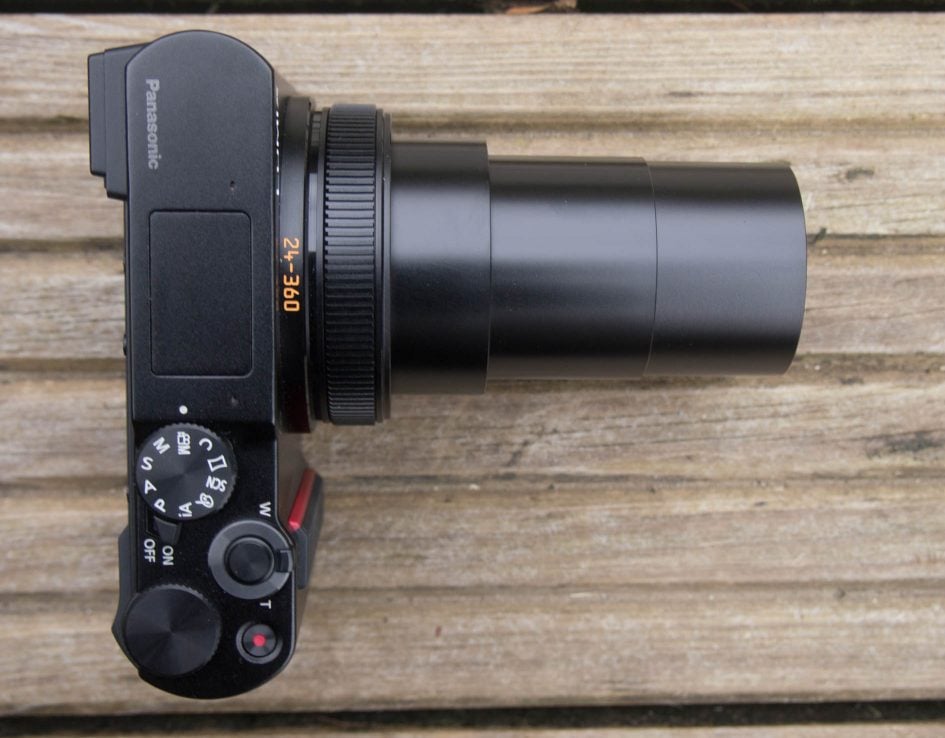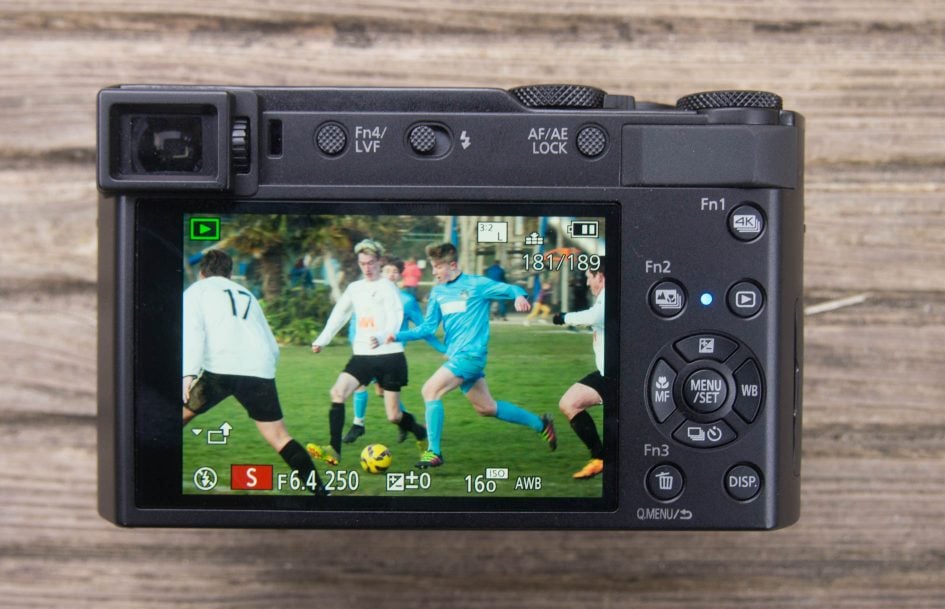 The Lumix TZ200 / ZS200 features the same 3 inch 1040k dot fixed touch screen as its predecessor. The touch screen supports the TZ200 / ZS200's 4k shooting modes and you can use it to reposition the AF area. It's also very handy for making menu selections as well as providing additional controls including soft function buttons to augment the numerous physical buttons on the camera body. The only real shortcoming of the TZ200 / ZS200's screen is that it's fixed in place and can't be flipped up or out, which puts it at a disadvantage compared with other premium 1 inch compacts like the Lumix LX10 / LX15, the Sony RX100 Mark V and the Canon PowerShot G7X, though the RX100 V lacks a touch screen.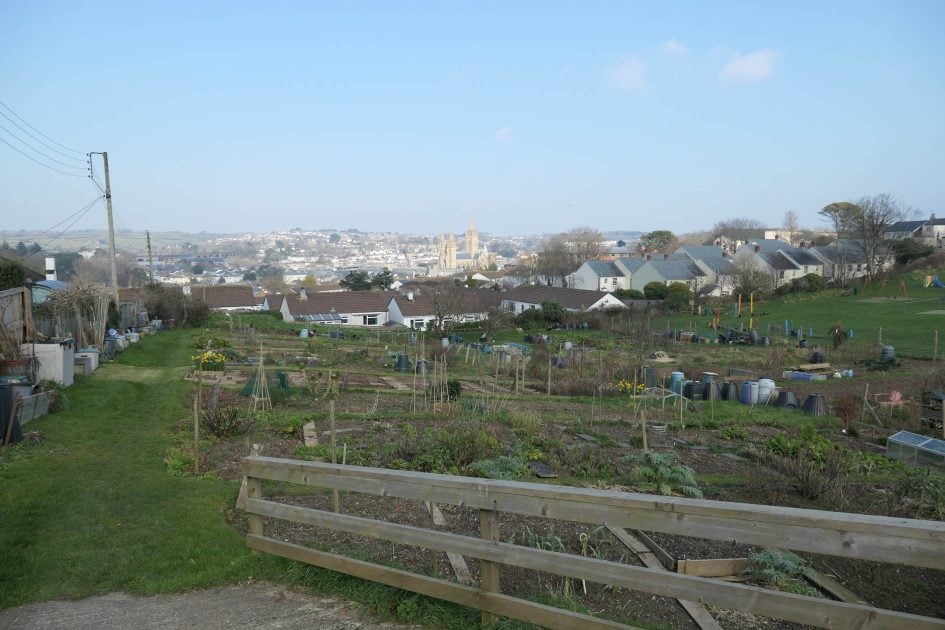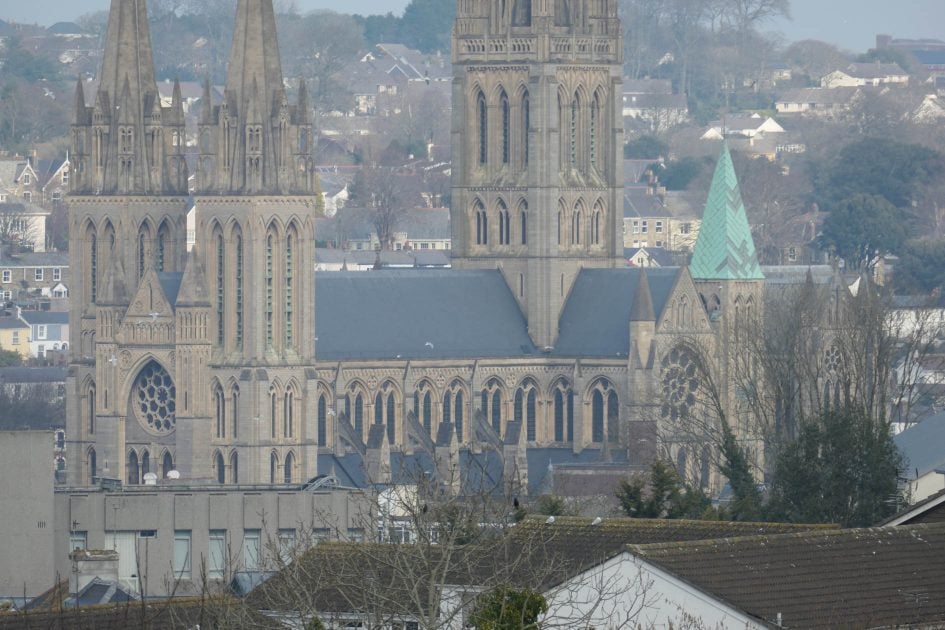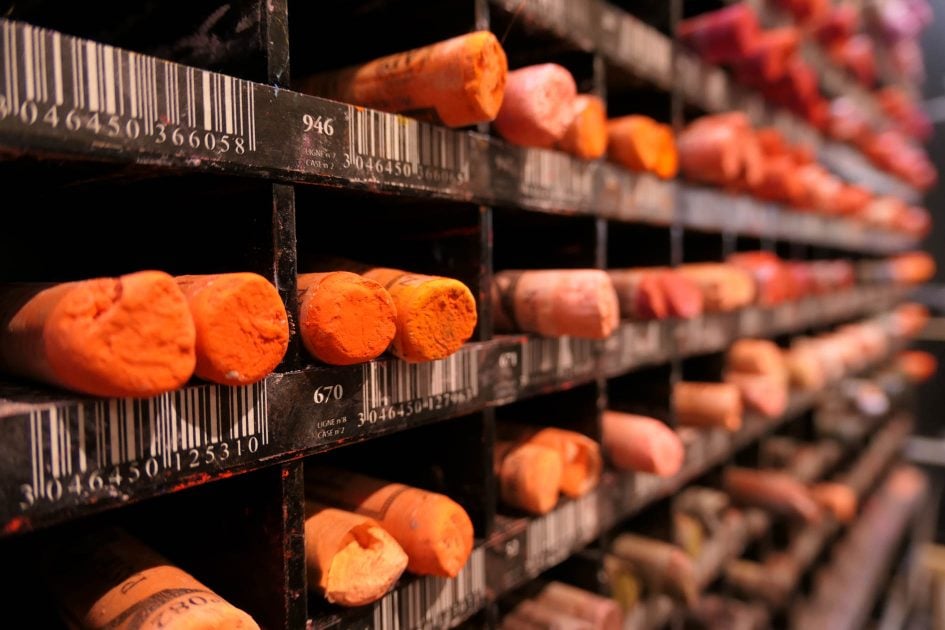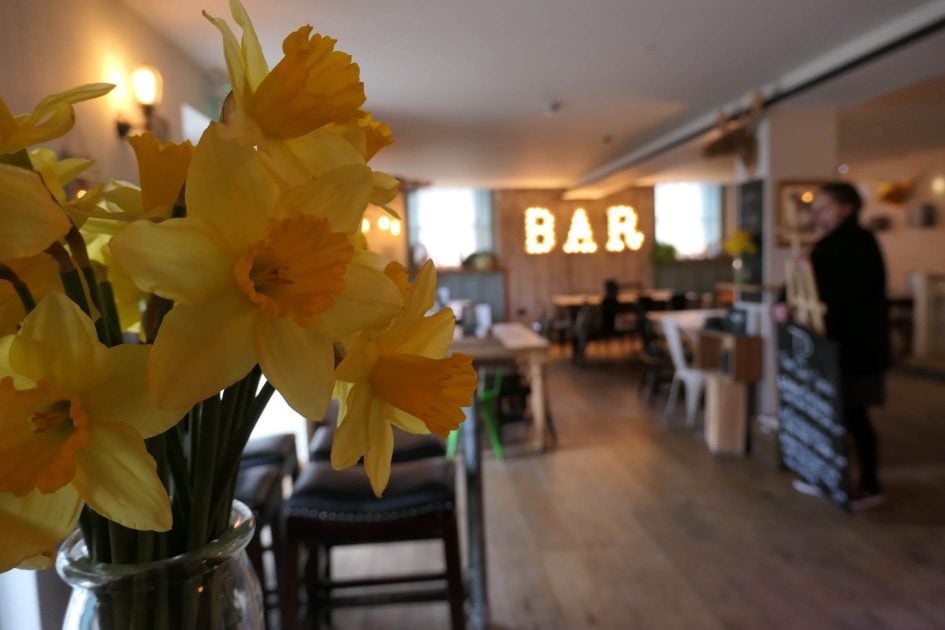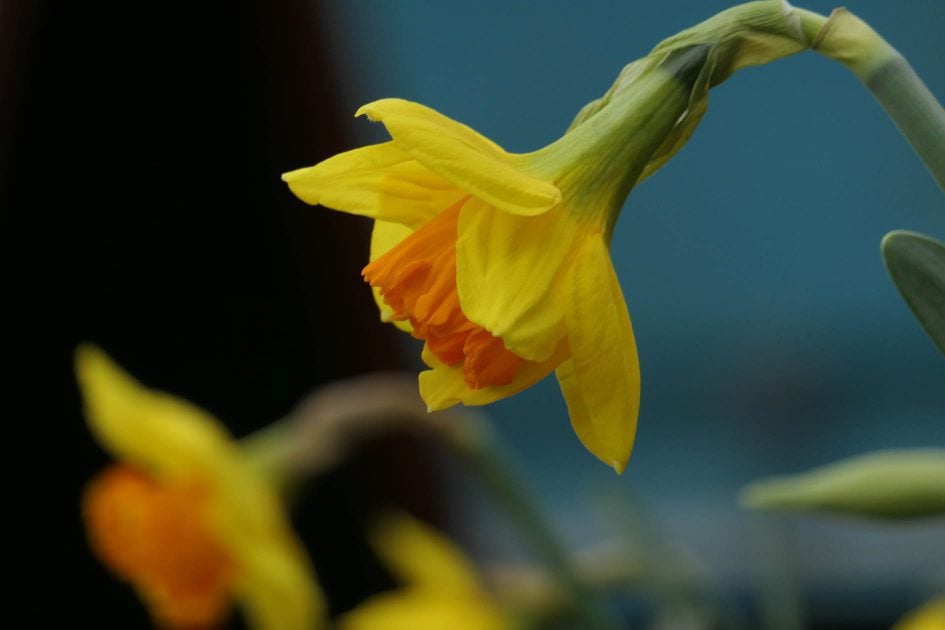 Lumix TZ200 / ZS200 movies
Like its predecessor, The Lumix TZ200 / ZS200 has 1080p HD movie modes at 25 and 50 frames per second in PAL regions and 30 and 60 fps in NTSC regions. It also supports 4k UHD video at 25 or 30fps. The 4k options record Ultra High Definition video (3840×2160 pixels) at 25 or 30fps depending on region, and at a bit rate of 100Mbit/s in an MP4 wrapper. There's also a 24fps option encoded at 100Mbit/s.
The Lumix TZ200 / ZS200 has sensor dimensions of 5472×3648, from which it takes what appears to be a 1:1 crop to generate a 4k UHD frame. To illustrate the difference in coverage I compared actual 4k footage I filmed with the TZ200 / ZS200 against still photos when using the same lens setting and position. In the image below, the 4k coverage is indicated by the outer edge of the red frame, resulting in a not insignificant reduction in the field of view; indeed when filming 4k video, the equivalent range is cropped from 24-360mm to 30-450mm – good news at the long end, but you lose a lot of coverage at the wide-end. If you want the to capture video at the full sensor width, you'll need to reduce the quality to 1080, although there's obviously a vertical crop due to the different aspect ratios – 16:9 against 3:2.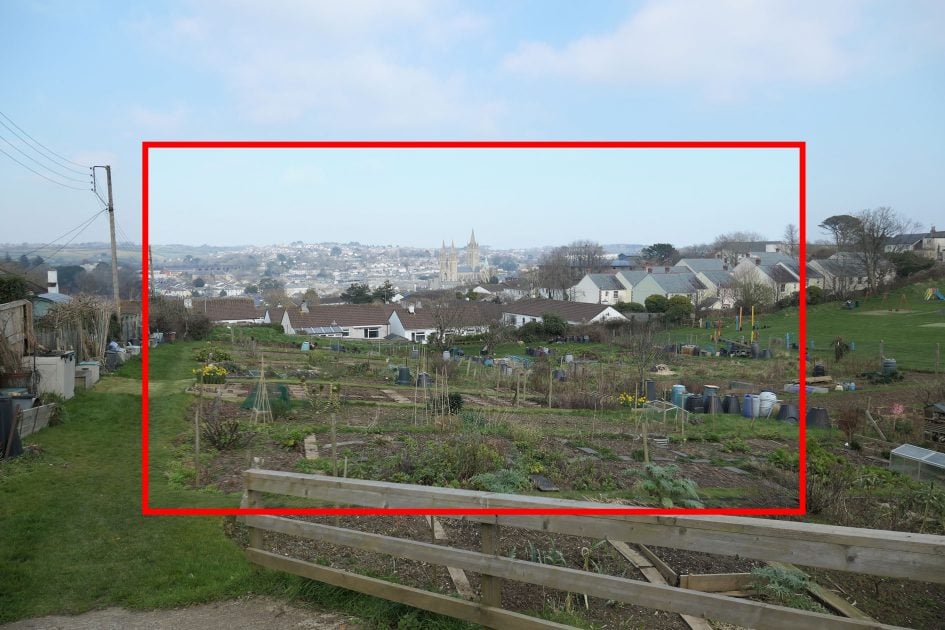 Moving on, the Lumix TZ200 / ZS200 records 1080p at up to 28Mbit/s in AVCHD or MP4 modes. In addition to 1080p50/60, the MP4 modes are 1080p25/30, 720p25/30 and 640x480p25/30. Switch to AVCHD format and the options are 1080p50/60 at 28Mbit/s, 1080i50/60 at 17Mbit/s (from 50p sensor output) or 24Mbit/s (from 25p sensor output), and 1080p24 at 24Mbit/s.
The Lumix TZ200 / ZS200 can also shoot 1080p movies at 100fps for slow motion playback at a quarter real time speed, upgraded from 720p on the Lumix TZ100 / ZS100. It's an improvement, but the TZ200 / ZS200 still lags way behind the slow motion video capabilities of Sony's RX100 V. Sony's High Frame Rate feature offers a multitude of slowmo options including 240 / 250fps, 480 / 500fps or 960 / 1000fps in NTSC / PAL regions respectively. These are automatically conformed in-camera to (your choice of) either 25p or 50p for PAL regions, or 24p, 30p or 60p for NTSC regions. If you choose the 25p and 24p options, the three recording modes will slow-down the action by 10, 20 or 40 times respectively. The quality reduces as the frame rates increase, but it's still impressive to have this degree of slow motion at your disposal in a pocket camera. That said, a four-time slow-down at 1080p may still be sufficient for your needs – here's an example of how it looks on the TZ200 / ZS200.
Other video features include snap movie, which records a short clip of between two and eight seconds in length. With snap movies you can set up a focus pull in advance tapping the screen to define the start and end focus positions, which is pretty neat. You can also add a monochrome to colour fade in or out effect, as well as a simple exposure fade. There are also Time Lapse and Stop Motion modes, accessed through the main menus rather than the movie options. Panasonic recommends using an SD card rated at Class 4 or faster for AVCHD, and UHS-I Class Speed 3 (U3) for the 100Mbit 4K UHD and 1080p / 100p / 120p modes.
Live Cropping, introduced on the TZ100 / ZS100, exploits the resolution of a 4k frame to provide a digital pan and zoom feature at 1080p resolution. You specify the start and end of the clip by tapping the screen to position a 1920×1080 sized frame. You can also set the overall time of the clip to either 40 or 20 seconds. The degree of zoom is limited to the full 4k frame at the wide end to the 1920×1080 frame at the 'zoomed-in' end to maintain quality. It's a neat feature which makes innovative use of the TZ200 / ZS200's 4k resolution to make life easier, particularly if you need a super-smooth panning shot, but don't have a tripod.
On the Lumix TZ200 / ZS200 you can record in PASM exposure modes, selected either from the video menu or by tapping the exposure mode icon in the top left of the screen when the mode dial is in the movie position. During recording you can change the exposure setting including, depending on the mode, aperture, shutter speed, ISO sensitivity and exposure compensation. While you can use the camera's physical controls to alter the settings the touch screen provides a slide out panel allowing you to do so silently. You can also tap the screen to pull focus during recording, or of course use the lens control ring. There's also focus peaking and zebra patterns to help with focus and exposure.
There's three continuous shooting modes on the Lumix TZ200 / ZS200: Low (2fps with Live View), Medium (6fps with Live View), and High (10fps without Live View). With Continuous autofocus, the top speed reduces slightly to 6fps regardless of whether you're set to Medium or High, so you may as well go for the former and enjoy Live View.
Like other recent Lumix models with 4k video, the TZ200 / ZS200 also supports Panasonic's 4k Photo mode – a fun way of exploiting the fact 4k video captures an 8 Megapixel image up to 30 times a second. The TZ200 / ZS200 is equipped with software that lets you easily capture bursts of video before scrolling through the footage and extracting the perfect frame as a JPEG image, all in-camera. You could of course frame grab from video externally, but Panasonic has made it easy to perform the whole process in-camera. There's three options: Burst (which records video while the shutter button is pressed), Burst S / S (which starts recording with one press and stops with another), and 4K Pre-burst (which keeps a rolling buffer to avoid unwieldy clips to store and go through).
Post Focus is another feature that uses the TZ200 / ZS200's 30fps 4K shooting mode, in this case to focus-bracket a rapid sequence of images. Post focus mode is selected from the Rec menu and is also assigned by default to the Fn2 button. When selected you obviously can no longer set the AF area, but the PASM and other shooting modes can be set in the usual way as can the ISO sensitivity. The only limitation is the slowest available shutter speed which, as for other 4k shooting modes is 1/30. You can choose one of four 8M aspect ratios – 4:3, 3:2, 16:9 and 1:1.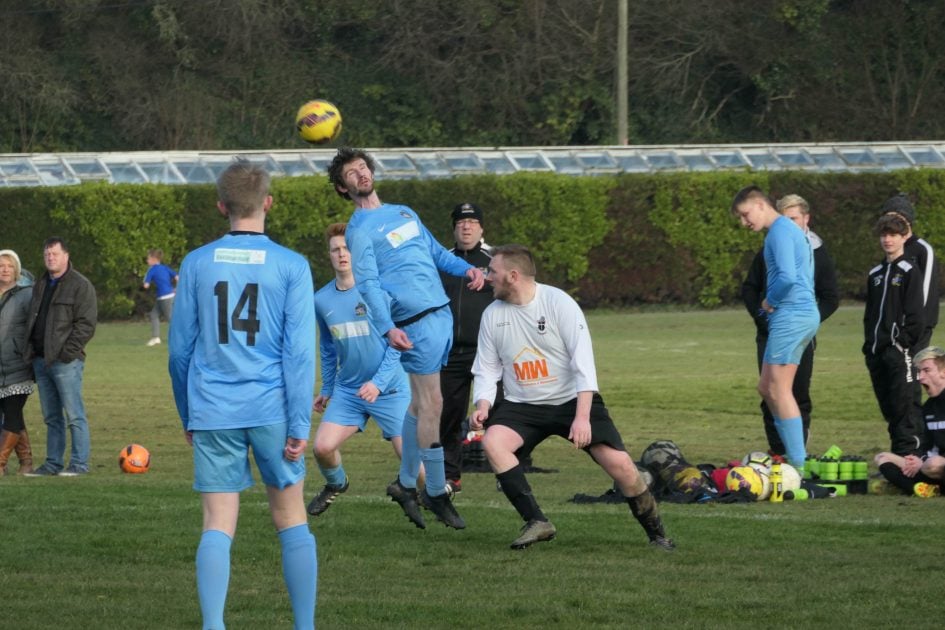 The above shot was taken on a bright day with a mixture of sunshine and cloud allowing me to shoot in Shutter priority mode at 1/500 with the ISO set to auto; most of my shots were in the range of 250 to 640 ISO which I'd say is acceptable. That said, in poorer lighting conditions you could easily end up having to shoot north of 1600 ISO in order to maintain a fast enough shutter speed – that or put up with a little bit of motion blur at slower shutter speeds. It's worth noting that the older Lumix TZ100 / ZS100's 10x f2.8-5.9 lens would make only about a quarter of a stop difference, or to put it another way the difference between 400 and 500 ISO.
However, If you compare it with the 24-70mm f1.8-2.8 lens on the Sony RX100 V, or the 24-100mm f1.8-2.8 Canon PowerShot G7X Mark II, the difference is more than two stops, so you could be using 400 ISO on either of those models compared with 1600 ISO on the TZ200 / ZS200. Not forgetting the Lumix LX 10 / LX15 with it's 24-72mm f1.4-2.8 lens That said, neither the Lumix LX10 / LX15, the Sony RX100 V nor the Powershot G7X II would get you anywhere near as close to the action as the Lumix TZ200 / ZS200. There's always compromises when dealing with a pocket-sized body.
Lumix TZ200 / ZS200 Wifi and Bluetooth
As on the earlier Lumix TZ100 / ZS100, the Lumix TZ200 / ZS200 is equipped with Wifi for wireless image transfer and remote control with smartphones. The new model adds Bluetooth for seamless location tagging, a more responsive remote shutter, and easy Wifi negotiation. Once paired over Bluetooth using the free Lumix Image App for iOS or Android handsets, the app remains in low-power contact with the camera, allowing it to pass location details and embed them on images with no effort or interaction (the Image App needs to be left running for location tagging to work).
For a live image, greater control, or the chance to transfer images, you'll need to connect over Wifi. On my iPhone whenever a Wifi connection was required an alert prompted me to connect with the TZ200 / ZS200 in my Phone's settings. Judging from Gordon's experience using the Lumix G9 with his Samsung Galaxy S7, it's a little more seamless with an Android handset – the app will use Bluetooth to fire-up the Wifi on both devices and take care of passwords for you.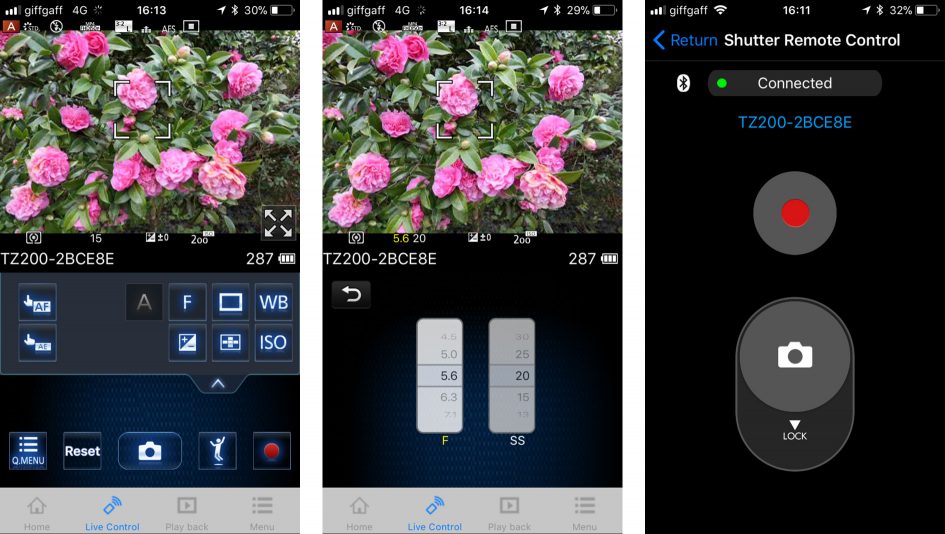 In Remote Operation you get (almost) full manual control over the camera with the chance to adjust pretty much anything that's not set by a physical dial. So while the exposure mode still has to be adjusted on-camera using the camera dial, the app lets you set the photo and video quality, shutter, aperture, ISO, white balance, exposure compensation and AF area. You can start and stop video recordings of any quality via the app, and also tap the phone screen to pull-focus while filming. If peaking or zebras are enabled on the camera, you'll also see them in the live view too.
There are two options for transferring images; Batch transfer provides a menu from which you can select options to transfer the current day's images, or you can include the last 3, 7 or 30 days, or if you're feeling impetuous you can opt to transfer everything. Further options allow you to restrict transferred files to just photos or videos. If you want to browse the images on the card in the camera before deciding which to transfer, then Transfer selection is the option to go for.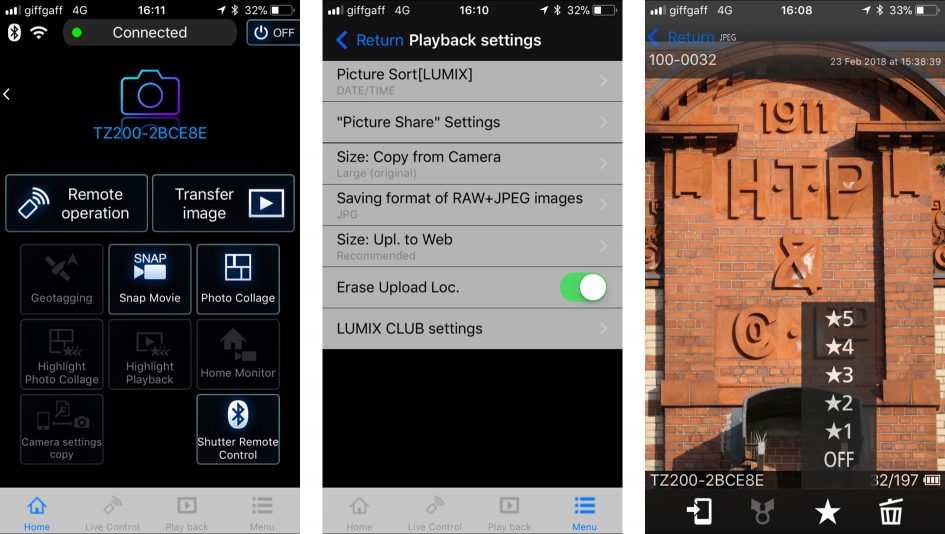 The app downloads a low resolution thumbnail that you can pinch to zoom-in a little, but not as much as if you were viewing the original. When you see an image you like, just tap it and the Lumix Image app will let you save the original to your device or start uploading it to one of the social, sharing or storage services installed on your device. You can configure the app to provide shortcuts to two or three of your most used services which could include Dropbox and Instagram in addition to the more usual suspects. Or of course once the image is copied into your device, you could just exit the Panasonic app and handle it direct from whichever sharing or storage app you like via your phone's gallery.You can also choose whether to copy images in their original resolution, or in one of two smaller versions.
Overall the wireless experience of the Lumix TZ200 / ZS200 is excellent with the Bluetooth in particular behaving exactly as you'd want it to: quietly and efficiently doing the hard work behind the scenes, leaving you to enjoy the remote access with your phone.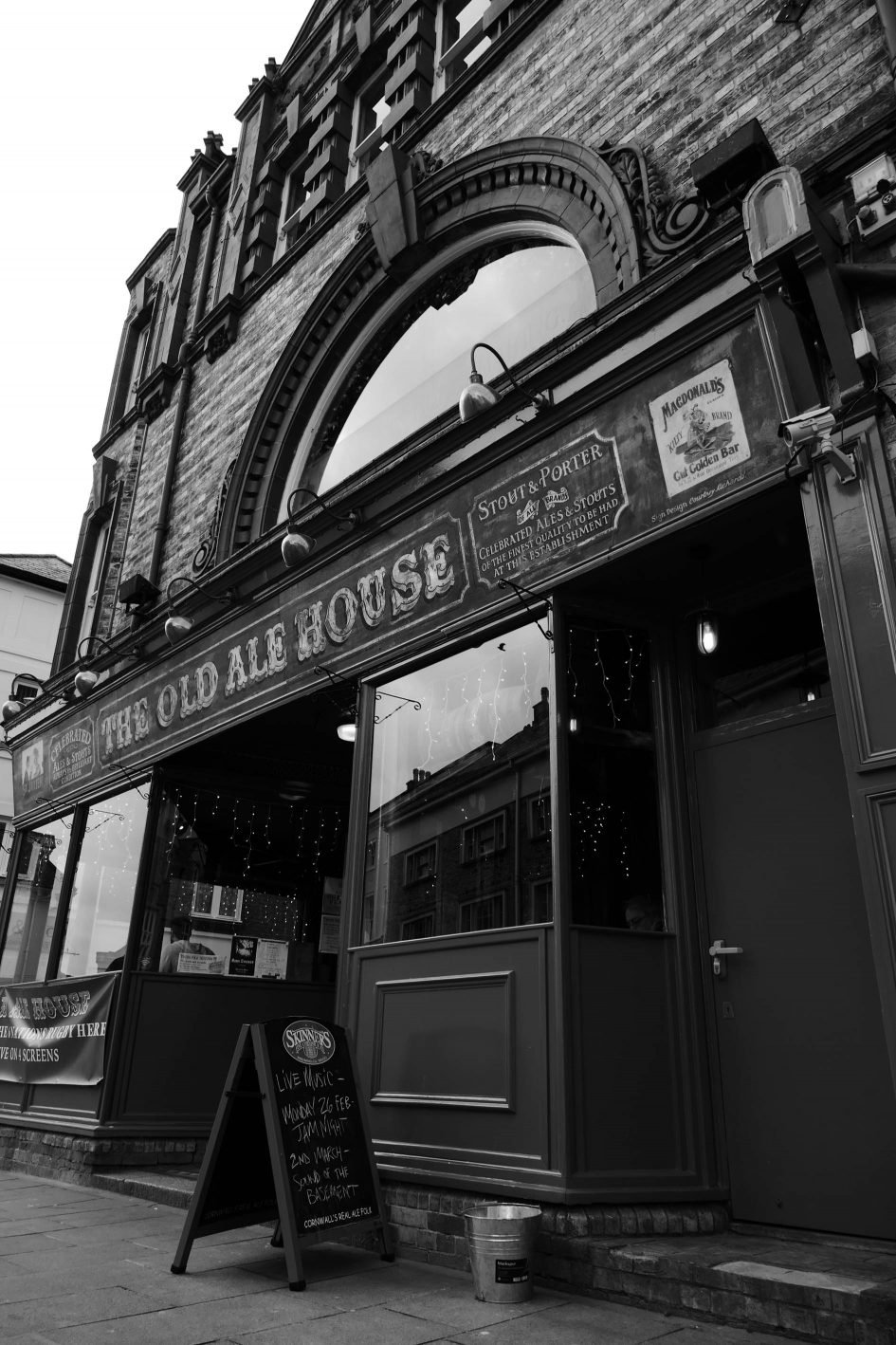 Next check out my results and sample images pages or skip straight to my verdict using the tabs above!

Check prices at Amazon, B&H, Adorama, or Wex. Alternatively get yourself a copy of my In Camera book or treat me to a coffee! Thanks!