Panasonic Lumix TZ100 / ZS100 review
Verdict
The Lumix TZ100 / ZS100 resets the clock on Travel zoom development. Rather than exclusively continue with ever longer zooms, Panasonic has boldly split the range, leaving the TZ80 / ZS60 to pursue the long zoom market and allowing the new TZ100 / ZS100 to go for photographers willing to sacrifice some reach for improved quality. The TZ100 / ZS100 does this by employing a 1 inch sensor with four times the surface area of the earlier TZ80 / ZS60, providing more detailed photos with less noise.
Because of the bigger sensor the zoom range has inevitably reduced – it was either that or a bigger body, and the compactness and portability of the TZ range is one of its stand-out features, so not something that was ever likely to be open to compromise. So the TZ100 / ZS100's has ended up with a 10x zoom with an equivalent range of 25-250mm, considerably shorter than the 30x zoom on the earlier Lumix TZ70 / ZS50 but much longer than other compact zooms with 1 inch sensors with which it now competes.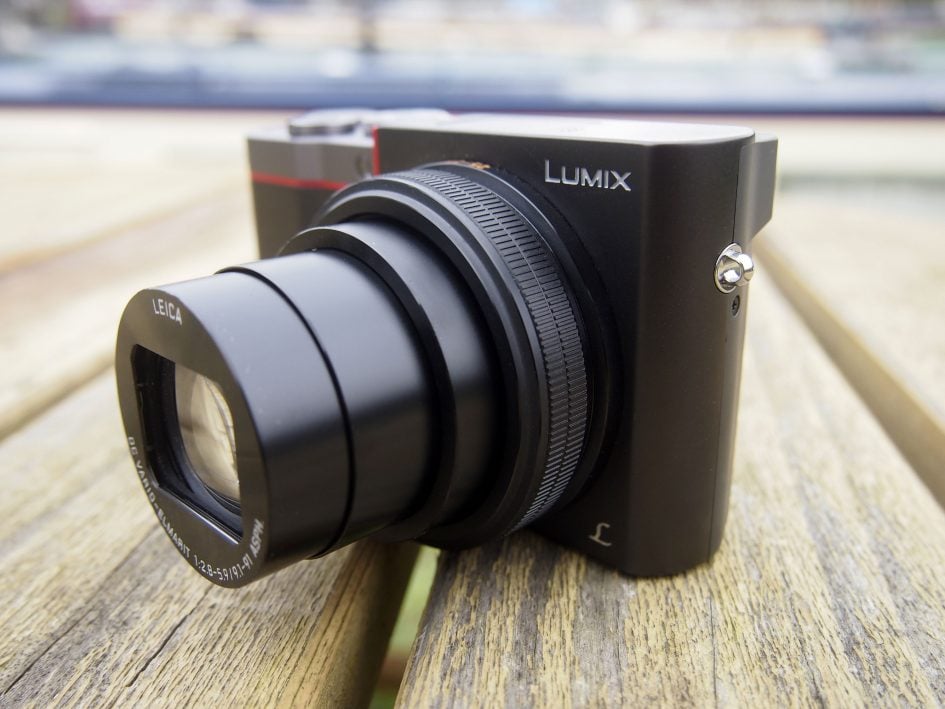 In addition to the bigger sensor and 10x zoom, the Lumix TZ100 / ZS100 boasts a 3 inch touch-sensitive screen, a welcome reintroduction to the TZ range and one which makes a huge difference to the camera's handling, particularly when shooting video, when you can simply tap anywhere on the screen to refocus. It also features the same built-in 1166k dot electronic viewfinder of TZ70 / ZS50 with an eye-sensor. The Lumix TZ100 / ZS100 supports 4k video and the still shooting modes that cleverly make use of it to provide innovative new 8 Megapixel shooting modes. It includes both 4k Photo mode which shoots 30fps bursts from which you can select optimal frames and Post focus which produces a fast focus-bracketed sequence allowing you to select the focus point after the event are included on the TZ100 / ZS100.
Of course Panasonic isn't the first company to think of substituting the 1/2.3in sensor typically found in fixed lens compacts with a larger 1 inch sensor. It's been happeing for a while as manufacturers look for new ways to differentiate their offerings from mobile phones and there's now no shortage of 1 inch compacts competing for market share. What sets the Lumix TZ100 / ZS100 apart is the combination of its relatively long zoom range in a compact, light and portable form factor. You see what I mean about resetting the clock? This is pretty much exactly what Panasonic did with the TZ1 a decade ago.
Probably the two closest competitors for the Lumix TZ100 / ZS100 are Sony's Cyber-shot RX100 IV and the Canon PowerShot G5X (links to each review). Like the TZ100 / ZS100, both have 1 inch 20 Megapixel sensors and built-in viewfinders, but what differentiates them is their lenses. Both the RX100 IV and G5X have a shorter zoom range with a brighter f1.8-2.8 maximum aperture. The RX100 IV's lens has an equivalent zoom range of 24-70mm and on the PowerShot G5X it's a slightly longer 24-100mm equivalent range.
What this means in practice is that you can shoot with the Canon and Sony models at lower ISO sensitivities in the same lighting conditions – potentially with lower noise and better quality results. You can also produce shallower depth of field, in other words blurrier backgrounds, for portraits and other subjects with the wider aperture lenses on the Sony and Canon models. But neither come anywhere near the long-end of the Lumix zoom which reaches two and a half times further than the G5X and almost four times further than the RX100 III and IV.
Another thing that sets these three models apart is their screens. All have 3 inch panels with similar resolution but the Lumix TZ100 / ZS100's screen is fixed – the Sony RX100 IV's screen can flip up and down and the Canon PowerShot G5X outdoes them both with a fully articulated side-hinged screen that can be angled to face in any direction including forwards for self-shoting. If there's one thing that I really felt the lack of while shooting with the Lumix TZ100 / ZS100 it was the lack of a flip out screen, it really makes a difference shooting from low and high angles and when recording video of yourself; at least the Lumix screen is touch-sensitive though, a capability lacking from the Sonys. All three models have built-in electronic viewfinders and they're all very good, but the Lumix falls behind the Sony and Canon on viewfinder size and resolution.
In terms of video, the Sony RX100 IV matches the Lumix TZ100 / ZS100 with support for 4k, but provides much better support for shooting slow motion movies with a raft of High Frame Rate modes. The TZ100 / ZS100 has only one 1/4 speed 720p slow motion mode, but makes up for it with its innovative 4k Photo and Post Focus modes. Lacking either 4k or any slow motion modes the PowerShot G5X would be last on the list if video is a high priority for you.
All three models have wifi, but the RX100 IV and G5X also have NFC which Panasonic has dropped on the TZ100 / Z100. It's not that big a deal, though, as connection without NFC on the TZ100 / ZS100 is straightforward either by entering the camera's SSID on your phone or by scanning a QR code. All three provide a similar level of support for downloading photos and video to your phone, though I prefer Panasonic and Canon's remote control app, not least because they provide loads of control straight out of the box, unlike Sony's in-camera app which you need to update in order to be able to make use of exposure control and other advanced features.
Finally we need to look at pricing. While the Lumix TZ100 / ZS100 and G5X are currently quite close on price, the Sony RX100 IV costs a little over a third more. If you like what the RX100 IV has to offer, but don't like the comparitively high price tag, there's always the earlier RX100 III to consider, with the same body, lens, screen and viewfinder (albeit with a lower resolution panel) for around 20% less, but no 4k or High Frame Rate video.
As for the TZ100 / ZS100, other than an articulated screen, I can't think of anything that's missing. Yes it's always nice to have a longer or brighter zoom, but equally I appreciate that's simply not possible in this form factor with this sensor using current technologies. There are 1in class cameras with pocket bodies and brighter lenses, but their zoom range is much shorter, typically 4x or less – for example the Canon G7X, Canon G9X and Sony RX100 IV. There are 1in class cameras with longer zooms, but their bodies are much larger too – for example the Canon G3X or Sony RX10 II. But right now there's nothing out there which couples a 1in sensor with a 10x zoom in a pocketable body, and impressively also gives you a built-in viewfinder and 4k video.
So with its latest generation, the top-end Lumix travel zoom once again finds itself offering something unique in the market. Of course Canon and Sony might have something similar in the wings, but with their latest G-series and RX100 IV still being fairly recent, Panasonic may find itself with a one of a kind proposition for some time. Either way, as of early 2016, there's nothing to match it if you desire the quality of a 1in sensor with a longish zoom that will fit in your pocket.

Check prices at Amazon, B&H, Adorama, or Wex. Alternatively get yourself a copy of my In Camera book or treat me to a coffee! Thanks!