Panasonic Lumix SZ8 review
Intro
The Panasonic Lumix SZ8 is a point-and-shoot compact with a 12x stabilised zoom. Released in January 2014 it represent's Panasonic's entry-level super-zoom with the newer SZ10 above it, and the various TZ / ZS models above that.
The SZ8 may now be the entry-level option, but along with a 12x optical zoom, has a 16 Megapixel CCD sensor, a 3 inch 460 dot LCD screen and Wifi which can be used to remotely control the camera as well as share photos to your phone and the Web.
If you're looking for an extended zoom range in a compact body at an affordable price, the Lumix SZ8 could well be the answer. Which is why I've compared it here with two models costing significantly more, the Canon IXUS 265 HS / ELPH 340 HS and Sony Cyber-shot WX350. Read my full review to discover whether the SZ8 is a more affordable, but equally capable, alternative or if the lower price tag involves making a few compromises.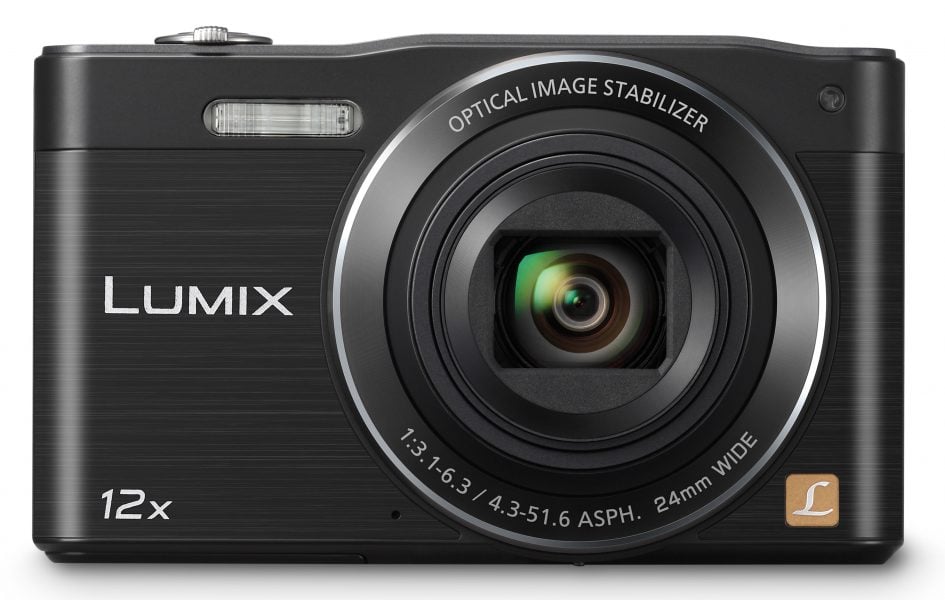 Lumix SZ8 design and controls
The Lumix SZ8 looks a little dated, but while it might lack the class of the IXUS 265 HS / ELPH 340 HS, it shares similar weight and dimensions; it's not quite so pocketable, though, as the lens bezel protrudes from the front plate by around 5mm – a snaggable surface which makes it a little more tricky to extricate from a tight pocket. Despite its longer 20x zoom the Cyber-shot WX350 is both smaller and lighter, but none of these compacts is going to be too much trouble in a jacket or even jeans pocket.
The front of the Lumix SZ8 is its best side with clean lines unbroken only by the lens, flash and AF illuminator. The top panel is also clean and simple with the shutter release and zoom collar flanked by small flush on/off button on its left and the movie record button on the right.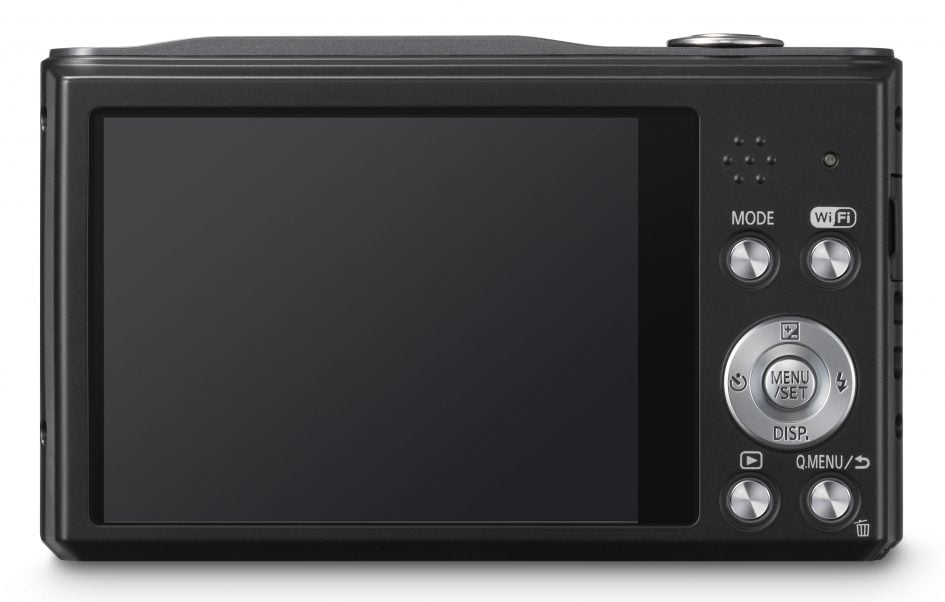 The rear panel control layout is typically Panasonic with small silver coloured buttons surrounding a four-way controller. Two above it select the mode and activate Wifi; two below are for playback and the Quick menu. In a reversal of the way it works on Canon compacts, the Full menu button is at the centre of the four-way controller.
The 3 inch LCD screen has a 460k dot resolution but on first viewing my concern wasn't with the level of detail, which is fine, but the brightness, which isn't; dimness would be a more apt description for the view, which you have to make an effort with indoors, let alone in bright sunlight.
Thankfully, the screen brightness can be adjusted and it's the first thing any new SZ8 owner should do. Presumably to extend the battery life, the default mode for the Lumix SZ8's screen is Monitor Luminance off. There are three other modes; Power Monitor makes the screen about twice as bright and also increases the contrast, it's labelled 'brighter and improved visibility outdoors', but I'd be tempted to use this as the default setting were it not for the battery life implications. Fortunately there's also an Auto Power Monitor setting which adjusts the brightness according to the ambient lighting conditions. This actually works pretty well, providing a much better viewing experience in all conditions without putting too much extra pressure on the battery.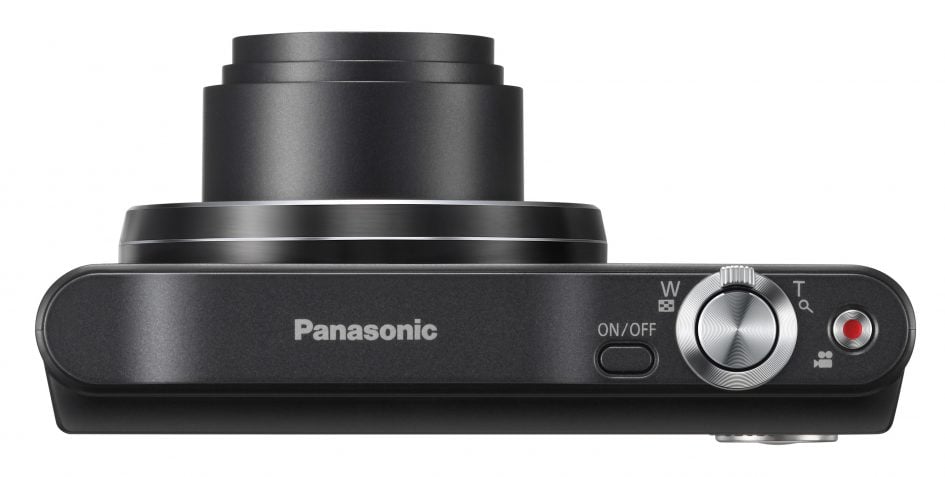 Auto Power monitor is the default setting on other Lumix compacts I've reviewed and I can't for the life of me understand why Panasonic has hobbled the SZ8 in this way. Sure it's easy enough to change, but I wonder how many SZ8 owners will stuggle onwards, literally in the dark, not realising that the path to a brighter future is only a few short steps away in the Setup or Q. menu.
There's one other position on the Monitor Luminance menu that's worth knowing about; High angle really ramps up the brightness so that you get a better view with the SZ8 held at arms length above your head. The viewing angle of the SZ8 is generally pretty good, both horizontally and vertically, but this gives you a bit of extra room for maneuvre when getting those all important event shots from the crowd. Note the latest SZ10 features a smaller 2.7in screen, but it can now flip up by 180 degrees to face the subject for selfies.
The Lumix SZ8 has a built-in flash that's sensibly positioned on the the right side of the front panel just below and to the left of the shutter release. There's no danger of dangling your finger over it like there is with the IXUS 265 HS / ELPH 340 HS.
The flash has a maximum range of 5.2 metres at the maximum wide angle position of the lens which looks to be a little more powerful than either the WX350 or the IXUS 265 HS / ELPH 340 HS, which quote 4.3m and 4m respectively. In the absence of ISO information (though these figures are usually provided for 1600 ISO) is difficult to make an accurate comparison, but the SZ8's flash does provide good illumination for reasonably close subjects and fill-in. It has Auto, Auto Red-eye and Forced on modes. None of these models has a hot shoe, but the IXUS 265 HS / ELPH 340 HS is compatible with Canon's HF-DC2 external flash.
On the right side of the camera body behind a small door you'll find the combined USB / A/V out / Charging port. The battery is charged in the camera using the supplied charger and USB cable which plugs into this port. The good news is that it's a standard port, and the cable and charger are separate, so you can easily charge the SZ8 from a laptop or other suitable power source.
The Lumix SZ8's combined battery and card compartment lies behind a sprung door in the base. The BCL-7E battery provides enough power for 200 shots; that's ten more than the IXUS 265 HS / ELPH 340 HS, but there are two things to note about that. The first is, I suspect that figure is arrived at with the screen in the default 'dim' mode, or Monitor Luminance off as Panasonic calls it it. Secondly, the IXUS 265 HS / ELPH 350 HS can extend its battery life to 290 shots in ECO mode which dims the screen then turns it off after a short period of inactivity, a much smarter solution than permanently dimming the screen on the SZ8.
Lumix SZ8 lens and stabilisation
The Lumix SZ8 has a 12x optical zoom with an equivalent range of 24-288mm. That's a millimetre wider than the IXUS 265 HS / ELPH 340 HS and WX350, but makes a very marginal difference to the angle of view. At the other end of the scale it tops out at an equivalent 288mm, which sounds like more of a gap compared with the 300mm IXUS 265 HS / ELPH 340 HS, but is also a small difference in terms of coverage. Of course, both the Lumix SZ8 and IXUS 265 HS / ELPH 340 HS fall well short of the WX350's 500mm equivalent telephoto. A picture provides a more useful comparison than the numbers so in addition to my usual wide and and telephoto coverage examples the table below shows the maximum zoom range of the Lumix SZ8 and the Cyber-shot WX350.


Above: Lumix SZ8 coverage wide (left) and coverage tele (right)


Above: Lumix SZ8 coverage tele (left) compared with Sony WX350 coverage tele (right)
Like both the Cyber-shot WX350 and the IXUS 265 HS / ELPH 340 HS, the Lumix SZ8 is equipped with optical image stabilisation which moves the lens elements to compensate for camera movement and avoid camera shake at slow shutter speeds. The stabiliser has two positions, Off and On, it isn't intelligent like Canon's Intelligent IS on the IXUS 265 HS / ELPH 340 HS, but it does operate in five axes, meaning it corrects for roll, pitch, and yaw movements as well as vertical and horizontal ones.
So I was very interested just to see just how well the five-axis O.I.S. stabilisation on the Lumix SZ8 performed. To test it, I took a series of shots in fading light at progressively slower shutter speeds first with O.I.S. turned off and then with it on in continuous mode. As you can see from the crops below the Lumix SZ8 can be hand-held at speeds down to 1/15, though I was abe to get an occassional clean shot at 1/8th. That equates to a consistent four stops of stabilisation, an impressive performance which is on a par with the IXUS 265 HS / ELPH 340 HS.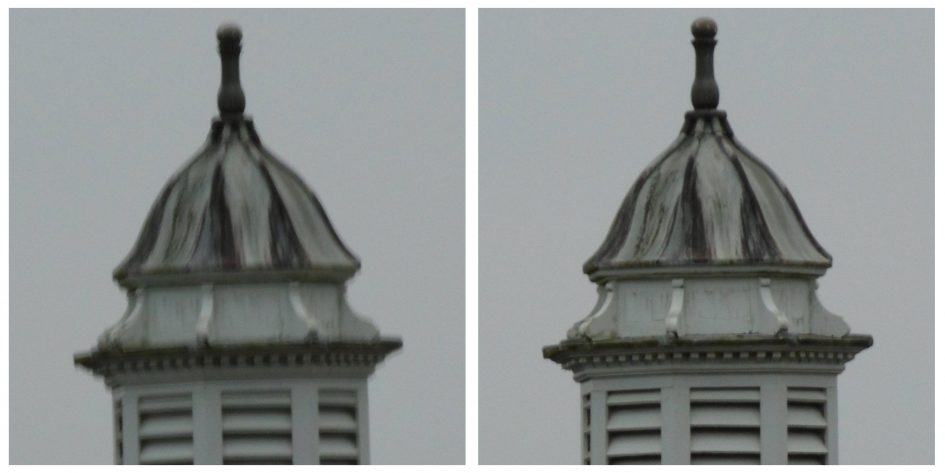 Above: Lumix SZ8 O.I.S. 4.3-51.6mm at 51.6mm, 100 ISO, 1/15th, O.I.S. off (left) and on (right)
Lumix SZ8 shooting modes
Intelligent Auto mode on the Lumix SZ8 uses scene detection to help to get the exposure right for specific scene types. Scene detection recognises several scene types and selects the Portrait, Scenery, Macro, Night Portrait, Night Scenery, or Sunset presets where appropriate, otherwise, it uses the standard auto exposure settings. Intelligent Auto also employs Intelligent ISO which detects motion in the frame and selects an appropriately high sensitivity setting to enable a suitably fast shutter speed. Intelligent exposure sets different ISO levels for individual scene areas to produce an exposure that captures a wider range of tonal detail than would otherwise be possible. Intelligent ISO and Intelligent Exposure are also available in Program Auto mode.
What on most compacts would be called Program Auto mode is known as Normal Picture mode on the SZ8. This is the mode that provides most control over settings – mostly selected from the Q menu. While it doesn't offer anything approaching full manual exposure control, you can at least set the ISO sensitivity.
There are 15 scene modes to choose from including, in addition to those used for scene detection, sports, Night portrait, Night scenery, two baby scene modes, pet, and Sunset. A high-sensitivity mode takes 3 Megapixel images at sensitivities up to 6400 ISO, but probably the most interesting is the HDR mode, which takes three shots in quick succession and combines them into a composite HDR shot. Here's an example of the Lumix SZ8's HDR mode, which automatically set the sensitivity to 800 ISO compared alongside an 800 ISO shot taken in Normal Picture (Program Auto) mode. The most noticeable difference is in the highlights in the stained glass window, which hold a fair bit more detail in the HDR shot.


Above: Lumix SZ8 HDR. Program Auto mode 800 ISO (left) compared with 800 ISO HDR scene mode (right)
The SZ8 has an excellent Panorama Shot mode which gets its own position on the Rec mode level – the one that appears when you press the mode button. In fact it works in a very similar fashion the the WX350's, you first have to select a direction, then just press the shutter button and start panning. The SZ8 can't shoot 360 panoramas like the WX350 and the resolution is lower, 960×3200 if you pan with the camera in portrait orientation. It does have one trick the WX350 can't mange though, you can apply most of the Creative effects filters in Panorama shot mode with the exception of Toy and Miniature.
These, as well as a range of other effects are available when you select Creative Control mode. The SZ8 has a good selection of effects filters, the full range is Expressive, Retro, Old Days, High key, Low key, Sepia, Dynamic monochrome, Impressive art, High dynamic, Cross process, Toy effect, Miniature effect, Soft focus, Star filter and One point colour. Below you can see examples of Expressive, Sepia, Dynamic monochrome, Impressive art, Toy effect and One point colour.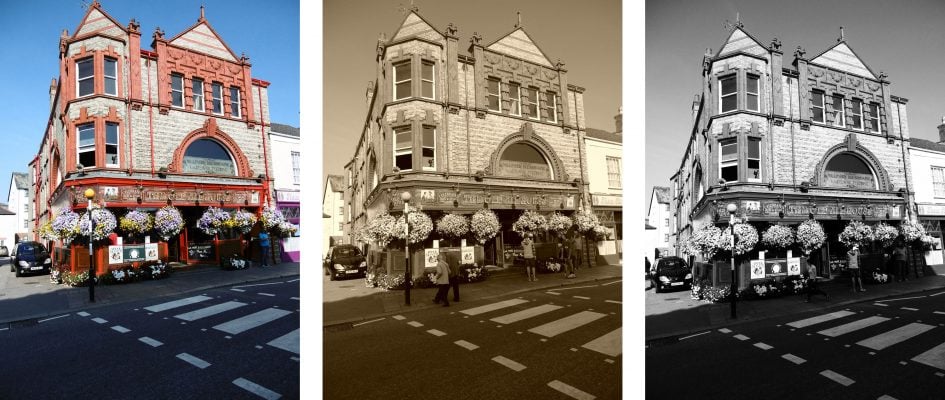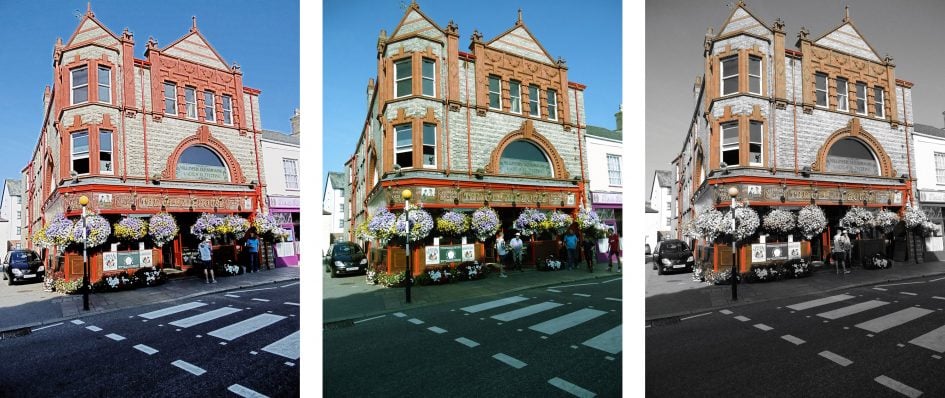 Lumix SZ8 movie modes
The SZ8 can record movies in 720p HD resolution at 30 frames per second and also offers VGA (640 x 480) and QVGA (320×240) also at 30fps. Movies are saved in the ageing and not very efficient Motion JPEG format at a bitrate of 28Mbit/s and saved as QuickTime files with a .mov extension in the same folder as still images. You'll get a little over half an hour of footage on an 8GB card, but the longest continuous recording time is when the file size reaches 2GB – so around 10 minutes or so. Panasonic recommends an SD card of Speed Class 6 or higher for movies. Note the latest SZ10 is also restricted to a maximum resolution of 720p, I believe a constraint of the CCD sensor they both use.
To start movie recording on the SZ8 you just press the red record button in any shooting mode. The sensitivity and exposure is set automatically and continuous AF is enabled. The SZ8 has a mono mic and the optical zoom can be used during recording.
Panasonic Lumix SZ8 sample movie: handheld pan
Panasonic Lumix SZ8 sample movie: tripod pan
Panasonic Lumix SZ8 sample movie: striping
Panasonic Lumix SZ8 sample movie: indoor low light pan
Panasonic Lumix SZ8 sample movie: C-AF
Lumix SZ8 Wifi
The Lumix SZ8 has built-in Wifi which allows you to wirelessly browse the SZ8's images on the larger and more detailed screen of your device and copy them, upload them to online storage or social media services (either directly or via a smartphone), or become remote-controlled by the free Panasonic Image app for iOS or Android devices. I tested the SZ8's Wifi features using my iPhone 4S.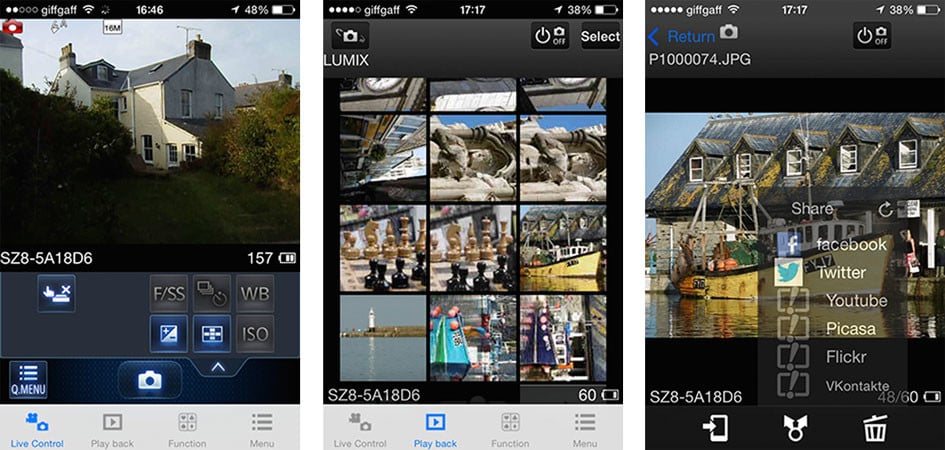 The SZ8 lacks NFC, so you can't bump it against an NFC-equipped Android device or iPhone 6 to initiate a Wifi connection, but the connection process is nonetheless pretty straighforward, and at its simplest involves scanning a QR code with the Panasonic Image app.
To activate Wifi on the camera you simply press the Wifi button on the rear panel. If you're creating a new connection you can choose from 'remote shooting and view', 'playback on TV', 'send images while recording' or 'send images stored in the camera'. For a smartphone / tablet connection, you should choose the first option for remote shooting and view. This then sets up the SZ8 as a wireless access point, displaying the SSID name and password, alongside them both encoded as a QR graphic. You'll then need to start the Lumix Image app, select Wifi as your means of connection, select the SZ8 network and either enter the password, or simply point your handset's camera at the QR code.
Once your phone or tablet becomes connected to the SZ8, you can remote control it, browse the images direct from the memory card, copy them onto the handset and if desired send them onto various storage or sharing services. You can also set the app to make a GPS log for subsequent syncing and tagging, and there's even a feature for creating photo collages – grid layouts containing multiple shots.
The remote control feature is really neat, showing a live image on your phone or tablet's screen and allowing you to take a photo, though remote video recording isn't an opton on the SZ8. You can adjust the zoom remotely and tap anywhere on the live image to set the focus to that area or directly take the shot. You can adjust exposure compensation, change the AF area mode, alter the picture size, set the flash mode and set a 2 or 10 second self timer. For a reason that wasn't obvious, though, the white balance and ISO buttons were greyed out.
You can also use a connected phone or tablet to quickly browse the images in your camera on their bigger screens without having to copy them over first. This is more useful than it sounds, allowing you to scan through a day's shoot without having to remove the card, physically connect the camera or copy any unnecessary files.
When you see an image you like, just tap it and the Lumix Image app will let you save the original to your device or start uploading it to one of the social, sharing or storage services installed on your device. Or of course once the image is copied into your device, you could just exit the Panasonic app and handle it direct from whichever sharing or storage app you like via your phone's gallery.
By comparison with the Lumix SZ8, the Sony WX350's Wifi implementation is fairly basic. The WX350 has NFC for quick and easy connections and provides remote control as well as upload to a smartphone. The controls on offer are similar to the SZ8, but there's no tap to focus feature. The WX350 lacks the SZ8's support for upload to sharing websites and other thing lacking from the WX350 Wifi set up is the ability to make and apply a GPS log form your phone to pictures on the camera card.
Like the WX350, the IXUS 265 HS / ELPH 340 HS has NFC, and its Wifi features are quite similar to those on offer from the SZ8. Neither can be used to remotely shoot movies, both offer GPS tagging from a smartphone track log. Two significant differences, though, are that the Lumix SZ8 allows tap to focus and it's Web upload doen't require an intermediary platform in the way that the IXUS 265 HS / ELPH 340 HS requires Canon's Image Gateway.
Lumix SZ8 handling
The Lumix SZ8 is a little slow out of the blocks, taking the best part of three seconds from when you turn it on to be ready to take a shot. The zoom is swift, covering the 12x range in around two and a half seconds, but it has a serious glitch. If you zoom all the way in then immediately attempt to zoom back out again, nothing happens. At either end of the range, you need to pause for about a second, if you attempt to zoom too soon it just doesn't work. Once you've discovered this you can make allowances, but it's irritating at best.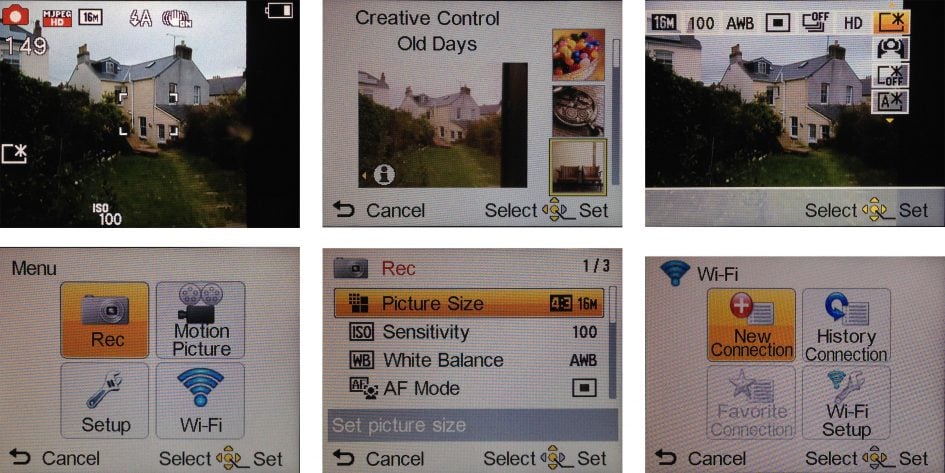 As you'd expect, the Lumix SZ8 has face detection autofocus which is the default AF mode in intelligent Auto exposure mode and can be selected in other modes. If there are no people around, Intelligent auto mode switches to 9-area AF and this too can be selected from the Q.menu in other exposure modes. Lastly there's 1-area focussing which uses the central portion of the screen for focussing. By maintaining half-pressure on the shutter release you can align the subject for focussing, then recompose your shot, but the SZ8 lacks the AF tracking mode offered by both the IXUS 265 HS / ELPH 340 HS and WX350.
Lumix SZ8 Sensor
The Lumix SZ8 has a 16 megapixel CCD sensor which produces images with maximum pixel dimensions of 4608×3456. Photos are saved in JPEG format at a single quality/size setting and files are on average between 3 and 4MB. The sensitivity range is 100 to 1600 ISO (6400 ISO in 3M high Sensitivity Scene mode) and the shutter speed range is 8 – 1/200 (60s in Starry sky scene mode).
Keep reading to see how the quality of the Lumix SZ8 measures-up in practice at a variety of focal lengths and lighting situations!