Panasonic Lumix S5 review
Verdict
The Lumix S5 is a very appealing mid-range full-frame mirrorless camera that will finally give the Lumix S system and L-mount in general the attention it deserves. A competitive body price of 1800 pounds or 2000 dollars gets you a 24 Megapixel full-frame sensor with very clean results and an optional boost in detail with its high-res composite mode. You get 4k up to 60p in 10 bit internal with features that will delight pro videographers. And you also get decent built-in stabilisation, twin card slots, cunning 6k Photo modes and a fully-articulated touchscreen all packed into a weatherproof body that's much more compact than the first three Lumix S models, plus for only two to three hundred more, you get the lovely 20-60mm kit zoom with its wider than average coverage.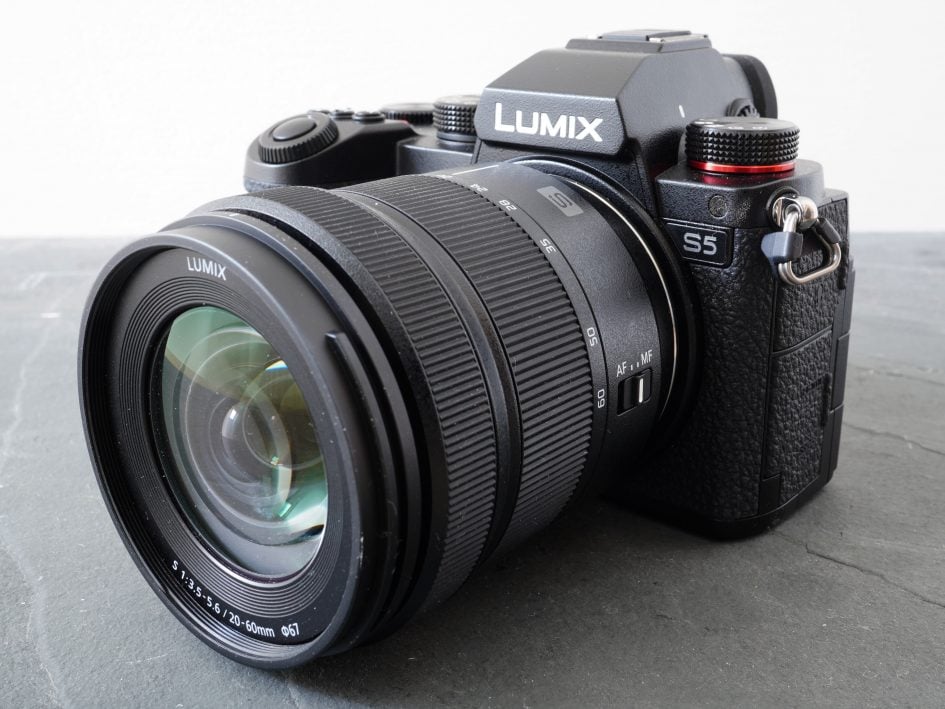 What's not to like? The viewfinder panel at 2.36 million dots is looking a little low res for 2020, albeit comparable to similarly priced or cheaper full-framers. The top shooting speed of 5fps with continuous autofocus won't set the action World alight, but if the subject's roughly fixed in place, 6k photo gives you 18 Megapixels at 30fps. The switch to micro HDMI feels at odds to the otherwise pro video spec. There's only one card slot that will exploit UHS-II speeds, but the modest burst speed means it's not a big issue; plus you get to record video to both cards at the same time, a feature that still eludes Canon. As for autofocus, Panasonic has improved DFD to a point where it'll satisfy many stills and video shooters, but if you want to keep a moving subject constantly sharp during video or vlogging, Sony and Canon still lead the pack.
The S5 is also of course up against a lot of competition. While it's Panasonic's cheapest full-framer to date, it's nowhere near the cheapest full-frame body on the market. Nikon's recent Z5 body costs $1399, while Canon's EOS RP sneaks-in at just $999. Neither has uncropped 4k, but the RP remains a compelling alternative if you want full-frame 1080p with excellent autofocus and can live without IBIS or twin slots.
For roughly the same money as the S5 you could alternatively go for the Sony A7 III which, even several years after launch, remains a very well-rounded package with more confident focusing during video and faster burst shooting with continuous AF. But the S5 retaliates with unlimited 4k up to 30p, cropped 4k at 60p, as well as 10 bit options and a fully-articulated screen. It's certainly not a one-sided argument.
Panasonic Lumix S5 verdict for video
Overall, the Lumix S5 becomes one of the best full-frame cameras for videographers with less than 2000 dollars or pounds to spend, and in fact sports many features not seen on cameras costing a great deal more. No other full-frame camera at this price offers unlimited uncropped 4k up to 30p. Nor 4k up to 60p or in 10 bit. And at a time when the EOS R5 and R6 continue to lack dual-card recording and have only just acquired zebra patterns, the S5 gives you recording to both cards simultaneously as well as a waveform monitor and even support for anamorphic video.
The quality is, as you'd expect for a sensor inherited from the flagship S1H, very good indeed and graders will love that the S5 includes full v-log built-in without having to pay extra. In fact my overwhelming feeling about using the S5 for video is just how much of the S1H is present here at half the price.
What's not to like? The viewfinder panel at 2.36 million dots is looking a little low res for 2020, albeit comparable to similarly priced or cheaper full-framers. The switch to micro HDMI feels at odds to the otherwise pro video spec. As for autofocus, Panasonic has improved DFD to a point where it'll successfully refocus on a subject that's moved without hunting back and forth, but often required a slight pause in my tests to catch up with any changes. This is fine for interviews, pieces to camera and even product demos, but if your subject is in constant motion or you're vlogging and you want to be sharp at all times, I found Sony and Canon remained more responsive and confident. But at this price Sony doesn't offer a flip screen and Canon will only beat the S5's video focusing in 1080p using the EOS R or RP, neither of which offer uncropped 4k, 10 bit, dual card slots or IBIS.
If you want to match the S5's uncropped 4k quality with a Canon that also has IBIS and twin card slots, then you're looking at the R5 or R6 which both cost more and suffer from overheating. And if you want 10 bit 4k from Sony, you'll need to splurge on the A7S III. Now the A7S III of course offers much more for videographers besides, including uncropped 4k 60p and even 4k 120 with only a minor field reduction, but there's a big price difference. If you have 2000 dollars or less to spend on a full-framer, the Lumix S5 simply becomes one of the most capable models on the market and comes highly recommended for pro videographers.
Panasonic Lumix S5 final verdict
Ultimately the Lumix S5 may be the lowest-priced model in Panasonic's full-frame series to date but arguably becomes its most compelling overall. For the money you're getting a very capable camera for stills and especially video. Some rivals may shoot faster with continuous autofocus or offer more detailed viewfinders, but the overall performance of the S5 is hard to beat at the price. Photographers will enjoy clean results at high ISOs, the chance to boost the resolution with an in-camera composite mode, along with the ability to grab 18 Megapixel stills at 30fps. Videographers will love unlimited and uncropped 4k up to 30p without overheating, the chance to film 4k 60p internally at 10 bit even if it's with an APSC crop, the inclusion of a waveform monitor, full v-log and anamorphic modes, along with the promise of 5.9k RAW to an external recorder with a free firmware update by the end of 2020. Meanwhile both groups will enjoy having IBIS, dual card slots, a fully-articulated screen and the option to bag the lovely Lumix S 20-60mm zoom at a low price in the bundle. Whether you call it a mini S1H or a full-frame GH5, the Lumix S5 is a lot of camera for the money and comes highly recommended.

Check prices on the Panasonic Lumix S5 at B&H, Adorama or WEX! Alternatively get yourself a copy of my In Camera book or treat me to a coffee! Thanks!