Panasonic Lumix S5 review
Intro
The Panasonic Lumix S5 is a mid-range full-frame mirrorless camera with 24 Megapixels, built-in stabilisation, twin card slots, a fully-articulated touchscreen and 10 bit 4k up to 60p. Announced in September 2020 and available in a kit with the Lumix 20-60 zoom, it becomes the fourth model in Panasonic's full-frame Lumix S system and the most compact and affordable to date – but don't let that fool you as some of the specs, especially video, are comfortably beyond most rivals. In fact as you'll learn, the S5 could be thought of as a full-frame GH5 or a mini-S1H, making it a tempting option for pro videographers who can't stretch to that model or want a B-camera with matched footage.
I got to shoot with a preview model for several weeks, although as a boxed sample running firmware 1.0, it's effectively final production, and everything I'll show you is reflective of the performance you'll see from final models. There's lots to talk about, so I've filmed two videos for you, the first covers the physical design, controls and photo performance, allowing the second to concentrate entirely on the movie side of the camera. If you're interested in using the S5 as a hybrid camera or even solely for video, be sure to watch both parts as I won't be repeating the physical and control side in the second part. And if you prefer to read your reviews, just keep scrolling for my written version!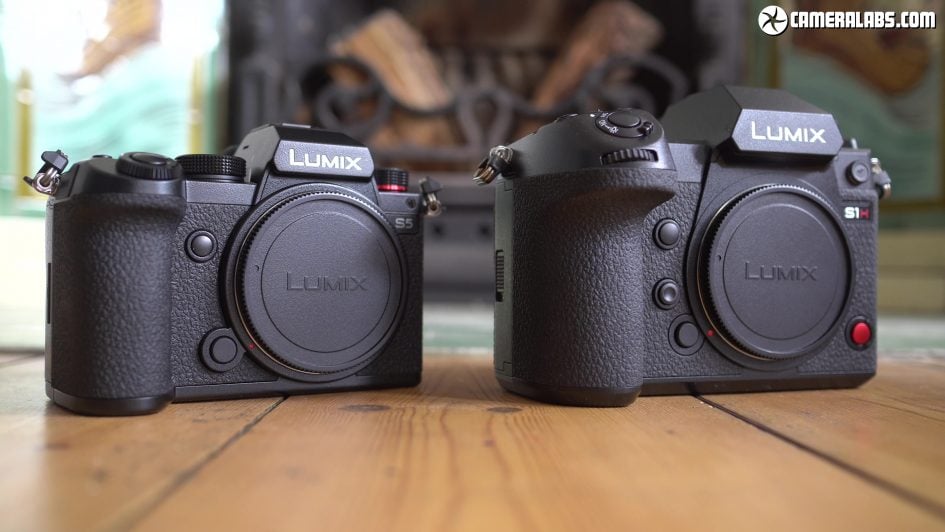 Above: Here's the Lumix S5 on the left, joined by the considerably heftier S1H on the right, representing the smallest and largest models in the Lumix S series. Measuring 133mm wide, 97mm tall and 82mm thick, the S5 is comfortably more compact than the S1H, and at 714g it's over 400g lighter too. In fact the S5's size and weight is roughly the same as the Lumix GH5, despite having a sensor with four times the surface area, although I should note Sony's A7 bodies are a little smaller and lighter still. Now some of the bulk of the S1H on the right is down to its fan, vents and unique screen mechanism, but as I found, the S5 is quite capable of filming for a long time without overheating issues despite its small size and lack of vents.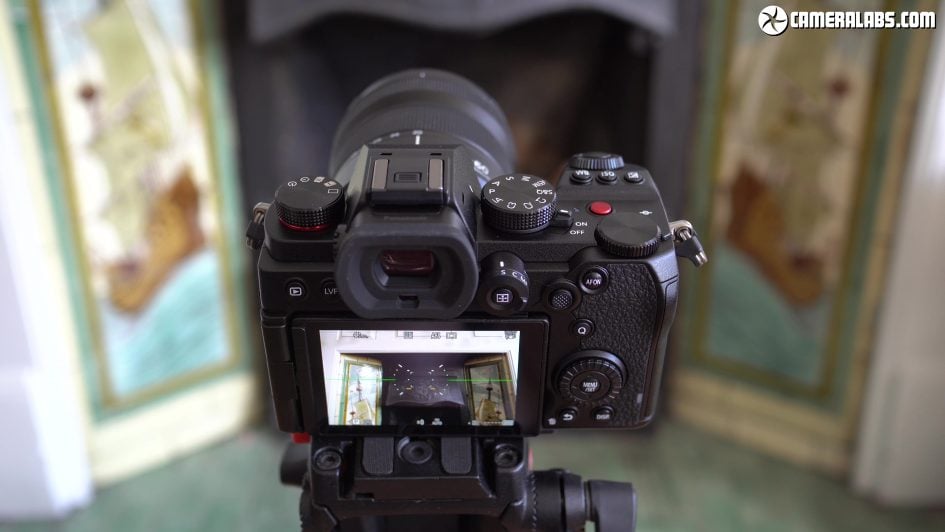 Above: From the rear, the S5 shares a similar control layout to the higher-end models in the range – albeit without the backlit buttons – so you're getting a large and tiltable rear thumb wheel, joystick, AF ON button, and a collar to adjust the AF mode and areas. All fell comfortably within reach of my thumb, including the upper control dial, even when operating the camera one-handed. From the top, the S5 lacks the upper information screen of its siblings and opts for a simpler layout that's not dissimilar to the Lumix G90 / G95, with a drive dial to the left and a non-lockable mode dial on the right, along with separate buttons for directly accessing white balance, ISO and exposure compensation, plus a large red movie record button. These and the front dial are also easily accessible by your index finger. So with three control dials, a bunch of dedicated buttons, drive dial and an AF joystick, the S5 provides direct and full control over pretty much every aspect of exposure, focus and drive without ever having to enter any menus. Despite its compact size, the S5 also sports a large, comfortable grip that's tall enough not to leave your little finger dangling and with plenty of room to avoid pinching your tips. In terms of build quality, the S5 is described as being dust and splash resistant, but falls short of the additional freeze-proof rating of the S1, S1R and S1H.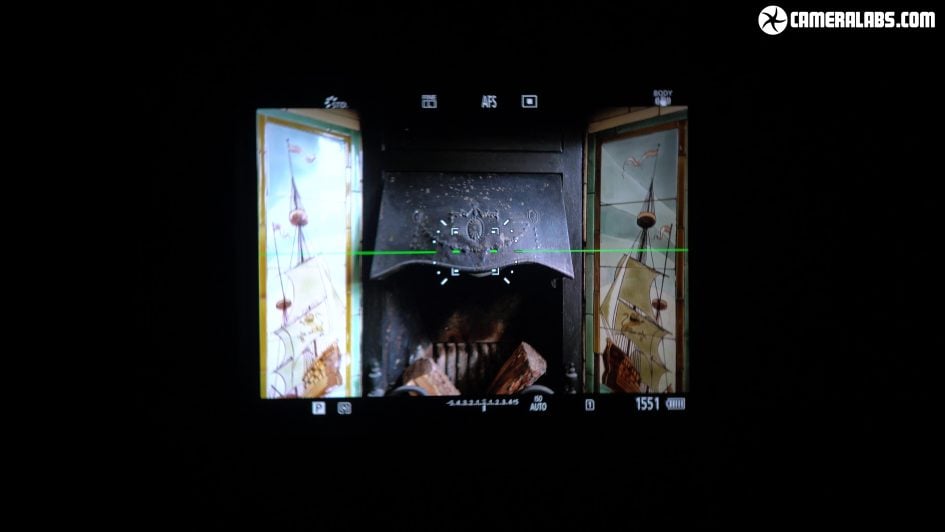 Above: As the most affordable model in the series, it's also unsurprising to find a lower resolution viewfinder in the S5 compared to its siblings. Panasonic's gone for a 2.36 million dot OLED with 0.74x magnification, making it a little smaller and noticeably less detailed than the 5.76 million dot viewfinders in the S1, S1R and S1H. To be fair, the S5's viewfinder is still very usable and actually matches the resolution of the Sony A7 III and Canon RP, but those are older models and in 2020 I'd have preferred Panasonic to use a 3.69 million dot panel as a minimum. Revealingly Nikon included one in the cheaper Z5, although it falls behind the S5 in other aspects.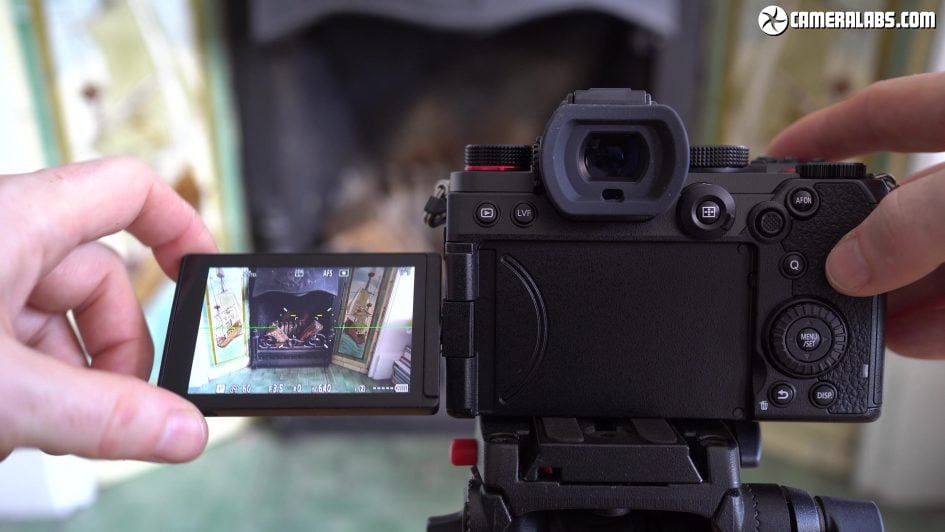 Above: Moving onto the display, the S5 is equipped with a side-hinged fully-articulated touchscreen, allowing you to flip it to face-forward or back on itself for protection. Obviously this is invaluable for one-person video shooters, but I also love them for comfortable composition at high or low angles in the tall, portrait orientation. I realise some prefer the speed and discretion of a vertically-tilting screen and the S1 also had a neat tri-axial mechanism with some angling sideways, but personally speaking I prefer a fully-articulated screen and the S5 joins a small club of full-framers to offer one.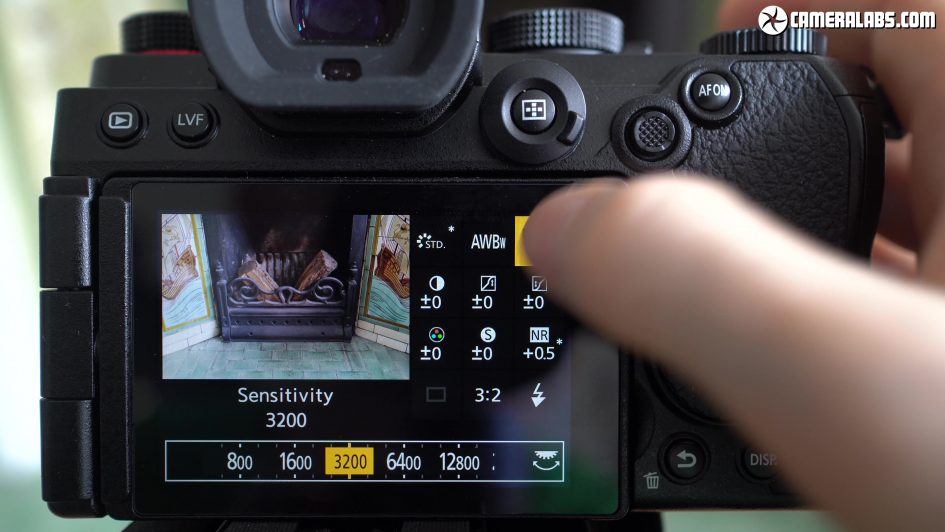 Above: Panasonic's touch interface remains one of the best around. You can of course move the AF area by touch, and even pinch to adjust the size of the AF frame. You can tap your way through the quick Q menus while sliding through options, along with navigating the main menu too. And in playback you can swipe between images and again pinch to zoom in and out.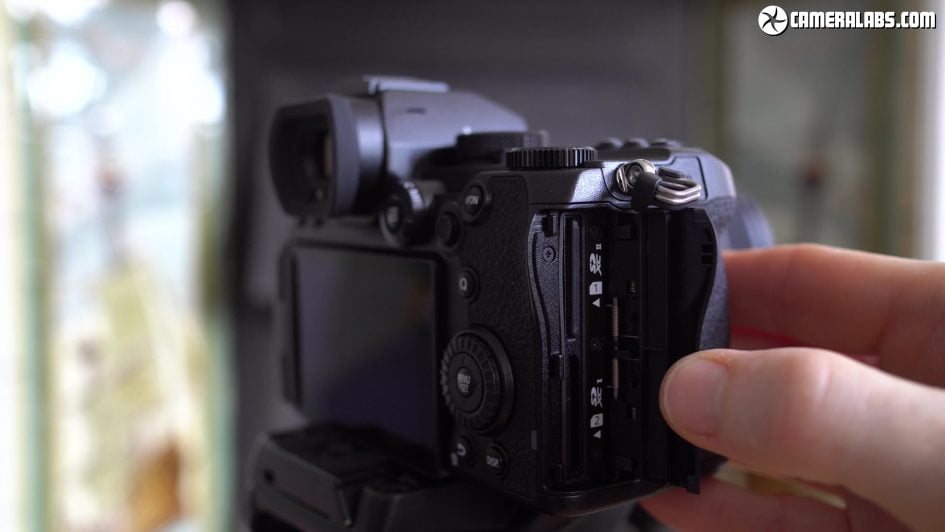 Above: On the grip-side of the camera you'll find twin SD memory card slots, although only the top slot-1 supports UHS II speeds. This leads to some labelling confusion with Slot 1 labelled with II for speed, while Slot 2 is labelled with I for speed. But it seems churlish to complain when the S5's modest burst speed doesn't overly tax the cards and importantly it can happily record video in any format to both cards simultaneously, all the way up to 4k 60p – a capability that's not available on the more expensive Canon EOS R5 and R6, unless you count the proxy option on the R5 when recording 8k RAW. Plus I prefer having two SD slots versus the SD and XQD arrangement of the S1 and S1R. So thanks Panasonic for giving us the functionality that counts.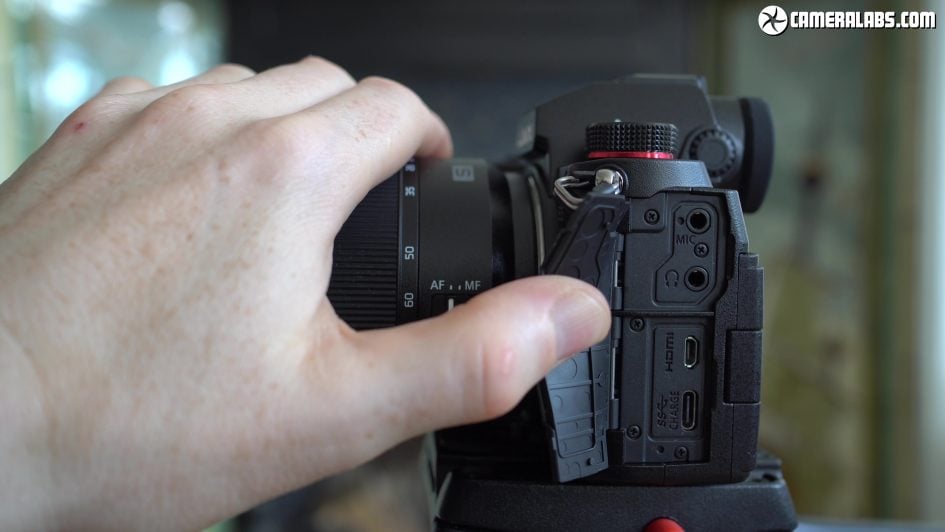 Above: Behind two large rubber flaps on the other side of the body are the ports: 3.5mm microphone and headphone jacks at the top and Micro HDMI and USB-C at the bottom. The mic connection is highest and clears the screen, but the open flap will obstruct a small corner of the display – Panasonic should really have split this into two flaps, although a craft knife will resolve that. The USB C port can be used to power or charge the camera, and also supports tethering including using the camera as a webcam. Meanwhile the Micro HDMI is an annoying downgrade for videographers from the full-size HDMI ports of the other S bodies, although Canon's R5 and R6 are no different. In some consolation, Panasonic announced a future firmware update for the S5 will allow it to output 5.9k RAW over HDMI to an Atomos Ninja V which will record it in the ProRes RAW format. This allows it to match the quality and flexibility of the top-end S1H for external RAW and you can learn more about that in my S1H RAW video which demonstrates what's possible.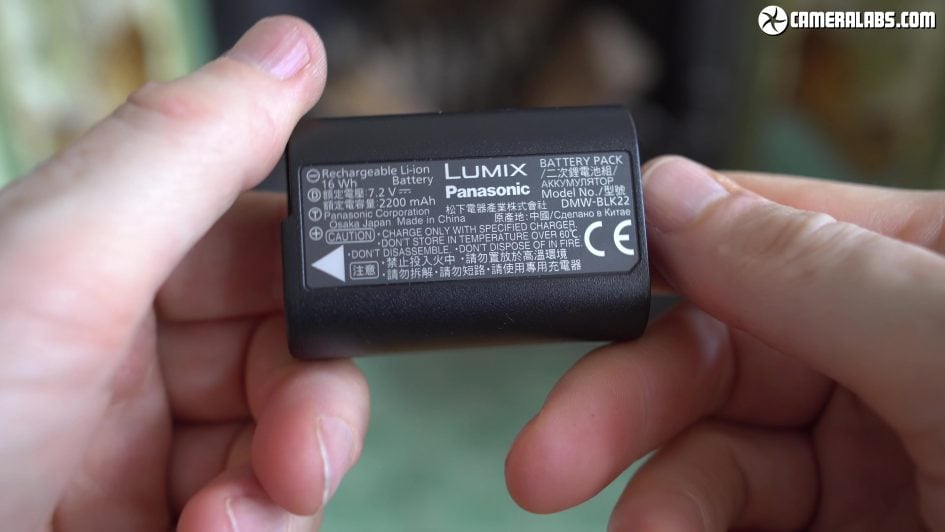 Above: Moving onto power, the S5's shorter height means it can't accommodate the large battery introduced for the first three S bodies, and instead employs a new DMW-BLK22 pack, rated at 2200mAh versus the 3050mAh of the older one. But while it has roughly two thirds the charge, the actual battery life is similar to the earlier models, presumably due to less hungry components – I know the high-res viewfinder in the earlier models was more than a little peckish. So Panasonic's quoting 440 shots on the S5 with the screen or 470 with the EVF versus around 400 on the S1. I also managed almost two hours of 4k video on a single charge even at 50p and recording to both cards simultaneously – take that Canon.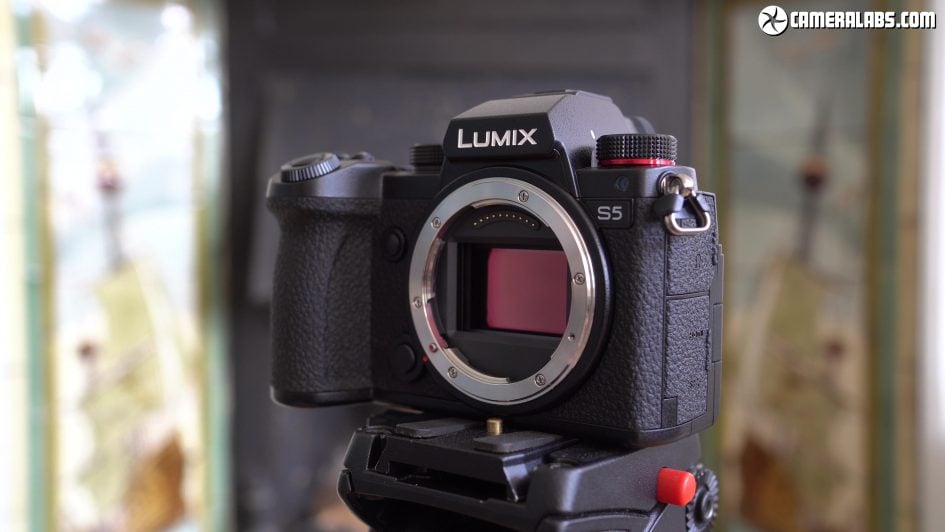 Above: The Lumix S5 employs a 24 Megapixel full-frame sensor that, judging from the specs and performance, appears to be the same or at least very similar to the one in the S1H, giving it excellent low-light and video performance. Like all S-bodies to date, it's stabilised within the body and you can see how effective it is in my video reviews above. Meanwhile the L-mount lets you fit any compatible lens, including models from Panasonic, Sigma and Leica, giving it access to a growing collection at a wide price range.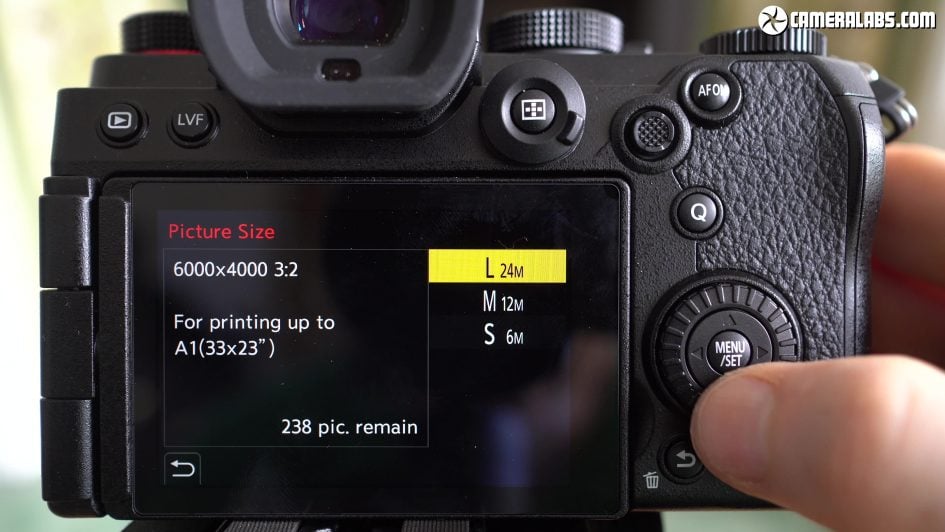 Above: From the image quality menus you can select three photo resolutions for JPEG files, at 24, 12 or 6 Megapixels. You can choose between two levels of JPEG compression and accompany them with RAW files if desired, although no compressed RAW options are available. There's six different aspect ratios including two wider than normal, plus a bunch of framing guides too from tall and narrow to extra wide. HLG is available for high dynamic range photos for display on compatible devices and you can record them in 4k or at the full resolution.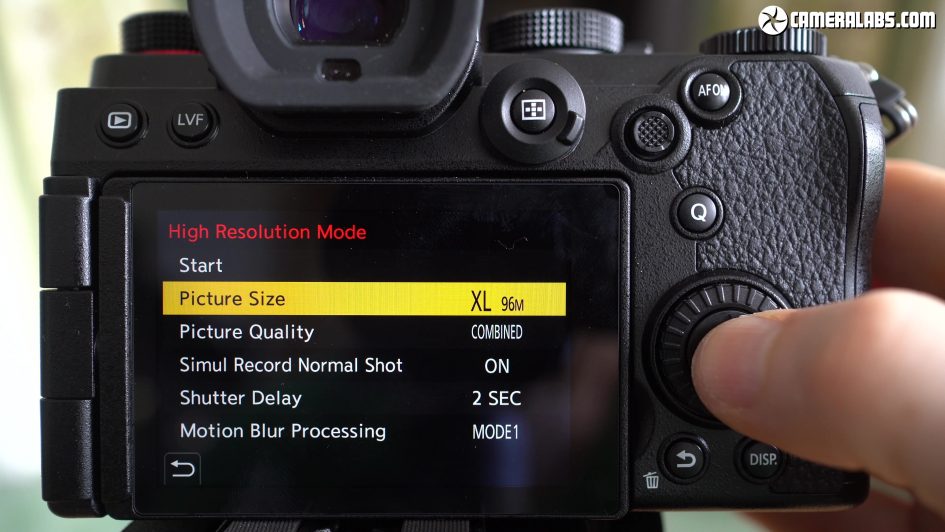 Above: The S5 also includes a high resolution mode that exploits the sensor-shift stabilisation to capture and generate a composite image in-camera with a recorded resolution up to 96 Megapixels. This is a tripod-only mode, although Panasonic has extended the longest exposure from the one second of earlier models to a more useful 8 seconds here. When capturing a high-res image, the S5 takes eight shots in quick succession using the electronic shutter before combining them in-camera into a single image in JPEG and or RAW formats; the entire process takes about eight seconds, although you will want to add the optional delay to avoid any shake as it'll ignore the standard self-timer.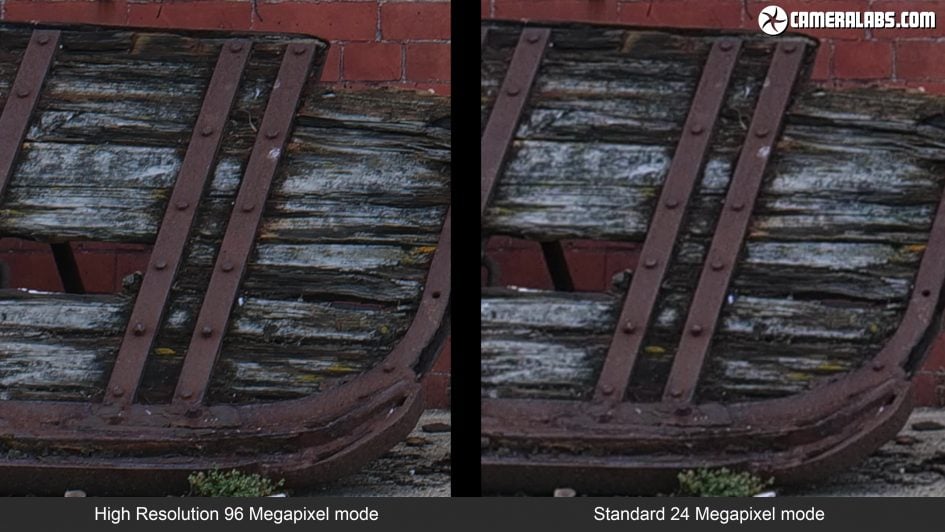 Above: To demonstrate the potential of the high resolution mode, I photographed this scene in the High Res and standard 24 Megapixel modes and have presented tight crops from both above for comparison. When you zoom-in, there's plenty of fine detail even from this affordable lens. As before there can be issues with subjects that move during the capture process, and even though there are options to reduce this, I'd still recommend aiming for a composition with the minimum of movement. As such it's best-suited for archive, architecture or landscapes on still days.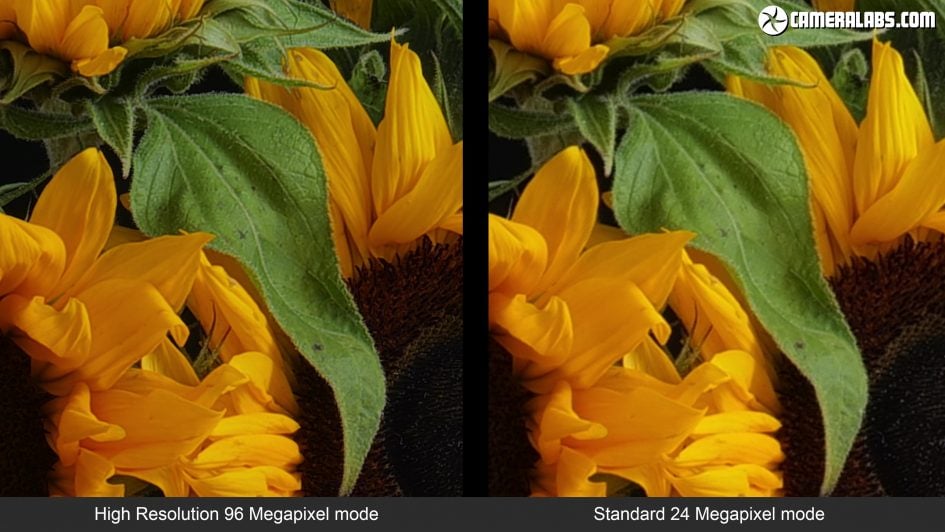 Above: Here's another example, again zoomed-in to reveal the differences. Again there's visibly more detail in the High Resolution version on the left, although again not as much as 96 Megapixels worth. Either way, it can produce improved results with the right subject and is a useful feature that's lacking on most rivals.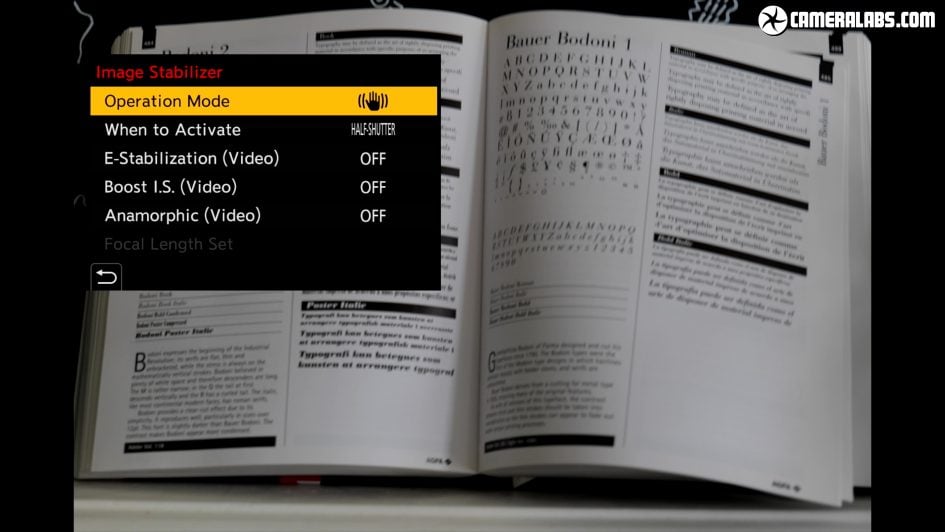 Above: Like all Lumix S bodies to date, the S5 includes built-in sensor-shift stabilisation or IBIS for short. After entering the menus and activating stabilisation, there's a dramatic improvement to the steadiness of the image. For me IBIS is as beneficial during composition as it is for handholding video or slow shutter speeds, and it'll work with any lens you attach.
Above: Moving onto focus, the S5 sports decent object tracking that will identify and surround subjects with frames, starting with entire bodies from a distance, before honing-in on faces and eyes as they get closer. You can tap to choose the primary subject to focus-on. If you prefer you can use a variety of zoned or single AF areas and again tap to reposition it if desired. Driving the lenses is Panasonic's DFD which is swift in the Single AF mode, but what about continuous AF?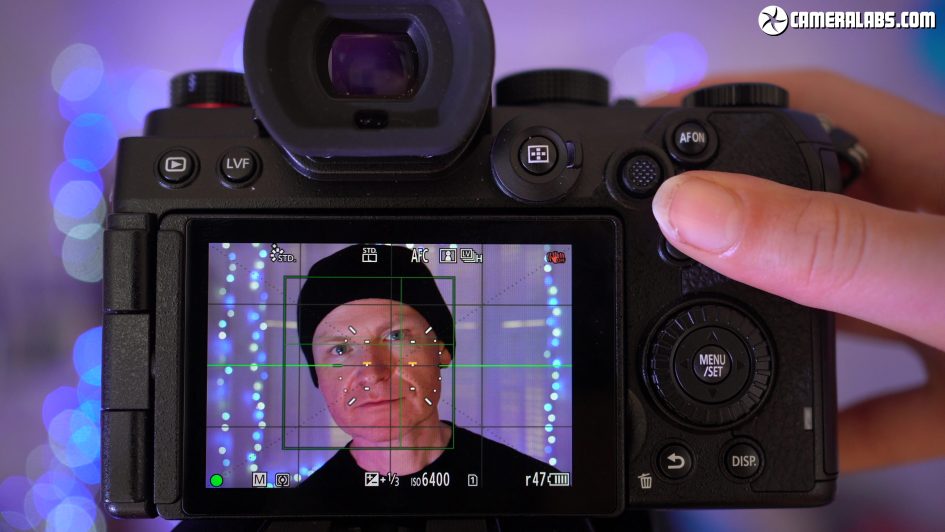 Above: In this test I'm using the face, eye, body detection to track me as I move around the frame. If you watch the lights in the background, you'll notice them pulsing as the focus system quickly scans back and forth to keep me in sharp focus. It's a slightly odd experience if you're used to phase-detect autofocus systems, but the end result is that the subject for still photos is reliably kept in focus and in my tests it worked equally well for faster moving subjects, albeit only at 5fps with continuous AF.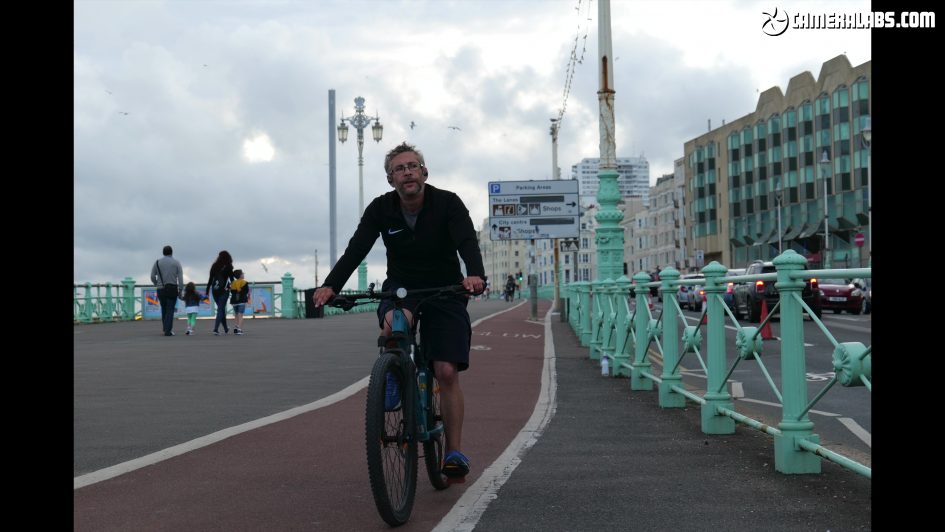 Above: The Lumix 20-60mm was the only L-mount lens I had at the time of testing, so it's not particularly demanding for sports, but here's a quick sequence of cyclists approaching, where the camera identified the face and focused on the rider on every shot, albeit again at a top speed of 5fps. If you want faster shooting with continuous AF from full-frame at this price point, I'd go for a Sony A7 III, but if the subject isn't moving back and forth, the Lumix has some alternative options for you to try.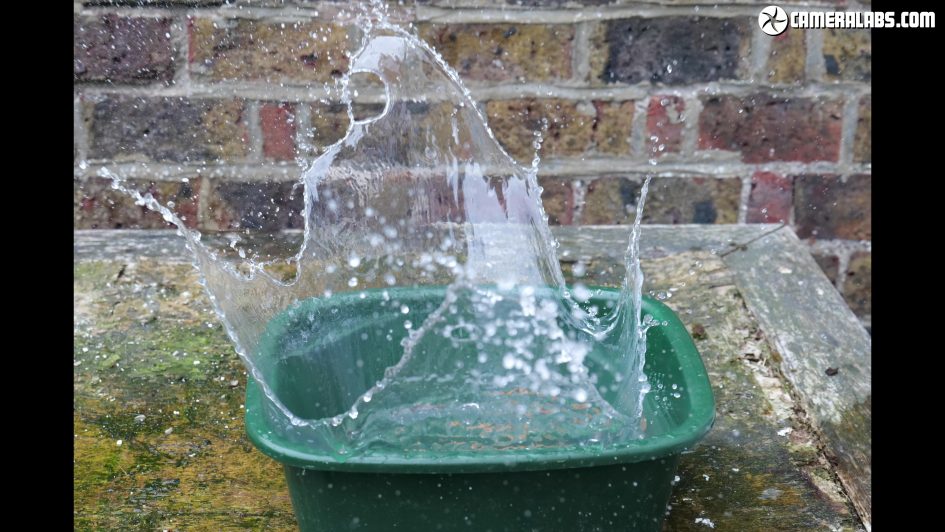 Above: First, in single AF mode the burst speed increases to 7fps. I used this mode to capture this sequence of a block of wood being dropped into a basin. Now 7fps still falls below the fastest of its rivals, but the S5 also sports Panasonic's 4k and 6k Photo modes which exploit frame-grabbing from video to deliver higher burst speeds. In 4k Photo mode, you can shoot short bursts of video at 30 or 60fps before grabbing 8 Megapixel JPEGs from them in playback, while the 6k mode operates at 30fps only but allows 18 Megapixel JPEGs to be generated. Both 4k and 6k Photo modes incur a crop and are slower to focus though, so are best-suited to subjects that don't move towards or away from you.
Above: Here's an example I shot using the 6k Photo mode with pre-burst. This keeps the last second's worth of action in a rolling buffer while you keep the shutter button half-pressed. Once fully-pushed, the camera records that buffered second, plus one more, giving you 30 frames before and after the moment you pressed the shutter. In playback you can shuttle through the two seconds of action, with the number in the top indicating the frame. Zero is the point you pressed the shutter which, for me, was too late to catch the moment the block hit the water. Plus-numbers occurred afterwards, but the clever part is effectively being able to rewind to the minus frames captured up to one second before you pushed the shutter. You can then just choose as many frames as you'd like to grab as 18 Megapixel JPEGs. It's perfect for capturing moments like these or a bird taking flight when you can't always be sure you'll push the button at the perfect moment. Pre-capture is also a rarity in the full-frame market.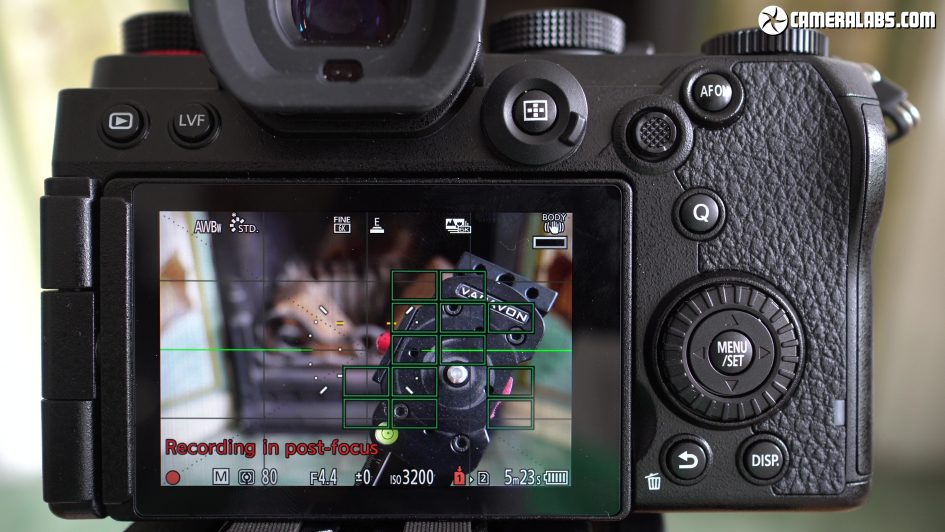 Above: 4k and 6k Photo can also be used in a Post Focus mode which racks the focus during a brief clip in order to capture a sharp image at multiple distances. Then in playback you can just tap on the part of the image you'd like to be sharp and the camera will automatically find the right frame for you to grab, again as an 8 Megapixel JPEG in 4k mode or 18 Megapixel in 6k mode. It's easy to forget the initial recording process and feel you're watching magic at work here.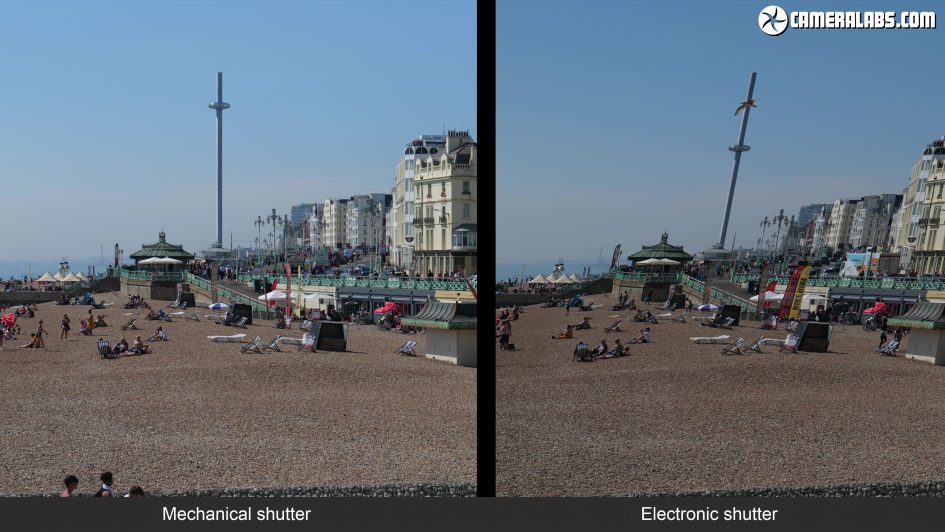 Above: In terms of shutter types, the S5 offers fully mechanical, electronic front-curtain, fully electronic with or without noise reduction or an auto mode. Both the electronic and mechanical shutters share the same range from 1/8000 to 60 seconds, with Bulb available for longer exposures, although there's no Bulb timers. To compare the shutter types, here's a frame taken with the mechanical shutter while panning, and the tower and buildings are upright as expected. Now for the fully electronic version where a relatively slow sensor readout has resulted in significant skewing due to rolling shutter. So I'd only use the S5's electronic shutter when the subject or background are still or when silence is paramount.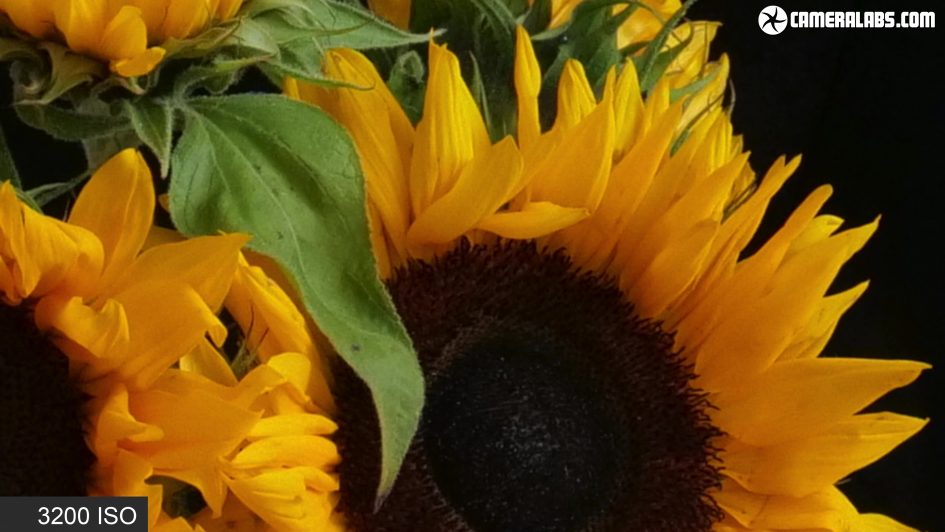 Above: Moving onto image quality at higher sensitivities, I shot a still-life image with the S5 at every ISO value from 100 to 51200 ISO, using the Lumix S 20-60mm at 50mm f11. I shot in JPEG and RAW, but in the absence of RAW support from Adobe at the time I made this review, I'm comparing the JPEGs here. In my video review I'll show you a closer look at each value, starting at 100 ISO and ending at 51200 ISO, but just now here's a cropped view of the 3200 ISO sample above. Panasonic says the S5 has dual native ISO like the S1H which means at a certain point the noise levels and dynamic range should improve. Unlike the S1H though, the switch happens automatically on the S5 and Panasonic isn't officially saying where it happens, so you tell me if you can see it here. Either way, I'd say the images look very clean and detailed up to 3200 ISO, remain very respectable at 6400 and 12800 ISO, and only really begin to suffer at 25600 and 51200 ISO, but even then still retain a good level of detail.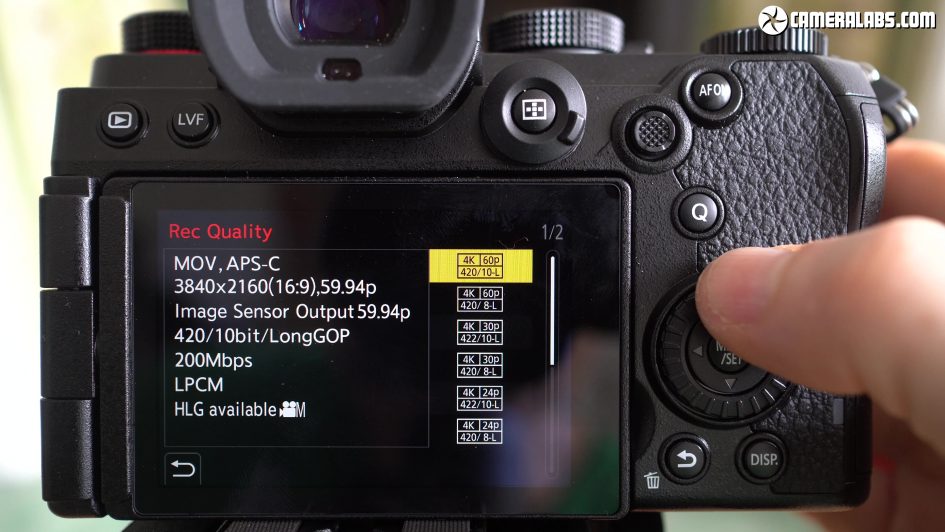 Above: Now for movies, a highlight of the Lumix S5 and an area where it takes the lead over most rivals even at higher prices, and I'll state right now I didn't experience any overheating while testing the S5. The highlights are being able to record uncropped 4k from 24 to 30p, internally at up to 10 bit 4:2:2. If you're shooting 10 bit 4k internal, clips are limited to half an hour each, but I managed four consecutive ones on a single charge without cooldown or overheating. If you switch to 8 bit 4k in frame rates up to 30p, you can record for as long as your battery and card will allow – I managed a single clip of 4k 25p lasting 1hr and 57mins using a 128GB card before the battery ran out, and again with no overheating; in 1080p, I managed over two and a half hours in a single clip, so it's ideal for events or interviews. The S5 also becomes the first full-framer at its price point to offer 4k at 50 or 60p, albeit with an APSC crop. Again you can record in 8 or 10 bit, although both are in 4:2:0 when recorded internally. 4k 50 60p clips are all limited to half an hour, although I managed four consecutive clips on one charge without overheating – and while recording to both cards simultaneously. While 4k at 50 or 60p is always cropped to the APSC format, it's also possible to apply an APSC or an even tighter 1:1 pixel crop for the other modes if desired.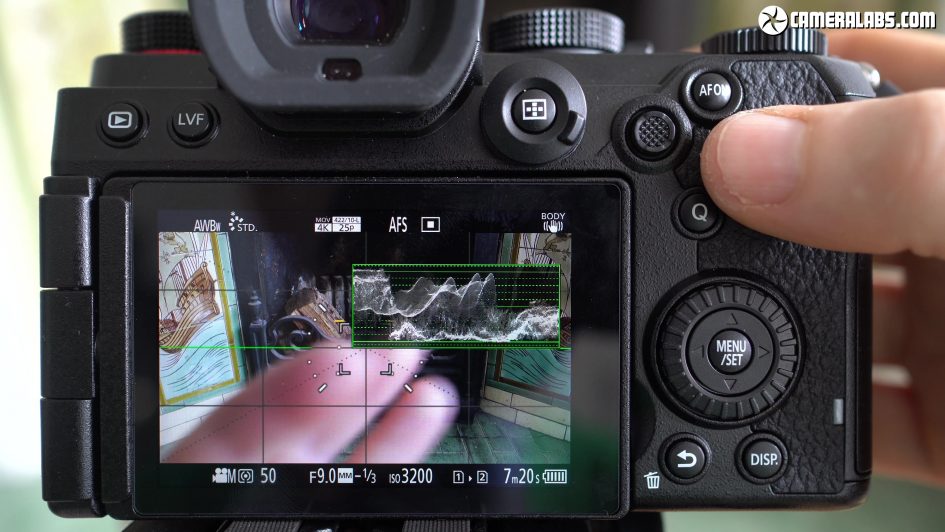 Above: Panasonic could have stopped there but generously decided to include a bunch of features from higher-end models that will delight videographers, starting with the impressive inclusion of a waveform monitor which you can also drag around the screen by touch. Waveform monitors are like advanced histograms, revealing the tonal range for different parts of the frame as opposed to the entire image in one go.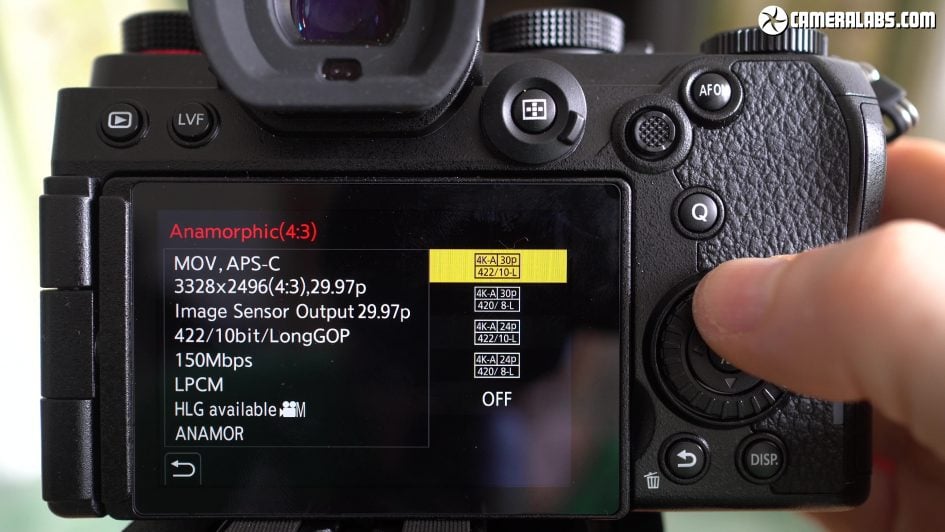 Above: There's also support for anamorphic modes which use special lenses to squeeze a wide aspect ratio into a 4:3 shape for recording, before being de-squeezed later during presentation.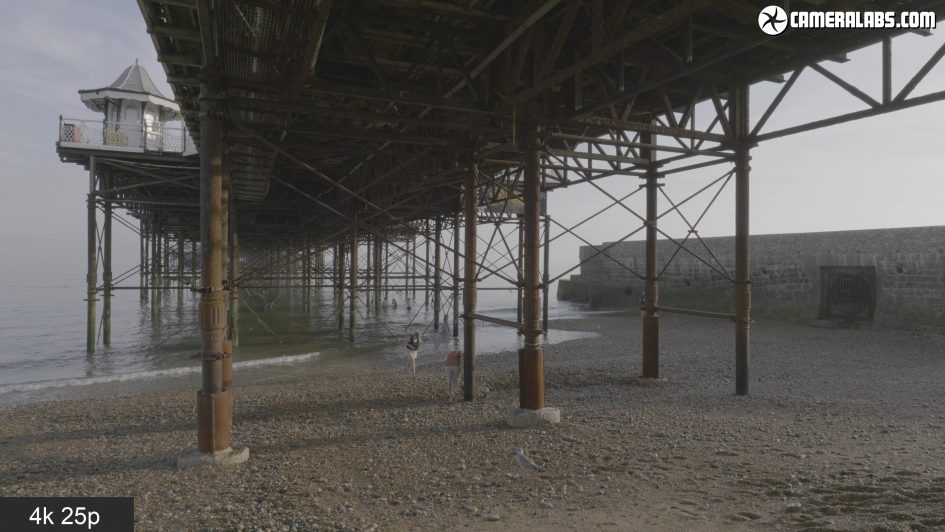 Above: Graders will appreciate full V-log being installed as standard, and you're watching an ungraded clip filmed in v-log right now. V-log records a very flat image that's ideal for grading and colour correction, while also sporting a high dynamic range for tonal adjustments, and on some earlier models is required a paid firmware update.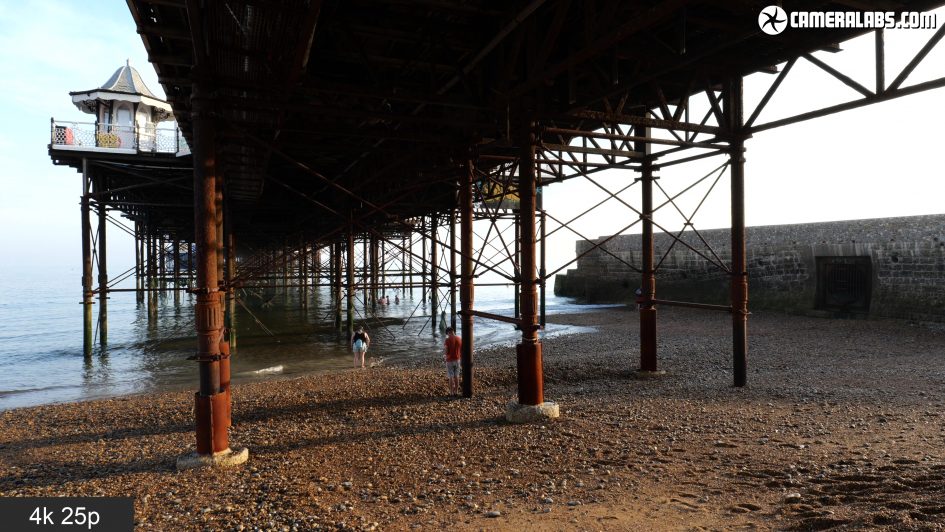 Above: For comparison here's the same scene recorded using the standard profile and notice how the higher contrast has irretrievably crushed most of the shadow detail under the pier.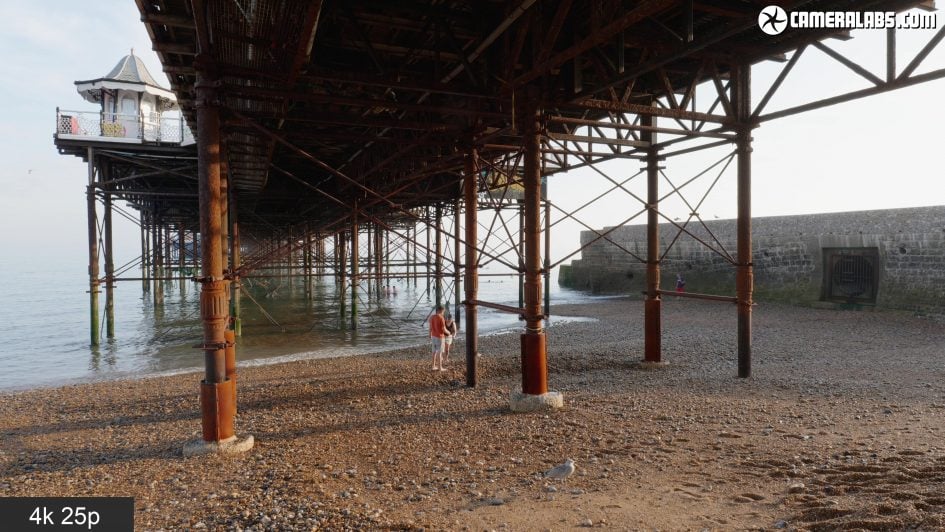 Above: If you fancy a broader range without the effort of grading, you can also try the HLG mode which in this example saved some of the shadow detail as well as bringing back some highlight tones in the sky.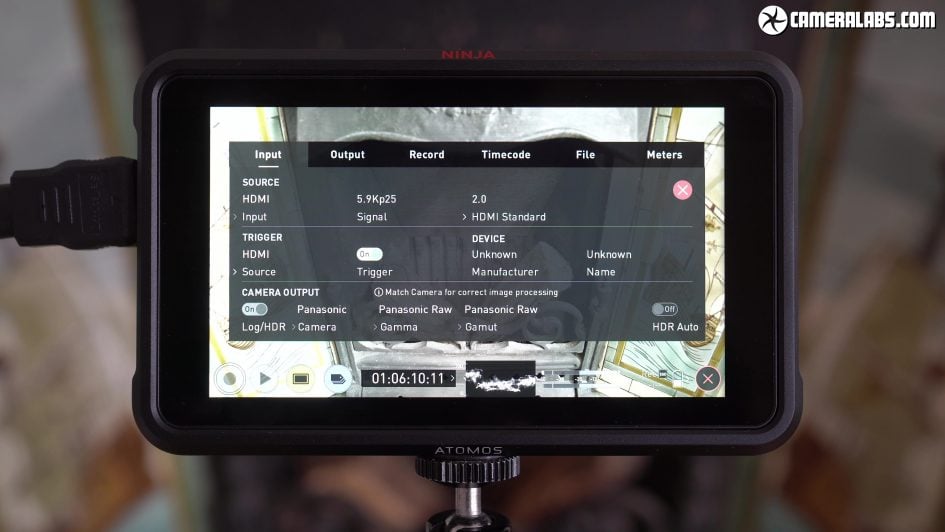 Above: There's no RAW video at the time I made this review, but Panasonic has promised it on a free firmware update by the end of 2020, and like the Lumix S1H seen here, it'll deliver 5.9k RAW over HDMI to an optional Atomos Ninja V that will record it in the Apple ProRes RAW format. I made a video all about this on the S1H if you'd like to know more. The update also supports 3.5k RAW for anamorphic, as well as equipping the camera with the wider Cinema 4k video format, a vector scope display, master pedestal adjustment, and the option to switch shutter speed for angle, all highly valuable features for pro videographers and again way beyond the facilities of other full-framers at this price. Check out my video review of the movie mode at the top of this page for a full report and lots of demonstrations!