Panasonic Lumix S1R review so far
The Panasonic Lumix S1R is a full-frame mirrorless camera with 47.3 Megapixels, built-in stabilisation and 4k 60p video. Announced in September 2018 and previewed in February 2019, it's one of two bodies launched by Panasonic as part of its L-mount alliance with Leica and Sigma. The L-mount alliance is a partnership between Leica, Panasonic and Sigma to develop cameras and lenses based on Leica's existing L-mount. Panasonic says it will continue to develop Lumix G Micro Four Thirds products alongside the new full-frame Lumix S system.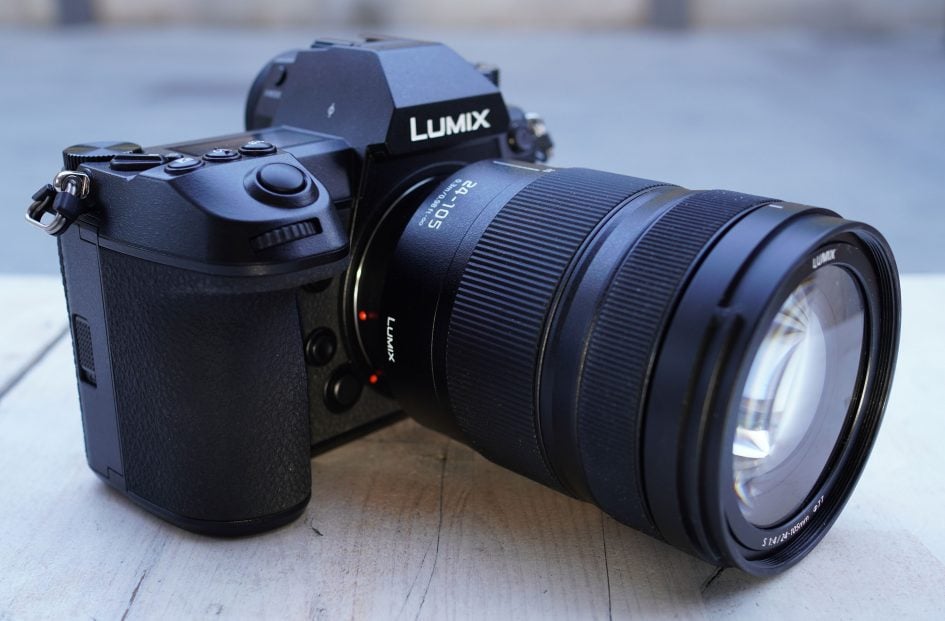 Like Sony and Nikon, Panasonic has launched two full-frame mirrorless cameras differentiated mostly by resolution: the S1 with 24.2 Megapixels and the S1R with 47.3 Megapixels, the latter just edging ahead of rivals on total pixel count. A high resolution mode shifts the sensor to deliver a composite image with up to 187 Megapixels on the S1R or 96 Megapixels on the S1. Like its Lumix G cameras, Panasonic is implementing a Dual IS system with up to 5.5 stops of compensation thanks to body-based stabilisation working alongside optical stabilisation in the lenses, and Lumix S continues to buck the trend of embedded phase-detect AF by employing a 100% contrast-based DFD autofocus system, although this works down to extremely low light levels of -6EV with a fast enough lens, and new AF software supports face, eye, body and even animal detection.

As with Lumix G, video is a key feature for Lumix S with both bodies supporting 4k 60p, making them the first full-frame cameras in their class to offer the capability; on the S1R you can record up to 30 minutes in 4k up to 30p or 15 minutes in 50 / 60p. The S1 allows longer recording times of 30 minutes in 4k up to 60p, or unlimited in 4k up to 30p, and will also support 10 bit recording internally up to 30p or externally up to 60p with an optional paid firmware update later in 2019. Note on the pre-production samples I tested, the S1 only allowed uncropped 4k up to 30p and applied an APSC crop at 50 and 60p. In contrast the pre-production S1R I tested allowed uncropped 4k up to 60p, although you could optionally apply an APSC or an even tighter 1:1 crop if desired for more reach. Cropping specs may change on final production models.

Completing the specifications, the Lumix S1 and S1R offer 100% weather-sealing, a 3.2in touchscreen that can flip up and down and out sideways like the Fujifilm XT3 (although sadly not facing forward), an industry-leading 5.76 million dot OLED viewfinder with 0.78x magnification, dual memory card slots (XQD and SD), 9fps bursts in single autofocus or 6fps with continuous autofocus, Panasonic's unique 4K and 6K Photo modes, 1080 video up to 180fps, and a fast flash sync speed of 1/320. Panasonic will have three native lenses at launch in early 2019: a 50mm f1.4, 24-105mm, and 70-200mm. Panasonic promised a further seven by the end of 2020, and with a Leica L-mount, the S1R and S1 will also be compatible with all of Leica's existing and future SL lenses; 42 L-mount lenses are promised by the end of 2020 from the alliance in total. I got the chance to try out a pre-production sample and made a video to demonstrate all the new features below.

Check prices on the Lumix S1R at B&H, Adorama, or Wex. Alternatively get yourself a copy of my In Camera book or treat me to a coffee! Thanks!