Panasonic Lumix S1 review
Verdict
The Lumix S bodies are Panasonic's most ambitious cameras to date, building upon everything they've learned from ten years of Lumix G. Over the past decade, Panasonic has steadily refined its mirrorless technologies, making substantial improvements in photo quality, stabilisation and ergonomics while remaining a leader in video. No-one, bar its Micro Four Thirds partner Olympus, has been dedicated to mirrorless for this long and it shows.
This evolution lead to the Lumix G9 and GH5 which delivered leading features for their size and price, but for some photographers and videographers, the comparatively small sensor of the Micro Four Thirds format continued to be a stumbling block. Lumix S now resolves that by combining ten years of Lumix G know-how with a full-frame sensor, and since Panasonic already has a bunch of smaller cameras available, they chose to go-large in all respects with this new line.
The result is a new camera that's arguably the most professional full-frame mirrorless to date, at least in traditional terms – there's certainly nothing else like it in design and features. Most obviously the Lumix S is unashamedly large, closer to a pro DSLR in sheer heft than its mirrorless rivals. Personally I prefer a more compact body, but many photographers at this price point prefer larger bodies with more to hold onto – and there's no arguing with the build quality which to me felt the toughest in its peer group. If you're going mirrorless for a smaller, lighter system, then the Lumix S is not for you, but if you love the heft and build of, say, a Canon 5D Mark IV and want it with the latest mirrorless tech, then you'll feel right at home here.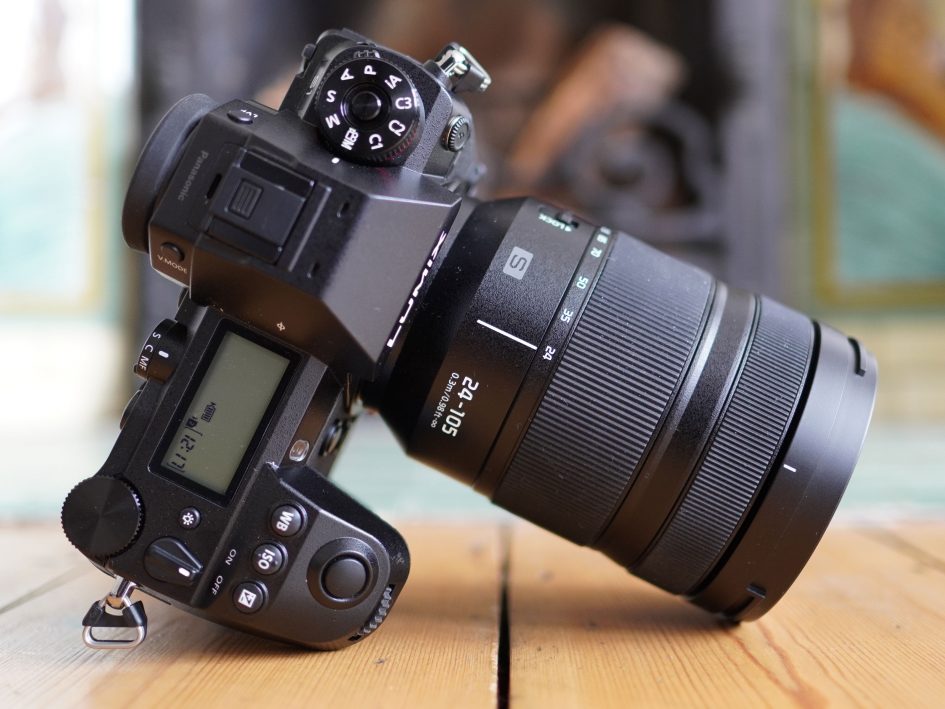 I also feel Panasonic's nailed the control system with tactile dials, buttons and levers exactly where you want them, and as someone who often shoots in low light or complete darkness, I really appreciated the night mode and backlit buttons – a feature not found on rival mirrorless cameras. Panasonic's also been careful not to get caught out on things like card slots – there are two as you'd expect at this level, and both operate at fast speeds, although some may have preferred them both to support SD to access cheaper cards. There's also full-size HDMI for more robust connections, as well as USB charging and power delivery over USB C. At each feature point where some cameras annoyingly fall down, the S seems to have it covered.
Then there's the viewfinder, the highest resolution to date, and while we'll inevitably see similar panels on future rivals, the Lumix S got there first and currently delivers the best view in this regard. As for the screen, I'm personally disappointed it won't face-forward for more easily filming pieces to camera, but I appreciate this only impacts a small number of video creators and the fact is the ability to quickly flip up, down or sideways will suit the vast majority of shooters.
In terms of focusing, the contrast-based DFD system is fast, accurate and can operate at very low light levels, while also avoiding the occasional banding that can affect embedded phase-detect systems in extreme conditions. The object recognition software is also very impressive, identifying multiple subjects, including animals, and tracking them successfully. In my tests so far with the 24-105mm, the S1 could certainly drive the focusing system fast enough to deliver a decent hit rate in bursts with modest action, but I still need to try it with faster subjects and longer lenses to really evaluate its action credentials. Right now though we know it won't shot faster than 6fps with continuous AF, so it can be beaten by several rivals, most notably the Sony A7 III – so if you need to shoot at 8fps or faster with continuous AF, look elsewhere.
The Lumix S bodies do have another trick up their sleeves though, inheriting the 4 and 6K Photo modes of recent Lumix G bodies, allowing them to capture JPEGs from short bursts of video at 30 or 60fps. Like those models you can capture a second of action prior to fully pushing the shutter, which is great for grabbing the moment a bird takes flight, or use post-focus to adjust the focusing position or even the depth of field after the event. We've seen it all before on Micro Four Thirds bodies, but never on full-frame. You can also directly dial-in shutter speeds as long as 60 seconds without reaching for Bulb.
As for the image quality itself, the Lumix S1 delivered some of the best-looking photos I've seen from a 24 Megapixel full-framer, and certainly banishes the concerns over noise and dynamic range that plagued Panasonic's smaller format. When comparing it directly against Sony's A7 III, I found greater detail retention across the ISO range, and the ability to deploy a sensor-shift high-res mode to resolve more detail is genuinely useful with appropriate subjects. Speaking of sensor shift, the built-in stabilisation also worked very well for both stills and video, maybe not as eerily smooth as the best Micro Four Thirds models, but still as good as any full-framer and sometimes better.
For a full report on the movie quality, check out my dedicated video all about it on the first page of this review, but for now I'll say the S1 is amongst the best in this regard, filming unlimited 4k up to 30p without a crop, or up to half an hour of 4k at 50 or 60p in the APSC format.
As for the system itself, Panasonic's decision to partner with an existing mount is a sensible one, allowing three companies at the time of filming to produce both lenses and bodies which should all be compatible. I suspect there won't be many Lumix S owners exploring the Leica catalogue, or vice versa, but the upcoming Sigma L-mount lenses are a different matter, with native versions of their superb ART primes providing more affordable options. Meanwhile Panasonic's three lenses at launch are a good start, and while the 70-200mm and 50mm are on the reassuringly expensive side of things, they are aiming high on quality, and again Sigma will have more affordable primes soon. I also love that Panasonic's included linear manual focusing options too.

So what's not to like? Well not a lot as it turns out. As you know there are cameras that'll shoot faster bursts with continuous AF if that's your thing, although there's other aspects where the S1's AF will actually outperform the competition. The camera may be powered by an enormous new battery, but in my tests the S1 proved to have a voracious appetite, eating through it faster than a Sony A7 III for day-to-day tasks. I also feel twin SD slots may have made more sense than mixing SD and XQD, but to be fair other bodies have mixed formats successfully. Then on a personal note I'd again have preferred a lighter body with a fully-articulated screen, but there's plenty of those cameras around and I know many people for whom Panasonic's design decisions will be preferable.

I think the biggest sticking point is price. In some regions, the A7 III costs $500 less and while the gap can be closer with the Z6 in other countries, the Lumix S1 remains the most expensive in its immediate peer group. But then it is offering something genuinely different. Rather than follow Sony or aim more at a mid-range like Canon, Panasonic has aimed unashamedly high with Lumix S, with arguably the toughest body sporting pro features like two fast card slots, backlit buttons and the best viewfinder, with decent stabilisation, unlimited 4k up to 30p and also 4k up to 60p with an APSC crop, not to mention including an interval timer, 6K Photo and great wireless. The photo quality is excellent and all-round handling feels very assured. As the first bodies in a new system, the Lumix S is a tremendous start, confidently taking on the best of its current rivals with a unique feature-set. I'm impressed by Panasonic's approach and look forward to putting the rest of the system through its paces.

Check prices on the Panasonic Lumix S1 at Amazon, B&H, Adorama or WEX! Alternatively get yourself a copy of my In Camera book or treat me to a coffee! Thanks!