Panasonic Lumix LX10 / LX15 review
Verdict
Panasonic's Lumix LX10 / LX15 is a welcome addition to the increasingly busy premium compact market. Like most rivals it employs the popular Sony 1in / 20 Megapixel sensor to deliver highly detailed images in decent light and a comfortable step-up in low-light quality over a smartphone, pocket super-zoom or budget point-and-shoot. With most cameras in this category delivering similar photo quality, the choice between them boils down to the lens, movie mode and general features, and I'm pleased to report the LX10 / LX15 offers something genuinely different not just in the Lumix range but against the competition too.
The 3x / 24-72mm zoom range may be normal for a camera of its size, but the Leica optics enjoy a brighter than average f1.4 aperture at the wide-end, allowing you to shoot with sensitivities two thirds of a stop slower than rival f1.8 lenses under the same conditions. It may only be available when the lens is zoomed wide to 24mm, but if you're shooting stills or video it's a nice bonus, and Panasonic has even equipped the lens with a dedicated aperture ring that clicks satisfyingly as you turn it. Better still though is the close focusing distance of 3cm when the lens is set to 24mm, allowing you to get almost twice as close to subjects as most of its rivals. Couple the closer focusing with the brighter aperture and you'll be enjoying much more dramatic macro shots.
As a Lumix body it's no surprise to find 4K video here, but it's important to note the LX10 / LX15 can record longer 15 minute clips than the five minute 4K clips of the Sony RX100 IV and V. Even if you have no interest in filming 4K video though, Panasonic exploits it in an ever-growing array of cunning 4K Photo modes which not only let you effectively capture 8 Megapixel stills at 30fps and refocus the image after the event, but now also let you focus-stack in-camera to adjust the subsequent depth-of-field. Very clever stuff and you'll find lots of examples in my in-depth review section.
In the video below, Doug Kaye and I discuss everything you need to know about the Panasonic Lumix LX10 / LX15! I also have an audio podcast of this discussion below, or you can subscribe to the Cameralabs Podcast at iTunes.

Check prices at Amazon, B&H, Adorama, or . Alternatively get yourself a copy of my In Camera book or treat me to a coffee! Thanks!

Completing the specs are a tilting touch-screen with a user interface that makes great use of taps, pinches and swipes, 1080p video up to 120fps for slow motion, timelapse movies, panoramic stitching, a silent electronic shutter option up to 1/16000, USB charging and built-in Wifi for wireless sharing of images, geo-tagging and remote control.
It all adds up to a very usable premium compact but the LX10 / LX15 isn't without its limitations. Most obviously it doesn't have a built-in viewfinder. To be fair neither does any other 1in compact at this price point, but it could still be an issue for many. While I do love the built-in EVF on the Sony RX100 III, IV and V though, I honestly didn't miss it that much when testing the LX10 / LX15. But it's a personal choice, and if you do decide to go for one, you'll be increasing your budget as a consequence.
Interestingly what I did miss on several occasions though was the LX10 / LX15's screen not tilting downwards. Sure it'll do the more important tilt upwards for waist-level shooting or selfies, but I did miss the ability to tilt it down for easier framing at high angles. Particularly strange considering Sony and Canon offer it. At least the Lumix screen is touch-sensitive though, unlike the Sony's which continue to inexplicably avoid it.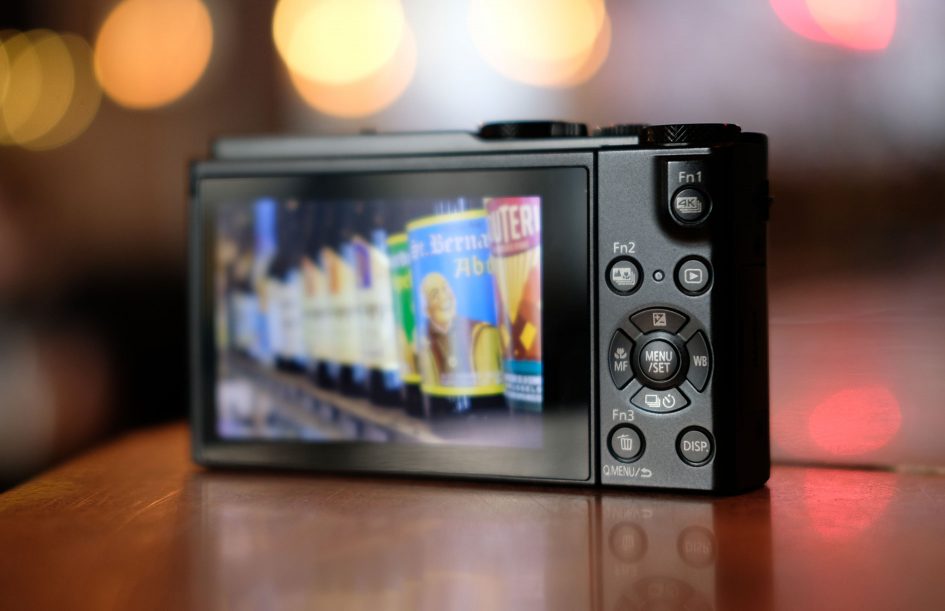 Another feature annoyingly absent is a built-in ND filter to soak up excess light. Panasonic may have solved the issue of shooting stills in bright conditions with an open aperture by offering super-fast electronic shutter speeds, but these don't help when you're wanting to use motion-friendly shutters for video or extend exposures during dawn or dusk.
With all these pros and cons in mind, it's time to make some brief comparisons with the competition. There's a lot of rivals, so I'm concentrating on those with similar lens ranges.
Panasonic Lumix LX10 / LX15 vs Canon PowerShot G7X Mark II
The closest rival to the Lumix LX10 / LX15 is Canon's PowerShot G7X Mark II and at first glance the Panasonic appears to hold most of the cards. The LX10 / LX15 has a brighter aperture and a closer focusing distance when zoomed-wide. It can film 4K up to 30p and 1080 up to 120p when the Canon can only do 1080 / 60p and lacks 4K altogether. The Canon most obviously fights back with a longer 100mm telephoto reach versus 72mm which in my tests really did deliver nicer-looking portraits. Its screen tilts down as well as up, there's a built-in ND filter that's great for video and long exposures, and a generous grip that, to me, feels the best of the bunch. I feel the 4K video and especially the 4K Photo modes, coupled with the brighter lens and closer focusing will seal the deal for many towards the Lumix, but when shooting with both side-by-side, I was impressed by the general handling of the G7X II and the presence of some features which were absent on the Panasonic.
See my Canon PowerShot G7X Mark II review for more details.
Panasonic Lumix LX10 / LX15 vs Sony RX100 Mark III, IV and V
Sony pioneered the 1in premium compact market and continues to plough-ahead with its RX100 series, now in its fifth generation. The latest three Sonys are tougher to weigh-up as they boast the killer feature of a decent built-in viewfinder in a similarly-sized body. You can get this on the RX100 III at roughly the same price as the LX10 / LX15, but miss out on the 4K video, 1080p slow motion and the brighter lens with closer focusing at 24mm. Or you can get the viewfinder plus 4K video (without a crop but limited to five minute clips) and a wealth of slow motion modes on the RX100 IV, but at a higher price than the LX10 / LX15 and still miss out on the f1.4 and 3cm focusing. Or you could spend even more on the latest Mark V and not only get the viewfinder, uncropped (but five minute) 4K movies and slow motion video, but also embedded phase-detect autofocus and 24fps continuous shooting, making it the ultimate premium compact so far for shooting action.
There's more though. All three Sony's feature built-in ND filters and screens that also tilt down as well as up, and the latest pair can also be powered by USB as well as charged over this connection; Sony also offers an array of downloadable apps to extend the capabilities. But conversely the Lumix LX10 / LX15 boasts a touch-screen and its innovative 4K Photo modes which let you adjust the focus and depth of field after the event.
There's a lot to weigh-up, but while Sony's latest models are technically more impressive than ever, they are steadily pushing the price point higher while frustratingly still not offering a touch-screen. See my Sony RX100 III review and Sony RX100 IV review and Sony RX100 V review for more details.
Panasonic Lumix LX10 / LX15 vs Lumix LX100
Before concluding, there's one more model I'd like to mention and that's the Lumix LX100, an older camera that's still available and now at roughly the same price as the LX10 / LX15 in some regions. The LX100 was originally pitched higher and still boasts a number of advantages over the LX10 / LX15. Most notably a built-in viewfinder (albeit using a 16:9 field-sequential panel which I'm personally not fond of), and a larger Four Thirds sensor (which while not using the full area, allows you to shoot in different shapes without cropping the field of view or losing too much resolution). The effective resolution is 12 Megapixels, but the quality comparable.
The LX100 may be an older model but was one of the first to support 4K video and 4K Photo, although the annoying absence of a touch-screen means it lacks the latest Post Focus and Focus Stacking modes. The screen doesn't tilt either, but on the plus side, the crop for 4K movies and 4K photos is less severe than the LX10 / LX15, giving you some decent wide coverage. The LX100 is larger but more comfortable to hold with its generous, textured grip.
In its favour, the LX10 / LX15 is smaller, has a screen that tilts and is touch-sensitive, supports the latest 4K Photo modes like Post Focus and Focus Stacking, and has a brighter lens when zoomed wide to 24mm. One model isn't better than the other overall, so it's a case of weighing-up which benefits are most important to you.
Personally I continue to be frustrated by the lack of a tilting touchscreen on the LX100 but if this doesn't bother you, it's an interesting alternative especially at discounted prices. One to keep an eye on. See my Lumix LX100 review for more details.
Panasonic Lumix LX0 / LX15 final verdict
Panasonic's Lumix LX10 / LX15 is a highly compelling premium compact which bravely goes head-to-head with the big hitters from Sony and Canon. Rather than producing a me-too version, the LX10 / LX15 features a number of unique differences which stand out from the crowd: a 24-72mm f1.4-2.8 lens that's brighter and focuses closer than most when zoomed-wide, generous 15 minute 4K movie clips, and Panasonic's wealth of clever 4K Photo modes which now let you refocus and adjust the depth-of-field after the event. You're also getting a touchscreen that tilts up (albeit not down), 1080 video at 120p for slow motion, decent Wifi features and USB charging. There no built-in viewfinder, nor ND filter, but for the price this won't bother most buyers. Ultimately the LX10 / LX15 is a welcome addition to the increasingly crowded premium compact market and one I can highly recommend.
Good points
Flexible 24-72mm zoom with bright f1.4-2.8 aperture.
Very close 3cm minimum focusing distance at 24mm.
Tilting touch-screen with great user interface.
4K Movies with 15 minute clips and 4K Photo modes.
Bad points
No built-in viewfinder. Screen tilts up but not down.
Slippery front surface; textured grip preferred.
4K movies and 4K photos crop the coverage to 36-108mm.
No built-in ND filter nor Auto ISO in Manual for movies.

Check prices at Amazon, B&H, Adorama, or . Alternatively get yourself a copy of my In Camera book or treat me to a coffee! Thanks!