Panasonic Lumix GX9 review - Verdict
Verdict
Panasonic's Lumix GX9 is a feature-packed mid-range mirrorless camera, featuring a 20 Megapixel Four Thirds sensor that's stabilized within the body, an electronic viewfinder and touchscreen, both of which can tilt vertically, 9fps bursts with continuous autofocus, 4k video with Panasonic's array of clever 4k Photo modes, and Wifi complemented by Bluetooth for easy location tagging and seamless connections.
Before going any further, it's worth clearing up where the GX9 fits into the Lumix range. Numerically it may follow the GX8, but it's actually pitched a little lower with a simpler feature-set and a smaller body that's more in-line with the earlier GX7. Feature-wise compared to the GX8, the GX9 loses the weather-sealed body, fully-articulated screen, microphone input and large OLED viewfinder panel, although the sensor now delivers crisper output (thanks to the removal of the low pass filter) and there's a popup flash too. Overall, the GX9 is closer to the Lumix GX80 / GX85 and should be considered as a replacement for that model adding a higher resolution sensor, tilting viewfinder, Bluetooth and a selection of mode enhancements.
The GX9's 20 Megapixel sensor, inherited from the GX8 but deployed here for the first time without a low pass filter, delivers crisp and detailed results that are very satisfying; you can see a wide variety in my samples page and compare the RAW and JPEG noise levels throughout the ISO range on my quality page. I think many people are cautious about Micro Four Thirds in terms of quality, but I have no complaints here and the GX9 keeps up with rival 24 Megapixel APSC models at all but the highest sensitivities. Panasonic's image processing is also getting better with more natural-looking output, and I enjoyed the new monochrome options.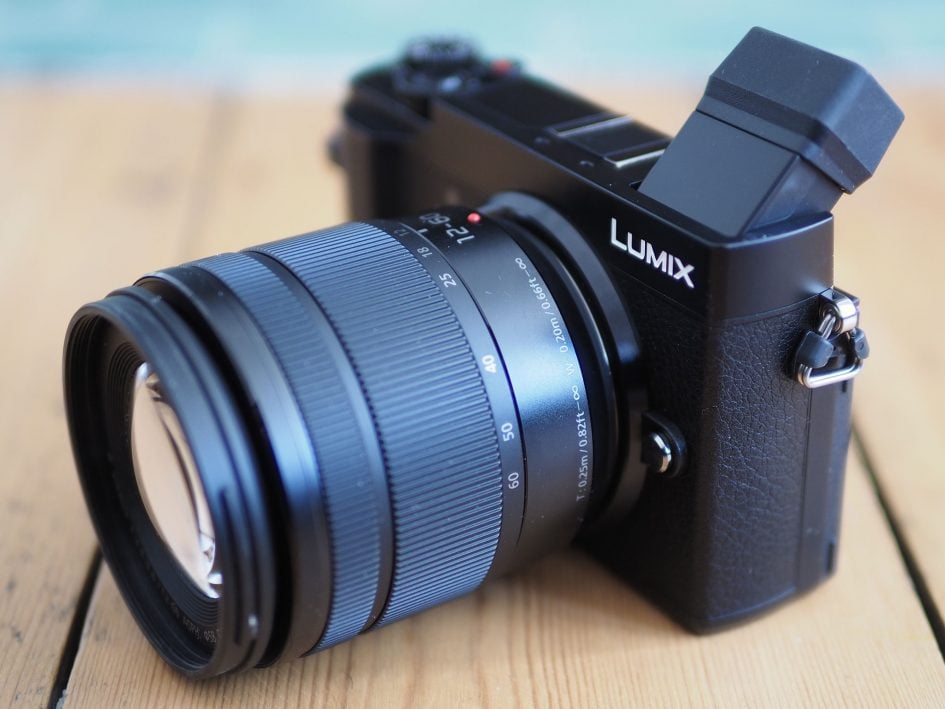 Like all Panasonic Lumix G cameras to date, the GX9 continues to employ a contrast-based autofocus system which is fast and accurate even in very low light in single autofocus modes. Switch it to continuous AF and the GX9 can do a good job at refocusing on predictable subjects approaching or receding at its top speed of 9fps, although there's no live feedback unless you drop the speed to 6fps. You'll need live feedback too if you want to follow unpredictable motion, although in my tests I found the GX9 was less confident with subjects like birds in flight. If you shoot a lot of unpredictable action, I'd recommend a camera with a phase-detect or hybrid AF system, like the Sony A6300, but for everything else, the GX9 performed well.
Video is always a highlight on Lumix cameras and the GX9's no different, capturing good-looking 1080 and 4k footage. You have full control over exposure and focus, and the v1.1 firmware update equips it with the flat Cinelike D profile. Like the GX8 before it, the GX9 imposes a crop of 1.26x when filming 4k which is noticeably tighter than the 1.1x crop of 16 Megapixel Lumix models like the GX80 / GX85; note the higher-end Lumix G9 and GH5(s) don't crop 4k at all, but they're much more expensive. Serious videographers will be disappointed not to find a microphone input, while vloggers will be shooting blind with a screen that doesn't flip to face them; but if you don't need a mic input or a screen that faces the subject, the video quality and control is very good.
The wireless implementation is also one of the best around, with Bluetooth used very effectively to drive the Wifi access. Once the GX9's paired with your phone, you can use the app to connect to copy images or offer full remote control with nothing more than a tap – no passwords, networks or fuss to worry about. Better still, the Bluetooth connection can be used to automatically tag images with your location as you shoot, without having to fire-up a Wifi connection or sync a log; Panasonic also lets you fire the shutter remotely from the app with a simple but responsive control over Bluetooth, again avoiding the need for Wifi.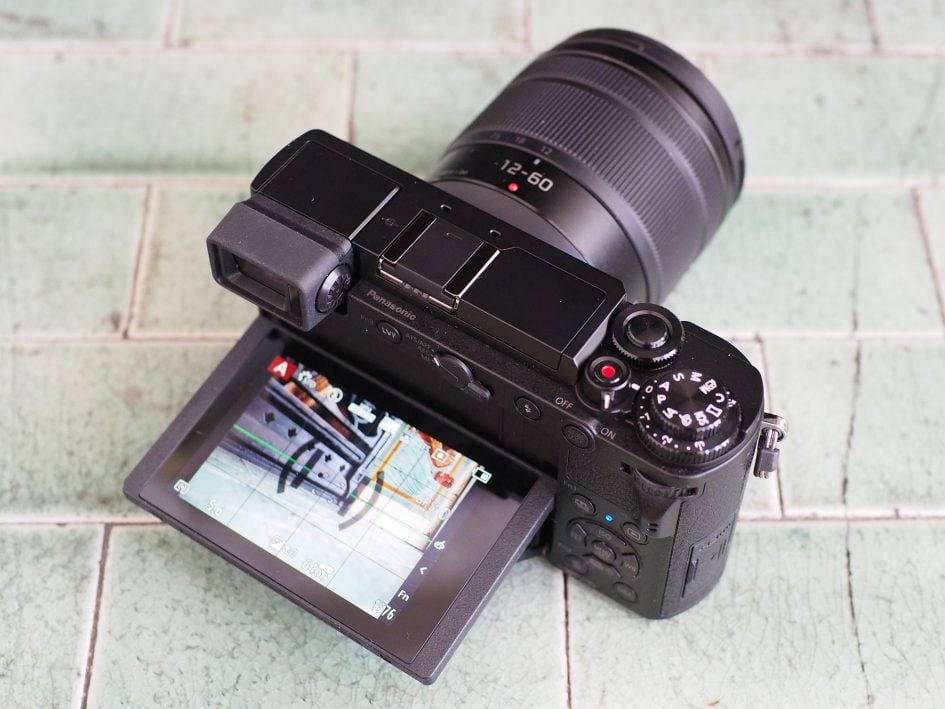 Again like earlier Panasonic cameras, it's the extra modes and features that are the icing on the cake. You get timelapse and stop motion video, panorama stitching, wide exposure and focus bracketing, and best of all, the 4k Photo modes which let you extract 8 Megapixel JPEGs from short video clips, allowing you to refocus after the event or find the decisive moment even if it occurred a split second before shooting.

What's not to like? I've already mentioned the lack of a microphone input and the fact vloggers or anyone who shoots portrait orientation at high or low angles would have preferred a fully-articulated screen. But for me the biggest issue is the electronic viewfinder – not the fact I rarely found an occasion to exploit its unique vertical tilt, but the actual panel used within. First, like the GX80 / GX85 and GX7, it's 16:9 in shape which may allow video to fill the view, but wastes space when working with photos in the native 4:3 shape; these are displayed with thick bars down the left and right sides, reducing the overall size and detail. But worse is the panel technology itself which employs a field-sequential display that to my eyes suffers from rainbow colour artefacts when I glance across it. It's important to say some people aren't susceptible to this at all, and I showed the GX9 to several who didn't notice it. But then there were others including myself for whom the viewfinder picture was less than optimal, especially when panning or reading text. I'd strongly recommend evaluating it (or a GX80 / GX85 or GX7) in person first to see if it bothers you.

Before my final verdict, there's a few key alternatives to consider.

Panasonic Lumix GX9 vs Lumix GX80 / GX85

The Lumix GX9 is arguably the successor to the GX80 / GX85 and while owners of the older model won't see any major reasons to upgrade, the GX80 / GX85 remains a cheaper alternative that potential GX9 buyers may want to consider.

If you go for the GX9 you'll get four extra Megapixels (20 vs 16), although both deliver crisp results thanks to their lack of low pass filters. Both share the same 16:9 shaped field-sequential viewfinders, but the GX9's can tilt vertically. The GX9 has a dedicated exposure compensation dial that's quicker to use, and also sports Bluetooth for much easier location tagging and a simple but responsive remote option. The GX9 also features enhanced monochrome options and the new sequence composition mode. It's not all one-sided though: the 16 Megapixel sensor of the GX80 / GX85 means 4k video employs a milder crop of 1.1x versus 1.26x on the GX9.

An additional factor to consider is the kit zoom. The GX80 / GX85 is generally bundled with the cheaper Lumix G 12-32mm, while the GX9 is more commonly bundled with the Lumix G 12-60mm, a higher-end option with almost twice the reach and better quality. This lens inevitably makes the GX9 kits look a lot more expensive than the GX80 / GX85, but you are getting a superior lens in the bundle. If you want the 12-60mm lens, I'd suggest the GX9, but if you desire the smallest and most portable kit, then going for the GX80 / GX85 with 12-32mm will save you quite a lot of money without losing too many features. See my Lumix GX80 / GX85 review for more details.

Panasonic Lumix GX9 vs Lumix G80 / G85

Another model in the Lumix series to consider is the Lumix G80 / G85 which costs roughly the same as the GX9 when both are bundled with the same Lumix G 12-60mm kit zoom. The G80 / G85 is styled like a mini DSLR with a central viewfinder hump, as oppose to the flat-topped rangefinder style of the GX9; you may or may not have a preference.

In its favour, the GX9 gives you four extra Megapixels (20 vs 16) and dispenses with the low pass filter for even crisper results. The viewfinder head tilts and there's Bluetooth for easier location tagging and Wifi initiations. The GX9 also gives you USB charging and Auto ISO in Manual mode, both of which are annoyingly absent on the G80 / G85. But in its favour, the G80 / G85 offers a fully-articulated screen, a microphone input and a weather sealed body, along with a less severe crop in 4k and a much nicer OLED viewfinder panel.

If you mostly shoot stills and don't mind the field-sequential viewfinder panel, then I'd say the GX9 is the better bet, but if you mostly shoot video (especially vlogs) you'll prefer the G80 / G85 for its mic input, fully-articulated screen and milder 4k crop. See my Lumix G80 / G85 review for more details.

Also consider

The mid-range mirrorless market is packed with compelling options to consider, most of which boast larger and slightly more detailed 24 Megapixel APSC sensors, not to mention AF systems that may include phase-detect technology for more confident tracking. If you're into action, I'd go for the Sony A6300 with its better autofocus and faster bursts, although beware the 16-50mm kit zoom lets it down; see my Sony A6300 review for more details.

If you're into stills, the Fujifilm XT20 boasts arguably the best in-camera processing of the pack and couples it with retro styling, and for only slightly more it'll come with the excellent XF 18-55mm zoom; see my Fujifilm XT20 review for more details. If you like Fujifilm's approach but prefer a flat-topped style, check out the XE3 which shares a similar feature-set to the XT20; see my Fujifilm XE3 review for more details.

If your budget is tighter, the attractively-styled Olympus OMD EM10 Mark III represents good value if you don't shoot action and are happy with 16 Megapixels; see my Olympus OMD EM10 III review for more details. Also at a lower price point, there's Canon's EOS 200D / Rebel SL2 DSLR which may not have 4k, but sports a fully-articulated screen, mic input and fabulous movie autofocus, making it one of the best choices for vloggers or indeed anyone on a tighter budget; see my Canon EOS 200D Rebel SL2 review for more details.

Panasonic Lumix GX9 final verdict

Panasonic's Lumix GX9 is a feature-packed mid-range mirrorless camera, featuring a 20 Megapixel Four Thirds sensor that's stabilized within the body, an electronic viewfinder and touchscreen, both of which can tilt vertically, 9fps bursts with continuous autofocus, 4k video with Panasonic's array of clever 4k Photo modes, and Wifi complemented by Bluetooth for easy location tagging and seamless connections. Vloggers will wish it had a microphone input and a screen that flipped-forward to face them, while serious action shooters will be better-served by a camera with a phase-detect hybrid AF system; I'd also personally like it a lot more if Panasonic had used an OLED viewfinder panel which, to my eyes, delivers a steadier image. But there's no denying the appeal of the broad feature-set which covers most bases, image quality that can compete with rivals with bigger sensors, and the chance to use the largest catalogue of native mirrorless lenses. A recommended all-rounder.

Check prices on the Panasonic Lumix GX9 at Amazon, B&H, Adorama, or Wex. Alternatively get yourself a copy of my In Camera book or treat me to a coffee! Thanks!