Panasonic Lumix GX800 / GX850 review - Verdict
Verdict
The Panasonic Lumix GX800 / GX850 is an entry-level mirrorless camera that's aimed at anyone upgrading from a phone or compact camera. It features a 16 Megapixel Micro Four Thirds sensor, interchangeable lenses, the ability to record Full HD or 4k video, has built-in Wifi and a touchscreen that flips up by 180 degrees for selfies or vlogging – and like all recent Lumix cameras, the GX800 / GX850 boasts Panasonic's array of cunning 4k Photo modes which let you shoot 8 Megapixel stills at 30fps and refocus images after the event. On the downside, there's no electronic viewfinder and the use of smaller Micro SD cards is a little unusual. More importantly, if you're unlikely to ever fit a different lens from the kit zoom, you could enjoy similar quality and features from one of the many premium compacts around with 1in sensors – such as Panasonic's own LX10 / LX15 – and these will also better squeeze into a pocket. But if you are wanting to swap lenses at some point, the Lumix GX800 / GX850 represents one of the most affordable points of entry around and comes recommended.
Good points
Compact, lightweight body with swappable lenses.
Crisp, detailed and relatively low noise 16 Megapixel photos.
4K movies and 4K Photo modes with post focus adjustments.
Touchscreen tilts up to face subject for selfies and vlogging.
Fast single autofocus that works in very low light.
Bad points
Screen doesn't tilt down and becomes hard to view in bright conditions.
No built-in viewfinder (but not surprising at this price).
Optical stabilisation on kit zoom not as effective as other lenses.
No mic input (again not surprising, but great for vloggers).
Micro SD slot won't work with any full size SD cards you might have.
Panasonic Lumix GX800 / GX850 vs Sony RX100 series
If you're looking for a camera with a step-up in quality and control over a phone, but don't necessarily need to swap lenses, then consider one of the many premium compacts around. Their 1in sensors may be smaller than the GX800 / GX850's Micro Four Thirds sensor, but the compensate for it with zooms that are typically two stops brighter – the end result is similar quality and a similar potential for shallow depth-of-field under the same conditions. The benefit of a premium compact though is being able to better fit into a pocket. If you fancy a similar feature-set to the GX800 / GX850, consider the Panasonic Lumix LX10 / LX15 or if you're willing to sacrifice 4k video, how about the Canon G7X Mark II. If you're happy to spend a little more to gain a viewfinder, consider the Sony RX100 Mark III. If you want 4k and a viewfinder in a pocket body, go for the Sony RX100 Mark IV and if you want to add confident continuous autofocus too, consider the Sony RX100 Mark V. All links lead to my reviews of each model.
Panasonic Lumix GX800 / GX850 vs Canon or Nikon budget DSLR
If you want the most affordable camera with a large sensor, interchangeable lenses and a built-in viewfinder, you still can't beat a budget DSLR. Canon and Nikon's entry-level bodies typically undercut the Lumix GX800 / GX850 on price while also boasting larger APSC sensors and optical viewfinders. As traditional DSLRs though they are comfortably larger and heavier, while also missing out on 4K movies and all the frills of the latest Lumix bodies. But for sheer value, they're hard to beat for beginners wanting to advance their photography. See my Canon EOS 1300D / Rebel T6 review and Nikon D3400 review.
Panasonic Lumix GX800 / GX850 vs Lumix GX80 / GX85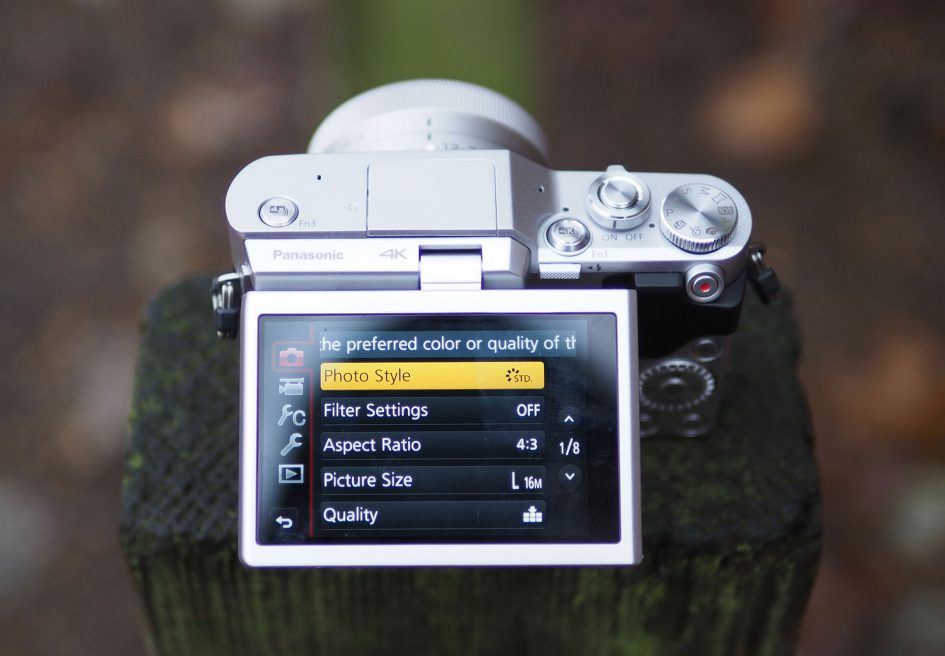 If you love Panasonic's approach to 4K Photo, but wished the GX800 / GX850 had a built-in viewfinder, then consider the next model up in the range. The higher-end GX80 / GX85 shares the same sensor and movie quality, and much the same shooting features too, but adds a built-in electronic viewfinder and usefully, built-in stabilisation too that works with any lens you attach. That said, I'm personally not fond of the viewfinder panel Panasonic used in the GX80 / GX85 and you also miss out on a screen that can angle all the way forward to face you. For me the better upgrade is to reach further to the Lumix G80 / G85 which sports a far nicer viewfinder as well as a fully-articulated screen that can flip and twist to any angle; it's also supplied with a better 12-60mm kit zoom, although all of these further add to the price, not to mention the overall size. See my Lumix GX80 / GX85 review and Lumix G80 / G85 review for more details. Since both of these cameras also share the same sensor and processor as the GX800 / GX850, their image quality pages also apply (given the same lenses). So if you'd like an in-depth look at image quality, check out the quality pages of those reviews.




Check prices at Amazon, B&H, Adorama, or Wex. Alternatively get yourself a copy of my In Camera book or treat me to a coffee! Thanks!