Panasonic Lumix GX80 GX85 review
Verdict
The Lumix GX80, or GX85 as it's known in North America, is one of Panasonic's most compelling interchangeable lens cameras to date. It takes the fairly compact flat-topped body of the earlier GX7 and packs it with a wealth of innovation and upgrades. The highlight is the built-in stabilisation which, with the right lenses, matches the performance of Olympus bodies, and in some regards edges ahead. Suffice it to say as a Lumix body, the GX80 / GX85 also sports a touchscreen and 4k video that's exploited in a multitude of cunning modes to shoot still photos at 30fps or adjust the focus after the event by simply tapping the area you'd like to be sharp.
But what makes the GX80 / GX85 a much more rounded camera overall are the many upgrades. Yes the sensor remains 16 Megapixels and is probably the same used in the GX7 and G7, but by removing the low-pass filter, the images are genuinely a little crisper than before and to my eyes resolve essentially the same real-life detail as the 20 Megapixel GX8. I also loved the new high-contrast L Monochrome style, while the ability to focus bracket will be appreciated by macro shooters who like to stack images (in software later) to increase the depth-of-field.
There's still no phase-detect autofocus, but Panasonic's DFD profiling and tracking has steadily improved to a point where you can capture action better than any Micro Four Thirds camera I've tested to date – sure it's still not as confident as the Sony A6000 / A6300 in this regard, but I still enjoyed a decent hit rate at 6fps even with the Leica 100-400mm at 400mm; plus the single AF remains one of the fastest around while also working in very low light. Annoyingly there's no microphone input nor an official cable release accessory, but for the first time on a Lumix G body you can charge the battery internally over USB and the built-in Wifi still supports powerful remote control facilities.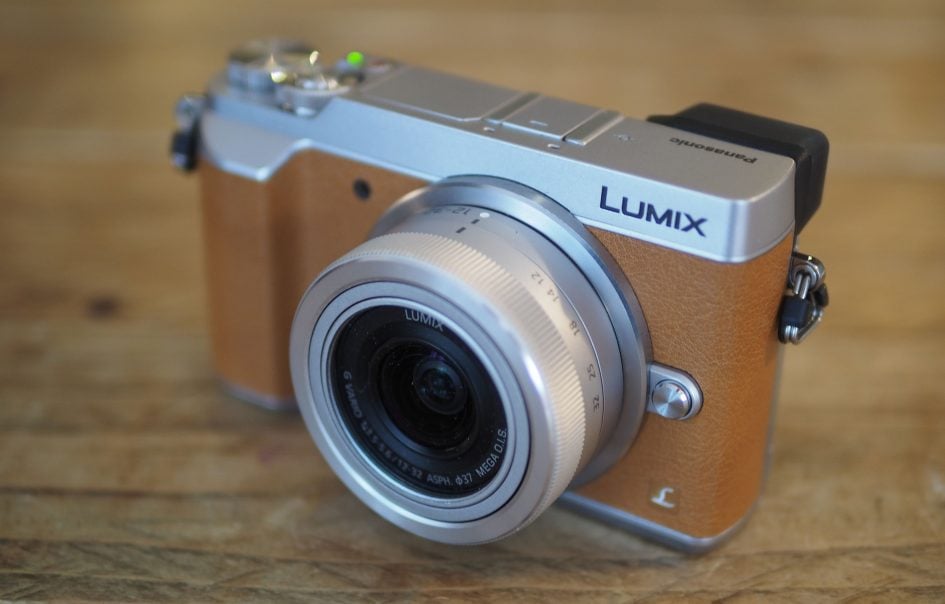 Returning to the stabilisation, I'd like to qualify my earlier statement. Fit the GX80 / GX85 with an unstabilised lens, whether native or adapted, and you'll enjoy around three stops of compensation – not as good as the four to five you'll get with an Olympus body, but still very respectable and an improvement over the GX8 and GX7. Fit a Lumix G lens that's compatible with Dual-IS though and the body will exploit the optical stabilisation in addition to the body-based stabilisation to deliver four to five stops of compensation, roughly matching the Olympus bodies in practice.
As focal lengths increase to long telephotos, you'll begin to see the benefit of Dual-IS more over the Olympus body-based stabilisation alone, although it does depend on your particular type of camera-shake as I found the OMD EM1 could still stabilise the Leica 100-400mm at 400mm with surprising effectiveness. But importantly it was no better than the GX80 / GX85 which is a first for Panasonic's stabilisation.
What's unique about the built-in IS of the GX80 / GX85 though is it keeps working with the full five axes when filming video, even 4k video. Olympus may also offer body-based stabilisation for video on its latest bodies, but still only films in 1080p, so Panasonic joins Sony's full-framers in an exclusive club of bodies that can shoot 4k with built-in IS. But I found the stabilisation was much better on the GX80 / GX85 than even the top-end Sony A7r II and A7s II and it is of course considerably cheaper. Sure the Sony's sport full-frame sensors with much better low-light performance, but if you can avoid four-digit ISOs, you could be very happy with the Lumix. I've gone into much more detail in my main review.
It's not all good news though. As I mentioned earlier, there's no microphone input and sadly the GX80 / GX85 also lacks CineLike D and V profiles both of which make it less attractive to videographers. Instead they'll have to use external audio recorders and experiment with the Natural profile for subsequent grading.
For me, the biggest issue is the viewfinder, inherited from the GX7 and therefore employing a 16:9 shaped field-sequential panel. The 16:9 shape may be great for movies which fill the panel, but becomes significantly cropped when shooting in the native 4:3 shape for photos; as such the viewfinder image is smaller and less detailed than rival models. I also find the field-sequential panel technology can flicker as you glance across it or pan over fine details, something that's avoided on OLED panels, again deployed by most of its rivals. Now I should point out that some people aren't bothered at all by the viewfinder shape or technology, but it was an issue for me – I'd much sooner have a 4:3 shaped OLED panel.
Speaking of rival cameras, there's certainly a few models to consider in the mid-range category. If you mostly shoot action, you'll find the autofocus more confident and the bursts faster on Sony's A6000 and even more so on its successor the A6300 which additionally boasts 4k video and weather-sealing. Both share the flat-topped styling and also sport larger and higher resolution sensors, but neither have built-in stabilisation nor Panasonic's clever 4k Photo modes, and their screens are 16:9 shaped and not touch-sensitive either. While the older A6000 is a little cheaper than the Lumix GX80 / GX85, the A6300 is comfortably more expensive. See my Sony A6000 review and Sony A6300 review for more details.
If you love the flat-top body in a more retro-style with built-in stabilisation, you should also consider the Olympus PEN F which of course also shares the Micro Four Thirds standard. If you mostly shoot with unstabilised or adapted lenses, you'll find the stabilisation more effective on the Olympus, its screen is fully-articulated and its viewfinder sports a 4:3 shaped OLED panel. It doesn't shoot 4k video – and therefore also lacks the 4k Photo modes – and it's also considerably more expensive than the Lumix GX80 / GX85, but some will find its composition preferable and style irresistible. Another flat-topper to consider is Fujifilm's XE2s which may lack 4k video and built-in IS, but has a better viewfinder and access to Fujifilm's lovely image quality.
If you like DSLR-styled viewfinder humps and don't need 4k video, then I'd also suggest the Olympus OMD EM10 II, Fujifilm XT10 and Panasonic Lumix G7 – I've linked to each review. All are well-established models offering a great deal of features, control and quality for the money, although of the three, only the Olympus has built-in stabilisation and only the G7 has 4k video.
It's interesting to look at the Lumix G7 once more as it may not feature built-in stabilisation, but it does have an OLED viewfinder, fully-articulated screen and, for me, superior physical controls with dedicated AF mode collar and drive dial, not to mention 4k movies with a microphone input and CineLike profiles. I would love to see a successor to the G7 – and the GH4 – with the GX80 / GX85's built-in IS, superior autofocus, L-Monochrome style, USB charging and focus bracketing. Finger's crossed! (Update – they did one! It's the Lumix G80 / G85!)
Panasonic Lumix GX80 / GX85 final verdict
At first glance the Lumix GX80 / GX85 may look like a repackaging of Panasonic's camera technologies in a flat-topped body at a mid-range price, but it offers a number of compelling upgrades over previous models.
I've gone into detail above and especially in the main review, but with more effective built-in stabilisation, crisper photos, better continuous autofocus, a new high contrast black and white option, focus bracketing and USB charging, it becomes a more rounded and attractive camera overall.
Lest we forget, you're also inheriting a tilting touchscreen, a fair viewfinder, decent Wifi control and a wealth of cunning modes that exploit 4k video to capture still photos at 30fps or refocus an image after the event by simply tapping the desired area on-screen. Yes, they're all just clever media players for 4k video clips, but the speed, resolution and user interface makes it easy to capture images that other cameras would struggle with of find impossible.
Personally I'm not fond of the flat-top style and I'm no fan of the 16:9 shaped viewfinder that shimmers a little to my eyes, and for a camera that's so strong at video it's a shame not to have a microphone input nor the flat CineLike profiles. Long exposure fans may also be disappointed to find the maximum shutter is just two minutes. But most of this is either personal or only of concern to specialists or videographers.
The fact is there's little to complain about here and a great deal to like – especially when you consider its affordable price. If you're looking for a mid-range interchangeable lens camera, there's little that'll match its overall feature-set and performance for the money. I really feel Panasonic has its mojo back here and I'm happy to award it my Highly Recommended rating.
Good points
Built-in 5-axis stabilisation: 3 stops or up to 5 with Dual-IS.
4k video with innovative 4k Photo and Post Focus modes.
Crisper images than earlier models with same sensor.
Quick AF in low light and best CAF from MFT to date.
Tilting touchscreen with lots of touch options.
Focus bracketing can be used for macro stacking later.
USB charging in-camera, but no cable release option.
Electronic shutter option shoots silently and up to 1/16000.
Bad points
Viewfinder 16:9 shape not optimal for still 4:3 photos.
Viewfinder image may shimmer for some people.
No external mic input or CineLike profiles.
CAF is improved but not as good as rivals with PDAF.
No dedicated drive or AF mode dials / collars.
Maximum Bulb time of two minutes.