Panasonic Lumix GH6 review
The Panasonic Lumix GH6 is the latest model in the hugely popular series aimed at hybrid shooters and demanding videographers. Panasonic loaned me a pre-production model to test, and in this first-looks review I'll show you everything I've learned about it so far. I'm going to concentrate on the video capabilities here with a brief look at photo quality, then follow-up later with anything I've missed.
Teased in May 2021 and officially launched in February 2022, the GH6 costs $2199 or 1999 pounds for the body alone. Like its predecessors, it's a mirrorless camera based on the Micro Four Thirds standard, with headline features including 4k 120p, 5.7k ProRes internal, unlimited recording with active cooling, and a brand new 25.2 Megapixel sensor with built-in stabilisation that's good for 7.5 stops.
Yep, that's right, the GH6 may have been announced just one week after the Olympus OM-1, but I can now confirm both Micro Four Thirds flagship cameras are using new and different sensors, each with their pros and cons. And while the GH6 still doesn't employ phase-detect autofocus, the video quality is excellent, even beating some full-frame rivals costing almost twice as much, while packing in a feature-set that will delight pro videographers. Everything I know about the camera is in the video below, but if you prefer to read the written highlights, keep scrolling!
In the five years since the original GH5, the new GH6 has beefed-up: chunkier all-round at 138x100x100mm, and at 823g with battery, roughly 100g heavier too. Much of the additional heft over the GH5 is the addition of an active cooling system, with a heatsink, fan and vents pushing the screen mechanism outwards. I'll talk more about this later in the video, but in my tests it allowed unlimited recording without overheating.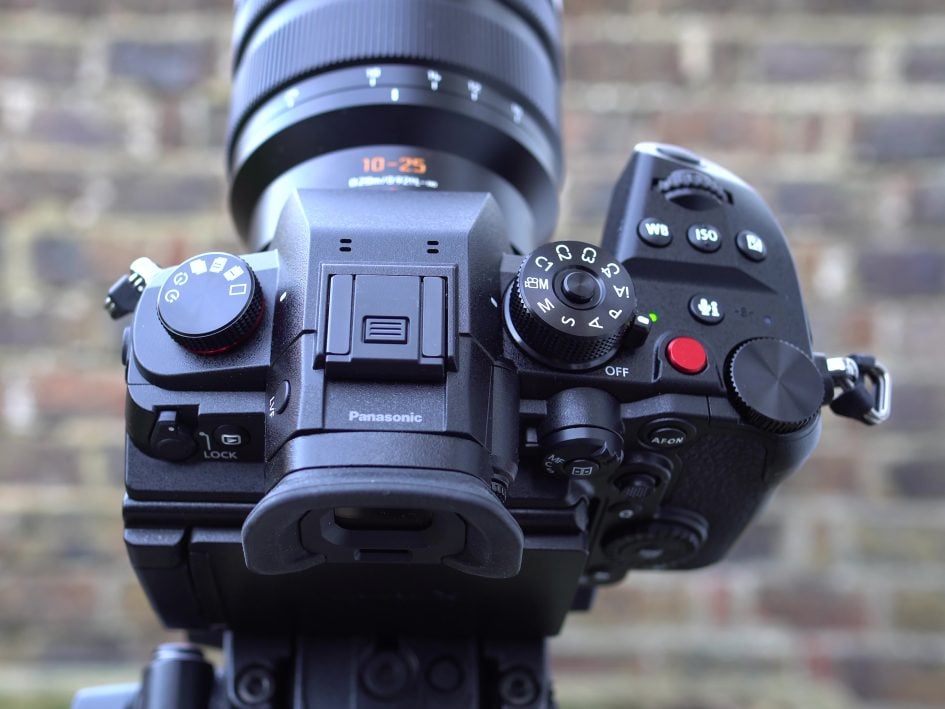 Panasonic describes the GH6 as splash, dust and freeze proof, even with the vents, although like most camera companies, falls short of quoting an official rating. Olympus remains the exception in this regard, quoting their latest OM-1 as being IP53 rated, and in case you were wondering, the Olympus is comfortably lighter too at 599g including battery. The GH6 shutter is rated to 200k actuations and the OM-1 to 400k. The GH6 grip is decent-sized with an indented inner area for your finger tips and a tactile coating, ensuring a comfortable and secure hold.
At first glance the controls look similar to the GH5 but there's been some tweaks here and there. The non-lockable drive dial remains on the upper left side of the body, now offering direct access to the self-timer, interval timer, high-res shot mode, two burst modes, and single shooting, but there's no longer any 4k or 6k Photo options here or within the menus. I'm not sure where or why they've gone.
On the upper right side there's still a satisfyingly chunky mode dial with a ball-point pen style lock and while the options remain almost identical, the earlier Creative Effects position has been swapped for a more sensible fourth custom bank. The previous Fn1 button on the top right surface of the GH5 is now labelled i, toggling the main display to show everything to do with audio at a glance, including large level meters and various quality settings, all adjustable by touch if desired – it's like a Q menu but for sound only. Meanwhile bold red record buttons are located on the top surface and in the front right corner too.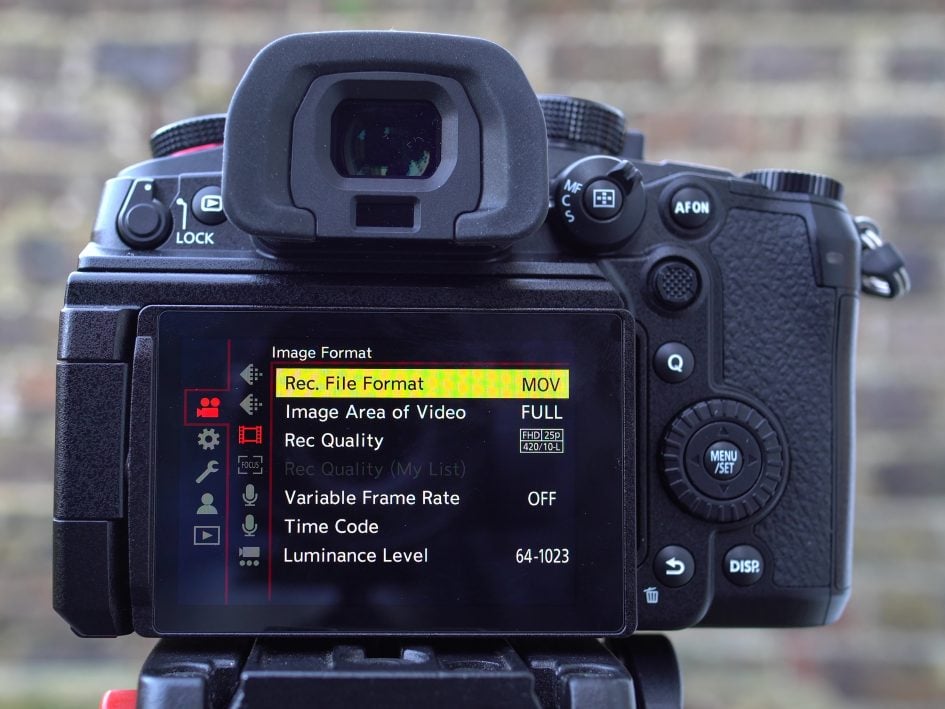 Turning to the rear, the AF mode collar is now around an AF area button, with a new, dedicated AF ON button now alongside. The generous thumbwheel, finger and thumb dials remain as before and feel nicely tactile in use.
Moving onto connectivity, the GH6 offers much the same ports as before, although the USB C and HDMI ports have switched positions. So on the left side, you get 3.5mm mic and headphone jacks, the former positioned nice and high to avoid obstructions. The USB C port can be used for charging or powering the camera with a USB Power Delivery source, (something the original GH5 lacked in 2017) and I successfully used both my MacBook 14in and Samsung Galaxy S20 chargers with the camera. Meanwhile bonus points to Panasonic for sticking with a full-size HDMI port when many others annoyingly fit more vulnerable Micro ports – you know who you are. Surprisingly the GH6 won't offer RAW video output over HDMI from day-one, but it has already been promised for a future firmware update. In the meantime though, you do get internal 12 bit ProRes, more about which in a moment. 
Also coming in future firmware is recording to an SSD drive connected to the USB C port, a feature so far mostly reserved for select cinema cameras.  Oh and while the GH6 does of course have wireless connectivity, it strangely lacks the built-in Live Streaming capabilities of last year's GH5 Mark II; I hope that gets added in firmware.
It's easy to miss, but the 2.5mm remote jack remains high on the grip side, while the sync port on the front can be used for time code. You can also connect the optional DMW-XLR1 interface, and enjoy up to four channels of 48KHz 24 bit audio.
Open the door on the grip side and you'll see the twin SD slots of the GH5 have been swapped for a single SD slot and a new one for faster Type B CF Express cards. The SD slot can still exploit UHS-II speeds, but CF Express is required for the movie modes that require data rates above 800Mbit/s, namely the two ProRes modes.
For power, the GH6 inherits the DMW-BLK22 battery from the Lumix S5, rated at 2200mAh – a nice boost over the 1860mAh rating of the BLF19 supplied with the GH5. Again you can charge it internally with a USB Power Delivery source.
Moving onto composition, the GH6 inherits the same viewfinder from the GH5, so you get a 3.68 million dot OLED panel with 0.76x magnification. It still looks great, but five years later I'd have preferred to find at least a 5 million dot panel on a flagship body, like Olympus has on the OM-1. That said, it would have increased the price, so as always, it's about balancing features and upgrades.
Interestingly the screen is also a little smaller than the GH5, so down from 3.2 to 3in, but now with a slightly higher resolution 1.84 million dot panel. But Panasonic has made the articulation much more flexible by inheriting the cunning approach of the Lumix S1H.
At first glance it looks the same as the GH5 with a side-hinge allowing you to flip and twist as usual to pretty much any angle including forwards to face you or back on itself for protection. But the clever part is an additional hinge at the top which allows you to angle the screen vertically upwards in a quick single motion without obstructing any ports and remaining on the optical axis. You can also exploit this angle with the screen flipped out to the side if preferred, again keeping well-clear of any ports. The mechanism may be inevitably chunkier to accommodate this double-articulation but for me Panasonic has nailed it in terms of all-round flexibility here.
And now finally onto the heart of the GH6, a brand new sensor with 25.2 Megapixels and no low-pass filter, delivering the highest single frame resolution in the Micro Four Thirds system to date. As always Panasonic won't reveal who makes it, but it is their own design and it is different from the 20 Megapixel sensor found in the OM-1. This means the GH6 enjoys a small resolution advantage over Olympus although sticks with contrast-based autofocus versus phase-detect on its rival. The OM-1 sensor is also a stacked design, offering potentially quicker readout speeds and I look forward to comparing their rolling shutters.
Now when it comes to AF, it's important to put assumptions aside and compare actual results. I'm going to do this in a follow-up video when I have access to final production versions of both new models, but for now I can say the GH6 has impressive object detection, is quick in single AF modes, and also quite capable of keeping a moving subject sharp across a burst.
For video though it can be a mixed bag, sometimes surprisingly effective, while at other times less so. To whet your appetite I've got a selection of video AF examples for you in a moment, but first a quick look at the photo quality.
The GH6's native resolution delivers images with 5776×4336 pixels in the usual 4:3 aspect ratio of Micro Four Thirds, giving it around a 10% boost in horizontal or vertical resolution over the GH5 and other 20 Megapixel models. When comparing test charts, the GH6 could certainly out-resolve 20 Megapixel models, but the difference wasn't huge; I wouldn't buy the GH6 based on photo resolution alone.
If you desire higher resolution, both Panasonic and Olympus offer pixel shift composite modes which can work well for mostly – or ideally completely – static subjects, boosting detail and reducing colour artefacts. On the GH6, High Res mode captures and composites eight images in-camera with two quality options: LL or XL which generate 50.5 or 100 Megapixel images respectively – and it's now possible to deploy them handheld, although again for the best results mount the camera on a tripod, point it at a static subject and keep dead still during the brief capture process.
To put the high res modes to the test I photographed my standard test chart, first using the single frame 25 Megapixel mode. Let's take a closer look before comparing the 50 Megapixel high res version which is clearly out-resolving the single frame version and roughly matching my test shots from the Sony Alpha 1 and Canon EOS R5, although they are of course delivering this with a single frame. And now for the 100 Megapixel version which under ideal conditions resolves even finer details.
Charts aren't particularly exciting, so here's my standard landscape view of Brighton Pier using the Leica DG 10-25mm lens, first with the single 25 Megapixel frame. And now let's compare it to the 50 Megapixel composite version which is resolving visibly greater real life detail. And finally the 100 Megapixel version which is potentially better still. 
Composite modes are getting more cunning but can't help struggling with any subjects in motion, which rules out most landscapes thanks to birds, cars, people and even foliage moving in the breeze. But for product shots, archive or even well-behaved architecture, it can work a treat.
As I mentioned earlier, the GH6 strangely lacks the 4k and 6k Photo modes that have long been standard on Lumix cameras, so sadly no more post-focus or pre-burst shooting here. But there are still of course burst capabilities, with the GH6 now shooting up to 75fps with Single AF using the electronic shutter, or up to 7fps with continuous AF. Switch to the mechanical shutter and it'll fire at up to 14fps with single AF or 8fps with continuous. I'll be testing the burst and continuous AF for stills in a follow-up video, but stick around for some video examples.
Just before moving on though, a quick run through of the sensitivity range for still photos, using a night landscape view of London taken with the Leica DG 12-60mm. If you take a close look I'd say the images look respectably clean up to 800 ISO, with a mild sprinkling of noise appearing at 1600 and 3200 ISO. By 6400 ISO I'd say the finest details are beginning to look a little mushy, with 12800 ISO even more so and the top sensitivity of 25600 ISO looking poor at high magnification.
Ok, now onto video with the GH6 offering a wealth of features and quality settings. Like the GH5, the available frame rates are based on three system frequencies of 24Hz for Cinema, 50Hz for PAL or 59.94Hz for NTSC. I'll show you some of the PAL menus, but will talk about the full ranges available.
1080 is available from 24 to 240p, the latter allowing a 10x slowdown on a 24p timeline. 4k is available from 24 to 120p and in the choice of 16:9 or the wider DCI shapes. Meanwhile the top video resolution of 5.7k can be recorded in 24 to 60p in the DCI shape only, where the frame measures 5728×3024 pixels. All video modes are uncropped and recorded with sound, regardless of frame rate, even 1080 240p.
Anamorphic modes are also available for use with special lenses, recording 4:3 shaped video in a cropped 4.4k format between 48 and 60p, or in an almost uncropped 5.8k format between 24 and 30p; the former measures 4352×3264 pixels, and the latter measures 5760×4320 pixels.
Impressively almost all video modes are available in 4:2:2 10 bit, including all 1080 and most 4k frame rates. The exceptions are 4k at 100 or 120p, 5.7k, or either of the Anamorphic modes which are all still in 10 bit, albeit 4:2:0. And there's no restrictions on profiles, so you can enjoy 10 bit whether you're filming in standard colour, log or anything else. Most video modes are also available in a choice of bit rates, using either H.264 or H.265 encoding, with so many combinations I'll just direct you to the Panasonic spec sheet.
While the broadest range of resolutions, frame and bit rates are available in the MP4 and especially MOV formats, the GH6 also offers the fairly unique option of 5.7k in the Apple ProRes format, recorded internally. ProRes is available at 24 to 30p in the choice of ProRes 4:2:2 at 1 to 1.3 Gbit/s, or ProRes 4:2:2 HQ at 1.5 to 1.9 Gbit/s. All of these demand the speed of CF Express memory cards on the GH6.
While my recent 14in MacBook Pro is able to smoothly edit H.265 video, I've owned older models that really struggle with this high-efficiency codec. In contrast, ProRes with its mild compression is much easier to edit on more modest systems and by recording it internally, the GH6 saves you from having to transcode into it later, plus the final render will probably be faster too. It's also a robust codec with lots of potential for adjustments in post, which is some consolation for the absence of RAW video while we wait for a firmware update.
Speaking of grading, the GH6 includes full V-Log out the box, not the light version, and doesn't force you to pay to unlock it either. There's also a Dynamic Range enhancement option which combines data from two sensitivities to boost the tonal range to a claimed 13 stops when used with V-Log; kind of like exploiting the benefits of dual native ISO combined into one video up to 60p.
If you prefer an easy life, there's also HLG in some modes which delivers an HDR-ready solution that looks great when played back on HDR displays, including the screens on the 14 and 16in MacBook Pros.
As a camera aimed at pro videographers, there's also loads of assist options from viewing V-Log and HLG, desqueezing anamorphic content, SMTPE bars, Waveform and Vectorscope monitors, both of which can be repositioned by dragging, as well as focus peaking while recording, and frame markers for every aspect ratio you can think of.
The GH6 isn't the first model in the series to offer unlimited recording times, but it is the first to do so with the aid of a cooling fan; this ensures no overheating issues in any mode, while keeping the body reasonably compact. There's three fan speeds: slow, normal and fast, with slow being barely audible and fast sounding a little like a modest PC. Check out my video to hear how they sound in relation to each other.
The fan menu allows you to manually select between the three speeds or go for one of two Auto options, with Auto 2 disabling the fan when it's not necessary. Note the forced Fan Off option is only available in photo mode, and if you're filming 5.7k or frame rates above 100p, the Normal speed becomes the minimum. There's also a Max Temp cutoff setting, but I didn't need to increase it beyond the default Standard setting in my tests.
For my first overheating test, I set the GH6 off recording Cinema 4k at 25p with DR boost on battery power alone. The camera managed to record one hour, 23 minutes and 34 seconds before the battery expired and with no overheating issues. I then switched to a freshly charged battery and set the quality to Cinema 4k at 100p, where I managed 53 minutes and 20 seconds before the battery ran out – again with no overheating issues.
How about at the highest bit rates? With the GH6 set to 5.7k ProRes HQ, I managed 42 minutes and 46 seconds on a fully-charged battery, and again no overheating.
So far it was the battery holding back my maximum recording times, so I switched to an external USB Power Delivery source, in this case my Apple MacBook Pro 14in charger. With the quality set to Cinema 4k at 25p with DR boost, I managed to record uninterrupted for seven hours and 20 minutes spanning three files without overheating. This time, the limiting factor was my 512GB CF Express card. From my tests so far the GH6 is clearly built to avoid overheating and is ready to record as and when you need it.
But what about the video quality from this new Micro Four Thirds sensor? Here's my usual test scene of Brighton Pier, first filmed in 1080 25p using the GH6 and the Leica DG 10-25mm. 1080 footage is 16:9 shaped only, so is pictured in my DCI project here with thin black bars down the left and right sides.
Next let's switch that out for 4k 25p in the same 16:9 aspect ratio, followed by the slightly wider Cinema 4k in the 17:9 DCI shape. The lens focal length hasn't changed. And finally for the top resolution of 5.7k at 25p, again in the DCI shape.
To really see the difference between them, let's zoom-in for a closer look, with 1080, then 4k, then 5.7k, each delivering progressively more detail, especially the jump between 1080 and 4k.
I love sharing real-life tests like these, but to really see the differences in potential resolution, you can't beat a technical chart, so let's take a closer look at 1080 on the GH6 at 25p, then 4k at 25p, and then 5.7k at 25p. And now back to 1080, which in my tests looked a lot like the Canon EOS R5 or R5C, with each being a fraction ahead of the Sony Alpha 1 at the same resolution.
The GH6 also maintains its 1080 quality up to 100p, although at 200 and 240p, there's a big reduction in detail. So while this highest speed is nice to have, and impressively remains uncropped and recorded with sound, it does incur a big drop in quality.
In terms of 4k, my GH6 resolution results looked similar to the Alpha 1, with both cameras looking much better than the Canon R5's standard 4k mode, albeit a fraction behind the R5 in 4k HQ mode. But a key benefit of the GH6 is maintaining its 4k quality all the way up to 120p when some rivals fall behind as their frame rates increase. For example while the Canon R5's 4k HQ mode may deliver some of the best-looking 4k around, it's only available up to 30p and prone to overheating. Meanwhile at 60p, the R5's 4k resolution falls back to the standard quality, and falls noticeably still at 120p.
In contrast, the GH6 not only avoids the overheating issues of the original R5, but also its 30 minute clip length, and like Sony records audio on high frame rate video too. In my tests, the GH6's 4k 120 was also a tad better-resolved than the Alpha 1.
Of course Canon's more recent video-oriented R5C resolves many issues with the original R5, but its 4k 120 still falls behind rivals, and the camera also downgrades some of the R5's video AF.
As for 5.7k on the GH6, it may deliver a slight boost in detail over the 4k modes, but it was easily out-resolved by the 8k modes of the R5 and Alpha 1. That said, 8k on the R5 and Alpha 1 is only available up to 30p, versus up to 60p for 5.7k on the GH6, so there are always pros and cons to weigh up.
Moving onto dynamic range, I found the 10 bit V-Log files had plenty of potential for subtle tonal retrieval at either the highlight or shadow ends. They also edited smoothly on my 14in MacBook Pro. Meanwhile the 5.7k ProRes files played nicely on much older systems, and rendered faster on any of them too.
Alright, now it's time to talk focus, and as I mentioned earlier, Panasonic has stuck with its contrast-based DFD autofocus system for the GH6, with its latest object detection technology.
You can see it in action here where I've filmed the GH6's screen to show the object recognition tracking me and switching to face and eye detection at respectable distances. Now here's the actual video file, filmed with the GH6 and Leica 10-25 at 25mm f1.7, where you can see the camera doing a fair job at acquiring me and keeping me in focus as I walk toward the camera and especially if I pause for a moment.
Object detection only works up to 60p though, and as you can see in this next clip filmed at 4k 100p, the GH6 struggles to find me as well as it did previously. Here's the actual video file you saw the camera filming, and while it sometimes hits, you wouldn't rely on it.
One solution for better autofocus at 100p or faster is to use a single AF area, which is what I've done here. Now the GH6 is doing a fair job at refocusing on me while filming 4k 100p. And now for that video file, showing the technique in action, although of course losing me if I move away from the fixed AF area I chose.
I also found this generally only worked for subjects moving at a modest speed. If you want a camera that can stay focused on fast sports or wildlife during high frame rate video, the Canon R5 and Sony Alpha 1 remain your best choices
How about autofocusing between near and far objects as the camera's moved from side to side? In my tests the GH6 does a pretty good job most of the time, better than you might assume given the absence of phase-detect AF.
A tougher test is to see whether the AF system can settle on a subject without fluttering back and forth. A tough test for AF stickiness is having some bokeh balls in the background as these can flutter in size, giving the game away. This has always been an Achille's Heel for Panasonic's AF system and while the GH6 is arguably its best so far, there's still some pulsing visible which can be off-putting in certain compositions.
At this point, the opinions always become polarised. If your subject is mostly still, or you're able to manually pull focus, then who cares about video AF? If however you're a one-man operation like me, then reliable autofocus during video is not just useful but essential. I not only rely on it when presenting pieces to camera for all my reviews, but also when filming sporting events or wildlife, when I know the camera is taking care of the focusing, leaving me to follow the action.
I've filmed fast-moving events like sea swimming races in 4k 120 with the R5 and Alpha 1 fitted with long lenses that would have been very difficult to keep in focus with the GH6. Likewise for filming birds flying straight towards me. But then the Alpha 1 is considerably more expensive and when I filmed a sea swim race in 4k 120 with the R5, it overheated shortly before the end, forcing me to drop the quality to 1080 to continue recording.
It's also important to note that while the GH6 may not have the best movie autofocus, it may already be good enough for your application. Here's one of my vlog tests filmed in Cinema 4k showing not just how well the GH6 kept me in focus, but also how well the built-in stabilisation works for video.
In fact, let's see that stabilisation in action for static subjects, here in the normal IBIS-only mode, keeping the composition pretty steady. Meanwhile the various enhanced stabilisation modes apply varying degrees of digital compensation to further lock the image in place.
How about rolling shutter? The GH6 may not have a stacked sensor, but as you can see, it handles skewing artefacts better than many cameras, including the EOS R5.
Ah, but what about high ISO footage? Ok, here's a selection of clips I filmed around London at night, mostly at around 6400 ISO, and while there is some noise, I don't think it looks that bad.
Of course this is all down to personal preferences and expectations, but on the whole I was very impressed by the out-of-camera quality from the GH6 under most conditions, especially the 4k and 5.7k modes which were packed with detail without ever looking over-sharp.
Panasonic Lumix GH6 verdict so far
There's loads of great cameras available at the two to two and a half thousand price point, especially if your main focus is stills photography. Sony's A7 IV, Canon's EOS R6, the Olympus OM-1 and Panasonic's own Lumix S5 should all demand your attention.
But if you're after a camera more focused towards video, especially high frame rate 4k, the Lumix GH6 becomes one of the most compelling models around. How many other cameras even offer 4k 120, let alone for $2200? How many cameras maintain their quality at higher frame rates and can keep recording without overheating? How many offer the kind of shooting assistance typically reserved for dedicated cinema cameras, like Waveform monitors? How many support internal ProRes recording, or the chance to record direct to external SSDs, albeit in a future update.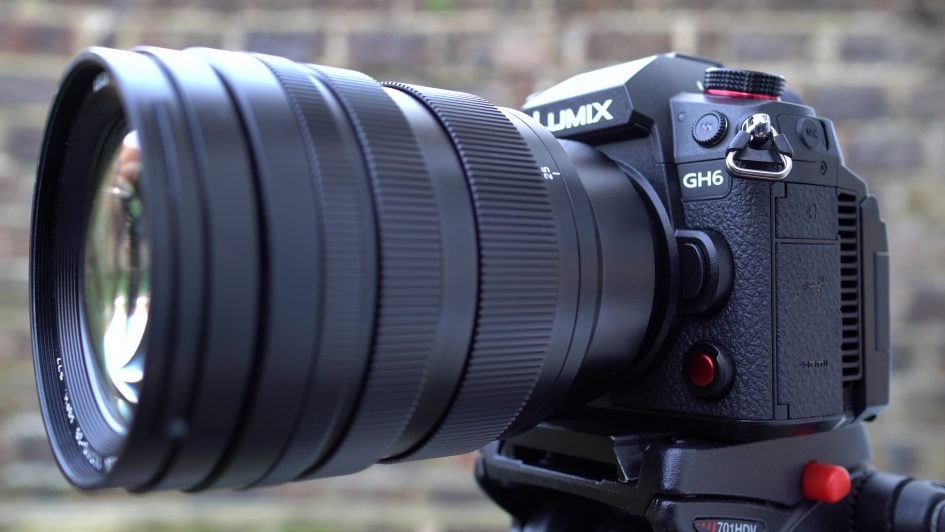 Speaking of which, Panasonic has announced a firmware roadmap for the GH6, promising not just USB SSD recording and 4k 120p RAW over HDMI, but also ProRes options in 4k and 1080. You could argue the GH6 should have launched with these, especially RAW over HDMI, but at least we know what's coming.

Ultimately the same core arguments for and against the GH6 and its rivals remain. Models like the Canon R5 or R5C and Sony Alpha A7S III or Alpha 1 also all offer 4k 120, but with much larger full-frame sensors, and more confident phase-detect autofocus, while both R5's and the A1 also sport 8k.

But they're all comfortably more expensive than the GH6, while lacking many of its pro assist tools, have less effective stabilisation, may reduce in quality at higher frame rates, and have varying immunity to overheating. It's also interesting to note Sony still doesn't offer DCI shaped video and Canon has bizarrely adopted Micro HDMI for many of its models, including the R5 and R5c.

There's pros and cons to all of them and as always it's a case of carefully weighing-up which features are most important to you and which downsides you can overlook or work around.

Either way, the LUMIX GH6 is a highly compelling camera for videographers that deserves serious consideration and, along with the OM-1, proves the Micro Four Thirds format remains relevant and desirable.

Check prices on the Lumix GH6 at B&H, Adorama, WEX UK or Calumet.de. Alternatively get yourself a copy of my In Camera book or treat me to a coffee! Thanks!