Panasonic Lumix GH5 review
Verdict
The Lumix GH5 is Panasonic's most powerful mirrorless camera to date and a worthy successor to the GH4, whether you're shooting stills or movies. It's fast, flexible and feature-packed, easily taking-on rivals in this category and out-performing virtually anything at its price for video. Like the recent Olympus OMD EM1 Mark II it proves Micro Four Thirds can not only play with the big boys, but beat them in many respects.
In the video below, Doug Kaye and I discuss everything you need to know about the Panasonic Lumix GH5. I also have an audio podcast of this discussion at Panasonic Lumix GH5 podcast, or you can subscribe to the Cameralabs Podcast at iTunes.
Now for my in-depth verdict. It's easy to concentrate on video with the GH5, so I'm going to start with the stills. Panasonic could have been complacent in this regard, but has combined a new sensor with improved image processing which delivers photos that look as detailed – and crucially as natural – as the Olympus OMD EM1 Mark II in my tests. The built-in stabilisation is Panasonic's best yet offering three to five stops of compensation in my tests, while the DFD focusing delivered a high hit rate on moving subjects even at the top speed of 9fps. While a lot of attention is devoted to continuous AF these days, it's also important to credit Panasonic with supremely quick single autofocus that continues working in very low light levels.
I also welcome the upgrade in Panasonic's 4K Photo modes, now available at double the frame rate on the GH5 or at a higher 6K resolution. The ability to grab stills from short video clips remains the same, but the chance to do it at 18 Megapixels makes it much more useful than the 8 Megapixels previously. Meanwhile a higher resolution viewfinder, larger and more detailed screen, dual SD slots (both of which exploit UHS-II speed), 5GHz Wifi and Bluetooth, all enhance the shooting experience.
Video is of course where the GH5 becomes really exciting. The GH4 was the first camera in its class to offer 4K video at 30p and now the GH5 boosts this to 60p with no crop in the field of view and no recording limit either. Forget half hour clips: on the GH5 I recorded an uninterrupted two hour clip at 4K / 50p on a single charge, while the ability to run on mains power and hot-swap SD cards suggests even longer recording times are also possible – I'll test this capability soon.
Previously the GH4 could only record 4K internally in 8-bit / 4:2:0, but now the GH5 can do 10-bit / 4:2:2 internally at 30p. This along with built-in stabilisation, new vectorscope and waveform views, and an optional compact XLR mic adapter means the GH5 can satisfy the needs of many pros in a very compact and portable configuration – and if you do want to connect an external recorder to access 4K in 10-bit up to 60p, the HDMI port is now gratifyingly full-sized. Meanwhile a series of firmware updates during 2017 will bring higher video bit rates, a high resolution anamorphic mode, and an optional V Log L profile that's very flat.
The GH5 is, in short, triumphant at video and the features and frame rates could be sufficient to even tempt those who previously switched from the GH4 to the full-frame Sony A7S Mark II. Yes, the Sony is cleaner at 6400 ISO and can continue filming at absurdly high ISOs (even looking very respectable at 25600 ISO), but if you can shoot below 6400 ISO I think there's few who wouldn't be very satisfied with the GH5's output and feature-set, especially for the money.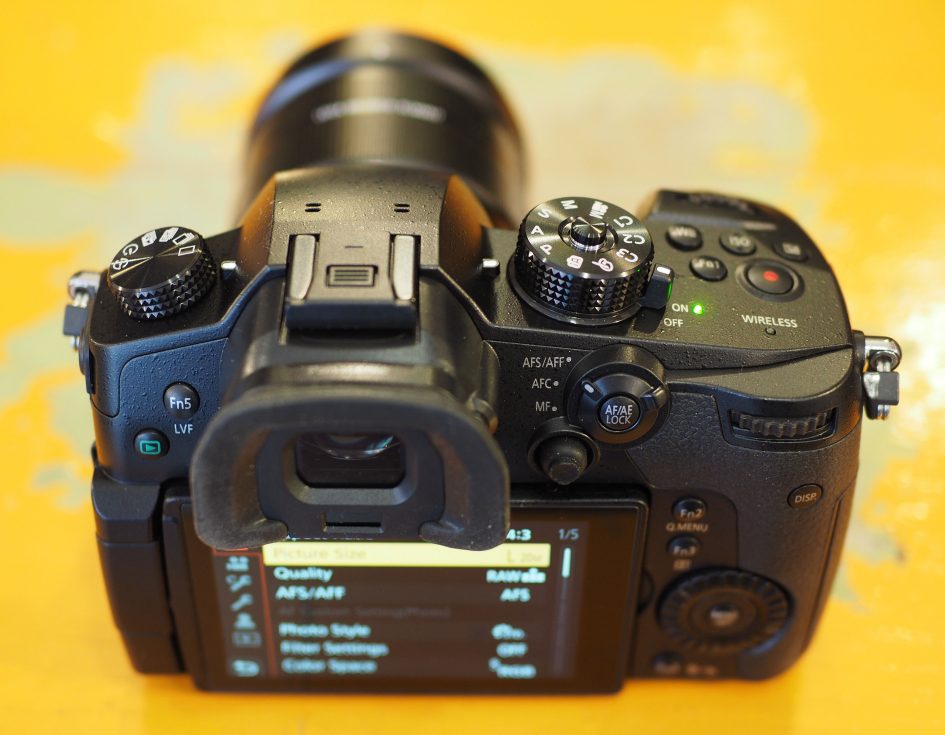 Indeed there's very little I can criticise the Lumix GH5 on. I personally feel some of the buttons are unnecessarily small or flush to the body, but appreciate this is a personal opinion. The viewfinder resolution falls when shooting at fast burst rates with continuous AF. The autofocus slows down in the 4K and 6K modes compared to shooting 'normal' stills. There's no Bulb timers to preset long exposures. There's no support for USB charging in-camera. Some may also argue the camera was released a few months too soon with a flurry of firmware updates promised by Summer 2017, but I feel the camera as tested was sufficiently complete to be very usable and the updates will be here before we know it.
I don't think any of the things above are deal-breakers, so arguably the biggest issue for the GH5 is the old argument concerning its Four Thirds sensor size. There's no denying Four Thirds is smaller than APSC, which in turn is smaller than full-frame, and unsurprisingly the larger formats will deliver cleaner stills or video at high ISOs. But in my tests I didn't really notice much difference until I was shooting at 6400 ISO or above, and I rarely needed to use these sensitivities thanks to the combination of effective built-in stabilisation and bright lenses that perform well even at maximum apertures. I do appreciate some photographers and videographers will need to deploy high ISOs though and if they want the cleanest results, they'll benefit from a larger sensor, but I would urge any potential buyers to think carefully about how they'll shoot and whether – or how often – they'll truly need very high ISOs. Even if you desire the high ISO performance, you may find the GH5's feature-set ultimately more compelling.
Panasonic Lumix GH5 vs Olympus OMD EM1 Mark II
The closest rival to the Lumix GH5 is the Olympus OMD EM1 Mark II: both are the flagship models in their respective ranges, both employ 20 Megapixel Four Thirds sensors with built-in stabilisation, both use Micro Four Thirds lens mounts, and both have fully-articulated touchscreens. They're similarly-priced too.
Previously Olympus was never as good at video and Panasonic was never as good at stills, but both companies have improved by leaps and bounds on their respective weaknesses. While the video is now surprisingly good on the OMD EM1 Mark II, I'd say the GH5 still enjoys a comfortable lead in overall quality and especially the control and feature-set for pros – things like 4K at 60p, 10-bit internal, unlimited recording. In terms of stills, I'd say the quality and processing of the GH5 now essentially matches the EM1 II, but the Olympus flagship still feels more confident at continuous AF, offers even faster top speeds and enjoys slightly superior stabilisation in some of my tests. These are arguably the biggest differences, but it's important to note the GH5 is sufficiently good at sports and action for most shooters and the EM1 II sufficiently good at video for most folk too.
The EM1 II has its High Res mode which in some cases can out-resolve the GH5 and a wealth of better long exposure options. The GH5 has a more detailed viewfinder, a superior smartphone app and the benefit of Bluetooth to remotely wake it up. Both cameras offer solutions for pre-buffering with the Olympus Pro Capture or Panasonic 4K / 6K Photo.
It's a really tough choice and a lot will boil down to which you personally prefer the look and feel of, along with whether you mostly own lenses from one brand over the other (as some features are only, or better, supported when you fit Olympus lenses on Olympus bodies or Lumix lenses on Lumix bodies). As I mentioned earlier, I'd recommend the GH5 is you're a pro videographer and the EM1 II if you mostly shoot sports or action, but again both are excellent all-rounders.
See my Olympus OMD EM1 Mark II review for more details.
Panasonic Lumix GH5 vs Fujifilm XT2
I'll add more detail soon, but the major benefits of the XT2 are a smaller body, lower price, slightly larger APSC sensor, retro controls and for some, more attractive image processing. The GH5 fights back with more professional video options, built-in stabilisation and a fully-articulated touchscreen. See my Fujifilm XT2 review for more details.
Panasonic Lumix GH5 vs Sony A7S Mark II
I'll add more detail soon, but the main difference here is sensor size – and price. The Sony's sensor has four times the surface area and a price tag roughly 50% higher. The larger sensor comes into its own above 6400 ISO, but the GH5 offers a greater feature set, along with a fully-articulated touchscreen, unlimited 4K at 60p and in Cinema4K formats. See my Sony A7S Mark II review for more details.
Panasonic Lumix GH5 final verdict
Panasonic's Lumix GH5 is a worthy flagship body, greatly extending the quality and capabilities of the earlier GH4. A more detailed viewfinder, twin SD slots which both support the full speed of UHS-II, effective continuous AF at 9fps, and built-in stabilisation all make it a powerful stills shooter and the improved sensor and image processing delivers the best-looking images from a Lumix body to date. Panasonic's unique 4K Photo modes now operate at twice the speed or at 6K for extracting higher resolution stills from video clips. Unsurprisingly it's the movie modes which really impress with unlimited 4K video internally at 60p or in 10-bit at 30p (or both if you're using an external recorder), and a wealth of features including vectorscope and waveform displays, anamorphic capture, programmable focus transitions, optional XLR inputs and very flat output (especially with the V Log L update), all making it one of the most portable and professional movie solutions for the money. The GH5 is a no-brainer for video pros but also becomes a highly compelling stills camera too – Highly Recommended.

Check prices on the Lumix GH5 at Amazon, B&H, Adorama, or Wex. Alternatively get yourself a copy of my In Camera book or treat me to a coffee! Thanks!