Panasonic Lumix G7 review
Verdict
The Lumix G7 is a very capable mid-range camera that should be considered by anyone wanting a step-up from budget models, whether DSLR or mirrorless. It has well thought-out controls, a large and detailed electronic viewfinder and the flexibility of a fully-articulated touch-screen. It's responsive, focusing quickly even in low light and firing-off bursts up to 8fps at the full resolution. It's feature-packed with built-in Wifi, timelapse, silent shooting up to 1/16000, and up to seven-frame bracketing. It's innovative with 4k video allowing you to capture movies with four times the detail of 1080p, and the chance to grab 8 Megapixel photos from footage at 30fps. Plus as a Micro Four Thirds camera, it enjoys access to the broadest range of native mirrorless lenses.
In all these respects it takes the baton of the earlier G6 and runs with it, making it one of the best mid-range cameras around, and one which even treads on the toes of higher-end models. Indeed for many, the video capabilities approach that of the flagship GH4, making it an ideal budget option for film-makers or a backup body for B-roll.
So what's not to like? Some will criticize the sensor which is smaller and lower resolution than the common 24 Megapixel APS-C models, but as I've illustrated in my results pages, the G7 and its surprisingly good kit zoom can keep up with Canon's latest EOS 760D / T6s DSLR in detail and noise. Some rivals are still better at continuous AF, most notably Sony's A6000, but the G7 will still track kids, pets and basic sports with fair success, and don't forget what it lacks in continuous AF is compensated for many in the speed of Single AF and its operation in low light. Then there's the absence of built-in stabilization, a feature that's standard on Olympus bodies sharing the same lens mount, although to be fair it's a feature that's not present on other rivals. Before my final verdict, here's how the G7 compares against some key models.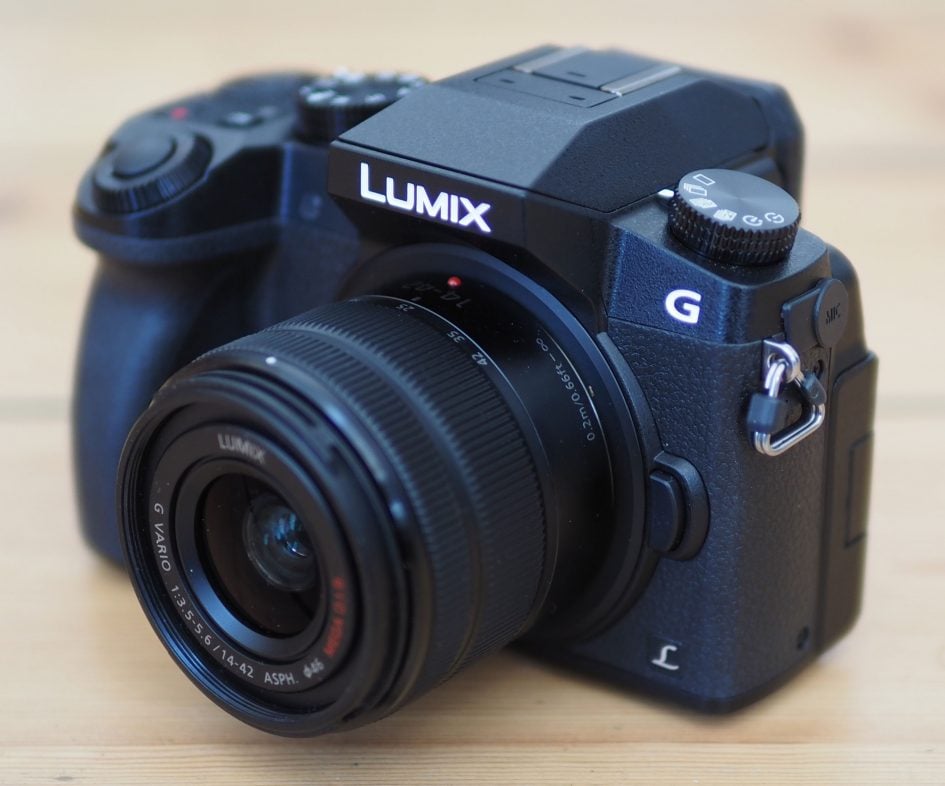 Lumix G7 vs Lumix GH4
It's fair to say a lot of people will be considering the G7 as a more affordable alternative to the flagship GH4, or as a backup camera. They share quite a lot in common, so much so perhaps the G7 could have been marketed more successfully as the GH40 or GH4 Lite. Either way, here are the main benefits the GH4 has over the new model.
The GH4 has a larger, tougher body that's weatherproof, employs a longer-life battery, features PC Sync and headphone ports and the option to output with 10 bit tonal range through the HDMI port. It also supports an optional battery grip and the DMW-YAGH interface unit which is packed with pro-video connectivity. Continuous shooting is faster at 12fps, the fastest mechanical shutter is twice as quick at 1/8000 and the longest Bulb much longer at 60 minutes.
In terms of movies, the GH4 employs a 1:1 crop for 4k, which delivers video with less chance of moire, albeit with a slightly tighter crop than the scaled output from the G7. The GH4 also offers Cinema 4K in addition to UHD, along with 1080p at much higher bit rates and speeds up to 96fps allowing a four-times slow-down on a 24p timeline. If you buy a non-European GH4, you'll also enjoy recording times longer than 29:59, a limit applied to Euro GH4s along with G7s from all regions.
So the GH4's feature-set comfortably maintains its position as the flagship model, but the G7 offers a compelling alternative at a lower price for those who want the cheapest interchangeable lens camera with 4K UHD video – and as I discovered in my tests, the 4k video is very close in quality. Once again it's also great to see Panasonic keeping the flat Cinelike D profile and a choice of Luminance levels for video on the G7. See my Lumix GH4 review for more details.
Also consider:
If action photography is your thing, Sony's A6000 offers superior continuous autofocus and faster burst shooting, and as an older model that's likely to be replaced in 2015, there's bargains to be had. The video, viewfinder and screen are better on the G7, but the A6000 still offers a lot for the money. See my Sony A6000 review for more details.
If you're more into stills than video and love retro styling, then consider Fujifilm's XT10, which gives you the lovely photo quality of the XT1 in a smaller, lighter and more affordable body. It does however lack 4K video, and the G7's fully articulated touchscreen. See my Fujifilm XT10 review for more details.
If you have more to spend and like the idea of a small weather-proof body with built-in stabilisation and are happy to trade 4K video, then check out the Olympus OMD EM5 Mark II which is my favourite camera at its price point. Check out my Olympus OMD EM5 II review for more details. Or at a lower price, there's the simpler OMD EM10, which may lack the weather-sealing but still packs built-in stabilisation.
If you prefer optical viewfinders, then check out Canon's EOS 760D / T6s or Nikon's D5500. Both are solid DSLRs which impressively (for a DSLR) feature fully-articulated touch-screens and Wifi. Again though, no 4K video, nor focus peaking on either. See my Canon EOS 760D / T6s review and Nikon D5500 review for more details.
Panasonic Lumix G7 final verdict
The unique selling point of the Lumix G7 may be 4k video, but even if you ignore this feature entirely, it remains a highly compelling mid-range camera. The performance and feature-set is amongst the best of its peer group, and as I've said before having access to the extensive Micro Four Thirds lens catalogue is a key benefit for Panasonic and Olympus bodies.
Even if you don't have a 4k TV though, the capability to record video with four times the detail of 1080p is more flexible than you think. For starters, it downscales to 1080p very nicely, while also giving you the chance to punch-in and out of footage on a Full HD timeline with a single body setup and no loss of quality. Panasonic's 4k Photo mode is also a cunning application which lets you extract 8 Megapixel stills from footage recorded at 30fps, which is effective for capturing the decisive moment, not just for sports for even portraits.
For all the reasons mentioned in this verdict section, I find the Lumix G7 far more compelling than DSLRs pitched at the same price point. The real competition here comes from rival mirrorless cameras, particularly Sony's A6000 (for its superior burst and continuous AF), Fujifilm's XT10 (for it's superb imaging pipeline), and the Olympus OMD EM10 (for its built-in stabilisation). You should carefully compare the feature sets of all these models to see if one's a better fit for how and what you shoot, but if you're into video or just want a great all-round mid-range camera, the Lumix G7 is hard to beat at this price point.
Good points
Good image quality and compact but decent kit zoom.
Large, detailed viewfinder and fully-articulated touchscreen.
Fast AF that works in low light, and 6-8fps burst shooting.
4k video with chance to extract 8MP stills at 30fps.
Wifi, timelapse, 7-frame AEB, silent shooting up to 1/16000.
Access to extensive Micro Four Thirds lens catalogue.
Bad points
Continuous AF good but not best in class.
Lacks built-in stabilization of Olympus bodies.
No USB in-body charging of battery.
Maximum Bulb length of 2 minutes. Limits long exposure work.