Panasonic Lumix G100 review
The Panasonic Lumix G100 is a compact mirrorless camera designed for vlogging and creative video, although it's also perfectly good for still photos. Announced in June 2020, Panasonic let me try out an almost final model to see what it can do. Below is my first-looks video review (available 1pm BST) which includes lots of video and vlogging tests, but if you prefer to read a written version of the highlights, keep scrolling!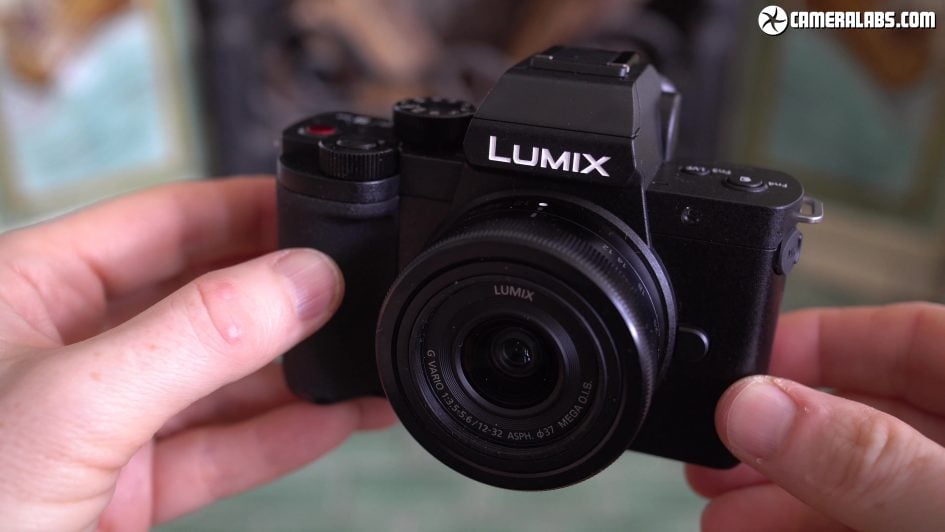 Above: The G100 is probably best-described as a mini G90 or G95 and is available in a kit with the 12-32mm zoom – in the Micro Four Thirds World, that's equivalent to 24-64mm. This lens is a collapsing design which needs to be twisted to the 12mm position before you can start shooting. When you're ready, flick the switch around the mode dial to power-up – note the generously-sized video record button. Then round the back you have the choice of composing with the screen or an electronic viewfinder – the price point rules out an OLED panel, so Panasonic has opted for an LCD which to my sensitive eyes suffered from a few rainbow artefacts as I glanced around, but not as badly as field-sequential panels. On the plus side, it's a large image.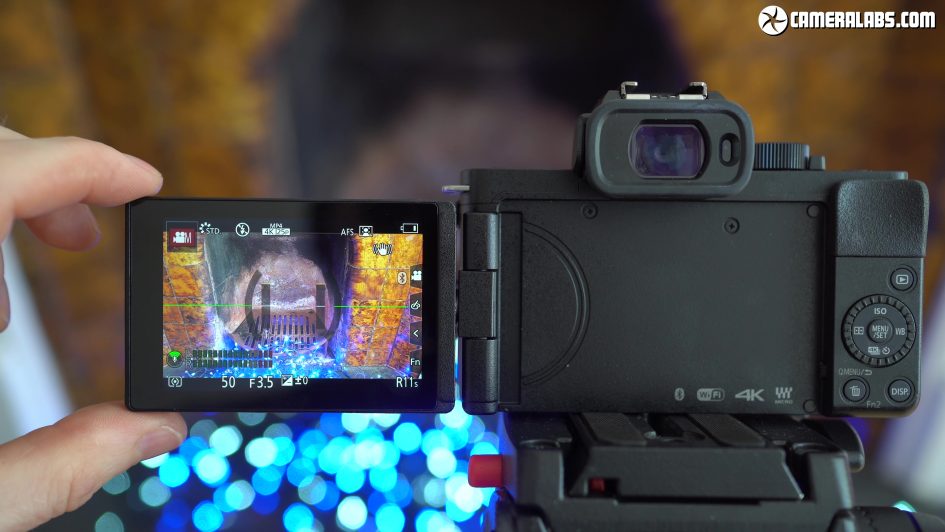 Above: Meanwhile the 3in screen is a side-hinged, fully-articulated design which can flip and twist to any position, and it also inherits Panasonic's broad range of touch controls. There's no tally light to indicate when you're recording, but the screen provides good feedback, not just with the usual red icon, but also with an optional red border around the frame to show when you're rolling.
In terms of battery, the BLG-10E pack should be good for around 270 photos or up to 90 minutes of 1080 video. In my tests I managed nine ten minute clips of 4k video on a single charge, or 90 minutes in total.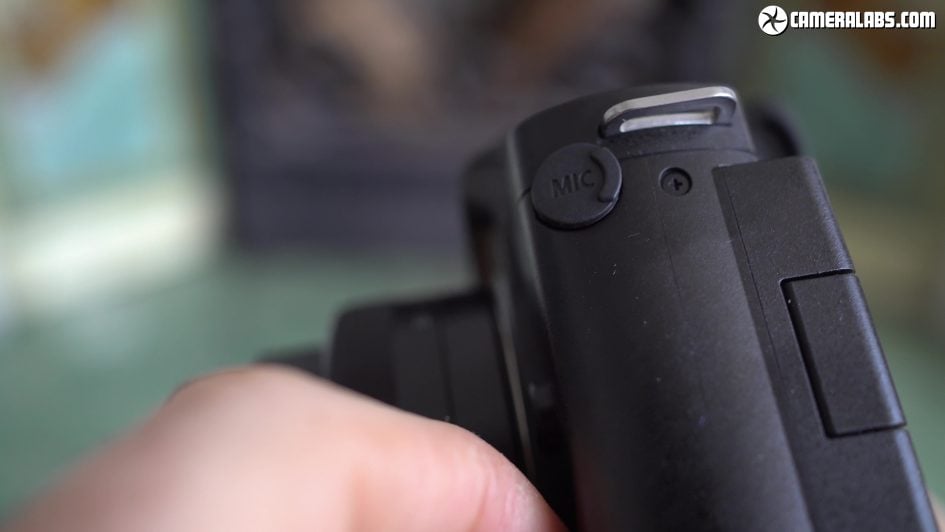 Above: The Lumix G100 is equipped with a 3.5mm microphone input that's considerately positioned above the screen hinge, allowing you to connect a mic and not have the cable block the display.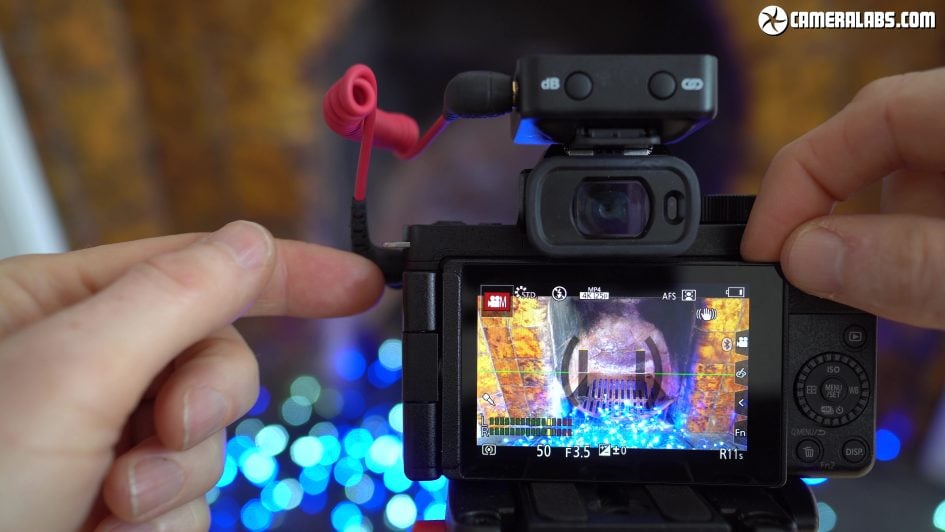 Above: I tried my Rode Wireless Go with it and you'll hear it in my video review.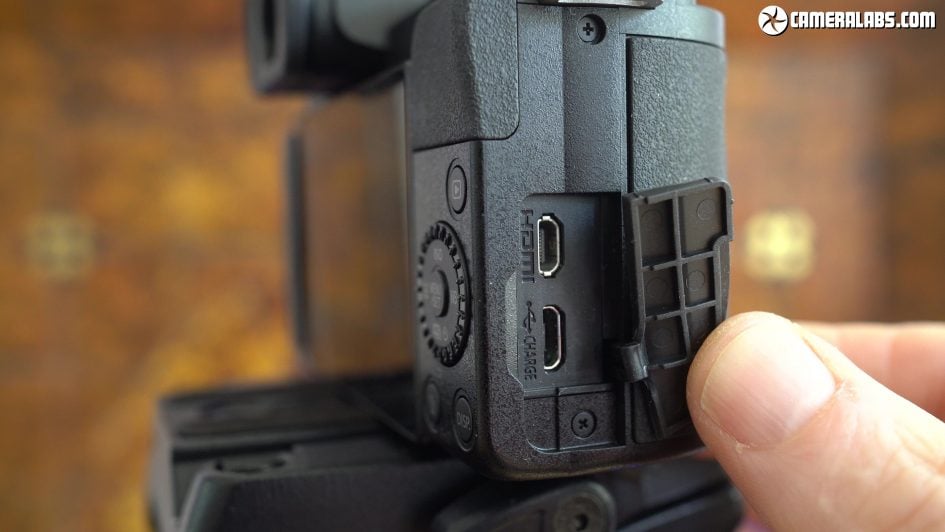 Above: On the right side are the Micro USB and Micro HDMI ports, the former can be used for charging but not powering the camera and sadly you can't use it as a USB webcam with Panasonic's recent software. You can however take the HDMI output and use that with an HDMI capture device and a clean option is available. Note the HDMI is only available up to 1080p and there's no 10 bit output either. There's no headphone output, an advantage of the G90.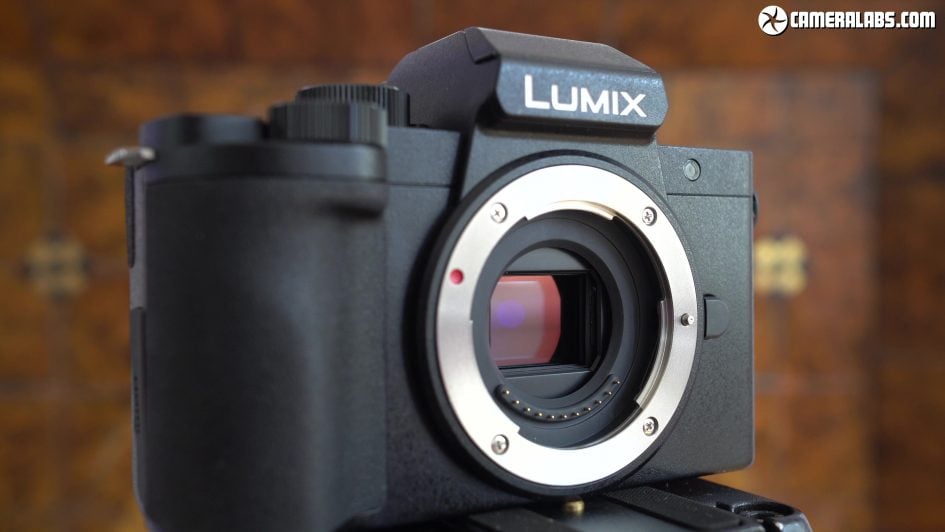 Above: Panasonic has equipped the G100 with its most recent 20 Megapixel Micro Four Thirds sensor, the same I believe as the G90 / G95, which means the photo quality should also match the G9. This also means the G100 employs Panasonic's contrast-based DFD autofocus system which is quick for single AF but lacks the greater confidence of rival phase detect AF systems especially for continuous tracking. That said, in my video tests it held onto the subject better than, say, the Canon G7X series and I'll show you a bunch of examples in a moment. Note the G100 does however lack the sensor stabilisation of the higher-end bodies in the series, so you'll be relying on lens-based optical and or electronic stabilisation to reduce the wobbles. If you want IBIS, get the G90.
Before discussing video, I found the 20 Megapixel resolution more than enough for general photography and was satisfied by the degree of detail, although the 12-32 kit zoom isn't as flexible as the 12-60 in the G90 bundles. Like all Micro Four Thirds cameras, the quality looks best at lower ISOs and I'd try to stay below 1600 for the best results. If you regularly photograph in very dim conditions at high ISOs, you should consider a camera with a bigger sensor or get a brighter lens. Luckily with the Micro Four Thirds mount, the G100 has access to a wealth of alternative lenses if you desire, including many with very bright apertures that help keep the sensitivity down.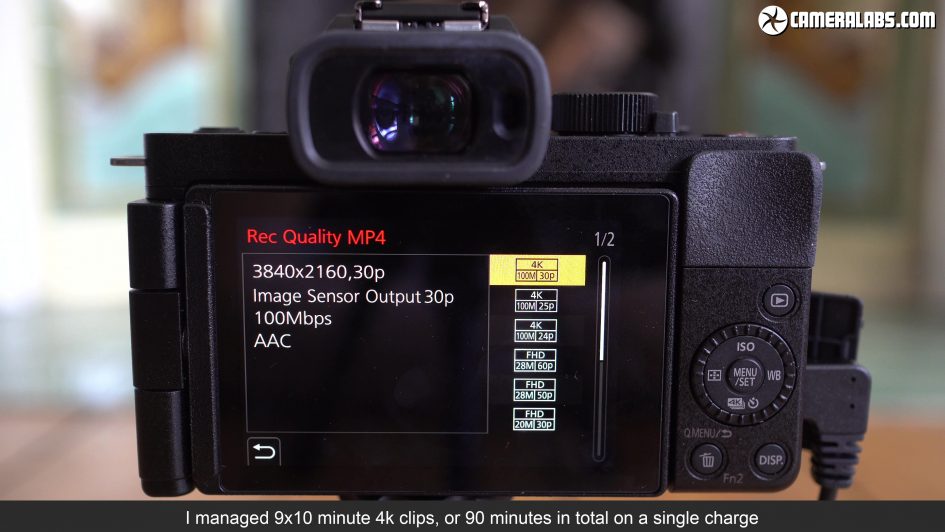 Above: Moving onto movies, the G100 can film 720p at 25 or 30p, 1080 at 24 to 60p, at up to 28Mbit/s, or 4k at 24, 25 or 30p at 100Mbit/s. Clips are limited to half an hour for 1080 up to 30p, reducing to 20 minutes for 1080 at 50 or 60p, or just ten minutes in 4k. The larger G90 allows unlimited recording times, and if you disable the heat warnings, Sony's ZV1 can also record longer than half an hour.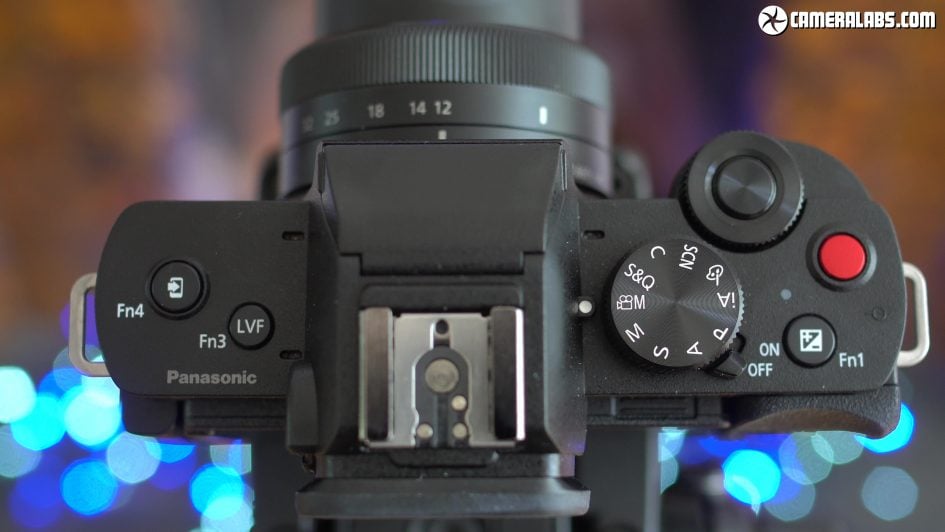 Above: High speed video has been moved to a new S&Q or slow and quick position on the mode dial. Like Sony, this lets you record videos that are faster or slower than normal, with a maximum slowdown of four times in 1080. You can see an example of the slow motion in my video review.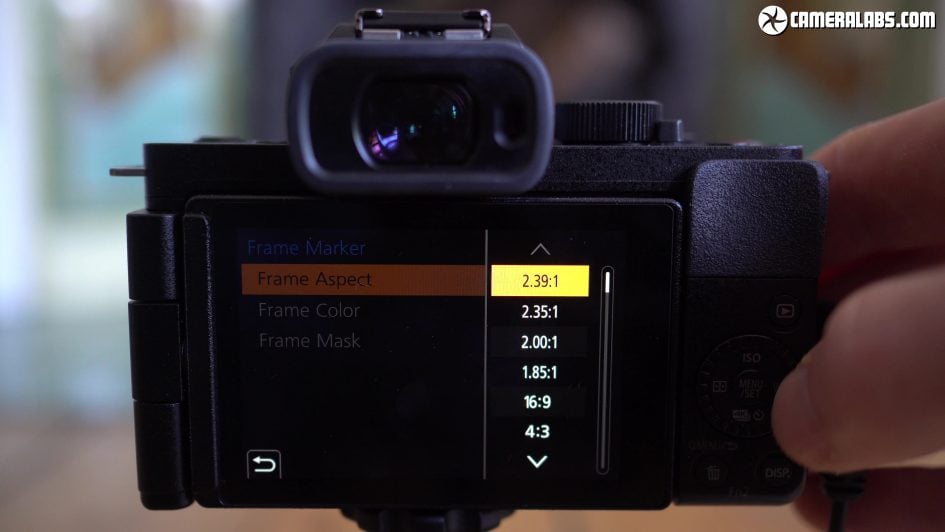 Above: With content creation in mind, the G100 offers a bunch of guides that indicate a wide variety of crops and aspect ratios from cinemascope movies to vertical phones and everything in-between. You can also dim the outside areas to make it easier to concentrate on the portion you'll be cropping later. The G100 can also detect vertical video and maintain the orientation when copied to a phone or editor, while one of the Function buttons on the camera provides a shortcut by default to fire-up the Wifi connection for transferring pictures and videos.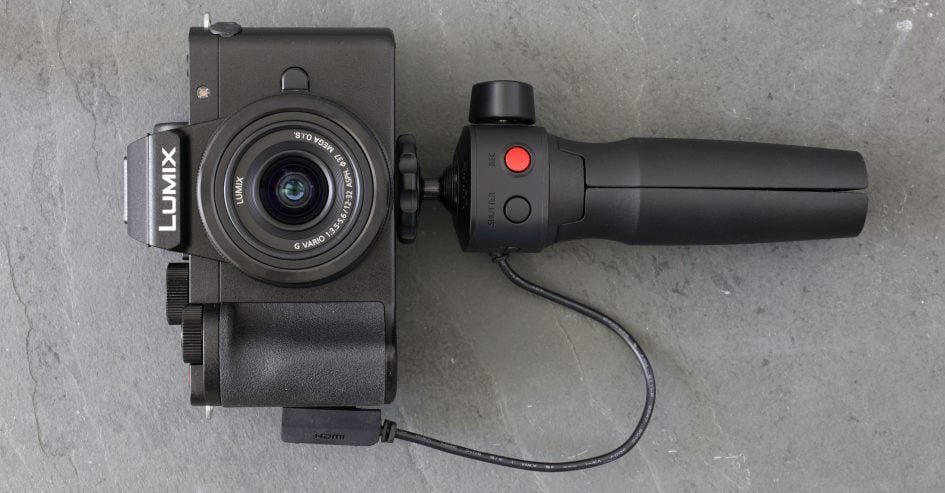 Above: As a camera aimed at vloggers, it's not surprising to find Panasonic also offering a tripod grip accessory, the DMW-SHGR1 which is also compatible with a bunch of firmware-updated older models including the G9, G90 and GH5. It connects to the Micro USB port and offers buttons to take photos, start and stop recording or send the camera to sleep, while the grip opens-up into three legs to become a mini tripod. It's very reminiscent in design to those Manfrotto mini tripods, but smaller and I found it a very useful accessory for the G100 whether filming handheld or as an ad-hoc stand. Keep an eye open for deals on the G100 kit that include it.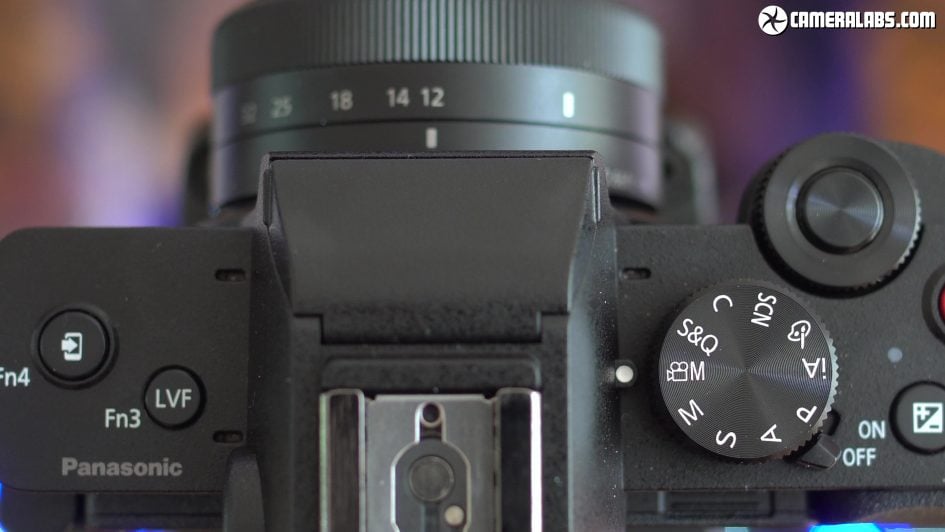 Above: One of the most interesting aspects of the G100 are its built-in microphones: three in all, two on either side of the viewfinder head and one towards the rear. The G100 uses Nokia's Ozo system, also available on some smartphones to provide audio directionality, focusing on the subject or embracing ambient surroundings.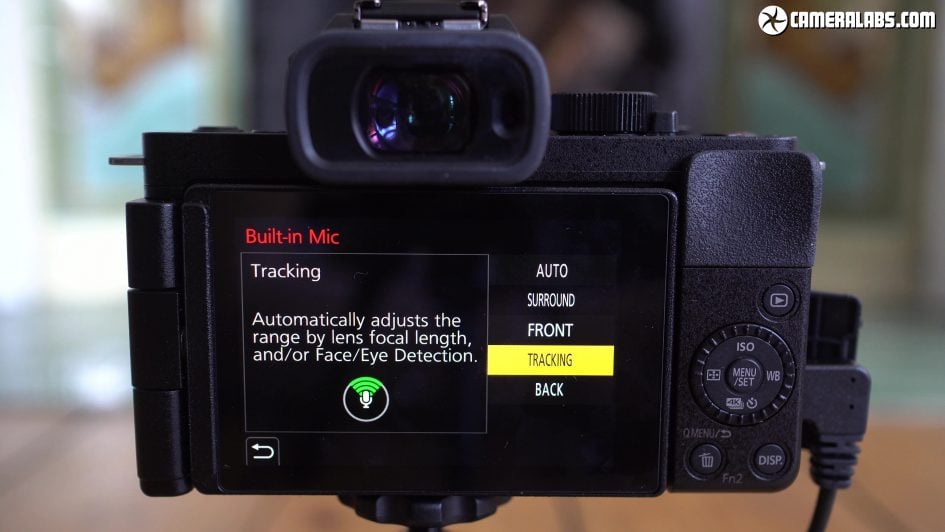 Above: There's five modes to choose from: Tracking works with face detection to focus the microphone on your face as you move around, Front forces the mics to focus straight ahead, Back uses the rear-positioned mic to more clearly record sounds coming from behind the camera, like narrating a scene, while Surround uses all three mics to capture greater ambience.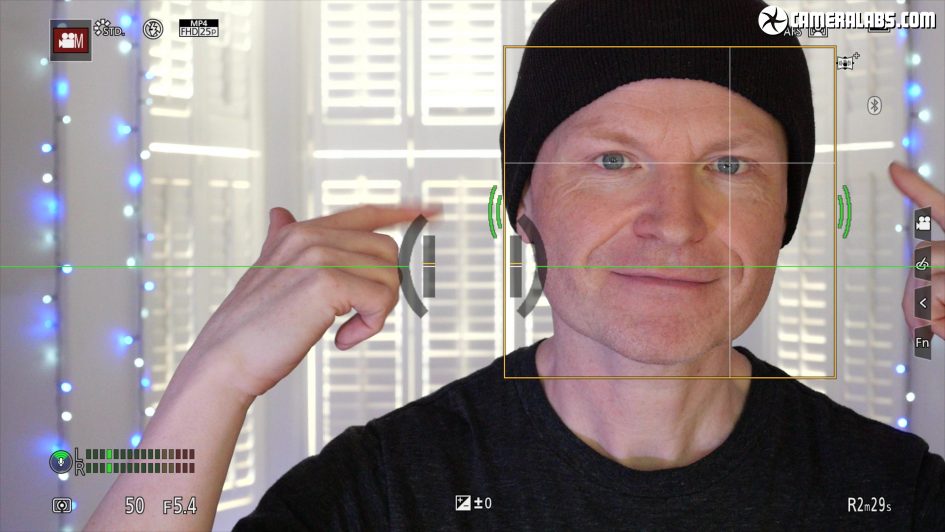 Above: When tracking is enabled, you'll see little green icons on either side of the face detection frame to indicate the mics should also be following your position and paying less attention to other sounds.
Depending on the movie quality and electronic stabilisation, the G100 applies a variety of crops with the strongest reserved when filming in 4k or with electronic stabilisation set to High. I have lots of examples and comparisons of the stabilisation, focusing, movie quality and audio quality in my video review.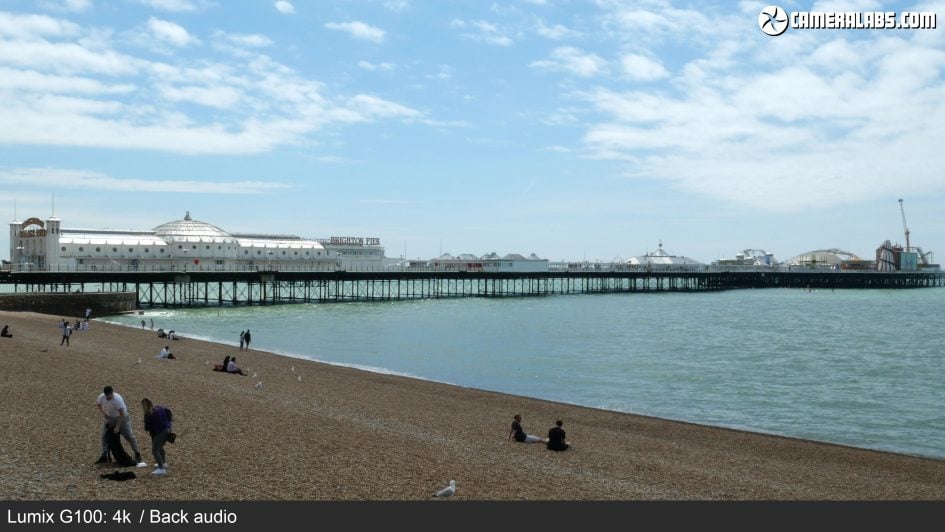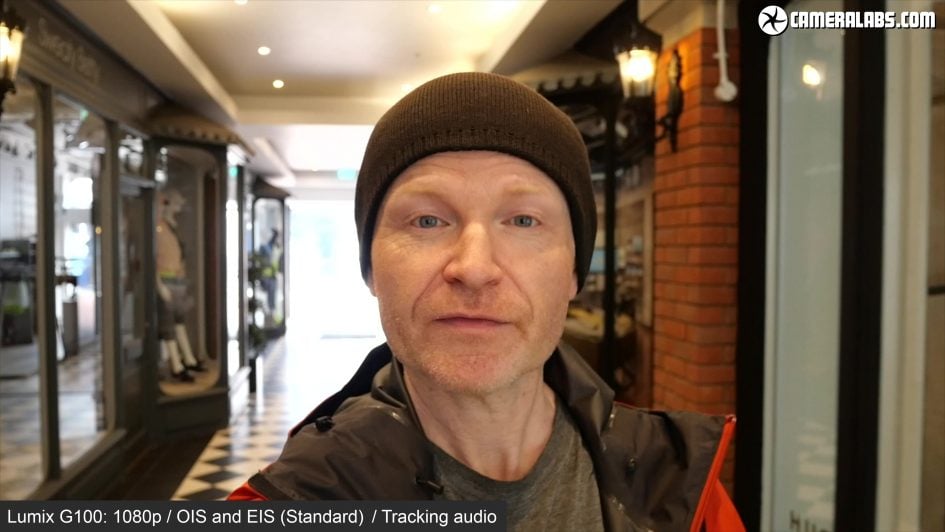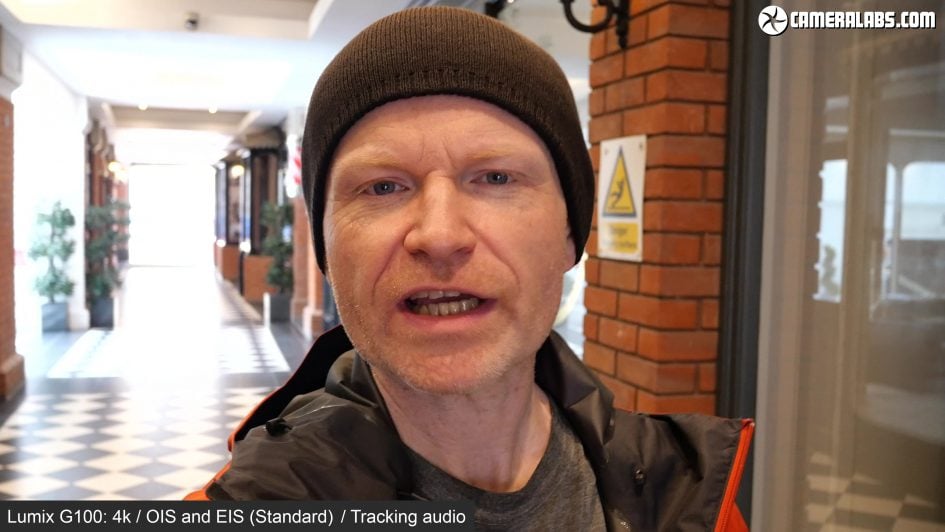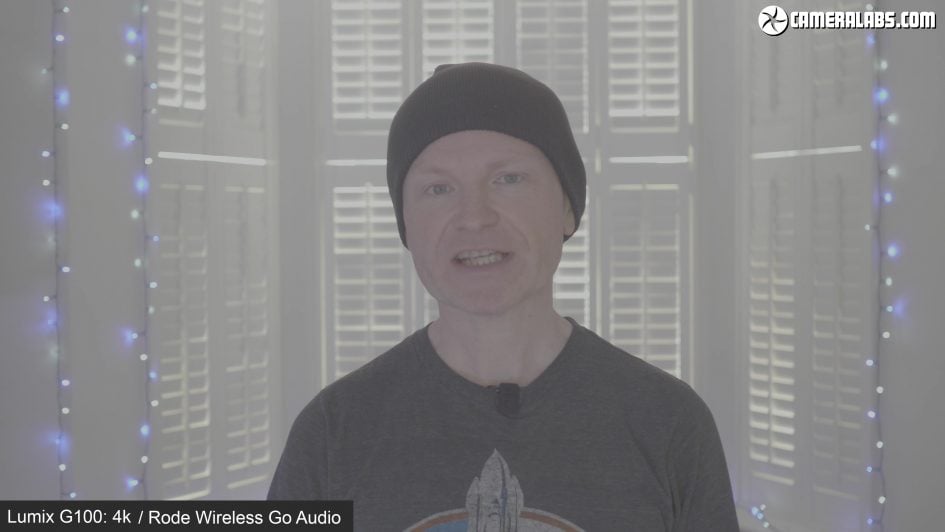 Panasonic Lumix G100 verdict-so-far
The Lumix G100 is one of the most compact mirrorless cameras around, but packs a decent feature-set with a built-in viewfinder, fully-articulated side-hinged screen, external mic input and a clever built-in three-mic system. Panasonic may be pitching it primarily at vloggers, but it also makes for a very nice compact general-purpose camera that can take different lenses. I was fond of the earlier GM series, and in a way the G100 is their spiritual successor.
In terms of vlogging, the G100 ticks several important boxes including a screen that faces forward, an input for an external mic and a hotshoe to mount it, as well as a decent built-in sound system that's effective whether you're in front or behind the camera. Your mileage will vary regarding stabilisation, but I found the combination of optical and standard electronic delivered good results, although beware of the tighter crop when using the strongest electronic mode. Filming in 4k also incurs a tight crop even without stabilisation, making it less suitable for vloggers or those who like to see more of their surroundings. As for autofocus, the G100's contrast-based system was good, certainly better than the Canon G7X, but not as confident as the better phase-detect rivals, so be warned if you enjoy moving back and forth when filming.
The biggest rival for the G100 is the Sony ZV-1 with both costing around the same amount. The G100 has the benefit of a viewfinder and interchangeable lenses, as well as a built-in mic system that's better at picking up sound from behind, but the ZV-1 has a more confident autofocus system, longer recording clips, more practical 4k and the simple benefit of a windshield accessory for its built-in mics. Revealingly, while the G100 has a bigger sensor, its kit couples it with a dimmer lens, so the overall quality and potential for background-blurring is actually quite similar unless you swap the lens on the Panasonic, and that may mean losing optical stabilisation.
It's a tough choice, although I feel for pure vlogging and video creation, the combination of more confident autofocus and less severe cropping makes the Sony ZV-1 preferable. Conversely, as an all-rounder, the G100 is more tempting with its viewfinder and chance to switch lenses. That said, if you like the idea of a Micro Four Thirds camera, do keep an eye on the price of the Lumix G90 / G95 as it gives you IBIS, unlimited recording, an OLED viewfinder, headphone jack and a more flexible kit zoom for not a great deal more. Meanwhile Canon's EOS M50 also remains a compelling choice for vloggers with excellent autofocus so long as you forget about 4k. The choice is yours, although I love that both Sony and Panasonic are now taking built-in microphones more seriously with much improved audio as a result.
Check prices on the Panasonic Lumix G100 at B&H, Adorama or WEX. Alternatively get yourself a copy of my In Camera book or treat me to a coffee! Thanks!