Lumix 30mm f2.8 Macro review
Quality
To evaluate the real-life performance of the Lumix G 30mm f2.8 lens with a distant subject, I shot this exterior scene at every aperture setting using an Olympus OMD EM1 mounted on a tripod.
The EM1 was set to its base sensitivity of 200 ISO and the lens focused on the centre of the composition using magnified Live View assistance. The corner and centre crops shown below were taken from the areas marked with the red squares and presented at 100%.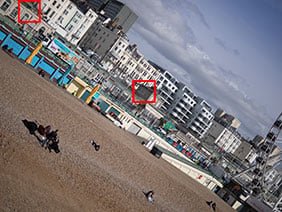 I shot the scene using the EM1's RAW mode and processed the files in Adobe Camera RAW (ACR) via Photoshop using the following sharpening settings: 50 / 0.5 / 36 / 10. All lens corrections were disabled, so there's no software compensation for vignetting, geometric distortion or chromatic aberrations, although note the camera may be applying some corrections before the RAW file is recorded which can't be disabled.
The Lumix 30mm f2.8 may be a macro lens but performs well with distant subjects. Here it delivers crisp, well-corrected details right into the corners even at the maximum aperture. As you'd expect, there's some benefit to contrast and sharpness when closing the aperture, but you won't need to do it too much – I found the best results between f4 and f5.6. Closing to f8 still looks good, but much beyond here you'll see the impact of diffraction kicking-in and softening the image. This is definitely something to be aware of if you're shooting macro and trying to achieve the maximum depth of field. The bottom line though is the Lumix G 30mm f2.8 works sufficiently well with distant subjects for it to perform successfully as a dual-purpose lens. The potential depth of field may not be as shallow as other prime, but the ability to shoot extreme close-ups and respectable general-purpose images gives it great flexibility in your bag.






Next skip to my sample images or head back to my verdict.