Panasonic Lumix FZ80 / FZ82 review
Verdict
The Panasonic Lumix FZ80 / FZ82 is a bridge super-zoom with a 60x optical zoom lens, 18 Megapixel sensor, a fixed, 3-inch touch screen and a built-in viewfinder. It replaces the still-available Lumix FZ70 / FZ72 retaining the older model's lens but updating the sensor, screen and viewfinder, as well as adding Wifi and USB charging.
Panasonic has also taken the opportunity to add 4k video and that of course means that the Lumix FZ80 / FZ82 benefits from the company's 4K Photo modes – which effectively capture 8 Megapixel stills at 30fps or let you refocus after the event – that have been such a success on other recent Lumix models. The sensor also supports an electronic shutter, extending the fastest shutter speed from 1/2000 to 1/16000, and continuous autofocus has improved with Panasonic's DFD technology. Burst shooting is also up from 9 to 10fps, with a much longer 48-frame JPEG burst compared to the meagre 3 frames of its predecessor.
The Lumix FZ80 / FZ82 shares the same optical zoom range as its predecessor, taking you from an unusually wide 20mm equivalent to a super-telephoto 1200mm, allowing you to grab expansive landscapes or tight interiors at one moment and close-ups of distant wildlife or the Moon at the other. Even after the crop applied by the 4k video / photo modes, the camera still delivers 28-1680mm coverage, and there's also the ability to focus as close as 1cm, making it extremely flexible.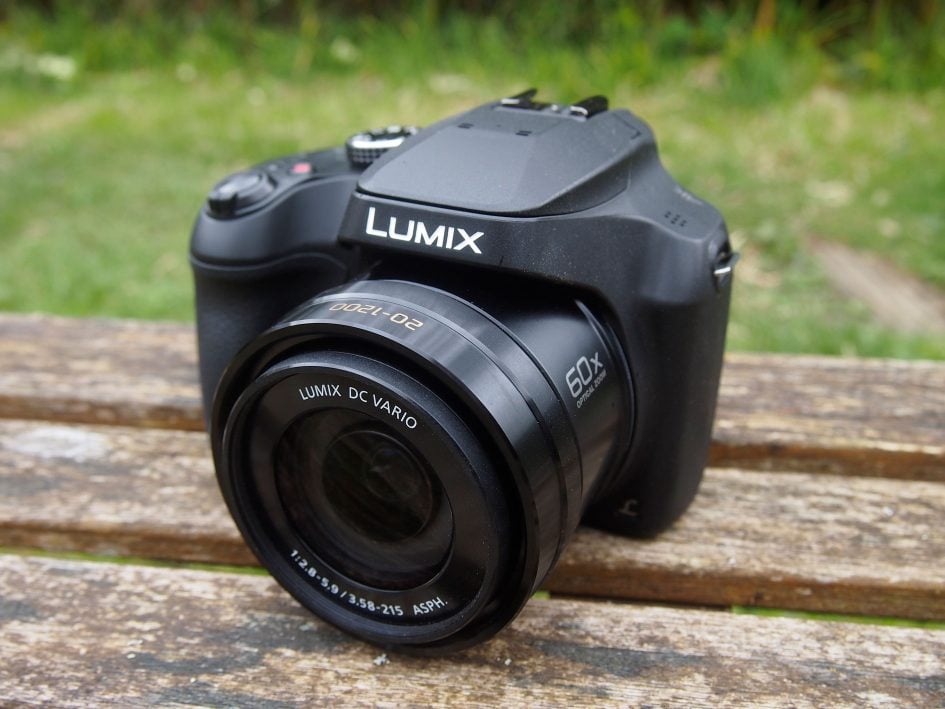 The Lumix FZ80 / FZ82 is in competition with the Nikon COOLPIX B700 and the Canon PowerShot SX60 HS. Though more than two and a half years old, the SX60 HS still provides stiff competition for the Lumix FZ80 / FZ82. Its 65x optical zoom outreaches the FZ80 / FZ82 at the telephoto end of the range and the SX60 HS has some clever tricks that help you keep track of your subject when zoomed in. Like the Lumix FZ80 / FZ82, it offers excellent stabilisation, but the lens isn't quite as bright, at least in the wide angle part of the range.
The SX60 HS lacks 4K movie capability, and while those who are looking primarily for a stills camera may not be too bothered by that, 4K on the Lumix FZ80 / FZ82 means you also get the 4K Photo modes, effectively providing 30fps continuous shooting at 8 Megapixel resolution, as well as Post Focus modes. The FZ80 / FZ82 also beats the PowerShot SX60 HS for 'conventional' full-resolution continuous shooting with 10fps vs 6.4fps.
The PowerShot SX60 HS offers good Wifi features and has an NFC chip, which the FZ80 / FZ82 lacks, but it lags behind the Lumix when it comes to remote shooting capabilities.
At the time of writing the Lumix FZ80 / FZ82 is slightly undercutting the PowerShot SX60 HS in terms of price, as always, it pays to shop around. As it stands, I reckon the Lumix FZ80 / FZ82 is much better value for money with more to offer in virtually every respect, other than zoom range.
The Nikon COOLPIX B700 is a much more recent model, launched about a year before the Lumix FZ80 / FZ82 appeared on the scene. It shares a 60x optical range with the Lumix FZ80 / FZ82, but starts and ends slightly longer with an equivalant range of 24-1440mm. So it's a straighforward question there of whether you value the wide-angle or telephoto extremes more. At the wide angle end of things the Lumix FZ80 / FZ82's lens is about half a stop brighter so, all else being equal, you can shoot with a faster shutter speed or lower sensitivity setting.
Both models have screens and electronic viewfinders that are closely matched in terms of size and resolution, but the Lumix FZ80 / FZ82's screen is touch-sensitive with all the advantages for easy focus area selection and menu navigation that entails. In its favour the COOLPIX B700's vari-angle screen can be flipped out to face in any direction including forwards – an advantage shared by the PowerShot SX60 HS.
Both these models offer 4K movies at 25fps and 30fps, but the Nikon lacks a dedicated movie mode and manual exposure control for movies. It also lacks anything like the 4K photo modes of the lumix FZ80 / FZ82 and while it offers a raft of low resolution burst modes its best full-resolution continuous shooting speed is 5fps.
Nikon's Wifi implementation uses a Bluetooth link to automatically transfer images to your phone in the background, which gives it an edge over the Lumix FZ80 / FZ82 if you do a lot of image sharing to social media, or just like to be able to review all of your shots on your phone. But Nikon's app offers very basic remote shooting features where the Panasonic app is one of the best around for wireless camera control.
At the time of writing the COOLPIX B700 was a little more expensive than the Lumix FZ80 / FZ82, but that could change with time or your geographic location so, as always, the advice is to shop around for the best deal. The COOLPIX B700 is smaller, has the vari-angle screen, and its Snapbridge wireless transfer system will be a draw for connected shooters, but I think for the price the Lumix FZ80 / FZ82 has more to offer, particularly for those looking for the sophistication and wide feature set of a DSLR without the bother and expense of interchangeable lenses. See my Nikon B700 review for more details.
Panasonic Lumix FZ70 / FZ82 final verdict
The Panasonic Lumix FZ80 / FZ82 is a bridge super-zoom with a 60x optical range. It updates the Lumix FZ70 / FZ72, retaining the older model's 20-1200mm lens, but with a new 18 Megapixel sensor, an upgraded 3 inch 1040k dot fixed touch screen, and a more detailed 0.2in 1.7 Million dot EVF. Also new are 4K video and 4K Photo modes, excellent Wifi for wireless shooting and image transfer, faster continuous shooting, improved AF with Panasonic's Depth from Defocus technology and USB charging. It's got just about everything you could wish for in a bridge camera at this price bar an articulated screen, so comes highly recommended.
Good points
3 inch touch screen.
4K video and 4K photo modes.
Greatly improved full resolution 10fps continuous shooting.
One of the best Wifi implementations around.
USB charging.
Bad points
Noise at 80 ISO base sensitivity.
Loose viewfinder dioptre adjustment.

Check prices at Amazon, B&H, Adorama, eBay or Wex. Alternatively get yourself a copy of my In Camera book, an official Cameralabs T-shirt or mug, or treat me to a coffee! Thanks!