Panasonic Lumix FT7 / TS7 review
Verdict
Five years on from the Lumix FT5 / TS5, the new Lumix FT7 / TS7 marks a massive step up in features and capabilities – as well as price. The FT7 / TS7 is a bold bid to capture the premium waterproof rugged compact market. So there's really only one question that needs answering. Is it better than the Olympus TOUGH TG-5?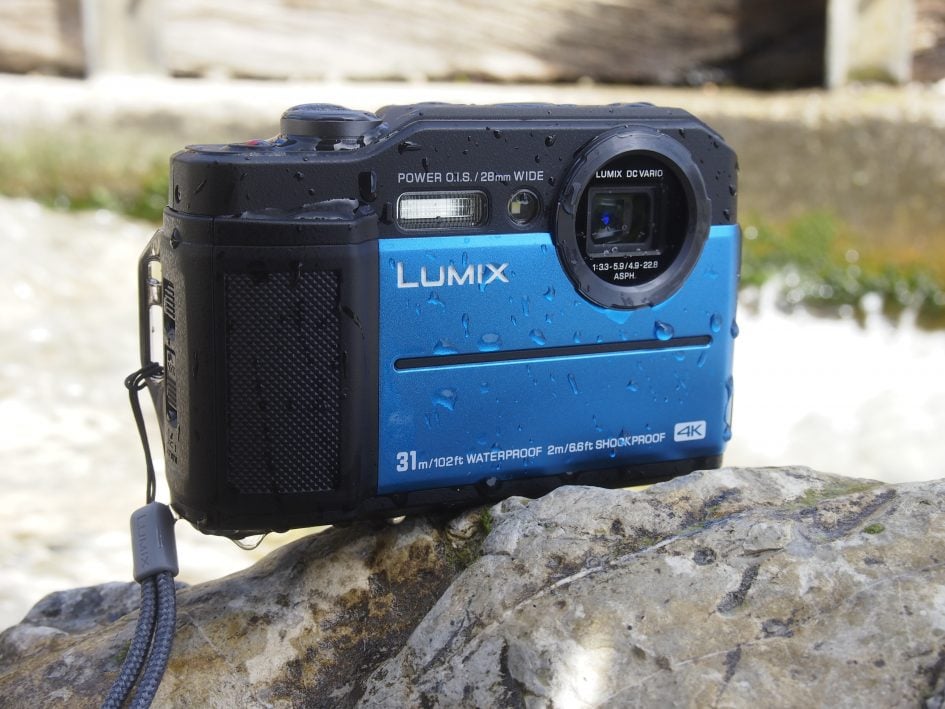 On paper the Lumix FT7 / TS7 certainly measures up as a serious competitor to the TOUGH TG-5. It can dive to more than twice the depth (31m compared to 15m for the TG-5) and matches it for shock (2 and 2.1m respectively) freeze (-10C) and crush (100Kg) proof specifications.
Before we go any further with the feature comparisons this is probably a good time to mention the Lumix FT7 / TS7's built in 1,170k dot electronic viewfinder. You'll have to look hard to find another rugged waterproof model with a viewfinder and, while you're unlikely to find it useful in or under the water, it's great for use in bright sunshine and for action shots. It makes the Lumix more practical and usable above the water and on land.
Moving on, the Lumix FT7 / TS7 has a 20 Megapixel sensor, compared with a 12 Megapixel sensor in the Olympus TOUGH TG-5. This may mean the Lumix has the potential to record more detail in good light, but the reality is the smaller pixels become noisier faster, especially at higher ISO sensitivity settings.
And although the Lumix FT7 / TS7's 4.6x zoom lens has a slightly longer 28-128mm range than the 4x 25-100mm lens on the TOUGH TG-5, its f3.3 maximum aperture isn't nearly as bright as the TG-5's f2 lens. That means that in similar lighting conditions you'll be able to take hand held shots at lower ISO sensitivity settings with the TOUGH TG-5. The combination of those two things – the brighter aperture and the lower noise sensor – mean that you'll generally get better quality images from the TOUGH TG-5 and that's particularly true for low light (i.e underwater) shooting.
Both models support 4K video, but the TOUGH TG-5 additionally sports no fewer that three slowmo modes, the best quality providing quarter-speed playback at 1080p resolution where the Lumix FT7 / TS7 only has a quarter-speed 720p slow motion mode.
Both of these models have very capable continuous shooting modes for capturing action sequences in and out of the water. The Lumix FT7 / TS7 supports Panasonic's innovative 4K photo modes. Among other things these provide 30fps continuous shooting (at 8 Megapixel resolution) that is more than a match for the TOUGH TG-5's also very capable 20fps (at full 12 Megapixel resolution).
Both models have built-in wifi, but the Lumix FT7 / TS7 lacks the TG-5's built-in GPS, which for me is a real disappointment. While you can add positional data from a smartphone to images on the FT7 / TS7 using the Panasonic app, that relies on you having a phone with you at all times – fine on the land and in some cases on the water, but not practical if you're actually in or under the water. And in any case, it's just much simpler if GPS is built in. I think this might well be a deal breaker for many kayakers, boaters, and other water sports enthusiasts. Both cameras have a good array of environmental sensors, including an altimeter / depth gauge and compass, but the TOUGH TG-5 is the only waterproof compact to pack a temperature gauge.
If you're trying to decide which of these two models is your best bet for outdoors and water-based shooting, you'll need to think carefully about exactly what you want to shoot and how they'll accommodate your shooting style. Some of that will be personal preference, but the key things to consider are the Lumix FT7 / TS7's viewfinder, impressive diving depth, slightly longer telephoto reach, 4K shooting modes and big print capability. The TOUGH TG-5 offers a brighter lens with a wider angle 24mm starting point (but a shorter range), closer macro shooting, built-in GPS, a temperature sensor, better quality slow motion video and better image quality.
I Don't think Panasonic has done quite enough to knock the Olympus TOUGH TG-5 off its perch as our best premium waterproof compact. The lack of a built-in GPS is a disappointing omission and, particularly for underwater photography, the TG-5's brighter lens and superior noise performance keep it out in front. That said, for serious divers who want to go to depths of 31m the Lumix FT7 / TS7 is an ideal choice. And in handling terms its built-in electronic viewfinder also puts it ahead of the TG-5 as a general-purpose out-of-the-water compact. So the Lumix is a more flexible all-rounder, but the Olympus is preferable once you're in the water. See my Olympus TOUGH TG-5 review for more details.
Finally, Nikon's W300 is also worth a look. It's in the same price bracket as the Lumix FT7 / TS7 and TOUGH TG-5 and has a slightly longer 5x 24-120mm lens – offering both the wide angle capability of the TG-5 and close to the telephoto reach of the FT7 / TS7 with an f2.8 maximum aperture. It couples its wifi with Bluetooth to transfer images to your phone in the background using Nikon's Snapbridge technology. It can dive to 30m, is shockproof to 2.4m, and is dustproof and freezeproof to -10C. It also has a built in GPS, altimeter / depth gauge and electronic compass and supports 4K video, but lacks the fast continuous shooting options of the TG-5 and FT7 / TS7. So if you like the Lumix FT7 / TS7's deep dive capability, but not its less than sparkling picture quality or lack of a built-in GPS, the COOLPIX W300 may do it for you, but only if you can live without a built-in viewfinder. See my Nikon Coolpix W300 review for more details.