Leica 200mm f2.8 review - Verdict
Verdict
The Leica DG 200mm f2.8 is a high-end telephoto prime lens designed for the Micro Four Thirds system. Mounted on a Panasonic or Olympus mirrorless body, it delivers coverage equivalent to 400mm, or 560mm when coupled with the 1.4x tele-converter included with the lens. 200mm is a unique focal length in the Micro Four Thirds system, slotting between the existing Olympus 75mm f1.8 and Olympus 300mm f4 lenses, although when fitted with its teleconverter and operating at 280mm f4 it also effectively becomes a rival to the Olympus 300mm.
In my tests the Leica DG 200mm f2.8 delivered excellent quality with sharp results across the frame and right into the far corners, even at its maximum aperture of f2.8. Close it to f4 and the sharpness increases a tad and any vignetting disappears, but I remained very satisfied with the performance wide-open. Fit the supplied 1.4x teleconverter and the quality remains at a high standard while giving you some extra reach that essentially matches the length and aperture of the Olympus 300mm f4. On my results page you'll see the Olympus 300mm is fractionally superior to the Leica 200mm fitted with its teleconverter when both are wide-open, but it's a minor difference that's virtually unnoticeable unless you have them side-by-side. If you close them one stop, any difference also essentially disappears.
At 200mm f2.8, the Leica lens will easily deliver a very shallow depth-of-field and as you'd expect the rendering is very smooth with attractive bokeh. Point sources of light are rendered into nice blobs with no out-lining or onion-ringing to mention, although the Olympus 300mm f4 is equally good in this regard. I also enjoyed exploiting the closest focusing distance to capture smaller subjects at a reasonable distance, although again this is a capability within reach of the Olympus 300mm too.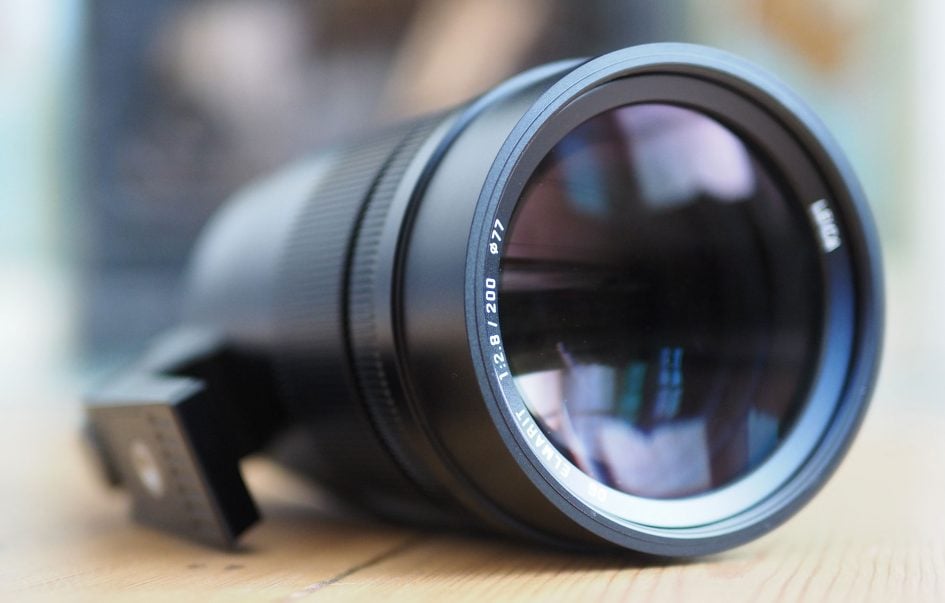 So there's no doubt the Leica DG 200mm f2.8 is an excellent lens, but so is the Olympus 300mm f4, so if you're in the market for a medium to long telephoto for an Olympus or Panasonic mirrorless body, which should you choose? In my tests there was little to nothing between them in terms of optical quality, rendering and macro reproduction.
Both lenses feature optical stabilisation that can be further-enhanced by the sensor-shift systems of their respective manufacturer's bodies. In other words, fit the Leica to a Lumix body or the Olympus 300mm to an Olympus body and both will deliver better stabilisation than their optical systems alone. Fit them on the other manufacturer's bodies and (depending on the model) you'll be limited to optical or sensor stabilisation working in isolation, not both at the same time. So if having the best stabilisation experience is critical to you, the choice between them could be decided by which body you own. That said, you'll still enjoy respectable stabilisation with the Leica mounted on an Olympus body or the Olympus 300mm on a Lumix body; it just won't be as good as when the body and lens manufacturers are the same.
Drilling-down to build and design, the Olympus 300mm enjoys a couple of neat additions over the Leica: both have removeable tripod feet, but the Olympus includes an Arca Swiss dovetail allowing it to fit right into a compatible clamp without screwing-in a plate. The Olympus also has a built-in lens hood that some may find more convenient. That said, the Leica sports a manual aperture ring that can be used with Lumix bodies which some may prefer over turning a dial on the camera body.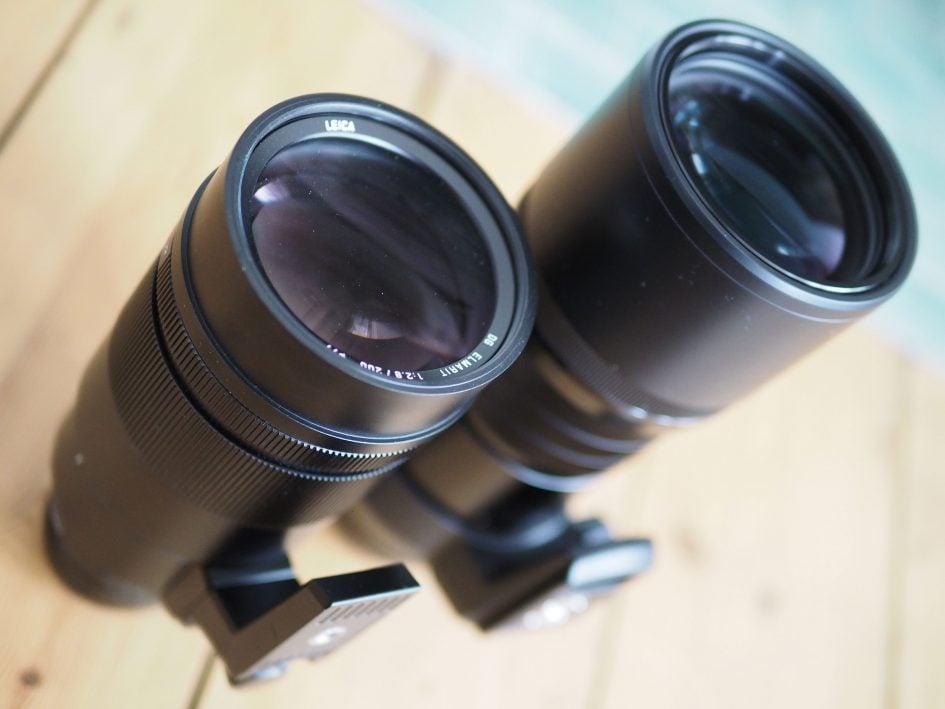 Price-wise the Olympus 300mm f4 costs around 15% less than the Leica 200mm f2.8, but remember the Leica also includes a 1.4x tele-converter. Add a similar tele-converter to the Olympus and the price becomes roughly the same.
One quick note on the tele-converter supplied with the Leica 200mm: it's designed specifically for this lens and may not work with others in the catalogue. Most obviously there could be protruding elements at the rear of a lens that prevent it from slotting-into the tele-converter, but equally the lens in question may not have sufficient resolution to benefit from a boost. So it's best to consider the supplied 1.4x tele-converter as being for the Leica 200mm alone.
Ultimately the choice really boils down to which native focal length and aperture you'll find more useful: 200mm at f2.8 or 300mm at f4. Personally speaking, I prefer having the flexibility of a 200mm f2.8 that can be tele-converted into a 280mm f4 with negligible loss in quality. I also liked that the Leica DG 200mm f2.8 could fit into my daily backpack ICU while mounted on a body, whereas the slightly longer Olympus lens had to be removed from a body for transportation – of course your mileage will vary depending on the size of your bag.
So for all these reasons I'd personally choose the Leica DG 200mm f2.8 over the Olympus 300mm f4, but if your subjects are smaller or more distant, you'll of course prefer the longer native focal length of the Olympus and its chance to be tele-converted even further. Once again the quality of both lenses is outstanding.
Before concluding though, I'd like to make a quick note on pricing. Both lenses perform very well, but carry eye-watering price tags. At the time of writing, the Leica DG 200mm f2.8 cost around $2999 USD with its 1.4x tele-converter, versus $2499 for the Olympus 300mm f4. These make them comfortably the most expensive lenses in the Micro Four Thirds catalogue. For $1799 USD you could buy the Leica 100-400mm or for $1349 USD you could get the Olympus 40-150mm f2.8, both excellent zooms; indeed you could just about buy both of them for the price of one Leica 200mm f2.8.
As an aside, Canon's EF 200mm f2.8 lens costs a relatively bargain $749. Sure it's a much older design that also doesn't offer optical stabilisation, but remember it is designed for full-frame use, versus a sensor that's a quarter the area for the Leica and Olympus models. Let's just say the Leica DG 200mm f2.8 is reassuringly expensive.
Leica DG 200mm f2.8 final verdict
The Leica DG 200mm f2.8 is an unashamedly high-end telephoto lens for Panasonic and Olympus mirrorless bodies, on which it delivers a 400mm equivalent reach. It's comfortably the most expensive lens to date for the Micro Four Thirds system, although thankfully enjoys performance to match. The optical quality for subjects near or far is excellent across the frame, even with the aperture wide-open, and the closest focusing distance of just over a meter allows impressive close-ups. Leica also softens the blow by including a 1.4x tele-converter which transforms the lens into a 280mm f4 / 560mm equivalent. This essentially matches the reach and aperture of the Olympus 300mm f4 and in my tests virtually matched its quality too.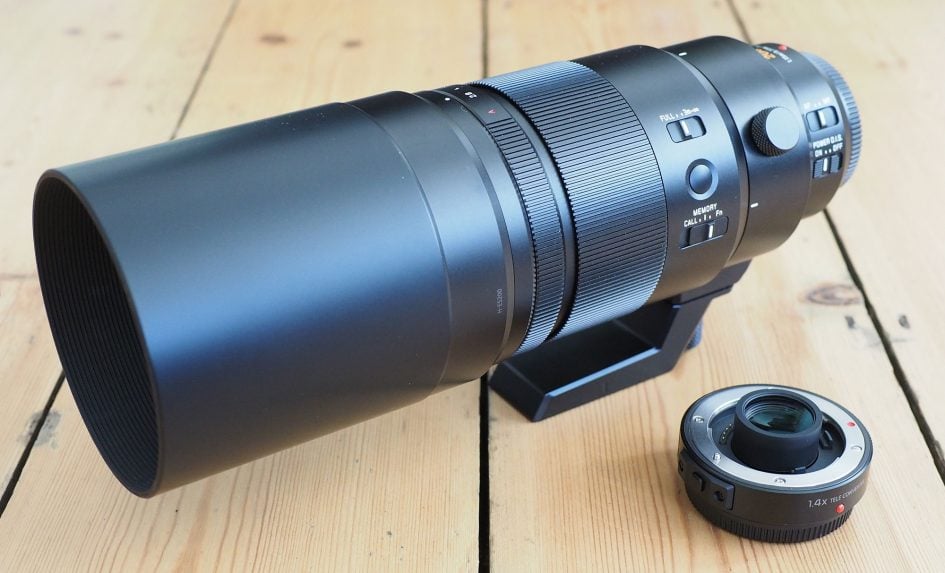 It's this flexibility as a 200mm f2.8 or 280mm f4 while maintaining the high standard that seals the deal for me. If your budget can stretch and you prefer the 200 / 280mm focal lengths over 300mm, it's a superb addition to your system. But bear in mind the Olympus 300mm f4 is a little cheaper and for roughly half the price of the Leica 200mm, you could alternatively buy either the Leica 100-400mm or Olympus 40-150mm f2.8 zooms; indeed you could buy both of those zooms for the cost of one 200mm f2.8. Ultimately the Leica DG 200mm f2.8 is a luxury lens that delivers superb performance for those who can afford it.

Check prices on the Panasonic Leica 200mm f2.8 at Amazon, B&H, Adorama, or Wex. Alternatively get yourself a copy of my In Camera book or treat me to a coffee! Thanks!

Interested in other Micro Four Third lenses? Check out my Best Micro Four Thirds buyer's guide!