Leica DG 100-400mm f4-6.3 review - In depth
In depth
The Leica DG Vario-Elmar 100-400mm f4-6.3 is a powerful telephoto zoom for the Micro Four Thirds system. Mounted on an Olympus or Panasonic body, it delivers an equivalent full-frame range of 200-800mm, giving it the longest reach of any native lens in the system. This makes it ideal for wildlife photographers, especially those who prefer to travel light – after all, while it may be one of the largest lenses in the catalogue so far, the Leica 100-400mm is surprisingly compact and portable given its ability to reach an equivalent of 800mm.
The 100-400mm is one of six lenses to date designed and manufactured as a joint effort between Leica and Panasonic. It follows the early 45mm f2.8 Macro and 25mm f1.4, along with the more recent 42.5mm f1.2 Nocticron, 15mm f1.7 and 12mm f1.4. Like those models, the 100-400mm is designed and certified by Leica in Germany, and manufactured by Panasonic in Japan. As such it may not be 'pure' Leica, but the optical and build quality is of a very high standard.
As you'd expect for a premium lens at a premium price, the Leica 100-400mm not only claims excellent optical performance, but also features dust and splash-proof construction, along with a number of neat extras including a built-in tripod foot with rotating collar, a zoom lock that works at any focal length, and a small pull-out hood. For me the big question though is how it performs against earlier zooms for the system, in particular Panasonic's original 100-300mm. So in my in-depth review I'll not only detail the performance of the new lens, but take a close look at how it compares to alternative telephoto options.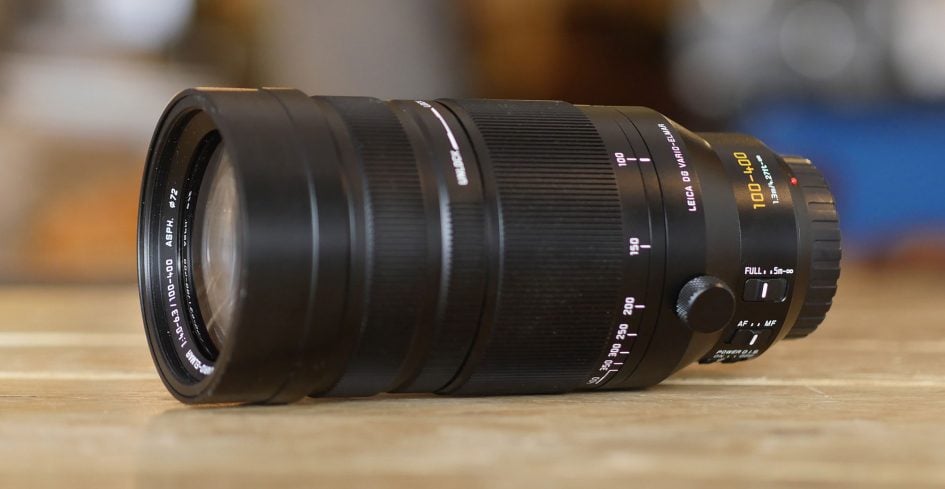 Leica DG 100-400mm f4-6.3 design and build quality
The Leica DG 100-400mm shares a family resemblance with the earlier Panasonic / Leica collaborations with a smart-looking design, higher gloss finish and distinctive Leica font for labeling. Measuring 83mm in diameter (72mm filter thread), 172mm in length and weighing 985g without its additional tripod foot, it's one of the largest lenses in the Micro Four Thirds catalogue, but still relatively compact for a lens that delivers an 800mm equivalent reach at the long-end of the zoom.
Compared to its two closest rivals in focal range, the Leica DG 100-400mm is considerably more substantial. The earlier Lumix G 100-300mm f4-5.6 is noticeably shorter – indeed roughly two thirds the length at 126mm, as well as being narrower at 74mm in diameter (67mm filter thread), and almost half the weight at 520g. Meanwhile the Olympus M.Zuiko Digital 75-300mm f4.8-6.7 II is a little smaller still at 117mm in length, 69mm in diameter (58mm thread) and 423g in weight. I've pictured the Leica 100-400mm and Lumix 100-300mm below, with their barrels retracted (in the left photo) and extended (in the right photo). In each photo, the Leica is on the left and the Lumix is on the right.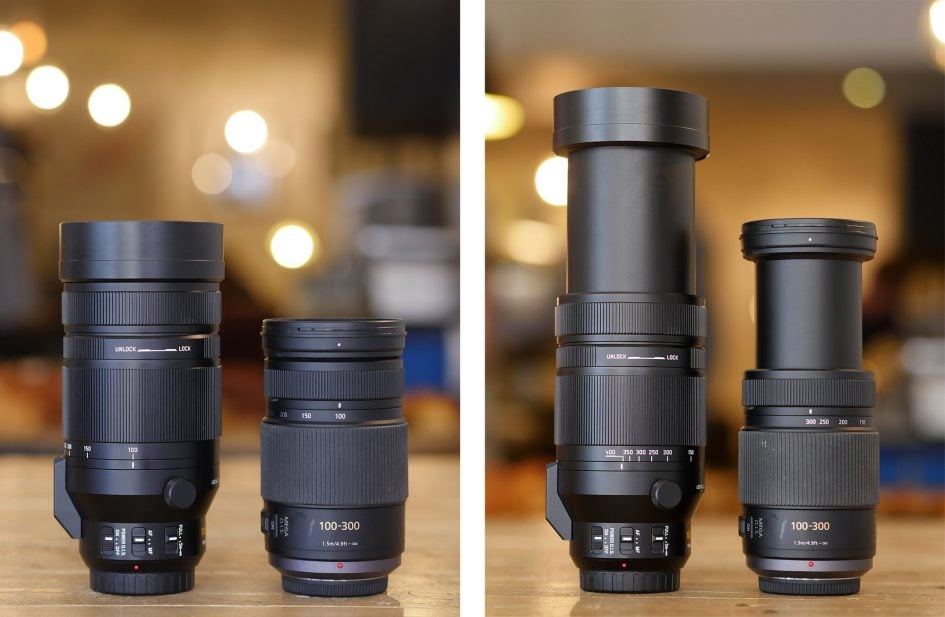 It's actually closer in size and weight to the Olympus M.Zuiko Digital 40-150mm f2.8 which measures 79mm in diameter (72mm thread), 160mm in length and weighs 760g without its tripod collar or 880g with it. For completeness I should also mention the Olympus M.Zuiko Digital 300mm f4 which is the biggest of the bunch at 93mm in diameter (77mm thread), 227mm in length (with its hood retracted) and weighing 1270g without tripod collar or 1475g with it – but remember it boasts an f4 focal ratio at 300mm.
While the Leica DG 100-400mm is clearly one of the largest Micro Four Thirds lenses to date though, don't forget it also has the longest reach – until it came along, the longest native lens with AF from Panasonic or Olympus reached 300mm so with an extra 100mm on top, it's one third longer still. Take the system's field-reduction into account and the difference becomes even more apparent: previously you could reach 600mm equivalent, but now you can reach 800mm. This makes it perfect for wildlife photographers and I have a number of examples of birds and distant sports throughout this review.
As you'd expect, the build quality is also of a higher standard than the earlier Lumix G 100-300mm and Olympus 75-300mm. Both of those models are more basic in construction and finish, looking and feeling more plasticky. Side-by-side, the 100-400mm looks and feels much classier and confident, although I felt the focus and zoom rings weren't as smooth as the best Lumix G or Olympus PRO lenses.
Panasonic claims the 100-400mm is dust and splash-proof and tough enough to handle 'heavy field use'. This is important given many sports and wildlife shooting takes place under inclement conditions, but I should note there's no rubber gasket on the lens mount so I do wonder how effective it is in practice. I used the lens on a GX8 without complaint in light drizzle, but we'll need to wait for people to report back from tougher conditions and longer-term use to really see what it's capable of resisting. Note in January 2017, Panasonic announced an updated version of the Lumix G 100-300mm which may be optically identical to its predecessor but now features weather-sealing, along with support for Power OIS and Dual IS 2.
The Leica DG 100-400mm features not two, but three rings on its barrel. There's the usual focus ring towards the end and a substantial zoom ring roughly in the middle, but in-between an additional ring that twists a little to lock the zoom anywhere on its focal length. As you zoom the lens, the barrel extends quite considerably and while my sample didn't suffer from zoom creep even when pointed directly upwards, it's still great to be able to lock it in place, and again at any focal length. The lock isn't absolute, but certainly sufficiently stiff to prevent any accidental adjustment.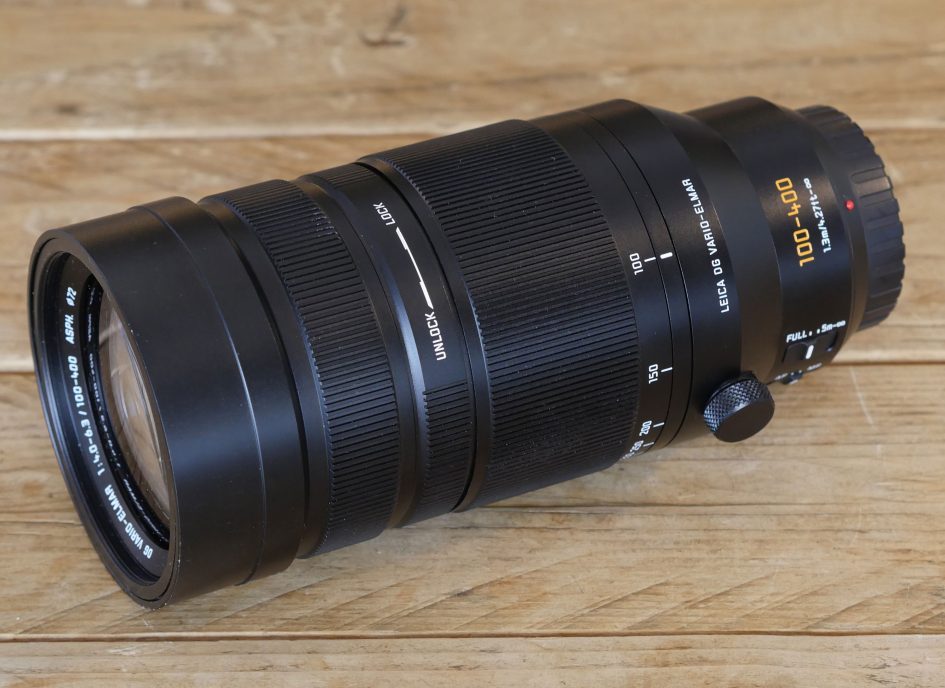 As for the focusing and zoom rings, they felt fairly smooth and are definitely a step-up from budget models, but they're not silky smooth in operation. To be fair though, the zoom ring never was going to feel completely smooth given it's mechanically driving a barrel with bunch of glass back and forth.
The zoom lock however is one of a number of neat physical extras you'll find on the lens. The next I'll mention is at the end of the barrel, where you'll find a small built-in lens hood that extends about 15mm. Sure that's only going to offer basic shielding, but it's useful to have if you forget the more substantial hood supplied in the box – which I should add can be reversed over the barrel.
In the box you'll also find a tripod foot, but turn the lens around and you'll notice the standard barrel already includes a tripod thread, allowing you to mount it directly to a tripod or plate. The optional foot simply distances the barrel from the tripod if desired, although I didn't notice any obstructions when mounting the lens directly with either a Lumix GX80 / GX85, Lumix GX8 or Olympus OMD EM1 on the back.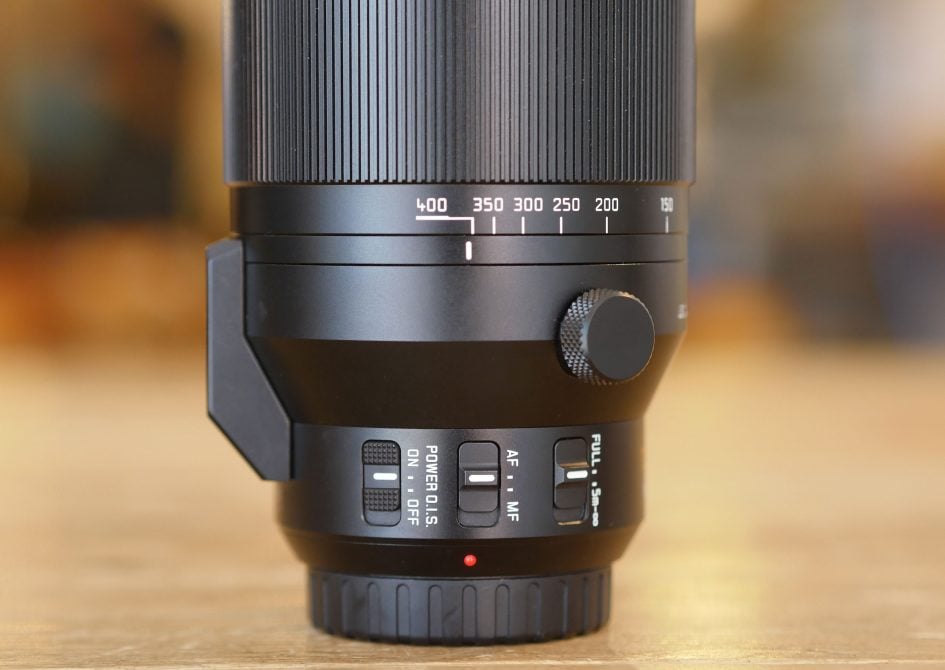 Note that I said tripod foot and not tripod collar. This at first suggests the camera body and lens barrel can't be rotated while mounted on a tripod, but this leads me to the next neat bit of design. The collar is actually built-into the lens as standard, allowing the barrel to turn by 90 degrees when it's mounted on a tripod either directly or via the foot. This means you can easily turn the camera body from landscape to portrait orientation while the lens is mounted. A small knurled dial holds the barrel in position and the controls always remain fixed in place.
The mini hood, tripod thread and collar all built-into the standard barrel with a zoom lock all make the lens much more practical day-to-day without additional accessories and shows the designers have given a lot of thought into how you use a lens like this.
Leica DG 100-400mm optical construction
In terms of optical construction, the Leica DG 100-400m employs 20 elements in 13 groups (including one aspherical ED lens, one UED lens, and two ED lenses). The focal ratio is f4 at 100mm, closing to f6.3 at 400mm, the minimum aperture is f22 and there's nine diaphragm blades. The minimum focusing distance is 130cm which at 400mm will deliver 0.5x magnification, while a switch limits the range to 5m to infinity. As an OIS lens, it also features optical stabilisation, and importantly for owners of the latest Lumix G bodies, it also supports Dual-IS which allows optical and body-based stabilisation to be used simultaneously.
As noted earlier, the Leica DG 100-400mm boasts the longest reach of any native Micro Four Thirds lens to date. Previously the longest lenses from Panasonic and Olympus reached 300mm, but now by extending one third longer, the Leica DG 100-400mm gets you closer to distant subjects like sports and wildlife. Meanwhile the shorter-end of the lens is practical for distant portrait or street work, and I also found it useful for architectural and landscape details. I've pictured the 4x / 200-800mm equivalent range below.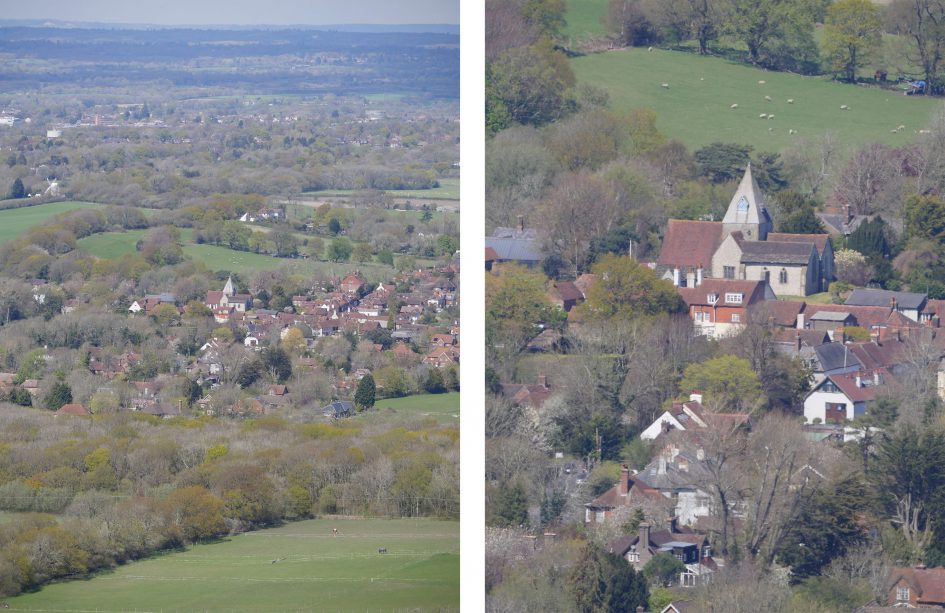 Numbers are all very well, but how does 400mm visually compare to the 300mm of earlier lenses? Here's how the 400mm of the new lens looks compared to the 300mm of the Lumix G 100-300mm.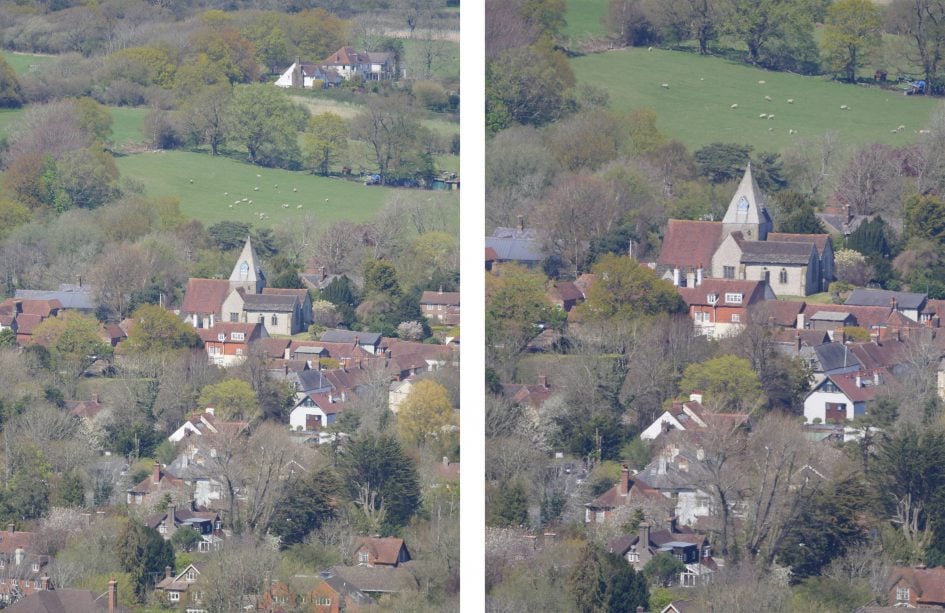 The 100-400mm at 400mm is definitely tighter, although maybe not as much as you thought. Certainly you can match the field-of-view by cropping an image at 300mm without losing too much detail – I took an image with the 100-300mm at 300mm on the Lumix GX8 and cropped it to match the field of view of the 100-400mm at 400mm and ended up with an image measuring 3858×2894 pixels versus 5184×3888 pixels of the original. That's a drop from 20 to 11 Megapixels which sounds significant, but if 11 Megapixels are enough for you, then you can achieve the reach with a simple crop.
In terms of close-up work, the Leica DG 100-400mm focuses a little closer than the Lumix G 100-300mm: 1.3m versus 1.5m, but coupled with the longer focal length, this allows it to deliver a slightly greater reproduction of 0.5x versus 0.42x. Here's a more visual representation.

After focal length, the next most important specification of a lens is the maximum focal ratio. The Leica DG 100-400mm has a maximum focal ratio of f4 at 100mm and f6.3 at 400mm. I find it useful to note where the focal ratio changes throughout the range. The Leica DG 100-400mm's focal ratio reduces to f4.5 at 150mm, f5 at 195mm and f5.6 at 280mm and doesn't reach f6.3 until fully zoomed-into 400mm. Interestingly the Lumix G 100-300mm f4-5.6 shares almost the same focal ratio throughout its range, reducing to f4.5 at 150mm, f5 at 200mm and not reaching f5.6 until its full zoomed-into 300mm. So there's no significant advantage between them in terms of focal ratio in the 100-300mm range.
How about in terms of rendering blurred areas? Here's shots taken with the 100-400mm at both ends of its range, using the maximum respective apertures of f4 and f6.3.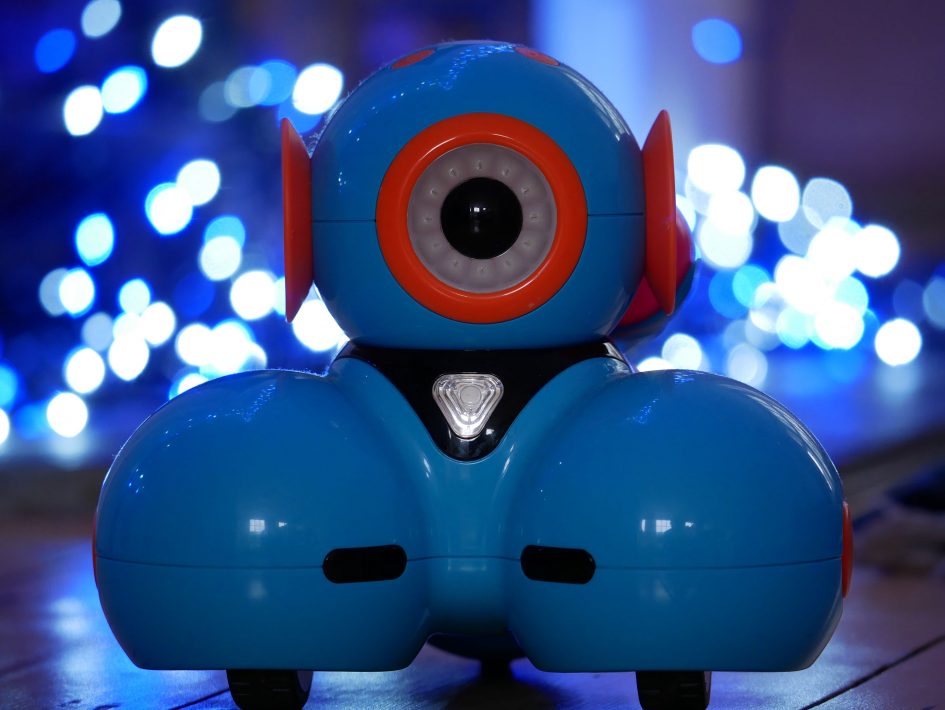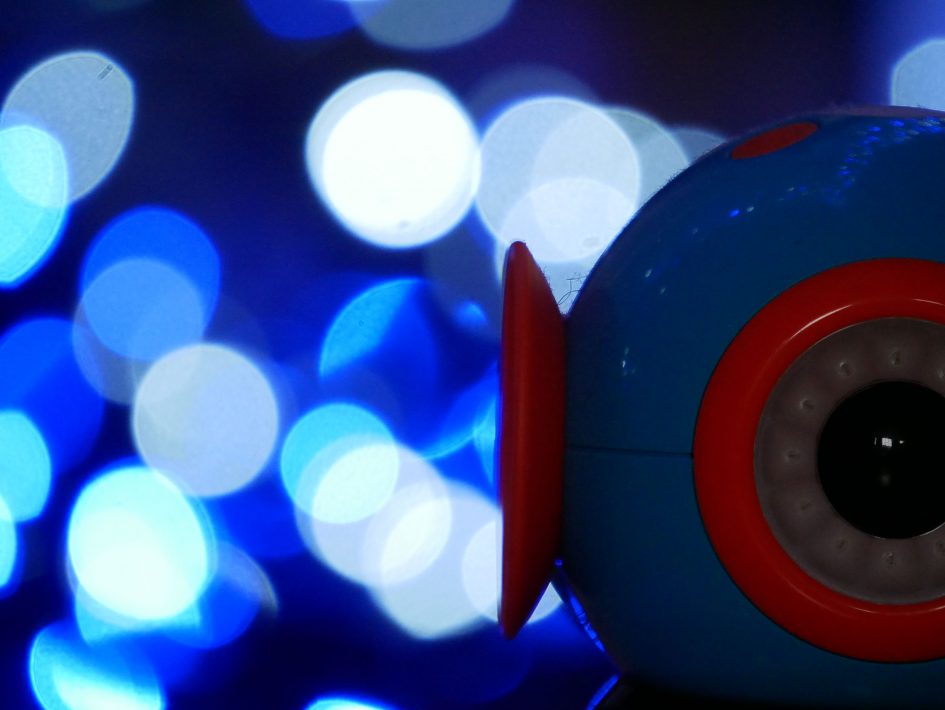 Now here's the 100mm f4 shot again, alongside one taken with the Lumix 100-300mm at 100mm f4 for comparison; I've enlarged a portion from the upper left corner for a closer-look. I'd say they look pretty similar in this instance.

The Leica 100-400mm is equipped with optical stabilisation which is pretty essential for a lens with this kind of effective focal range. It also supports Panasonic's Dual IS technology which allows a compatible Lumix body to exploit both the optical and sensor-shift stabilisation simultaneously. To put it to the test I mounted it on the Lumix GX80 / GX85 which features sensor shift stabilisation and supports Dual IS; note when mounted on a body with Dual IS, there's no way to disable one of the technologies, they both work together or not at all. Also note the older 100-300mm does not support Dual IS, so when mounted on bodies like the GX80 / GX85, it will only use its optical stabilisation. This gives the 100-400mm an advantage in terms of stabilisation.
With stabilisation disabled at 400mm (800mm equivalent), I required, as you might expect, a shutter speed of 1/800 or faster to consistently enjoy shake-free results. With Dual-IS enabled on the GX80 / GX85 I managed to handhold a perfect result at 1/25 and a virtually perfect one at 1/13. This corresponds to an impressive five to six stops of compensation on the day. That said, I managed to achieve the same result – a sharp handheld image at 800mm at 1/13 – using the built-in stabilisation of the Olympus OMD EM1 alone, testament to how effective it is even at long focal lengths. I've included 100% crops below from the 1/13 samples to illustrate the result in practice; from left to right the GX80 / GX85 with IS disabled, then with Dual-IS enabled, and on the right, the OMD EM1 with body-based stabilisation alone.

Here's a couple more handheld shots taken with the Leica 100-400mm lens at 400mm for an 800mm equivalent field-of-view. The one on the left was taken at 1/125 and the one on the right at 1/60. It's amazing to be able to handhold such long focal lengths at relatively slow shutter speeds.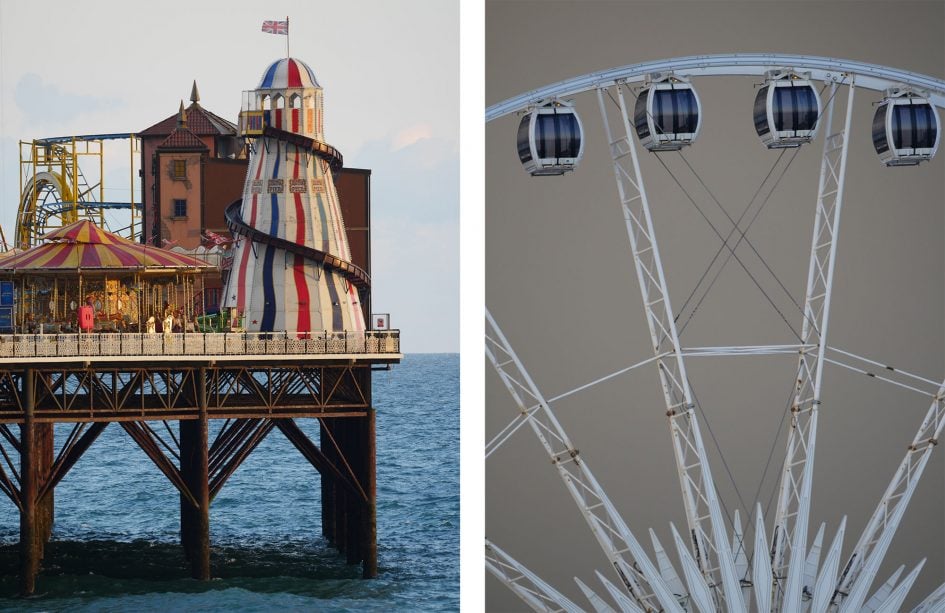 The stabilisation is also invaluable when filming video. Here's a clip I filmed with the Leica 100-400mm on the GX80 / GX85, showing how effectively you can handhold even at an equivalent of 200mm. As I zoom to the long-end of the range, it can no longer cope, but given that's equivalent to 800mm, it's literally a big reach. I'm certainly very happy with the performance of the stabilisation.
Leica DG 100-400mm f4-6.3 focusing
In terms of autofocus, I'm pleased to report the Leica DG 100-400mm is very swift even at the long-end of its range, typically snapping onto subjects in half a second when mounted on a Lumix GX80 / GX85; even in lower contrast and trickier conditions, it rarely took more than a second to lock-on. In use it feels quicker and more confident than the older Lumix G 100-300mm (running firmware v1.2) which under the same conditions on the same body typically took twice as long to lock-onto the subject and suffered from more searching back and forth as it did so.
The quick autofocus on the Leica 100-400mm makes it much more practical for shooting action and wildlife than the 100-300mm, not to mention spontaneous or street subjects. Indeed when coupled with the upgraded Dual-IS on the GX80 / GX85, it's easy to forget the immense focal lengths you're often wielding. With quick AF and effective stabilisation, it's easy to shoot with the long-end of the lens.
But not all subjects stay still, and the ability to continuously refocus on a moving subject has often been a challenge for Micro Four Thirds in the past. Panasonic has been working hard to improve continuous focusing with its DFD technology which profiles the out-of-focus characteristics of lenses in order to better-know which direction to focus them and when to stop. I was keen to see if DFD could allow a body like the Lumix GX80 / GX85 to effectively drive the demanding focal length of the Leica 100-400mm with subjects in motion.
With the lens zoomed to 400mm for an 800mm equivalent field of view and the aperture opened wide to f6.3, I tried shooting runners, cyclists, vehicles, jetskis and birds in flight, all with the GX80 / GX85 under daylight conditions. I used a combination of a single AF and Custom Multi for a more forgiving zoned region.
I admit my expectations started low, but I ended up being very impressed with the combination. The continuous shooting speed of the GX80 / GX85 may fall to 6fps with continuous AF, but when fitted with the 100-400mm it really could deliver a decent number of focused images of moving subjects – typically five out of six were good to perfect. The sequence below was shot with the 100-400mm at 400mm for an 800mm equivalent field-of-view, and while there's a couple that are out-of-focus, the minor softness seen in the 100% crops of the others are more revealing of the AF's system having locked onto a different part of the cyclist's body rather than his face. This is one of the challenges with all mirrorless systems I've tested: accurately placing the AF area during the initial acquisition. I've enjoyed the most success across systems by waiting until the subject is larger on the frame, allowing you to be more precise over the exact part you'd like to track.







Even birds in flight, a traditionally tough subject, proved reasonably successful. I used the Custom Multi mode to create a zone to make it easier to keep the bird in the area of active focus and managed to grab a fair few sequences of seagulls flying past. Admittedly I didn't have any flying directly towards me, but still I was impressed to get any in focus at 800mm equivalent. I've pictured a sequence of 12 shots below and picked one out for closer examination.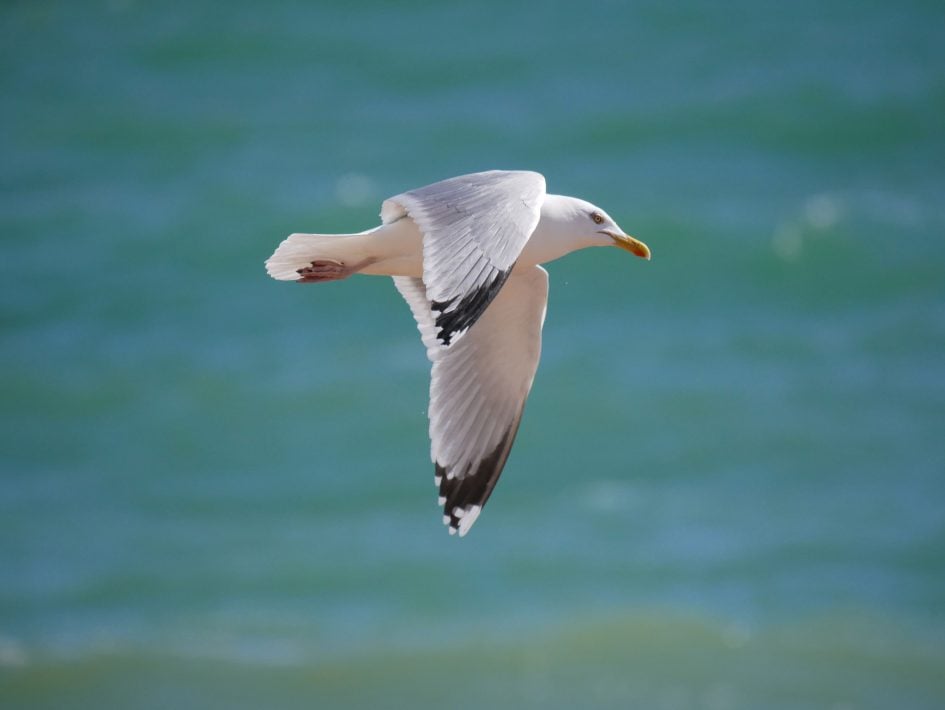 Once again there's a high hit rate above, but again bear in mind the lighting was good and the contrast high. As I noted earlier, I did shoot with the 100-400mm around dusk and found it to be more confident than the 100-300mm (running firmware v1.2) when mounted on the same body; there was certainly less searching. But shooting moving subjects in dim conditions is tougher still, so if you're into capturing sports or wildlife in poor lighting, you may want to trial the lens on your proposed body first. I hope to try the combination with wildlife and sports in dim, dusky conditions in the future and will report back.
Now it's time to compare the sharpness across the frame in my Leica 100-400mm quality page, check out my selection of Leica 100-400mm sample images or tab to my verdict!