Olympus SP 550 Ultra Zoom - Olympus SP-550UZ verdict
Olympus SP-550UZ verdict
The Olympus SP-550UZ is certainly a very impressive camera in many respects. Most obviously its massive 18x optical zoom range is quite remarkable to use in practice. Unlike the vast majority of super-zoom compacts, the ability to zoom-out to a decent wide-angle equivalent of 28mm could be enough to sell it to many people. But it's when you start zooming in that the camera continues to surprise even after regular use: it just keeps getting closer and closer. To have this range at your disposal on any camera, let alone one so small, is fantastic. And that's not even mentioning the excellent macro facilities which can focus down to 1cm.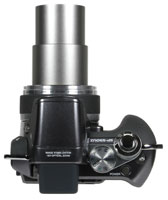 Shooting at massive focal lengths is of course pointless if you can't keep the image steady, but the SP-550UZ's sensor-shift system effectively eliminated any wobbles in our tests. Olympus has also done a great job in the design and construction of the camera: the rubber coating ensures a secure grip and the body is very comfortable to hold and use. We'd have loved a flip-out screen, but guess you can't have everything at this price point.
It's not all good news though. A lens with such a massive focal range is inevitably going to have compromises and on the SP-550UZ it appears to be coloured fringing in high contrast areas, especially when zoomed all the way in. You can see examples of this in our Gallery and judge for yourself if it's an issue. Whether due to the optics, image processing or a combination of both, we also felt the SP-550's photos using the default settings were a little soft and lacking the usual vibrancy and impact of most consumer models. Again use our samples to judge for yourself, but you may wish to increase the contrast, saturation and sharpness a notch or two.
Before wrapping-up, how does the SP-550UZ compare to its closest rivals right now?
Compared to Panasonic Lumix DMC-FZ50

The Panasonic Lumix DMC-FZ50 is arguably a higher-end camera, but discounts mean it's available online for pretty much the same as the SP-550UZ – this is why we've compared it against the SP-550UZ in our results pages. Physically speaking, the FZ50 is a bigger, heavier camera and its (non-extending) lens is operated by a manual zoom-ring for a quicker and more tactile experience.
The screen may be slightly smaller, but it's fully-flippable, and there's also a hotshoe for external flashguns. Further in the FZ50's favour, it has a higher resolution 10 Megapixel sensor, but its image quality deteriorates very quickly at higher sensitivities. The FZ50's lens, complete with optical stabilisation, offers great quality, but the 12x range, equivalent to 35-420mm is out-gunned by the SP-550UZ's 18x range which zooms both wider and longer. See our Panasonic Lumix DMC-FZ50 review and video tour for more details.
Compared to Panasonic Lumix DMC-FZ8

One of the closest rivals to the SP-550UZ is Panasonic's latest Lumix DMC-FZ8. We're planning on reviewing this in the near future, so can't comment on image quality as yet, but in terms of specifications, the FZ8 shares the same size and resolution sensor and houses it in a DSLR-styled body with a decent array of manual control. Both offer 2.5in fixed screens, RAW recording capabilities and image stabilisation – which is lens-based on the FZ8.
The big difference then is the lens itself, with the FZ8 sporting a 12x optical zoom, equivalent to 36-432mm, compared to the SP-550UZ's 18x zoom equivalent to 28-504mm. So the SP-550UZ zooms wider and a little longer, but in the FZ8's favour, it's currently priced cheaper. See our Panasonic Lumix DMC-FZ8 review for more details.
Compared to Sony Cyber-shot DSC H9

If you're in the market for a 7-10 Megapixel super-zoom, you should also be considering the Sony Cyber-shot DSC-H9. Like the FZ8 this is a new model we've not yet tested, so can't comment on image quality, but in terms of specifications, the H9 sports an 8 Megapixel sensor (albeit the same 1 /2.5in size as the SP-550UZ) and a massive 3in flip-out screen.
The H9 also features a 15x optical zoom with optical stabilisation, equivalent to 31-465mm; this gives it the edge over Panasonic's 12x zooms, but is still beaten by the SP-550UZ – albeit only slightly. In terms of price, the H9 costs a little more than the SP-550UZ at the time of writing, but you may be willing to pay for the bigger, flip-out screen. See our Sony H9 review for more details.
Compared to Nikon D40

Finally, it's worth comparing any higher-end compact with an entry-level digital SLR. The Nikon D40 is one of the most affordable models available today and is priced only a little higher than the SP-550UZ. In its favour the D40, like all DSLRs, handles quicker than almost any compact, with minimal focusing and shutter lag times. The 6 Megapixel sensor may be slightly lower resolution than the SP-550UZ, but again like other DSLRs, it's physically much larger, delivering considerably better quality at higher sensitivities.
On the downside, the D40's 3x kit lens is eclipsed by any of the super-zoom ranges mentioned here, and while you could buy additional lenses for a DSLR, they'd be big, heavy, expensive and you'd need several to match the coverage. But if you want fast response and low noise at high sensitivities, a DSLR is the way to go. See our Nikon D40 full review and video tour for more details.


Olympus SP-550UZ final verdict

The Olympus SP-550UZ is a wonderful camera to use. It feels really well-built and it's reassuring to know you have such a massive optical zoom range and effective stabilisation at your disposal.
If the image quality had no issues, the SP-550UZ would easily have earned our top Highly Recommended award, but as discussed earlier, visible coloured fringing when zoomed-in and a general softness throughout the range let the camera down. To be fair, there's always a compromise with such a massive optical range, and it's up to you to weigh-up the convenience of the lens against ultimate image quality.
That said, the SP-550UZ remains a very impressive camera which can delight in many respects. The build quality's great, the stabilisation effective and the zoom range extremely seductive. So long as you're willing to accept the caveats above – and the lack of a flip-out screen – the SP-550UZ comes recommended.
---

Good points
Massive 18x optical range with wide angle.
Effective built-in image stabilisation.
Great build quality and ergonomics.
Closest focusing distance of just 1cm.

Bad points
Some coloured fringing when zoomed-in.
General softness throughout range.
Quite leisurely startup and shutdown speed.
Screen doesn't flip-out.

Scores
(compared to 2007 super-zooms)


Build quality:
Image quality:
Handling:
Specification:
Value:

Overall:



18 / 20
14 / 20
15 / 20
18 / 20
17 / 20

82%