Olympus SP 550 Ultra Zoom - Olympus SP-550UZ wide-angle geometry comparison
Olympus SP-550UZ wide-angle geometry comparison
Olympus SP-550UZ results continued…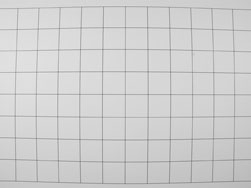 Outdoor / Resolution / Noise / Noise 2 / Corner sharpness / Fringe & macro / Geometry / Vignetting
To measure and compare the Olympus SP-550UZ's geometric distortion we photographed a test chart consisting of a grid pattern, using it and a number of rival models.

Here are the results for each camera with their lenses at their widest focal length.

The images were analysed with Imatest using 5th Order line calculation and the full areas presented here at a reduced resolution.

4.7-84.2mm at 4.7mm f5.6
Distortion: 3.33% barrel
The image above was taken with the Olympus SP-550UZ zoomed-out to 4.7mm. Barrel distortion was measured at 3.33% which is roughly in the middle of the pack: it's virtually identical to the Canon G7, slightly better than the Nikon D40's kit lens, but not as good as the Panasonic FZ50.
Canon PowerShot G7

Nikon D40
Using DX 18-55mm II

Panasonic DMC-FZ50

7.4-44.4mm at 7.4mm
Distortion: 3.34% barrel
DX 18-55mm II at 18mm f8
Distortion: 3.73% barrel
7.4-88.8mm at 7.4mm
Distortion: 2.56% barrel
---

Olympus SP-550UZ telephoto geometry comparison

To measure and compare the Olympus SP-550UZ's geometric distortion we photographed a test chart consisting of a grid pattern, using it and a number of rival models.

Here are the results for each camera with their lenses at their longest focal length.

The images were analysed with Imatest using 5th Order line calculation and the full areas presented here at a reduced resolution.

4.7-84.2mm at 84.2mm f5.6
Distortion: 1.45% pincushion
The image above was taken with the Olympus SP-550UZ zoomed-in to 84.2mm. Pincushion distortion was measured at 1.45% which is noticeably worse than the other cameras tested below; indeed the inward bending of straight lines is quite clear in the sample above. Again to be fair, the SP-550UZ does have a massive optical zoom range, and this is clearly one of the compromises. Luckily most subjects with very straight lines, such as buildings, are more likely to be photographed at shorter focal lengths where the distortion would be less apparent.
Canon PowerShot G7

Nikon D40
Using DX 18-55mm II

Panasonic DMC-FZ50

7.4-44.4mm at 44.4mm f5.6
Distortion: 0.28% pincushion
DX 18-55mm II at 55mm f8
Distortion: 0.21% barrel
7.4-88.8mm at 88.8mm
Distortion: 0.34% barrel