Olympus E-400 with Zuiko Digital 14-42mm f3.5-5.6 ED
Intro
The Olympus E-400 was announced in September 2006 as the World's Smallest and Lightest Digital SLR. It's the latest model to employ the maturing Four Thirds DSLR standard and while priced as an entry-level product, its new 10 Megapixel sensor makes it the highest resolution Four Thirds body yet.
It's immediately clear from the photo that Olympus has embraced a unique design strategy for the E-400: rather than follow modern DSLR design with a large grip, the E-400 resembles classic flat-fronted 35mm film SLRs of the 80s. Olympus believes this will appeal to both compact or all-in-one users who want to upgrade, but also enthusiasts who'll exploit its modest size and weight to shoot in situations where they wouldn't normally take a DSLR.
The E-400 may have a retro look and feel, but Olympus hasn't skimped on the features. Along with 10 Megapixel resolution, there's a decent-sized 2.5in colour screen, plenty of manual control, and of course the legendary SuperSonic Wave Filter to combat dust entering the body.
Support this site by shopping via these links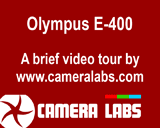 Olympus has also designed two new ultra-compact zoom lenses especially for the E-400: the Zuiko Digital ED 14-42mm f3.5-5.6 and the Zuiko Digital ED 40-150mm f4-5.6. The E-400 is available as a body only or in kits with either the ED 14-42mm, or both new lenses. As with the earlier E-500 twin lens kit, the E-400 with both lenses is very competitively priced, and a compelling option for new buyers. The new ED lenses will also be sold separately for existing Four Thirds owners who want more compact optics.
It's certainly a compelling sounding specification, but many potential buyers were understandably upset to discover Olympus was only going to sell the E-400 in Europe, and according to Olympus UK, there's no current plan to launch it outside.
Olympus UK explained to Camera Labs the launch was restricted to Europe because it couldn't secure sufficient time for production to satisfy global needs. This was apparently due to a slight delay in developing the ultra compact design. So rather than confuse the market with shortage in supply, Olympus decided the E-400 would only be introduced in Europe.
While this is obviously frustrating for anyone outside Europe who wants to get hold of an E-400, there are many European retailers who'll happily ship abroad. Amazon UK will ship to the US and anyone with an Amazon.com account should even be able to log in to the UK site with their same details; Amazon UK currently sells the E-400 with the twin lens kit. If you're visiting friends or colleagues in the UK, you could also order the E-400 with a UK internet dealer and have it delivered locally for you to collect, or alternatively shop at a UK high street store like Jessops which supports the VAT Retail Export scheme, allowing you to claim back most of the UK's 17.5% sales tax when you depart the country.
So while the E-400 may only officially be sold in Europe, it's quite possible for anyone to get hold of it if they really want to – and to find out if it's worth the effort, we've got hold of an E-400 and put it through our full testing process. Does the E-400's higher resolution sensor result in compromised noise levels? Is the ultra-compact body uncomfortable to hold and use? Or is the E-400 the best small DSLR around? Find out in our full review and don't forget to check out our exclusive video tour for the E-400's highlights.
Testing notes

We tested a production-level E-400 running production-quality firmware. Following our convention of using default factory and best quality JPEG settings to test camera bodies unless otherwise stated, the E-400 was set SHQ image quality, Auto White Balance, Digital ESP Metering, Normal Graduation and its default Vivid Picture Mode (using the default settings of zero for contrast, sharpness and saturation). The E-400's Noise Reduction option was set to ON. Note since conducting this test Olympus has released a Firmware update for the E-400 which sets the default Picture Mode to Natural. This tones down the images compared to the Vivid mode used throughout our tests and Gallery shots here.