Olympus Zuiko Digital 12-60mm 1:2.8-4
Olympus ZD 12-60mm wide-angle geometry comparison
Support this site by shopping via these links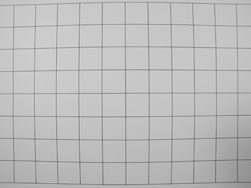 To measure and compare the Olympus 12-60mm's geometric distortion we photographed a test chart consisting of a grid pattern, using it and a number of rival lenses.

Here are the results for each lens at their shortest focal lengths. The images were analysed with Imatest using 5th Order line calculation and the full areas presented here at a reduced resolution.

12-60mm at 12mm f8
Distortion: 2.31% barrel
The image above was taken with the Olympus 12-60mm lens zoomed-out to 12mm. Barrel distortion was measured at 2.31% which is superior to the other lenses tested here, although not by a large margin.
Olympus ZD ED 14-42mm

Olympus ZD 14-45mm

Leica D 14-50mm

14-42mm at 14mm f8
Distortion: 2.97% barrel
14-45mm at 14mm f8
Distortion: 3.28% barrel
14-50mm at 14mm f8
Distortion: 2.80% barrel
---
Olympus ZD 12-60mm telephoto geometry comparison

To measure and compare the Olympus 12-60mm's geometric distortion we photographed a test chart consisting of a grid pattern, using it and a number of rival lenses.

Here are the results for each lens at their longest focal lengths. The images were analysed with Imatest using 5th Order line calculation and the full areas presented here at a reduced resolution.

12-60mm at 60mm f8
Distortion: 0.45% pincushion
The image above was taken with the Olympus 12-60mm lens zoomed-into 60mm. Here pincushion distortion was measured at 0.45% which is roughly equivalent to the older 14-45mm kit lens when it was also zoomed-in. The result is not as good as the latest kit zoom, or the Leica 14-50mm, the latter exhibiting virtually no geometric distortion.
So while the 12-60mm isn't a runaway leader when it comes to geometric distortion, it's still lower than many equivalent lenses from rival manufacturers in this regard – see our lens reviews. And now to our final set of formal results with light fall-off.
Olympus ZD ED 14-42mm

Olympus ZD 14-45mm

Leica D 14-50mm

14-42mm at 42mm f8
Distortion: 0.21% barrel
14-45mm at 45mm f8
Distortion: 0.48% pincushion
14-50mm at 50mm f8
Distortion: 0.14% barrel