Olympus µ 790 SW / Stylus 790 SW
Olympus µ 790 SW / Stylus 790 SW lens and sensor
The Olympus µ 790 SW / Stylus 790 SW is equipped with a 3x optical zoom delivering an equivalent range of 38-114mm with a focal ratio of f3.5-5.0; the actual focal length is 6.7-20.1mm and we counted a relatively coarse ten steps when zooming from wide angle to telephoto. The closest focusing distance is a modest 7cm in Super Macro mode with the lens zoomed all the way out. As you'd expect for a water-proof model, the 790 SW's lens remains within the camera body at all times; this allows the camera to be ready for action in about one second.
The 3x optical zoom range is fairly unremarkable, neither offering true wide angle capabilities nor a longer reach. This is a shame as compacts with 28mm equivalent coverage at wide angle really are very useful in a variety of situations. To illustrate the 790 SW's coverage we mounted it on a tripod and shot the same scene fully zoomed-out, then fully zoomed-in. We then shot the same scene from the same position using the Panasonic Lumix DMC-FX33 which is equipped with a 28-100mm optical range.
Support this site by shopping via these links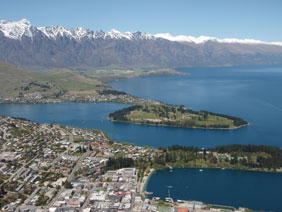 | | | |
| --- | --- | --- |
| Olympus µ 790 SW coverage wide | | Panasonic Lumix FX33 coverage wide |
| | | |
| 6.7-20.1mm at 6.7mm (38mm equivalent) | | 4.6-16.4mm at 4.6mm (28mm equivalent) |
It's immediately clear from the coverage examples above how the 28mm equivalent of the Panasonic FX33 can capture a much wider field of view than the 38mm of the Olympus. This is not just useful for big landscapes, but equally handy for interiors, big group shots or situations when you can't step back any further.
The examples below taken with each camera fully zoomed-in show the 790 SW getting slightly closer with its 114mm equivalent to the Panasonic's 100mm, but given the choice most people would find the wider angle capabilities more useful.
| | | |
| --- | --- | --- |
| Olympus µ 790 SW coverage tele | | Panasonic Lumix FX33 coverage tele |
| | | |
| 6.7-20.1mm at 20.1mm (114mm equivalent) | | 4.6-16.4mm at 16.4mm (100mm equivalent) |
Sadly the Olympus 790 SW is not equipped with optical or sensor-shift stabilisation. Instead its Blur reduction mode just increases the sensitivity to achieve quicker shutter speeds at the cost of image quality. See our Results and Gallery pages for examples of the 790 SW at higher sensitivities to see why this is not a desirable situation.

Olympus

µ

790 SW / Stylus 790 SW focusing and flash

The Olympus 790 SW offers three AF modes: Face detect, iESP (which attempts to identify the primary subject) and Spot focusing (which uses the AF target marks). In terms of close-up modes, the 790 SW actually features three different macro settings: normal Macro mode focuses down to 30cm, Super Macro gets closer at 7cm, while S-macro LED mode keeps the 7cm closest focusing distance, but in a nice touch, cunningly shines a bright LED in the front of the camera to illuminate the subject. It's also possible to illuminate the LED by pressing and holding a button on the back, although it's best used for close subjects.
There's four flash options: Auto, red-eye reduction, fill-in (always on), and flash-off. In use the flash and face detection worked fine when photographing people in relatively dim interiors, although wasn't as swift as models like Canon's Ixus 860IS PowerShot SD870.

Olympus

790 SW sensor and processing

The Olympus 790 SW is equipped with a 7.1 Megapixel CCD sensor, measuring 1/ 2.33in. This generates 4:3 images with a maximum resolution of 3072×2304 pixels, and there's the choice of no fewer than seven lower resolutions or 16:9 mode which operates at a reduced resolution of 1920×1080 pixels.
Best quality images can be recorded with the choice of two different JPEG settings, labelled as SHQ and HQ, with the former typically measuring 3MB each. There's 14.7MB of internal memory to get you started and a slot for xD memory cards; Olympus confirms compatibility with cards up to 2GB.
The image quality is adjusted from the main menu system, while sensitivity is accessed through the Function menu. From there you can adjust the 790 SW from 80 to 1600 ISO, along with selecting an auto option.
In terms of image processing, the 790 SW offers a Shadow Adjustment option which is used to brighten people's faces when they're in front of a bright background. With Shadow Adjustment enabled, a number of other settings are locked, such as the AF mode to Face Detection. Shadow Adjustment is also offered on existing images along with red-eye correction as part of the 790 SW's 'Perfect Fix' option during playback.

Olympus

µ

790 SW / Stylus 790 SW movies

The Olympus 790 SW offers three movie modes operating at 640×480, 320×240 and 160×120 pixels. The highest resolution mode records at 30fps, while the lower two modes record at 15fps. Set to the best quality mode, you're looking at about 1.5MB per second of footage which is saved into an AVI format. The quality is fine, but you do miss the stabilising effect of a proper anti-shake system.

Olympus

µ

790 SW / Stylus 790 SW burst shooting


The Olympus 790 SW offers two Continuous shooting options but the company makes no claims to their speed, so we fitted a 256MB Fujifilm xD Picture Card and put them to the test. Set to the normal burst mode, the 790 SW fired-off just four best-quality SHQ frames in as many seconds before stalling. Set to the high speed mode, the quality was automatically reduced to SQ1 at 3 Megapixels, upon which we fired-off 37 frames in just over 10 seconds, corresponding to a much more useful rate of at least 3fps.