Olympus µ 790 SW / Stylus 790 SW
Olympus
µ

790 SW / Stylus 790 SW design and controls

The Olympus µ 790 SW / Stylus 790 SW is a slim compact which, other than a little wording on the front, gives few clues to its underwater and shock-proof capabilities. We've pictured it below on the left alongside two other compacts with non-extending lens barrels: in the middle the Pentax Optio Z10 and on the right the Sony Cyber-shot DSC-T70.
Measuring 94x61x21mm and weighing 151g including battery, the 790 SW is only a few mm taller and wider than models like the Sony T70, but remember the Olympus can survive a dip straight in the water without the need or cost of an additional, hefty protective housing.
The front surface is smooth and mostly featureless, although a small ridge on the left side gives you something for your right middle finger to grip, while your thumb presses against the edge of the mode dial on the back. This allows you to hold the camera relatively securely with one hand, although two are preferred especially as there's no optical or sensor-shift anti-shake. Do be careful with two handed operation though as like most compacts which position their lenses in the top corner, it's easy for one of your left fingers to get in the way.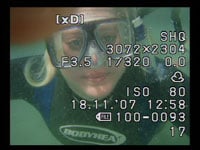 The build quality is very good and of course the 790 SW is much tougher than most compacts. Without further accessories, it's waterproof to 3m (according to IEC publication 529 IPX8), shockproof to 1.5m, and even freeze-proof to minus ten degrees Celsius. We put all three to the test, with the 790 SW surviving a short spell in a domestic freezer, falls from head-height onto carpet, gravel or a stony beach, and finally a number of submersions from a kitchen sink to the chilly waters of Queenstown's Lake Wakatipu.
Admittedly we didn't push the depth beyond 2m and spent most of our underwater tests at less than 1m, but the 790 SW remained un-phased throughout. The screen could be hard to see underwater at times and a fully charged battery was exhausted in three quarters of an hour, but it's still impressive to just dive-in without a care. This also makes the 790 SW ideal for the pool, beach or ski-slopes.
In terms of the drop-tests, the 790 SW certainly survived falls onto a variety of tough surfaces, although don't expect to get away without any cosmetic damage. Our test model gathered a few scrapes and dings, although none which spoilt its appearance from a short distance. See our 790 SW video tour for a demonstration of the camera underwater, and our 790 SW Sample Images page for examples. Finally, if you want to go beyond 3m underwater, the optional PT-041 housing offers protection down to 40m.
In terms of controls, most of the 790 SW's buttons are on the rear to the right of the screen. From top to bottom are a zoom rocker, a mode dial, and a traditional four-way rocker with additional buttons in each corner. Considering each button and dial is water-resistant, they feel quite normal and tactile.
The mode dial offers seven positions: Auto / program, Blur reduction, SCN, GUIDE, Movie, My Favourites and Playback. The 790 SW offers shutter speeds from four seconds to 1/1000 and we counted six aperture settings from f3.5 to 6.3 when zoomed-out in day-to-day use, although while the camera is happy to display their values on-screen, there's no way to manually change them.
The closest you'll get to creative work is choosing one of the 23 scene presets from the SCN mode position, which include four underwater modes and an 'Auction' mode which captures three images at different exposures at a shrunken resolution. Each preset is selected on-screen and if you wait for a moment, a written explanation will appear. The GUIDE option takes an alternative approach of presenting a list of 14 photo situations then automatically setting the appropriate mode.
In the absence of optical or sensor-shift stabilisation, the Blur reduction mode sadly just increases the sensitivity to achieve quicker shutter speeds at the cost of image quality. My Favourites allows you to save up to nine still images into internal memory for quick access.
Pushing the four-way rocker down sets the self-timer, pushing left adjusts the macro mode, right adjusts the flash, while pushing it up adjusts the exposure compensation. In the latter, the 790 SW displays four thumbnails with live views in each giving a handy side-by-side preview of different compensation settings – see our video tour.
The OK button in the middle of the rocker doubles as a Function key, overlaying a vertical list on the left side of the screen with up to five options depending on the current mode: these give you quick access to the White Balance, Sensitivity, Drive and Metering modes, along with switching between Auto and Program.

Olympus

µ

790 SW / Stylus 790 SW Screen and menus

Like other Olympus compacts, pressing the Menu button presents up to nine icons on the screen depending on the mode, which are arranged in a three-by-three grid. With the camera set to Auto / Program, you'll see icons for the Image Quality, Reset, Camera Menu, Setup, and Silent Mode; the latter works like a Mute button on a TV, switching off all the sounds in one easy step.
Entering the main Camera menus presents two pages of options including duplicate controls for the White Balance, Sensitivity and Drive, along with settings for the digital zoom and AF mode. The Setup menu has four pages including further sound, power save and screen options.
The 790 SW is equipped with a 2.5in screen with 230k pixels; there's no optical viewfinder. The display appears bright and detailed in normal use, although as mentioned above we often found it hard to view underwater, but this equally affects many other underwater models or housings. That said we did find it easier to frame underwater with a disposable camera, so it's a shame the 790 SW isn't equipped with an optical viewfinder or even just a clip-on window to peer through.
Pressing the DISP button cycles between a clean view, one with shooting details, a three-by-three grid and finally a live histogram – it's nice to find both the grid and a live histogram on a compact as it's not a foregone conclusion these days. In playback, the DISP button also cycles between clean and detailed views or a thumbnail with a histogram. Zooming-out shows steadily increasing number of smaller thumbnails, first four, then nine, 16, 25, and finally a calendar view showing which days you took pictures on.
Olympus

µ

790 SW / Stylus 790 SW Battery and connectivity

The Olympus 790 SW is powered by a small 740mAh L32KA Lithium Ion battery pack and supplied with a mains recharger. The waterproof battery compartment also houses an xD memory card slot – and as usual, access to both it and the battery are blocked when mounted on a tripod.
Olympus estimates 200 shots on a full charge, although the conditions you shoot in will of course have an impact. As mentioned above, we found a fully charged battery was exhausted in 45 minutes of constant underwater use, although the water temperature was approximately 10 degrees Celsius. Cold temperatures sap any battery, but if you're taking the 790 SW diving or even to a ski slope, it's worth carrying a spare – just change it carefully, in a dry spot.
On the right side of the camera behind another waterproof door is a single port acting as USB and TV output, along with being a DC input.