Olympus µ 1050 SW / Stylus 1050 SW - Olympus µ 1050 SW / Stylus 1050 SW verdict
Olympus µ 1050 SW / Stylus 1050 SW verdict
The Olympus µ 1050 SW / Stylus 1050 SW is the latest in the company's line of tough waterproof compacts and handles itself well under conditions you wouldn't dare use a normal compact. As we've said with other waterproof cameras, it really is quite liberating to use a camera around water without any concerns, and surprising how many times you might want to do this. The obvious places are capturing your baby's first swimming lessons, a fun day a pool, or snorkelling reefs on holiday, with which the 1050 SW has no problems. We took it underwater in a public pool and beneath the surface of Queenstown's chilly Lake Wakatipu and it performed admirably.
But waterproofing also makes the 1050 SW ideal for resisting splashes or accidental submersions, allowing you to confidently take shots while kayaking, jet-skiing, or simply hiking in heavy rain. It'll also resist dust, sand and snow, making it equally at home on the beach or ski slopes. Indeed when you think about the number of times and places you'd shy away from using a camera or fear for its safety, it's amazing the opportunities a waterproof model like this can open up.
Olympus also goes one step beyond its rivals by offering guarantees against sub-zero temperatures and drops from heights of up to 1.5m. We put both to the test, and while a fall onto a hard surface resulted in a crack on the screen's plastic covering, the camera continued to operate un-perturbed (albeit requiring a service to maintain waterproof integrity). If you're the kind of person who works or plays in wet or rough conditions, or simply wants to confidently hand a camera over to the kids (or clumsy friends) without fearing for its safety, then you'll understand the Olympus 1050 SW's toughness is a very tempting prospect.
Behind this tough exterior though lies a fairly average compact. Olympus may have added interesting features like tap controls which may prove handy under some situations, but the core specifications and performance of the camera aren't anything to get too excited about. Despite equipping the earlier 1030 SW with wide angle capabilities, the 1050 SW returns to the pedestrian 38-114mm 3x range of the 850 SW – and like most underwater compacts, there's no optical or sensor-shift stabilisation, with the camera instead relying on increased sensitivity (with reduced quality) to avoid camera shake.
Like earlier Olympus compacts, the 1050 SW uses the relatively slow and pricey xD memory card format, and while Olympus now includes an adapter for SD memory, it's only for the Micro variety, and still tries to tie you back into xD by demanding Olympus-branded cards to support features like the panoramic mode.
While the image quality is par for the course for a 10 Megapixel compact, there's more softening and coloured fringing towards the corners than several rivals we tested at the same time. The 1050 SW's face detection also struggled with profiles, the video mode was grainy and the camera itself relatively slow to startup.
On the upside, the user interface has some neat features: the perfect shot preview cleverly uses four live thumbnails to preview the effect of several different changes at once, there's both an alignment grid and a live histogram available, a friendly goal-driven guide and even a handy mute icon for instant silencing of any beeps.
The sliding lens cover snaps back and forth with a satisfying action, inheriting some style from Sony's Cyber-shot T-series, although those who intend to give their 1050 SW some rough handling may be understandably concerned about a moving part that's strictly unnecessary. To be fair, we didn't experience any issues with it, but some may prefer the simpler approach of its predecessors, not to mention the Pentax Optio W60.
Speaking of the W60, it's now time to compare the Olympus 1050 SW against its main rival, along with one of the best terrestrial compacts in a similar price bracket.
Compared to Pentax Optio W60

In terms of pricing, the Pentax Optio W60 is the biggest rival to the Olympus 1050 SW. Both cameras can be completely submerged underwater, although the Olympus has a slightly lower specification, rated to depths of 3m for one hour. While the W60 beats this with 4m for up to two hours, there's few who'd actually remain constantly underwater at this kind of depth in reality, so unless you've dropped it at the bottom of a deep pool and forgotten about it for a few hours, we'll call the underwater specifications a draw. We also found both cameras equally easy to use and compose underwater.
Staying on the physical side of things though, the Olympus makes additional claims over toughness, being freeze-proof to minus 10 degrees and shock-proof to 1.5m. This may appear to give the Olympus the physical edge, but during testing the W60 certainly survived some rough handling, while our 1050 SW actually cracked its screen cover.
The biggest difference in normal camera specifications is the optical zoom range, where the W60 easily wins with its wider and longer 28-140mm coverage to the 1050 SW's 38-114mm. Sadly neither camera has optical or sensor shift stabilisation though. The Olympus does have a slightly larger 2.7in screen and unique tap-controls, but the camera itself is comfortably taller. In terms of image quality, the Olympus edged ahead in some respects, but fell behind in others – certainly one doesn't take a decisive win over the other.
Ultimately though while the Olympus 1050 SW is a very capable underwater camera, the W60 out-features it with a wider and longer lens. So if you can find the W60 at a similar price, or even costing a little more, it gets our vote – although as always you'd be advised to try both in person to see which looks and feels better. See our Pentax Optio W60 review for more details.
Compared to Canon IXUS 870IS / PowerShot SD 880IS

Canon's IXUS 870IS / PowerShot SD880 IS is one of the classiest compacts around right now. It may not have underwater capabilities as standard, but the overall handling and quality are hard to beat. Both it and the Olympus may share a similar specification sensor, but as you can see in our results pages, the Canon's image quality is superior with crisper, fine details and lower visible noise without obvious smearing.
Both the Canon and Olympus zoom-into roughly the same amount (112mm and 114mm respectively), but the Canon zooms much wider, boasting 28mm coverage that captures a much greater field of view. The Canon additionally features optical stabilisation and a brighter focal ratio, both of which make it much more practical in low light.
The Canon's screen is a little larger, but features much better quality – it's one of the best at this price point. The movie mode, while still only standard definition, is also much better quality, and the face detection more effective even though it doesn't have the 1050 SW's smile detection.
Of course the big advantage the Olympus has is waterproofing without additional accessories. Canon does however offer the WP-DC26 housing for the IXUS 870IS / SD 880IS, which impressively allows the camera to operate at depths down to 40m – 13 times deeper than the 1050 SW – but the housing costs almost as much as the Olympus alone and of course makes the camera much bulkier. It may be a viable option though if you need to dive deep.
Ultimately if you don't want or need a compact that's waterproofed as standard, the Canon IXUS 870IS / SD 880IS is one of the best we've tested and comes Highly Recommended. See our Canon IXUS 870IS / SD 880IS review for more details.
Also consider

the earlier Olympus 1030 SW, which is waterproof to an impressive 10m and boasts 28mm wide angle coverage (USA price / UK price).
Olympus µ 1050 SW / Stylus 1050 SW final verdict

Over the past few generations, Olympus has carved out a real name for itself in the tough, waterproof digital camera market, stealing the thunder from arch rival Pentax. The Olympus SW range – now rebranded as TOUGH – became the models to go for if you had an active lifestyle where knocks, splashes or complete submersion were common.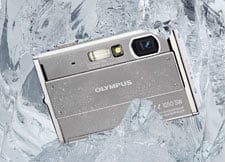 The 1050 SW doesn't mess too much with a winning formula, taking the earlier 850 SW, slightly boosting its resolution and screen size, while adding tap controls. That's essentially about it though, and while it may have been sufficient without serious competition, Pentax has really taken the bull by the horns with its latest Optio W60. Rather than resting on its laurels, the Optio W60 boasts a more flexible 5x optical range which zooms both wider and longer than the Olympus. While it's thicker, the shorter height makes it look much smaller, and despite not sharing the shock and freeze-proof credentials of the Olympus, it coped with some pretty rough handling in our tests. So while the Olympus 1050 SW is a perfectly capable compact with decent underwater credentials, the Optio W60 out-features it.
At this point it's important to note while both models deliver better quality than many previous underwater cameras, a good terrestrial model like the Canon IXUS 870IS / SD 880IS will still out-perform them in still and video performance, while crucially offering stabilisation and a much nicer screen to boot.
As we said in our Pentax W60 review, you ultimately have to ask yourself two questions: do you need waterproofing, and if so, how deep do you want to go? If you're not bothered about underwater or splash-proof capabilities, you'll get better picture and video quality from a decent terrestrial compact like the Canon above. If you're a serious diver who needs to go deeper than 4m, then buy a decent terrestrial compact with an underwater housing, such as the Canon IXUS 870IS / SD 880IS with the WP-DC26, or the PowerShot G10 with the WP-DC28, both rated to 40m.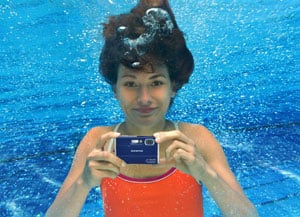 If however you fall in-between and like the idea of a camera for use in a swimming pool or on shallow dives, the Olympus 1050 SW will do the trick. It'll capture your kids splashing in the pool along with the fishes swimming around coral reefs on holiday. The same waterproof capabilities will also mean you can confidently use it while kayaking, jet-skiing, sailing, hunting, fishing, camping or hiking in heavy rain. Suffice it to say it's also resistant to splashes from a poolside or even accidentally being knocked-in. And you can do all of this without investing in a pricey underwater housing and lugging it around.
This sheer flexibility is what makes underwater cameras so seductive; indeed if you're an active outdoor type who's into any kind of water-sports or are likely to be in rainy conditions, you'll wonder how you coped without one. So if a large proportion of your photo opportunities take place in or around water, the Olympus 1050 SW is a decent choice that's well worth considering, but again the Pentax Optio W60 has a more flexible lens range.
Ultimately much of the decision between them boils down to their current pricing. In some regions, the Pentax costs roughly the same or even a little less than the Olympus 1050 SW, and in those cases, it's the one to go for. In other regions though, heavy discounting sees the Olympus undercutting it comfortably in price, and while the lens may not share the same range, it may be fine for your purposes – indeed it could be priced sufficiently low to become a handy backup camera just for wet conditions. Groups of parents sharing swimming classes, or water-sport clubs may also consider buying one as a shared resource. So keep an eye on the prices, especially as Olympus rolls-out its 'TOUGH' rebranding in early 2009. If you can find a competitive price on the 1050 SW, you'll have yourself a very capable waterproof camera that'll go almost anywhere and take the photos to remind you.
Support this site by shopping via these links
---


Good points
Fully waterproof to depths of 3m.
Shockproof and freeze-proof.
Live thumbnail previews of adjustments
Unique tap-controls.

Bad points
Pedestrian 3x zoom range with no 28mm.
No optical or sensor-shift anti-shake.
Softness and fringing towards corners.
Grainy-looking footage in movie mode.


Scores
(relative to 2008 compacts)


Build quality:
Image quality:
Handling:
Specification:
Value:

Overall:



19 / 20
15 / 20
16 / 20
15 / 20
17 / 20

82%



Support this site by checking prices above or shopping via our affiliate stores