Olympus M.Zuiko Digital 45mm 1:1.8 review
Verdict
The Olympus 45mm f1.8 is arguably one of the best lenses for the Micro Four Thirds system, whether you're using an Olympus or Panasonic body. This lens is so small and light you'll hardly know you're carrying it around, yet is capable of delivering industry-leading performance with pin-sharp details across the entire frame right into the extreme corners.
With an effective focal length of 90mm and a maximum aperture of f1.8, the lens is ideal for portrait work and can deliver sharp detail on the subject with a satisfyingly blurred background behind it. Likewise for closer subjects down to the nearest focusing distance of 0.5m. It's important to put things into perspective though: the 45mm f1.8 is a good portrait lens, but it won't match the minimum depth of field delivered by a 50mm f1.8 on an APS-C camera and especially not an 85mm f1.8 on a full-frame body. Like all Micro Four Thirds lenses, it's not just the coverage that's effectively halved by the format, but the effective aperture too, at least in terms of the depth of field. So in full-frame terms, the Olympus 45mm f1.8 acts like a 90mm f3.6 lens. You can see what to expect in my Olympus 45mm f1.8 bokeh results.
But while it won't match the shallow depth of field of portrait lenses for larger formats it will give them a run for the money – and probably beat them – in terms of uniform sharpness. As you'll see in my Olympus 45mm f1.8 quality pages, the lens is already pretty good with the aperture wide open, but close it to f4 and you'll enjoy pin-sharp results across the entire frame, right into the extreme corners. This is superb performance made all the more remarkable by the tiny dimensions and relatively affordable price tag.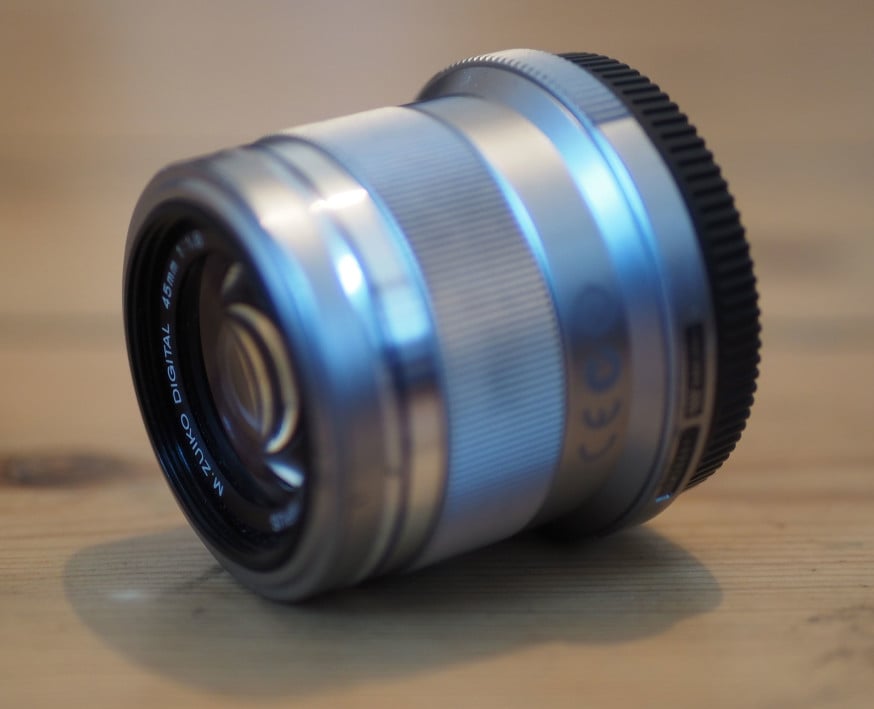 Indeed while you may initially buy the Olympus 45mm f1.8 as a portrait lens, its impressive performance across the frame will quickly have you turning it to almost any subject or style, and reveling at the sheer detail and sharpness you can capture. I shot with it on a Panasonic GX1 and Olympus OM-D E-M5 over four months of travel and found it becoming one of the most versatile lenses in my bag. I was particularly fond of it for architectural work and enjoyed poring over the fine details across the frame.
While there are compatibility issues with some Micro Four Thirds lenses on some bodies, I'm also pleased to report the Olympus 45mm f1.8 behaved equally well on a Panasonic G3 and GX1 as it did 'at home' on an Olympus OM-D E-M5. Autofocusing speed was also swift on all bodies I tried it with.
So with all the gushing aside, what are the downsides? First-off, the macro performance isn't particularly special with a closest focusing distance of 0.5m. As you'll see in my Olympus 45mm f1.8 macro results page, you might still be able to achieve some fairly nice close-ups, but it's nowhere near what you'll enjoy with a dedicated macro lens like the Panasonic 45mm f2.8 or the Olympus 60mm f2.8.
Secondly, like all Olympus Micro Four Thirds lenses it doesn't feature optical stabilization. This isn't an issue for Olympus PEN and OM-D bodies as they all feature built-in stabilization which iron-out the wobbles on any lens you attach. But it could be an issue for anyone using it on a Panasonic body, as they'll become an unstabilised combination, so you'll need to keep a close-eye on your shutter speed to avoid camera shake. At first I thought this would be a big problem for me, but in reality it was rarely an issue for stills so long as I kept the shutter speed above 1/100 or used a tripod. If you own a Panasonic body, you'll have to decide for yourself if it's a problem or not.
Third, I'd really like to see more weather-proofed Micro Four Thirds lenses, especially now both Olympus and Panasonic offer weather-sealed bodies. The build quality of the Olympus 45mm f1.8 is certainly very good, but I wouldn't want to take it out in any showers. And finally, I always complain when a lens hood isn't supplied as standard – which it isn't here.
But really beyond a modest macro and lack of optical stabilization (which only affects Panasonic owners), there's really very little to complain about here. The Olympus 45mm f1.8 delivers on its primary goal as a good portrait lens, and when closed to f4, doubles-up as one of the most uniformly sharp lenses in the Micro Four Thirds catalogue – or indeed any manufacturer's catalogue.
The fact it delivers all this in a tiny form factor and out-performs the larger, heavier and pricier Panasonic Leica 45mm f2.8 at everything other than macro-photography further reinforces what a bargain it is. In short, the Olympus 45mm f1.8 is a no-brainer for owners of Micro Four Thirds cameras and easily earns our Highly Recommended award.
Update: in 2015, Panasonic launched a 42.5mm f1.7 to go up against the Olympus 45mm. See my Lumix 42.5mm f1.7 review for a comparison between the two models.
Summary
Good points
Superb image quality. Sharp right into the corners at f4.
f1.8 focal ratio ideal for shallow depth of field (relative to MFT lenses).
Great value for money.
Incredibly small and light.
No compatibility issues to report on Panasonic or Olympus bodies.
Bad points
Modest closest focusing distance of 0.5m means it's no macro lens.
Lens hood not supplied as standard – it's an optional extra.
Lack of optical stabilisation may be an issue for Panasonic owners.
No weather-sealing.