Olympus 40-150mm f2.8 review
Verdict
The Olympus M.Zuiko 40-150mm f2.8 Pro is the company's second high end zoom, and a lens that's been highly anticipated since being originally teased back in 2013.
Up until now Olympus owners have had the choice of the 40-150mm f4-5.6 which, though a good quality lens, lacks the constant f2.8 aperture, rugged build, and much else that the new Pro lens has to offer, though it is of course a lot less expensive. The other option would be the similarly priced Panasonic Lumix G X Vario 35-100 f2.8. Like the Olympus 40-150mm it has a constant f2.8 aperture and is dust and splash proof. It's smaller and lighter, but it also has a much shorter 70-200 equivalent range and it lacks a lot of the refinements of the Olympus lens like the distance scale and mechanical focus, retractable lens hood and tripod foot.
In the same way that the Olympus 40-150 f2.8 takes over where the 12-40mm f2.8 leaves off, the Lumix 35-100 is the obvious addition to a kit bag that already includes the Lumix 12-35mm f2.8. But while both of these options provide constant aperture coverage over a wide focal range, the Olympus zooms significantly longer. I can't see many OMD owners opting for the Lumix lens now. By the same token the lack of stabilisation on the Olympus lens makes it a less alluring option for Lumix G owners, but its extra length will still tempt them.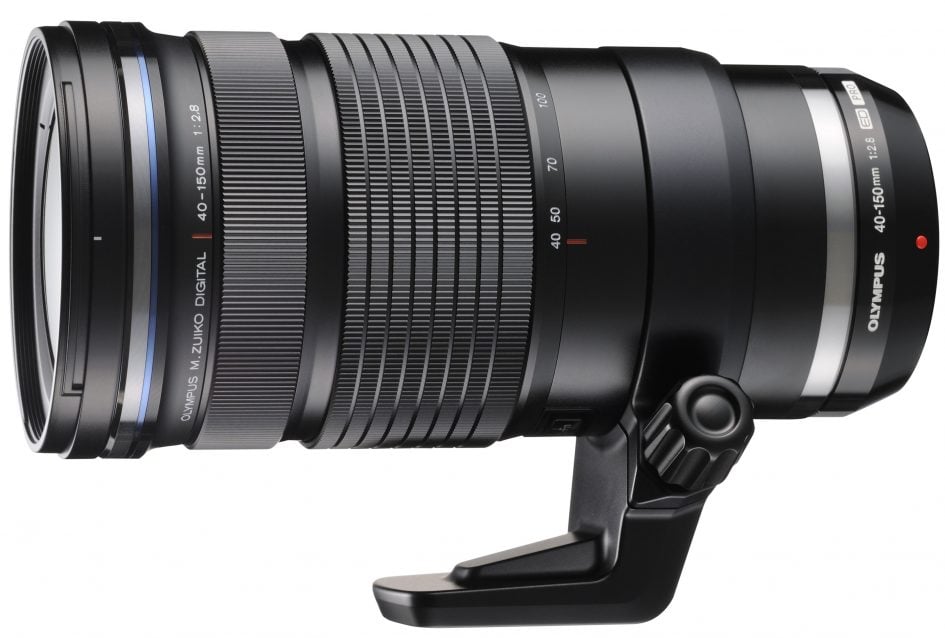 It's hard to fault the Olympus 45-150mm f2.8 on quality grounds. It produces sharp detail with excellent contrast throughout the focal range. This is a lens that you can quite happily shoot wide open without having to worry about edge definition, aberrations or distortion. The build quality is also very good – it's a lens you can confidently use in all conditions. After initial concerns with variable focusing performance, the firmware v2.2 update for the OMD EM1 has also improved this aspect of the lens. It feels a little quicker and more confident in use, at least for Single AF and mostly static subjects. So, all good, right?
It is however important to know what this lens can and cannot do, at least when mounted on existing bodies. Different people have different tastes and expectations, but for me the depth of field at f2.8 on Micro Four Thirds just isn't shallow enough to really blur the background on portraits. Now depending on your desires the results from the 40-150mm may be perfectly adequate, and of course the flipside of having a larger depth of field is more forgiving focus. But the bottom line is when shooting portraits with Micro Four Thirds, I personally prefer the results from the 45mm f1.8 and 75mm f1.8 primes. I've pictured a comparison below to show the kind of differences you can expect with the primes.
| | | |
| --- | --- | --- |
| | | |
| Olympus 40-150mm portrait at 45mm f2.8 | | Olympus 45mm f1.8 portrait at f1.8 |
| | | |
| 45mm f2.8 (90mm f5.6 equivalent in full-frame DOF terms) | | 45mm f1.8 (90mm f3.6 equivalent in full-frame DOF terms) |
| | | |
| Olympus 40-150mm portrait at 75mm f2.8 | | Olympus 75mm f1.8 portrait at f1.8 |
| | | |
| 75mm f2.8 (150mm f5.6 equivalent in full-frame DOF terms) | | 75mm f1.8 (150mm f3.6 equivalent in full-frame DOF terms) |
| | | |
I should also mention during my tests the combination of 40-150mm and OMD EM1 didn't deliver convincing continuous autofocusing for close range action or sports. Whether I was shooting birds, cyclists or kids approaching me, the pair couldn't keep them in focus for long even with the v2.2 firmware. When they were very distant there was more success, but as soon as they're filling the frame at closer range the combination struggled. To be fair, this is a limitation of the system as a whole and in my experience is no better with other lenses, but I wanted to point it out in case you were hoping to shoot close-range action with the 40-150mm.
But those are the only two issues I can mention and again both are limitations of the system as a whole, rather than criticisms of the actual lens itself. So long as you're not expecting to obliterate backgrounds with an ultra-shallow depth of field, the 40-150mm is a highly satisfying lens. It delivers great quality, feels comfortable, handles well, and has some lovely design touches. The snap back manual focus ring, retractable lens hood and included tripod mount are the icing on the cake. Ultimately the Olympus 45-150mm f2.8 Pro is a lens that more than lives up to its promise and comes highly recommended, especially when coupled with the OMD EM1 running firmware v2.2. Micro Four Thirds owners wanting a top-quality telephoto zoom should look no further.
Summary
Good points
Useful tele range with high quality images and constant f2.8 aperture.
Tough build with weatherproofing.
Quick and quiet focusing.
Closest focusing distance of 70cm at any focal length.
Comes supplied with tripod collar, hood and pouch.
Bad points
Depth of field may not be shallow enough for some tastes.