Verdict
The Olympus TOUGH TG range has been massively popular since its launch in 2012. The TOUGH TG-6 and its predecessors are at the top end of the waterproof compact price range, but people are happy to part with their cash for the excellent design and advanced features they offer.
The TOUGH TG-6 is a fairly modest upgrade to the earlier TG-5, with a higher resolution 1040k dot screen, improved anti-glare glass in front of the sensor, new underwater white balance and shooting modes, a couple of new art filters, an additional 1080p time lapse mode and the extension of the microscope macro mode to allow underwater use.
The thing is, the TOUGH range was already well ahead of the competition in terms of its physical features as well as its numerous shooting modes. It's waterproof to a depth of 15 metres, freezeproof to -10C, can withstand a crushing force of 100Kg and a drop from 2.1m, and is dustproof. Its built-in environmental sensors include GPS, a manometer for altitude and depth measurement, an electronic compass, and an external thermometer for measuring air and water temperature.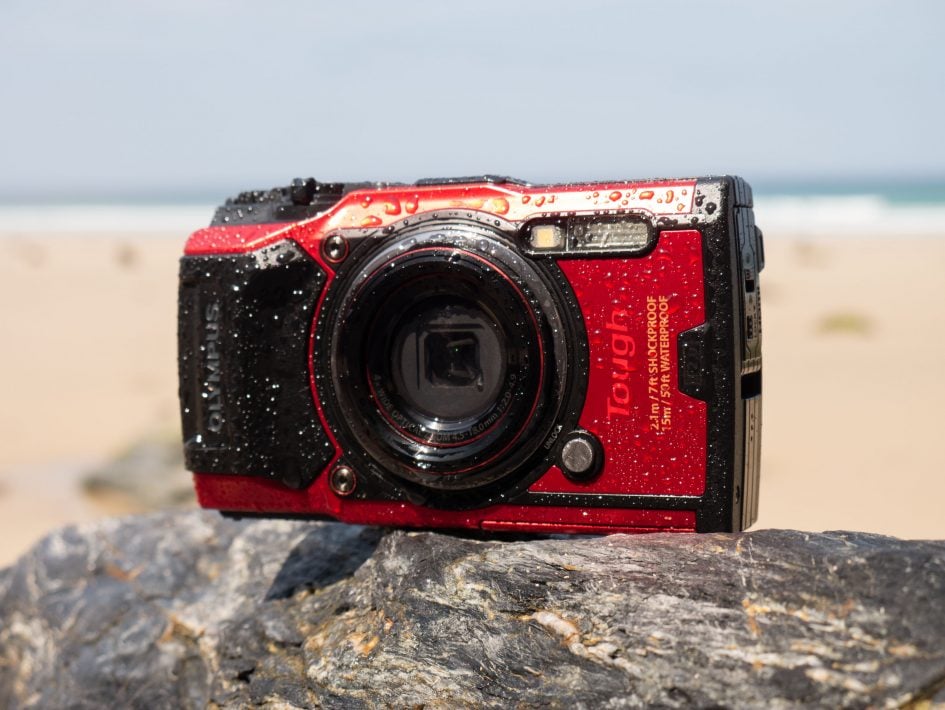 My guess is that most people aren't too concerned with the numbers when it comes to the depth you can dive to with these kinds of cameras (and if they are they'll probably be looking at the PT-059 underwater housing). So the fact that the TG-6 can dive to 15 Metres, compared with 25 metres for the Finepix XP140 and 10 metres for the COOLPIX W150 won't be a dealbreaker.

The TG-6 has the widest and brightest 25-100mm f2-4.9 lens of any of the waterproof compacts. The Finepix XP140's 28-140mm f3.9-4.9 lens will get you a little closer to the action, but at the expense of slightly narrower field of view at the maximum wide angle. More importantly, at the wide angle setting it's two stops slower than the TG-6, which means in the same lighting conditions you'll need, say, 400 ISO where the TG-6 will let you shoot at 100 ISO. Of course once you're zoomed in, the TG-6's advantage disappears.

When it comes to continuous shooting the TG-6 is in a class of its own with a fastest speed of 20fps and 10fps in Pro Capture mode which provides a half second starting buffer, giving you a much better chance of capturing the decisive moments in an action sequence. If you take a lot of action shots in or out of the water it's by far the best option as the Fujifilm Finepix XP140 can only shoot a 10 frame one second burst and the COOLPIX W150 can shoot around 11 frames at just under 5fps.

The TOUGH TG-6 can shoot 4K movies at 25 or 30p frame rates. There's also 1080 50/60p, 1080 30/25p, and 720 25/30p. There are three slow motion modes, 1080p at 120fps which plays back at a quarter real-time speed, 720p at 240fps for 1/8th speed playback and finally 640 x 360 at 480fps for 1/16th speed playback.

While the Finepix XP140 can now shoot 4K video, the 15fps frame rate makes it virtually unusable, so for most subjects you're going to be using its 1080/50/60p mode. It also has some slow motion high frame rate modes, but none at full HD resolution.

The TG-6 has excellent WiFi features including remote shooting/recording and photo and video transfer over Wifi. But this is one area in which it's outdone by both the Nikon COOLPIX W150 and the Fujifilm Finepix XP140, both of which can transfer images to your phone via Bluetooth in the background as you shoot.

At the time of launch you can expect to pay around £450 in the UK and $450 in the US for the TOUGH TG6. The Fujifilm Finepix XP140 is around half that, and if you shop around may be even less. The Nikon COOLPIX is a little less than the XP140 in plain colours and around the same price if you go for one of the graphic colour schemes like the Resort model that I tested.

The COOLPIX W150 isn't competing in the same market as the TOUGH TG-6, but outdoor adventurers shouldn't rule it out if they don't need 4K and slowmo movies, fast continuous shooting or the wealth of sensors it provides and are shooting mostly in bright outdoor conditions. Its lower price also makes it an ideal choice for active kids. Check out my Nikon COOLPIX W150 review coming soon!

The Fujifilm Finepix XP140 offers up more serious competition, but still falls well short of what the TG-6 has to offer, particularly (proper) 4K movies, and fast continuous shooting. The TG-6 has a better, more visible screen, a brighter f2 lens and its 12 Megapixel sensor produces better quality images than the XP140. That said, the XP140 is a nicely designed model which covers the basics and won't disappoint those looking for a solid, reliable waterproof compact at a more reasonable price point. Check out my Fujifilm FinePix XP140 review coming soon!

While it's still available, the earlier TOUGH TG-5 is looking like a bargain, with most of what the TG-6 has to offer, bar a higher resolution screen and better underwater performance. Also worth a look is Panasonic's Lumix FT7 / TS7, which you can pick up for around half the price of the TG-6. With a built-in viewfinder, 4K video, fast continuous shooting and a depth rating of 31m – more than twice that of the TG-6 – it gives the TOUGH TG-6 a good run for a lot less money. What's the catch? Well, it has no built-in GPS, which for many is likely to be a dealbreaker.

Check prices on the Olympus TOUGH TG-6 at Amazon, B&H, Adorama or WEX. Alternatively get yourself a copy of my In Camera book or treat me to a coffee! Thanks!