Olympus TOUGH TG Tracker review - Verdict
Verdict
The Olympus Tough TG-Tracker marks a departure from earlier Tough models. It's a personal action camera designed to compete with the likes of GoPro and its imitators. As such it's smaller than conventional waterproof compacts and dispenses with a lot of what makes them suitable as general purpose models, the main omission being a zoom lens. In its place is a fixed focal length, fixed focus, fixed aperture f2 prime lens with an equivalent focal length of 14mm providing a 204 degree ultra wide angle field of view. Above the lens is a powerful LED light which can be used for both photos and video. As for the tough credentials, it's waterproof to a depth of 30m, can withstand a drop from a height of 2.1m, will operate in temperatures down to -10C and can withstand pressure of up to 100Kg.
The sensor is the same 1/2.3 inch physical size as most compacts, but with a lower 8 Megapixel / 3840×2160 resolution which matches a frame of 4k video. Shooting movies with a sensor that matches the video frame size should be ideal, but if you employ either the underwater mode or digital stabilisation, there'll be a small crop with the necessity to subsequently scale the image back up to 4k resolution with a loss of ultimate detail. This coupled with the small sensor size means you won't be achieving anywhere near the same 4k quality as a camera with a bigger sensor and pixels around it to spare; indeed even with stabilisation disabled and shooting in the native wide mode, I noticed next to no benefit to filming in 4k over 1080p.
Small sensors are of course common across most action cameras, but the TG Tracker stands out from the pack with its 1.5 inch fold-out LCD screen. And the camera itself is also stuffed with more sensors than you'll find in any other action camera; there's GPS for location data, a manometer that provides altitude and depth information, a thermometer for measuring water temperature and an accelerometer that enables the TG-Tracker to record a video chapter markers when you make a sudden change in speed or direction – great for finding the moment you land a jump.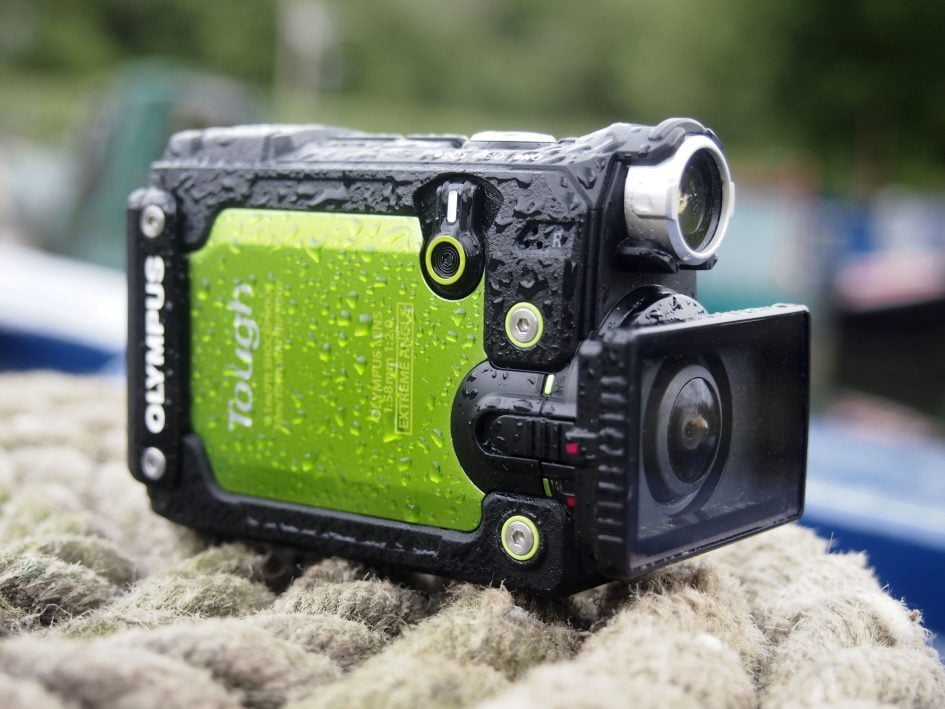 The TG-Tracker is a point and shoot model, lacking any control over exposure or sensitivity. On the whole this is a good thing in an action camera as you've usually got other things to worry about and automation of any kind generally makes life easier and increases your chances of getting good results. That said, both the GoPro Hero4 Black and Sony X1000V allow you unlock advanced control should you want it, though they fall well short of manual exposure controls.
There's a good range of sequence shooting options for both photos and video, as well as a time lapse mode. One thing the TG-Tracker lacks is a fast burst mode, something both the GoPro Hero4 Black and Sony X1000V do better – though you could always grab 8 Megapixel frames from 4k video.
Depending on where and when you shop, the TG Tracker could cost up to 25 percent less than the GoPro Hero4 Black and around ten percent less than Sony's X1000V. In many ways the GoPro provides more for your money with a wider variety of shooting modes, auto low light and night modes modes and Protune mode which unlocks a wider range of settings. It can dive deeper (40m), has a higher resolution 12 Megapixel sensor and is smaller and lighter, even in its waterproof casing. Against that, the TG-Tracker has more sensors providing more environmental data, a built-in light and flip out screen and you don't need to put it in a case to go in the water with it (though you do need to attach the underwater lens protector). It also has much better battery life and if you buy a spare you can simply swap it with one that's run out, something that's not possible on a GoPro.
Sony's X1000V is closer in price and appearance to the TG-Tracker and it too shares a relatively low resolution 16:9 wide sensor aimed at 4k video: in this case it has a slightly higher resolution of 8.8 Megapixels capturing still photos measuring 3952×2224 pixels, which provides a little padding around a 4k frame which could be used for digital stabilisation. It has a wider range of video modes and like the GoPro Hero4 Black, allows you to unlock advanced modes for manual control of white balance and some exposure settings, it also has better burst shooting modes. However, its f2.8 lens isn't as bright as the TG-Tracker's f2 lens and at 120 degrees it doesn't cover anything like the same field of view. Its case is waterproof to a comparatively shallow 10 metres and as well as the TG-Tracker's manometer, accelerometer and temperature sensors it lacks smartphone connectivity, opting instead for a dedicated remote which adds significantly to the price.
So while it competes with the GoPro Hero4 Black and the Sony X1000V, the Olympus Tough TG-Tracker genuinely offers something new in the world of personal action cameras. If you like to collect as much data as possible from your activities, you won't be disappointed with what the TG-Tracker has to offer. While the 4k video didn't resolve perceptibly higher real-life detail than 1080p in my tests, it remains an excellent debut and I'm really looking forward to seeing where Olympus takes it next. Top of my list for improvements would be a fully articulated screen and better image quality, but for which it would have received a Cameralabs Highly Recommended award. For now, the Olympus Tough TG-Tracker comes Recommended.