Olympus OMD EM5 III review
Verdict
Olympus may have kept us waiting four and a half years for a successor to the earlier EM5 Mark II, but the OMD EM5 Mark III still manages to become one of the most unique and compelling cameras in its category Yes, the 20 Megapixel Micro Four Thirds sensor is smaller and slightly lower res than most APSC rivals and the price higher than many mid-range models too, but you're getting class-leading stabilisation which transforms handheld video and lets you shoot at low sensitivities, coupled with arguably the best weather-proofing in its peer group in addition to a side-hinged screen which avoids hotshoe accessories, a mic input, uncropped 4k video, a composite high-res option and a bunch of innovative long exposure modes. There's literally nothing like it outside of Olympus's own range.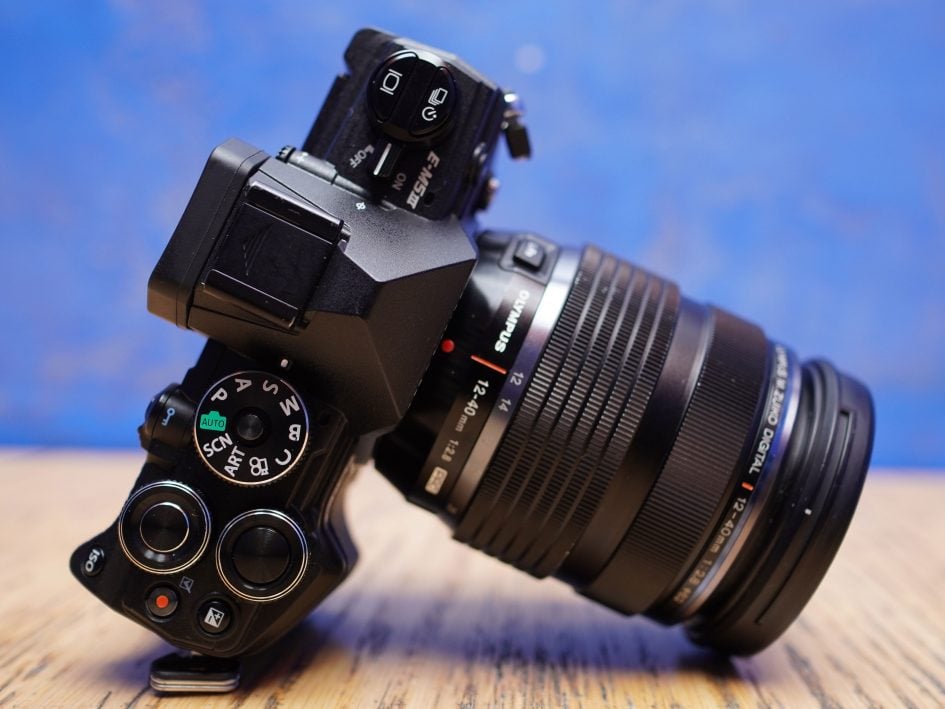 Some cameras come close, but don't quite deliver the whole package. The Fujifilm X-T30 and Nikon Z50 give you larger APSC sensors at a lower price but don't have built-in stabilisation or screens that face-forward. Canon's EOS M50 is much cheaper while sporting an APSC sensor and a side-hinged screen but its 4k is compromised, there's no weather-sealing and there's still no built-in stabilisation either. Panasonic's G90 / G95 shares the sensor size, sports a side-hinged screen and decent built-in stabilisation, not to mention unlimited recording times, but the 4k is cropped and the movie autofocus is just not as confident. Meanwhile, the increasingly discounted Lumix G9 has the side-hinged screen, great stabilisation, a giant viewfinder, dual card slots, weather-proofing and 4k up to 60p and now in 10-bit too, but again the movie autofocus falls behind the best of its rivals. Finally, Sony's A6600 appears to have it all on paper, with an APSC sensor, arguably the best autofocus, a screen that faces-forward, unlimited 4k recording, a large battery and built-in stabilisation, but the screen's blocked by hotshoe accessories, the stabilisation proved disappointing in my tests, and it's also the most expensive in this group.

Indeed it's revealing the major competition for the EM5 III's whole package is the earlier Olympus OMD EM1 Mark II. This is the next model up in the range, offering a slightly more capable feature-set in a chunkier body at a higher retail price, but discounts over time have seen it fall to only around $100 more than the EM5 III's launch price. In its favour the EM5 III is smaller and lighter, but the EM1 II isn't exactly large or heavy, and for me, feels better in my hands while also sporting some features I'd find useful like a larger viewfinder, headphone jack and twin card slots. If you're thinking about the EM5 III early-on in its life before it starts enjoying any discounts, I'd say the EM1 II makes more sense overall.

There are situations where its rivals prove to be a better choice, even if they don't match the overall feature-set. While the shared autofocus system on both the EM5 III and EM1 II is very respectable, I did find in my own tests that the Sony A6400 and Sony A6600 were better still, especially in movies for focus pulls and face tracking. There's also no getting away from the fact that rivals with larger sensors will deliver lower noise at high sensitivities, so if you need to freeze motion in low light and desire the cleanest results, then Micro Four Thirds may not be for you. But again below 1600 ISO you won't notice much difference. If you're attracted to the EM5 III for vlogging, but don't need effective 4k, built-in stabilisation or weather-sealing, then the Canon EOS M50 remains an attractive choice, and if you want it all but can live without phase-detect autofocus and an APSC sensor, then the Panasonic Lumix G9 is unbeatable value with discounting.

Ultimately the EM5 Mark III becomes one of the most compelling cameras at its price point, testament to how good the series already was, but now enhanced further with Olympus's best sensor to deliver a big upgrade in continuous autofocus. I'd have liked it even more with Auto ISO for manual movies and location tagging over Bluetooth – both of which are common on its rivals – and I'm a little frustrated greater differentiation in the range has driven the loss of some features from its predecessor, most notably the metal body, larger viewfinder and some connectivity. But the controls and weather-proofing remain arguably the best in its peer group, and the stabilisation remains unrivalled too, which in turn allows you to handhold surprisingly slow shutter speeds and deploy low sensitivities where the sensor performs similarly to larger models. Again if you demand lower noise above 1600 ISO or the most confident movie autofocus, then there are better options, but as an overall package it's hard to find a more rounded camera than the EM5 III. Do compare it closely with the higher-end Olympus OMD EM1 II which, with discounting, comes close to the launch price of its newer sibling and makes more sense in the short-term, but over time the EM5 III will settle into becoming one of the most desirable cameras in its category and proves there's plenty of life left in the Micro Four Thirds system.

Check prices on the Olympus OMD EM5 III at Amazon, B&H, Adorama, or Wex. Alternatively get yourself a copy of my In Camera book or treat me to a coffee! Thanks!