Olympus OMD EM10 II review
Verdict
The Olympus OMD EM10 Mark II is in many ways the perfect mid-range camera. With decent image quality, interchangeable lenses and stacks of shooting options, it offers sufficient control for those who want to pursue sophisticated photography, but its compact body, snappy focusing and fool-proof processing means anyone can pick it up and start getting great results straightaway. This makes it ideal for beginners and ambitious enthusiasts alike.
Many mid-range cameras are cut-down versions of higher-end models in the range, deliberately hobbled so not to tread on toes. In some respects the original OMD EM10 felt a bit like that, failing to find a compelling place in the market. But thanks to a number of key upgrades, the Mark II becomes a much more satisfying camera overall that still may not match the top models in overall capabilities, but crucially never feels compromised in use.
The most notable upgrades involve the viewfinder and stabilisation. The viewfinder image is now comfortably larger and more detailed than before and nicer to look at too thanks to its OLED panel. Meanwhile the EM10 II inherits the same built-in stabilisation as the EM1, providing between three and four stops of compensation with any lens you attach and keeping the image rock-steady during composition. Just these two upgrades make the EM10 Mark II a far nicer camera to shoot with than its predecessor.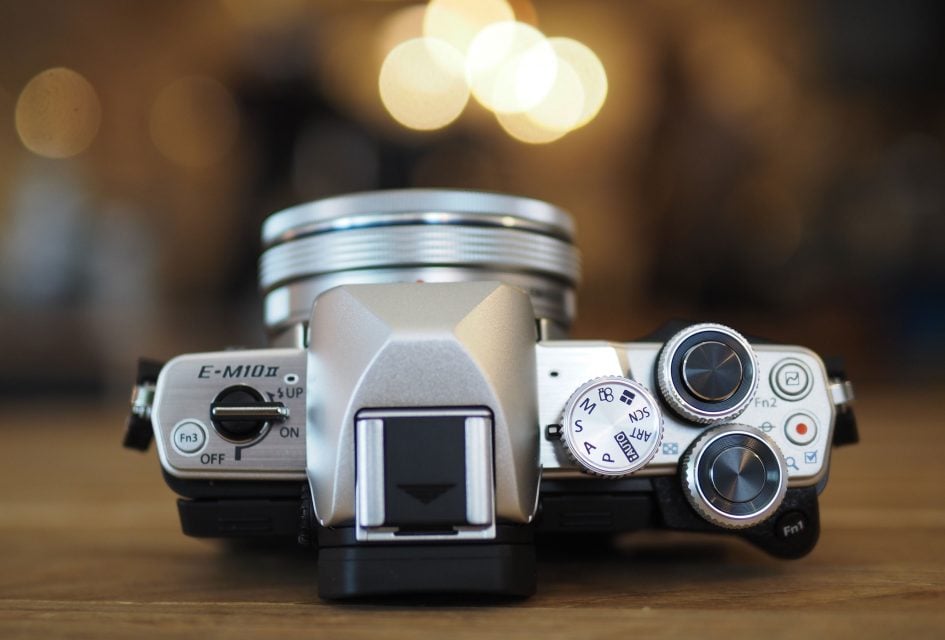 I'm also fond of the redesigned controls which perfectly balance retro-styling with modern functionality. Many smaller cameras employ proportionately small buttons and dials which can be hard to press or turn, but Olympus has learned its lesson from the original EM5 and for the last few models equipped the OMDs with decent-sized controls, all offering very positive feedback.
Meanwhile the body, especially when fitted with the collapsing 14-42mm kit zoom, is sufficiently compact that you'll never leave it at home. While the 14-42mm kit zoom delivered surprisingly respectable quality for a collapsing design, I personally enjoyed pairing the camera with the 17mm f1.8 prime lens for an almost equally compact combination with the benefit of a brighter aperture and crisper corners. And if you want more to hold onto (I didn't), you can screw-on the optional handgrip.
Like other Olympus bodies the single autofocus is swift and works well in low light. Coupled with excellent face and eye detection, it can snap onto a human subject with a very shallow depth-of-field wherever they are on the frame. This makes it ideal for parties, events or simply pesky kids who refuse to pose for long.
In terms of other features, the EM10 II inherits pretty much everything from previous models and debuts one new feature. So it gives you seven-frame exposure bracketing, a built-in intervalometer, the chance to dial-in exposures up to 30 minutes long while taking regular peeks as the image builds-up, built-in Wifi with respectable smartphone remote control and GPS logging, focus peaking with magnified assistance, a silent electronic shutter option which supports shutters up to 1/16000 and continuous shooting at 8.5fps.
The new feature is Focus Bracketing which captures up to 999 images at slightly different focusing distances for subsequent stacking in optional software. Focus Stacking is a much-loved technique of macro and product photographers for extending the depth-of-field without compromising quality, and now the EM10 II will automatically capture a burst in-camera without additional accessories or tethering. Sure it's a feature that will also come to the higher-end EM1 and EM5 II through a firmware update by the end of 2015, but it's still nice to find it offered on a lower-priced mid-range model, and will attract many speciality photographers to the format especially as there's now three excellent macro lenses available.
So far so good, but what are the downsides? Like most Micro Four Thirds bodies, the continuous autofocusing is fairly modest. Fine for people jogging or cycling slowly, but anything faster and your success rate will fall considerably. The Micro Four Thirds sensor size also inevitably suffers from higher noise than larger formats at high sensitivities. I'd say you're unlikely to notice up to 1600 ISO, but at higher ISOs there are cleaner options available.
If you need to shoot action or sports in low light, the sensor size and modest continuous AF make it less than ideal. It'll do it, but not as well as some others. But if your subject stays still, you can exploit the built-in stabilisation to support very slow shutter speeds, in turn allowing you to shoot within the range of clean, lower ISOs. I do this when shooting architecture and landscapes during the blue hour.
I also have no complaints with the resolution sticking at 16 Megapixels. Panasonic may have pushed Micro Four Thirds to 20 Megapixels with the higher-end GX8, and there's a wealth of APS-C options at 24 Megapixels, but having shot much of my personal work with the Olympus OMD EM1, I've never felt – nor had it commented – that my images lack detail. While higher-end photographers may desire higher resolutions, I'd say 16 Megapixels will suit the target audience of the EM10 II just fine.
Video has never been a strong point for Olympus and while the EM10 II is much better than its predecessor, there are still better options in this category if video is a priority for you.
Speaking of which, here's a quick note on how it compares to rival models.
If video is a priority, Panasonic currently leads the pack in this category with its Lumix G7. This offers a microphone input, higher resolution 4k video (along with the chance to grab stills from footage in-camera), gradeable profiles, and also boasts a side-hinged fully articulated screen which you may prefer for composition. It's a very strong camera for the money. See my Panasonic Lumix G7 review for more details.
If shooting action is your thing, the best camera in this category remains Sony's Alpha A6000 which offers the killer combination of an effective embedded phase-detect AF system and 11fps continuous shooting. Forget leisurely cyclists – I've used the A6000 at two Tour de Frances with a high degree of success. But I personally dislike the controls on the A6000 and its viewfinder specification is showing its age compared to its latest rivals. See my Sony A6000 review for more details.
If sheer photo quality is your priority, I personally feel the Fujifilm XT10 has the edge over the other models here. The combination of a large but relatively low resolution sensor, unique colour filter array and careful processing means the XT10 simply delivers fantastic-looking image quality – indeed the same as the flagship XT1. A handful of phase-detect AF points in the middle of the sensor also gives it surprisingly good continuous AF for centrally-positioned subjects, but the overall handling isn't as snappy as the Olympus and I personally feel the retro control system is aimed more at enthusiasts than some of the beginners who'll be interested in a mid-range camera.
How about within the Olympus range? The OMD EM5 Mark II is the next model up and you may wonder why you'd go for it over the cheaper EM10 Mark II. In its favour, the EM5 Mark II is weather-proofed, has a larger viewfinder magnification, slightly superior stabilisation, slightly faster continuous shooting, a side-hinged fully-articulated screen, an external microphone input, a PC Sync port for external lighting, the '2×2' switch to quickly swap between functions on the dials, and the chance to equip it with a headphone jack via the optional grip. They're all worthy features, but at the time of writing, the EM5 II body cost around two thirds more than the EM10 II, so there's a significant difference which could buy you a decent lens. The EM10 II also gives you a first-look at the Focus Bracketing which will come to the EM5 II in a future firmware update. But even at the higher price, I'm still very fond of the EM5 II and you can find out more in my Olympus OMD EM5 Mark II review.
As for DSLRs in this price bracket, the Canon EOS 760D / T6s and Nikon D5500 are both fine cameras, but I personally feel all the mirrorless options above deliver better results more easily, boast stronger feature-sets and are ultimately more compelling. If this is your budget, go mirrorless.
Olympus OMD EM10 Mark II final verdict
The job of a mid-range camera is to ease upgraders into the hobby of photography without intimidation, while ensuring there's enough control and advanced features to satisfy enthusiasts on a budget. There's a lot of great mid-range cameras available right now, but I feel the Olympus OMD EM10 Mark II is one of the best overall.
The body, especially coupled with the collapsing kit zoom or a small prime lens, is compact, but comfortable to hold and shoot with. The viewfinder image is large and detailed, or there's a tilting touchscreen if you prefer. And thanks to the eerily good built-in stabilisation, the image is rock steady as you compose and camera-shake is something you'll rarely have to worry about.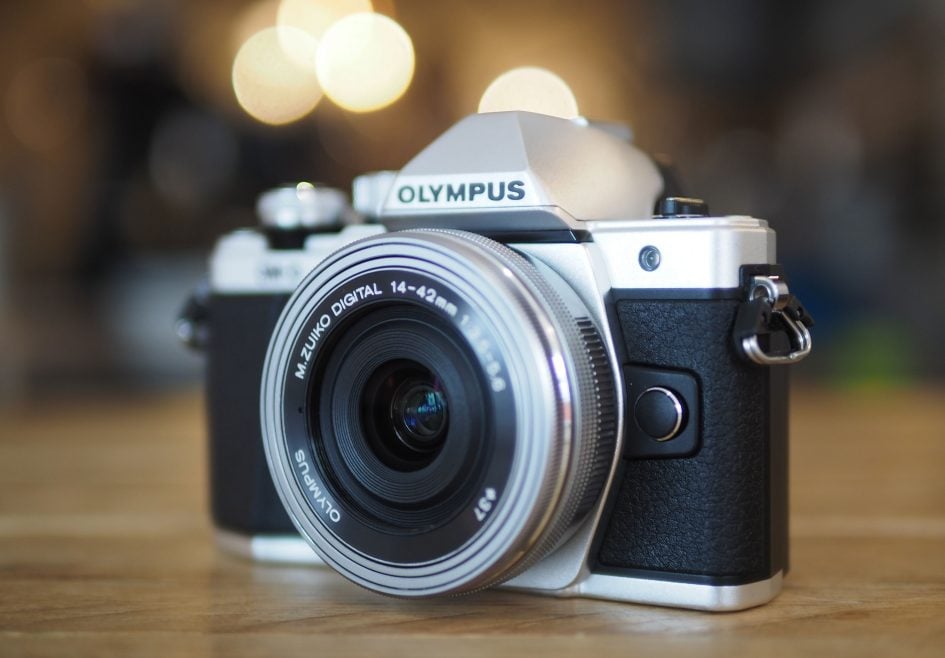 Like earlier Olympus cameras, it's easy to get great results thanks to the combination of swift autofocus, cunning eye recognition, accurate metering, effective stabilisation and attractive image processing. Beginners or upgraders don't need to understand what's going on behind the scenes – all they need to know is they'll consistently enjoy a high degree of success in a variety of conditions.
Then when you're ready to take the camera further, it's packed with controls and innovative features, especially when it comes to long exposures, timelapse and focus bracketing.
Don't get me wrong, the EM10 II is not without its weaknesses. The movie mode may be much improved over its predecessor, but remains comfortably below what Panasonic offers on the similarly-priced Lumix G7. The continuous autofocus also struggles to track faster subjects, so if sport and action photography are your thing, you'll find models like Sony's Alpha A6000 far superior. I also feel that when it comes to ultimate image quality in this bracket, Fujifilm's XT10 pips all these models to the post, albeit with controls and handling that's better-suited to enthusiasts.
But for general day-to-day photography, the Olympus OMD EM10 Mark II is hard to beat. It's an attractive camera that's enjoyable to use and delivers great results in most situations with ease, while offering plenty of room to grow. As such it's an easy camera to Highly Recommend.
Good points
Compact body with decent control system.
Very effective built-in stabilisation that works with any lens.
Large viewfinder image and tilting touchscreen.
Fast AF with great face detection. Works well in low light.
Built-in Wifi with decent mobile app.
Innovative modes for long exposures and focus bracketing.
Truly silent shooting with electronic shutter.
Easy to achieve great results out-of-camera.
Bad points
Resolution at the lower end of its peer group. But still good.
Continuous AF becomes less confident with fast subjects.
Timelapse and miniature movies encoded at low frame rate.
No input for external microphone.
Menu system confusing at times.