Nikon D40x verdict
The Nikon D40x is one of the more interesting DSLRs around right now because it clearly illustrates both the marketing and monetary value of a 10 Megapixel model over an otherwise identical 6 Megapixel version.
At Cameralabs we felt the earlier D40 was one of the most sensible launches of recent times, resisting the marketing race to ever-higher resolutions which few people actually require. The D40 can produce great quality photos which look wonderful printed up to 10x8in, and let's face it, how many of us really need more?
But just four short months later Nikon announced the D40x, an identical camera except for its 10.2 Megapixel sensor to satisfy 'pixel-oriented' customers. Nikon won't admit it, but you only have to ask anyone who works in a camera store to realise how hard it is to sell a DSLR with 'only' 6 Megapixels when you can have rivals with 10 costing only a little extra. The D40 was a brave move, but the D40x necessary to compete against its arch rival the Canon EOS 400D / XTi.
So if the D40 was a great camera, surely an upgrade in sensor resolution makes it even better, right? Well, yes and no. By inheriting the D80's sensor and shutter mechanism the D40x was always assured of great quality output, but the subsequent increase in cost makes you look more critically at some of the weaker aspects it's also inherited.
For example at the D40's low asking price, we could just about forgive its basic 3-point AF, lack of depth-of-field preview and a reliance on modern lenses for auto focusing. Unfortunately for the Nikon D40x though, it inherits all of these but is now priced virtually the same as Canon's EOS 400D / XTi which boasts 9-point AF, anti-dust features, RAW processing software, DOF preview and compatibility with both new and old lenses. So can the D40x really compete against better-featured cameras? Let's see how it compares with its closest rivals.
Compared to Nikon D40

The first comparison should of course be against the camera with which the D40x shares so much in common. The D40 and D40x are identical other than their sensor and shutter mechanism, so with the D40x you get an extra 4.2 Megapixels (allowing bigger prints or greater latitude for cropping), along with an ISO range starting at 100 rather than 200 ISO, and a slight increase in continuous shooting from 2.5 to 3fps. You also lose-out in flash sync speed, falling from 1/500 on the D40 to 1/200 on the D40x, although to be fair few people would genuinely miss it in practice.
So the bottom line is whether those extra Megapixels are worth a difference which at the time of writing worked out to be around $200 USD or £100 GBP extra. If you loved everything about the D40 but wished it had 10 Megapixels, then the D40x is undoubtedly the answer. But it's important to also consider the alternatives available at this higher price point. See our Nikon D40 review for more details.

Compared to Nikon D80

The D40x may share the same sensor and shutter mechanism as the D80, but Nikon's higher-end model is a much more powerful camera in many respects. It features improved build quality, a far superior viewfinder experience with optional grid-lines and a depth-of-field preview, a sophisticated 11-point AF system with autofocus support for older lenses, accurate feedback from the battery, an upper screen for shooting information and direct control over popular settings like White Balance and ISO.
The D80 is therefore much better-suited to enthusiasts or anyone who wants to grow with their camera in the future. Certainly unless you love the smaller and lighter body of the D40x with its slightly friendlier approach, the D80 is well worth the extra. And at the time of writing, that would be around $300 USD or £250 GBP more with the same or better lens. See our Nikon D80 review for more details.
Compared to Canon EOS 400D / XTi

The Nikon D40x was arguably released to compete directly against Canon's best-seller and indeed they're priced virtually the same from internet dealers. So how does the D40x measure-up? Well both cameras deliver roughly the same quality results, although the D40x has punchier output by default and its kit lens is superior. The D40x is also friendlier in operation, which will please first-time DSLR owners, although experienced photographers will prefer the Canon's quicker access to settings like ISO and White Balance.
So far so close, but the Canon 400D / XTi boasts a much more sophisticated 9-point AF system, anti-dust features, depth-of-field previews and greater compatibility with older or budget lenses; and unlike the D40x, it also comes with RAW processing software and a TV out cable. It all depends on your preferences, but the Canon is a technically more powerful and better-featured camera. See our Canon EOS 400D / XTi review for more details.
Nikon D40x final verdict

The Nikon D40x is certainly an interesting proposition. Nikon took the D40 which is a very successful beginners DSLR and equipped it with a sensor to compete against the Canon 400D / XTi. So far so good, but the D40x also inherits several weaker aspects of the D40 which stand out now it's virtually the same price as the Canon.
The D40x may have a better kit lens, but the Canon 400D / XTi has far superior auto focus, anti-dust features, depth-of-field previews, greater support for older lenses and comes with RAW processing software not to mention a TV cable. Then there's the Sony A100 which again costs roughly the same and features built-in anti-shake facilities. Both it and the Canon are technically superior and better-featured cameras.
But that's not to say you shouldn't buy the D40x. If you're a beginner or buying your first DSLR, the D40x is a much friendlier proposition. It guides you along while featuring a superb metering system which is rarely fooled. It's definitely the better 10 Megapixel DSLR for beginners, but more experienced photographers will almost certainly prefer using the Canon or Sony – although it has to be said if you're after even greater sophistication, the Nikon D80 is comfortably better still.
So ultimately if you're a beginner who loved the D40 but wished it had higher resolution, then go for the D40x. If however you want a technically more sophisticated DSLR for roughly the same money, then the Canon 400D / XTi and Sony A100 have more going for them, although if you can stretch a little further, Nikon's own D80 offers even more still. Indeed the D40x does a great job of up-selling potential buyers to Nikon's higher-end model.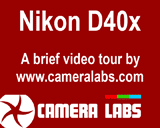 The D40x is certainly a very capable camera, but its higher price point makes you more critical of the weaker aspects inherited from the D40. As such it earns a lower rating than the D40, although still comes Recommended. It's certainly the friendliest 10 Megapixel DSLR around and one of the best choices for 'pixel-conscious' beginners. If you are siding with the D40x as your first DSLR though, do ask yourself if you really need 10 Megapixels. If the honest answer's 'No', then go for the D40 and save yourself some money or spend it on a new lens instead.
To see how the D40x handles in practice along with a demonstration of its headline features, check out our Nikon D40x video tour.
---

Good points
Small, light and comfortable.
Very easy to use with helpful menus.
Consumer-friendly photos out of the camera.
Nikon's legendary metering is rarely fooled.

Bad points
Features weaker than 10 Mpixel rivals.
No auto-focus with certain, older lenses.
Some settings require too many button presses.
Basic 3-point AF and no DOF preview.

Scores
(compared to budget 10 Mpixel DSLRs)


Build quality:
Image quality:
Handling:
Specification:
Value:

Overall:



16 / 20
18 / 20
16 / 20
15 / 20
14 / 20

79%