Nikon D40 with AF-S Nikkor 18-55mm 1:3.5-5.6 G II ED
Nikon D40 verdict
The Nikon D40 is arguably one of the most sensible DSLRs released so far. Nikon's sensibly targeted first-time DSLR owners with an affordable and easy to use product, and sensibly fitted it with a 6 Megapixel sensor which is more than sufficient for the vast majority of consumers. Anyone who's into digital cameras understands Nikon's choice of sensor, and it's refreshing to find a company step back from the unnecessary upward spiralling of Megapixels.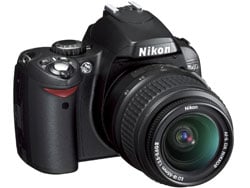 Unfortunately though it's fair to say a large proportion of the D40's target audience are swayed by resolution figures, and truth be told, most of us would also find it hard to buy a 6 Megapixel product with the knowledge 10 Megapixel alternatives were available for only a little more. We know 6 Megapixels may be sufficient for our requirements, but if a higher resolution model is available without compromising noise levels or breaking the budget, we'll almost certainly go for that instead. Canon understood that perfectly when it released the 8 Megapixel EOS 350D / Rebel XT a couple of years ago, trumping its 6 Megapixel rivals to become one of the best selling DSLRs to date.
Having 'only' 6 Megapixels in a DSLR market dominated by 10 Megapixel models is without a doubt the D40's Achilles heel, and why Nikon rushed out a 10 Megapixel version only four months later. The simple fact is bigger numbers greatly help to sell a product on the shelves or web pages against its rivals. And speaking of which, here's how it compares to the competition.
Compared to Canon EOS 400D / XTi

While the 8 Megapixel Canon EOS 350D / XT is closest to the D40 in terms of price and resolution, we believe its biggest rival is actually the 10 Megapixel EOS 400D / XTi. The internet and street prices are surprisingly close, so buyers are inevitably comparing the two.
It's quite subjective, but we believe the D40 has a slight edge over the Canon 400D / XTi in terms of comfort, ergonomics and viewfinder, and it's certainly more helpful for first-time users, but the Canon beats it in several key technical aspects.
The 400D / XTi features a much more sophisticated 9-point AF system, direct access to ISO, White Balance, AF and metering settings, has slightly quicker 3fps continuous shooting and comes with Canon's Digital Photo Professional software for processing RAW files. The biggest difference though is of course resolution. The D40 has 6 Megapixels compared to the 400D / XTi's 10. While our results show this doesn't make as big a difference at it sounds, the fact is four extra Megapixels for little extra cash is hard to resist. This is undoubtedly why Nikon rushed out a 10 Megapixel version of the D40. See our Canon EOS 400D / XTi review for more details.
Compared to Nikon D40x

In March 2007, Nikon announced a 10 megapixel version of the D40 called the D40x. This essentially swaps the D40's existing 6 Megapixel sensor for the one in the higher-end D80. This in turn allows the D40x to inherit a 100 ISO mode along with slightly quicker 3fps shooting, although also a reduced flash sync speed of 1/200.
Otherwise though it's the same camera as the D40. As such, while the higher resolution will satisfy anyone who was put off by the D40's 6 Megapixels, they'd still be looking at a DSLR which only had a basic 3-point AF system, manual focus with certain lenses, no depth-of-field preview and no direct access to settings like ISO and White Balance.
If you're after the easiest and friendliest 10 Megapixel DSLR, then the D40x should certainly be on your shopping list, but if you're after a bit more power and control, the Canon 400D / XTi could be a better bet. See our Nikon D40x review for more details.
Compared to Nikon D80

The Nikon D80 is the D40's bigger brother and targets enthusiasts who are after a step-up from an entry-level DSLR. In fact that's being a bit mean as the D80 is a very powerful camera. Over the D40, it boasts higher 10 megapixel resolution, improved build quality, a far superior viewfinder with optional grid-lines and a depth-of-field preview, a sophisticated 11-point AF system with autofocus support for non AF-S / AF-I lenses, quicker 3fps shooting, accurate feedback from the battery, an upper screen for shooting information and direct control over popular settings.
It is without a doubt a superior DSLR and indeed one of the classiest models on the market right now. Unless you prefer the D40's smaller and lighter body, and slightly friendlier approach the D80 is well worth its higher price. See our Nikon D80 review for more details.
Nikon D40 final verdict

Nikon has certainly succeeded in designing an ideal camera for first-time DSLR owners. The D40 is small, light, very easy to use, rarely fooled by anything and simply delivers great quality pictures. So it's the perfect entry-level DSLR, right?
Well it would be if it weren't for that pesky Canon 400D / XTi. The D40 may be easier to use and arguably more comfortable to handle, but the Canon's got numbers on its side: 10 Megapixels compared to the D40's six.
As we've shown in our results pages though, this doesn't make as big a difference as you'd first think, and the simple fact is 6 Megapixels are sufficient for the vast majority of photographs. But heavy discounts on the 400D / XTi have seen it available for little more than the D40, and it's hard for anyone to pass up four extra Megapixels. Ultimately this is the big problem facing the D40, and undoubtedly why Nikon rushed out the 10 Megapixel D40x version. It's also important to understand which lenses offer autofocus on the D40 as explained on our Features pages.
But if you can accept the AF limitation and realise the D40's resolution is genuinely sufficient for most requirements, it really is a superb option for anyone buying their first DSLR. It's small, light and easy to use without compromising handling, and confidently delivers excellent results in a wide variety of conditions. A handful of extra Megapixels aside, you couldn't really ask for more. See our Nikon D40 video tour for an overview of its highlights and demonstrations of the easy to use menu system.
---


Good points
Small, light and comfortable.
Very easy to use with helpful menus.
Consumer-friendly photos out of the camera.
Nikon's legendary metering is rarely fooled.

Bad points
Has 'only' 6 Mpixels, but it's enough for most.
No auto-focus with certain, older lenses.
Some settings require too many button presses.
Basic 3-point AF and no DOF preview.


Scores
(compared to budget DSLRs)


Build quality:
Image quality:
Handling:
Specification:
Value:

Overall:



16 / 20
16 / 20
16 / 20
16 / 20
17 / 20

81%