Outdoor scene - Nikon D200 versus Nikon D2X, using Nikkor 17-55mm f2.8 G ED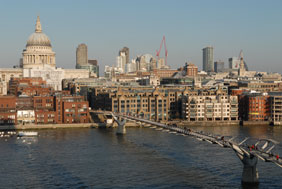 To compare real-life performance we shot the same scene with both the Nikon D200 and D2X using the 17-55mm f2.8 lens within moments of each other. The cameras were set to their best quality JPEG settings (Large, Fine and optimised for quality), the metering set to Matrix and the aperture set to f8 using Aperture Priority mode.

Both cameras were also set to their default sharpening and tone options: for the D200, Optimise Image was set to Normal, while the D2X was set to A for Image Sharpening and Tone Compensation.

The image above was taken with the Nikon D200 using the 17-55mm at 38mm (equivalent to 57mm); the original JPEG measured 5.37MB. The crops below are taken from left, center and right portions of the originals and presented here at 100%.

The crops clearly show the D200 applying greater sharpening for this composition with its Optimise Image setting at Normal than the D2X did with its Image Sharpening set to A (Automatic), but even with that taken into consideration, both images recorded very similar levels of detail. The D2X image of course has more pixels, but in real terms there's little difference. This page will be updated with additional RAW comparisons.
| | | |
| --- | --- | --- |
| Nikon D200 with Nikkor 17-55mm f2.8 G ED | | Nikon D2X with Nikkor 17-55mm f2.8 G ED |
| | | |
| 1/250, f8, 100 ISO | | 1/320, f8, 100 ISO |
| | | |
| | | |
| 1/250, f8, 100 ISO | | 1/320, f8, 100 ISO |
| | | |
| | | |
| 1/250, f8, 100 ISO | | 1/320, f8, 100 ISO |